‹ Go back
Ferrari Unveils Enzo Successor - LaFerrari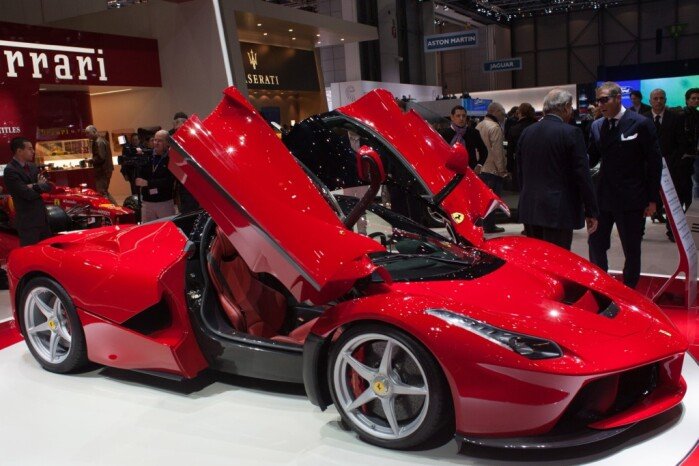 Every year, top sports car manufacturers show their latest high-performance machines at Geneva, and this year is no different. In fact, the 2013 Geneva Auto Show includes the world debut of a new, limited-edition supercar from what may be the most sought-after brand in the business. So highly regarded is the automaker from Maranello, Italy that it simply named its new car LaFerrari.
The 950-horsepower replacement for the Ferrari Enzo, which will be produced in a limited run of just 499 units, represents the essence of the brand, melding power, passion and technology. That's according to Ferrari president Luca di Montezemolo.
"We chose to call this model LaFerrari because it is the maximum expression of what defines our company - excellence," said Montezemolo. "LaFerrari is the finest expression of our company's unique, unparalleled engineering and design know-how, including that acquired in Formula 1."
Experience in Formula 1 racing helped Ferrari create the HY-KERS system featured in LaFerrari, a kinetic hybrid system that stores energy in batteries. Like a normal hybrid, regenerative braking provides some of the energy; but in Ferrari's system, excess torque—from wheelspin in a corner, for example—is also collected, to be redistributed to the wheels through an electric motor. Combined with LaFerrari's 789-horsepower 6.3-liter V12 engine, the system makes 950 horsepower and more than 664 lb-ft torque.
That's enough to push LaFerrari from 0 to 62 mph in under 3 seconds, according to the automaker. Ferrari says its new supercar will have a top speed in excess of 217 mph.
LaFerrari uses a carbon fiber chassis for stiffness, strength and light weight. Active aerodynamic elements include front and rear diffusers and a rear spoiler that adjust to provide the best possible combination of slippery aerodynamics and downforce necessary to keep the car stable at high speeds.
Few will ever have the opportunity to climb into LaFerrari, but those with the privilege will find a seat fixed to the cabin floor. Instead of moving the seat, the steering wheel and pedal box move to accommodate the driver.
Ferrari included more accessible models from its sports car range on its 2013 Geneva Auto Show display, too, including the FF and the 458 Italia.
Published Dec 7th, 2015
More Classic Car News & Article Categories:
Related Articles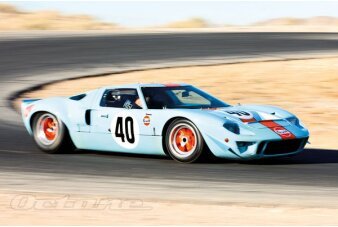 While every factory Ford GT40 is special, some are more special than others.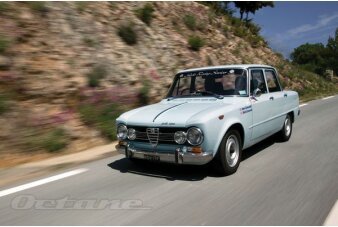 For the Linwoods historic rallying seems to come naturally.
×
Ferrari Unveils Enzo Successor - LaFerrari