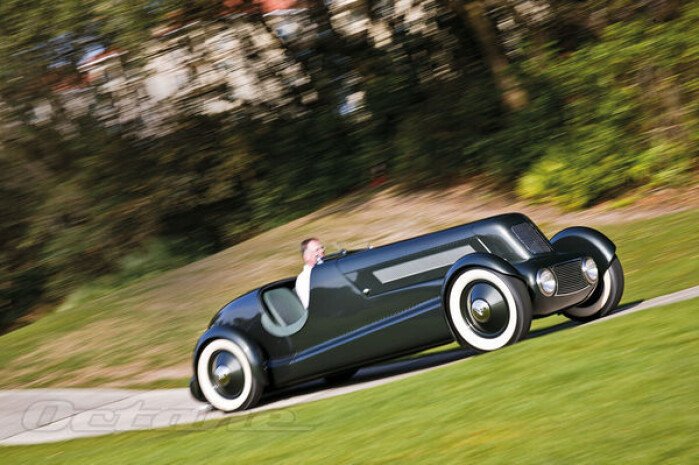 Tucked away at the back of the 18th fairway at the 2011 Pebble Beach Concours d'Elegance was a car whose understated appearance belied its significance. The gunmetal-grey speedster would have looked more at home on the salt flats than the manicured lawns of an exclusive golf club, and in a sense it does have the ultimate blue-collar credentials of being a Ford. But it's a very special Ford, handbuilt in 1934 for company president Edsel Ford, and only recently restored to its pre-war condition. For many Pebble Beach visitors, it was the car of the show.

Behind the subtle hot rod looks is a fascinating back story that has its origins in the ongoing power struggle between company founder Henry Ford and his son Edsel. Henry had appointed Edsel as company president at the end of 1918, but there was no doubt about who ultimately controlled Ford – and it wasn't Edsel.

The more you read about Henry Ford, the more you have to wonder why nobody's made a TV mini-series about him, because the story of Ford would make Dallas or Dynasty look about as racy as The Waltons. Henry Ford was, in essence, a tyrant. At times a benevolent one, who gave black employees equal rights to whites at a time when racial segregation was commonplace; at others a cruel dictator, who employed an army of thugs to beat-up any workers who broke his own peculiar moral code.

This control freakery extended beyond the workplace to his own family, and especially to Edsel. If Edsel had been a clueless dunce, then there might have been some justification for Henry continuing to pull his strings. But all the evidence is that Edsel was actually an astute businessman. Given a free hand, he might have achieved much more than he did before his untimely death from cancer in 1943.

Henry could be particularly vicious at crushing his son's ideas. When, in 1924, he unexpectedly walked in on a just-finished experimental version of the Model T, which had been lengthened and lowered and finished in bright red in an attempt to make it look more modern, he literally started wrecking the car with his bare hands.



One of his employees recalled:
'He walked around the car three or four times… Finally, he got to the left side of the car, and he gets hold of the door, and BANG! One jerk, and he had it off its hinges! He ripped the door right off! He jumped in, and BANG! goes the other door! BANG! goes the windshield. He jumped over the back seat and started pounding on the top. He wrecked the car as much as he could.'

Trouble was, Henry was an engineer with no interest in aesthetics. Form definitely followed function, in his book. Edsel, on the other hand, was notably artistic. He was a founding trustee of New York's Museum of Modern Art (MOMA) and had a strong interest in what we'd now call 'industrial design', remarking in a 1939 speech that 'beauty can and should be incorporated into everyday items at a retail cost affordable for all'.

Accordingly, Edsel understood very well that customers buy cars as much for the way they look as the way they drive. The Model T had been a success because it was what people wanted in 1908. By the mid-1920s, tastes had changed – but Henry couldn't understand that. The bosses at rival companies like Chevrolet did, however, and Ford's market share was steadily decreasing.

It was Edsel who helped reverse the trend, by pushing through the development of the all-new Model A Ford, launched in 1928. He had already diversified Ford's portfolio by acquiring Lincoln in 1922 – a move to which Henry seems to have acquiesced by viewing it as a pet project that would keep Edsel occupied. Edsel went on to add Ford Deluxe, Mercury and Lincoln-Zephyr to the company range in the 1930s. In these efforts he was successful; his attempt to win his father's acceptance for a sportier kind of Ford was not.

The Edsel Speedster – more properly known as the Ford Model 40 Speedster – was a collaboration between Edsel and designer ET 'Bob' Gregorie, a young New Yorker who had come to Detroit to seek his fortune. In late 1930 and at the age of 22 he landed a job at Lincoln, which is where he came to Edsel Ford's attention.

Both men had a shared interest in yachts and motorboats (Gregorie had begun his career working with custom yacht builders) and they quickly established a natural rapport. In particular, Gregorie respected Edsel's intuitive feel for design – 'Even though there were two of us, we thought as one,' Gregorie said later. 'My hands became Edsel's too in developing designs… In essence, I was able to put on paper and into clay the designs he was visualising in his head.'

For his part, Edsel helped set Gregorie up in what would become the Ford design department. (It was actually the old terminal building at Ford's private airfield, created to deal with a predicted boom in Ford Tri-Motor aircraft that never materialised.)

One of Gregorie's first projects was to design a new European Ford, the Model Y. Gregorie was already familiar with European cars, having made several transatlantic trips with his parents, and both he and Edsel liked the idea of adding a 'Continental' – in other words, sleeker and sportier – model to the Ford line-up.

Gregorie's first attempt was a boat-tailed two-door roadster based on a regular 1932 Ford chassis and constructed by the underused artisans at Ford's aircraft works. Edsel drove it around his Gaukler Pointe estate for a while, but had to shift his focus to steering the Ford empire through the stormy waters of the Great Depression.

In 1934 Edsel and Gregorie revived the idea of a new Continental Ford. Edsel had reportedly been disappointed that the first car was not lower and sleeker – mainly because it had been based on a stock 1932 chassis. For the second attempt, Gregorie used a heavily modified chassis, inverting the rear chassis rails to make them 'underslung' and allow a much lower body. The result is what you see in the pictures.

In fact, what you're seeing is the car as it hasn't been seen since the 1950s, when it was painted bright red, reputedly for a now-lost Disney film called The Epoch of Transportation. In 2010, the trustees of the Edsel and Eleanor Ford House had the opportunity to buy the car, after which they commissioned a total rebuild to pre-war condition by RM Auto Restoration Inc. This included repainting the car in its original pearlescent Gunmetal Dark, a colour that seems to change, chameleon-like, with its surroundings. Octane photographed it in the late afternoon light that followed the Amelia Island Concours, where it appeared to absorb the hue of its lush green golf course backdrop. 'We had people asking whether we'd repainted it since Pebble Beach,' says RM's general manager Mario Van Raay.

Ever since the car was built, it's been assumed that it was based on a modified Ford Model 40 V8 chassis, the theory being that this was necessary to secure the hoped-for approval from Henry Ford to productionise the car. When RM stripped it down, however, they found that the chassis was very different. Only the front and rear parts are Model 40, with the rear rails inverted and connected to the fronts by what Mario thinks could be sections of a Ford truck chassis.

It's not clear whether the front wheel 'helmet' wings were modified from Tri-Motor aircraft wheel spats, or made from scratch. 'When we stripped them, the panel-beating was surprisingly basic and they didn't fit the profile of the wheels terribly well,' reports Van Raay. 'There were also signs of damage where they'd hit the bodywork. The wings pivot with the wheels, which severely restricts the car's turning circle.'

The rest of the bodywork was certainly created from fresh aluminium sheet, skinning over a tubular alloy frame. The exhaust pipes were fully enclosed within a belly pan, and the Kelsey-Hayes wire wheels covered with spun metal discs. With no running boards, a cockpit positioned well back on the chassis, and a long, pointed tail, the Speedster looked like no other Ford – although its wheelbase was actually very close to a stock Model 40's, only an inch or so longer.

In its first form, the Speedster featured a full-depth V-shaped grille, with two lights mounted low down (see picture 5 in the panel on the previous page). Edsel had a fondness for 'pointy' grilles, with their echoes of boat hull design, and Gregorie was happy to indulge him. But the stock Ford V8 used in the car always had a marginal cooling system, and it proved prone to overheating in the enveloping Speedster body. Period photos show that at some time in about 1935-36 the bonnet sides were modified to include two rows of louvres rather than one.

Edsel liked this 'Continental' much more than the first car, and drove it discreetly around his estate and on neighbouring roads. Discreetly, because his father disliked it and any plans that Edsel might have had for production were quickly scuppered. The car spent much of its time laid-up in a shed on the estate – and then, in the winter of 1939-1940, a freeze cracked the engine block.

Edsel sent the car back to Gregorie to have the latest Mercury version of the flathead Ford V8 fitted, and Gregorie took the opportunity to update the styling and address the overheating problem by reworking the front end. (RM's Mario Van Raay says they found evidence of this when they stripped the car for restoration, and any telltale marks have been carefully preserved.) Gregorie shortened the vertical grilles and added a horizontal one below it; a photo of a contemporary styling model (number 6 in the panel) bears the handwritten annotation by Edsel, 'The form is very good – but [I] wonder if the two grilles shouldn't join?', along with a sketched-in outline of what Edsel had in mind.

He didn't get his way, however, and by the early 1940s he had more important things to worry about: America was about to get sucked into World War Two. Then, in 1943, Edsel died of cancer at the age of just 49.

Edsel's wife, Eleanor Clay Ford, inherited the Speedster but sold it in 1944. It ended up in Los Angeles by the late '40s, where the V8 acquired Edelbrock heads, a hot cam, a Thickstun inlet manifold and twin Stromberg 97 carburetors. The dash panel may have been replaced and fitted with Stewart-Warner gauges at this time – it had Lincoln dials originally – but it's also possible that it was changed during the 1940 body revisions.

The Speedster was next advertised for sale in the May 1948 issue of Road & Track by Coachcraft of Melrose Avenue. It may have been painted red at this time; certainly it was red, with red seat covers, when US Navy sailor John Pallasch spotted it on a used car lot in Pensacola, Florida, in 1958. He paid for the car and drove it home.

Soon afterwards, the engine threw its fanbelt and overheated; Pallasch started to dismantle the V8 but was then called up for service in Vietnam. He put the car into storage and it stayed there for  nearly 40 years, until founder of the Amelia Island Concours, Bill Warner, himself a Floridian, heard that it was still in Florida and tracked it down in 1998. He says: 'The Speedster was sitting in the Pallasch garage, covered with junk and tin cans, so no-one would know it was there. Remarkably, it was complete except for the wheel discs. The speedometer read just over 19,000 miles.'

Warner originally just wanted to invite the Speedster to his concours, but Pallasch had no interest in that; he was in the middle of a divorce and wanted to sell it. So Warner made him a decent offer and became the car's new owner. Next day, he trailered it over to St Agustine – where 91-year-old Bob Gregorie was still living. 'He had no idea it had survived,' recalls Warner. 'He came out of his house, smiled and said "I haven't seen it since 1940. The old girl still looks pretty good for her age."' Gregorie also confirmed that the Speedster had originally been painted metallic grey – Edsel's favorite colour – with grey leather upholstery.

That presented Warner with a dilemma. The car had been red for most of its life and, while he considered having the car restored to its original state, he decided to conserve the car as it was. 'It was prettier with the front end that was designed in 1934, but the 1940 grille was original,' he recalls. 'It would have been a travesty to completely restore it. So we rebuilt the engine [retaining the Thickstun dual carburetor manifold but removing the Edelbrock heads], and touched up the paint.'

In 2008, at the RM auction held alongside the Amelia Island concours, Warner sold the Speedster to Texan collector John O'Quinn. When O'Quinn died the following year, the trustees of the Edsel and Eleanor Ford House negotiated to acquire it from his estate.

In August 2010, the Speedster was delivered to RM Restorations in Ontario, Canada, for a total stripdown and rebuild. The bodywork was remarkably well preserved and the car has been returned to its 1940 condition, which meant ditching the Thickstun manifold and twin carbs. Its first public outing was at Pebble Beach in 2011 – where a faulty water pump impeller caused some dramatic overheating. It's almost as if history were repeating itself…

Now those initial teething problems have been sorted, the car goes well. Getting in isn't easy – you have to squeeze under the steering wheel from the passenger side – but otherwise it drives as you'd expect of a flathead Ford: lazy, easy performance from that wet-burbling V8; short gearing (you can move off in second) that gives lively acceleration; and a comfortable ride thanks to those Model T-derived transverse leaf springs. The lousy turning circle is its biggest disadvantage. And it still tends to get hot after a prolonged bout of slow running.

The Edsel is currently touring the USA nationwide, appearing at classic car events and motor shows before it returns to Ford House, its spiritual home. As for its creators, Bob Gregorie outlived Edsel Ford by almost six decades and didn't pass away until November 2002. It's ironic that his patron, who had such a fine eye for car design, is now best remembered because his name was posthumously bestowed on a gaudy 1957 Ford whose front-end styling was famously once described as 'an Olds sucking on a lemon'.

Now, at last, Edsel Ford has a more fitting memorial. 

Thanks to Ann Fitzpatrick and Kathleen Mullins of The Edsel & Eleanor Ford House, Michigan. This beautiful Cotswold-style mansion on the shores of Lake St Clair, which contains Art Deco rooms designed by Edsel Ford, is open to the public; see www.fordhouse.org for details of admission. Thanks also to Mario Van Raay of RM Auto Restoration Inc, www.rmautorestoration.com.

---
SPECIFICATIONS
1934 Ford model 40 'edsel speedster'
Engine 239ci (3900cc) Mercury flathead V8, single carburetor (originally 221ci Ford V8)
Power 95bhp
Torque 170lb ft
Transmission Three-speed manual, rear-wheel drive
Steering Worm and sector
Suspension Beam axles, transverse leaf springs front and rear, Houdaille hydraulic dampers Brakes Drums, rod-operated
Weight n/a
Performance Top speed c.100mph
Published Dec 7th, 2015
More Classic Car News & Article Categories:
Related Articles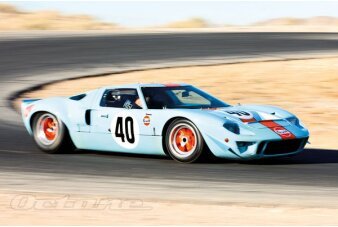 While every factory Ford GT40 is special, some are more special than others.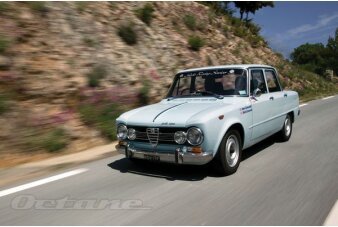 For the Linwoods historic rallying seems to come naturally.
×
Edsel's Speedster