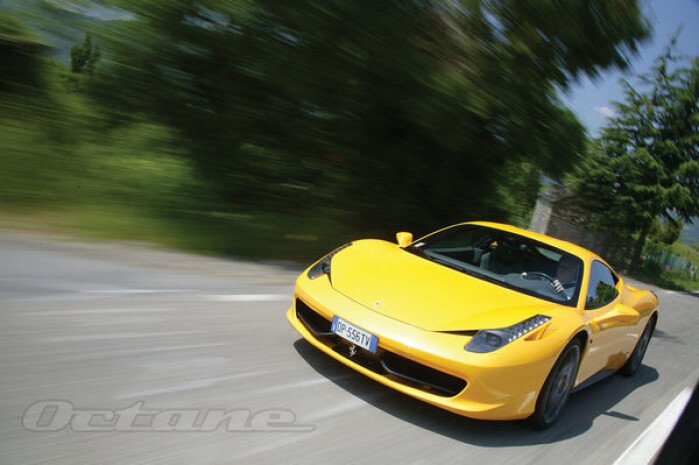 We execute a careful three-point turn in the medieval streets of Berceto, exhaust crackle encouraging even the olive-skinned octogenarian villagers to smile approvingly, before plunging down into the greenest of valleys yet one more time, and it's impossible to stifle an impish giggle. Why? Because we're in a Ferrari 458 Italia, the most capable 'baby' Ferrari yet, and there are bends. Lots of bends. Time for another run along one of central Italy's most sinuous mountain roads in search of the perfect photograph. Brilliant.
In fact it's almost impossible to find a location in Italy that doesn't suit the Ferrari 458. But we've come to honor the company's creator Enzo Ferrari by driving to the hillclimb course where he took 
his first faltering steps in motor sport. The Parma-Poggio di Berceto is a good hour's drive from the Ferrari factory gates in Maranello, and even while we're getting there the 458 is making a profound impression. We're struck by its compactness and cab-forward wedginess. But whereas its progenitors, the Dino 246, 308GTB and F355, are all what you could consider to be conventionally beautiful, the 458 has been designed for maximum impact. The shape is purposeful, but the slashed headlamps and the aggressively chiselled nose add shock and awe. Ferrari is on form.
Inside, it's a radical departure from older Ferrari babies, too. The biggest surprise for a new driver is the sheer number of controls that have been grouped on the steering wheel: everything from the indicators to the drive mode selectors – and our initial thoughts are that it's Ferrari playing its Formula 1 links merely for the sake of it.
Complementing the multi-function steering wheel is a state-of-the-art instrument cluster. It comprises a large, centrally placed tachometer – which runs out of calibration at an exciting 10,000rpm – flanked by a pair of electronic displays with a variety of screens that show everything from a lap timer to engine status via analogue-style instruments on the left, to the read-out for the 
sat-nav and stereo on the right. It's a lot to take in but monitoring it quickly becomes second nature.
There's something very satisfying about hitting a big red button on the steering wheel to start a car – especially when it sounds as good as this one. The flat-plane-crank V8 explodes into life, and idles noisily. It's not a sweet soundtrack at this speed, and it feels almost agricultural as we trundle into the mid-morning traffic. But while we're trickling along, trying to ignore the attention from other drivers, the complex-looking dashboard and busy steering wheel actually work really well. Switching modes on the wheel-mounted manettino and indicating via the wheel-mounted buttons when dicing with caffeine-charged Italians in their ageing Fiats all feels a bit Fernando Alonso. We love it.
So far I can't let the engine sing but it's going to be a spectacular chorus, that's for sure. This is a new direct-injection 562bhp 4.5-litre V8 (it shares its block with the California), and it's been designed to rev to a scarcely believable 9000rpm. Even more impressive is that it's 15% more economical than the old F430's engine, despite having 70bhp more to play with, and a specific output of 127bhp per liter. We're getting impatient. We need to know how all this feels.
The chance arrives once we clear the claggy urban sprawl of Maranello and spear towards the autostrada. With toll paid, the barrier rises and the light goes green. I select first on the paddleshift – and floor it.
The speed of the 458 is easy to quantify. Its 
0-60mph time is a smidgeon over three seconds, and it romps to 100mph in around seven. It's chest-crushingly fast, and what the numbers cannot convey is the way your senses are pounded as soon as you push the throttle to the floor. The 458 leaps forwards with minimal wheelspin, and the subsequent power delivery is both ferocious and linear. The cabin is instantly flooded with a delicious multi-layered V8 scream that increases in intensity as the revs rise. It's a beautiful noise, one you'll crave to hear again and again, especially when the by-pass valves open beyond 6000rpm, and all three exhaust pipes howl in symphony to urge us on to the 9000rpm limiter.
The 458 picks up speed and the revs rise too quickly for me to follow the tach, so I just hold on, keeping an eye on the LEDs on the steering wheel-top. When all three are lit, it's time to change up. And here's where the 458 really seduces. The dual-clutch gearbox gives an instant and decisive change, which feels both mechanical and unerringly smooth. In view of the autostrada's limit of 130km/h (81mph), we give the 458 its head in first and second before snicking up the gears and adopting a sensible cruise in seventh gear towards the mountains. This early morning wake-up only leaves me craving more.
Our route skirts Modena, where Enzo Ferrari was born on 18 February 1898 before growing up in a modest house in the suburbs. His locksmith father ran a metalworking business that kept a roof over 
his family's head, and it's here that Enzo became fascinated by engineering. His keenness was focused further when his father introduced Enzo and his brother Alfredo to motor sport in 1908, at a road race in Bologna. Enzo knew he had to drive a racing car.
In 1916, tragedy struck: both his father and brother died. Enzo was forced to leave school early and head for Turin and a job with Fiat. But he was turned down, and first found work with a company in Bologna that turned old lorry chassis into cars, then with Costruzioni Meccaniche Nazionali (National Mechanical Construction) in Milan as a test, development and racing driver. In 1919, aged 21, Enzo competed in his first race – the Parma-Poggio di Berceto – driving a 2.3-liter CMN, and we're keen to follow in his footsteps more than 90 years on.
The Parma autostrada reveals little more about the 458, other than it's composed and has a surprisingly fluid ride at an indicated 130km/h. Considering 
this is a fully focused supercar, it rolls along as competently as an executive saloon. But proper action beckons and, after a short spell pounding along the A15 to Fornova, following the simple (optional) sat-nav, it's time to peel off and head for the hills. The single-lane mountain roads soon open up, and what little traffic we encounter is simple to pass: three downward shifts, push-howl-go, and in again. The 458 is at home in the hills.
We're winding our way up the twisty Passo della Cisa. This road is perfect for the 458: the corners are a mixture of second- and third-gear hairpins, and the straights are long enough to stretch its legs but not long enough to reach anti-social speeds. It's a place that flows, and encourages confident driving.
The ultra-quick steering, which runs two turns from lock to lock, means that on this piece of road there's no need to shuffle the wheel – just turn-in, feel the tires dig in, and enjoy huge reserves of lateral grip as the car loads up in the process. Searing speed comes quickly, almost too effortlessly, and yet at no point does the 458 begin to feel nervous, even when the opportunity comes to gently tease some power oversteer out of the tighter corners.
The revs rise and fall and the exhausts pop and crackle on the overrun, and this little piece of 
driving heaven is absolutely perfect for a hillclimb. We reach Berceto all too quickly, and I crave another run down that mountainside and back up again. Thanks to the demands of a photoshoot my wish is granted several times.
Over espressos in Berceto's compact central 
piazza while the Ferrari cools off, there's ample time to contemplate how we'll find evidence of the hillclimb's famous connections. We know that there's a memorial and sign celebrating Enzo's first race, but we certainly haven't seen it on the way up to Berceto so we begin exploring alternative routes. It all seems in vain but our best pidgin Italian elicits the correct information from some locals. They send us back where we came from, only this time we know what we're looking for. And we find the sign. The tiny sign.
Considering the significance of the location, the sign and accompanying photo memorials are ludicrously small. After all, Ferrari is an Italian institution – up there with the papacy – and this all seems too modest. But maybe it's appropriate. Berceto really does not need to shout about its motor sport credentials.
The first Parma-Poggio di Berceto race was created by Manlius Corradi, Mario Negri and Lawrence Marks, and took place on 28 September 1913 – the first motor sport event in the Parma region. The wonderful run through the mountains to Berceto was actually preceded by 20km in the plains at the base of those mountains to make a total of 53km, offering drivers a unique challenge – but one typical of the pioneering races of the time.
The first race, held during the 'Centenary of 
Verdi' festivities, proved to be an epic, with 26 cars taking part. Victory went to Vincenzo Marsaglia in 
an Aquila Italiana in 43m 10.6s, ahead of local boy Mario Negri. The event was a success, and returned in 1914 when Ernesto Ceirano in a SCAT took 
2½ minutes off the previous year's time to score 
a memorable win in the process.
Thanks to the First World War the event didn't run again until 1919 – the year Enzo made his debut. Against the might of the 4.5-liter Fiats and 6.0-liter Mercedes, Enzo's CMN was not in the running for overall victory. Antonio Ascari took the spoils 
(in 38m 11.2s) in his Fiat S57/14B Indianapolis 4500. But for his first race on a gruelling course like this, Enzo's fourth in class and 11th overall was quite 
an achievement.
Enzo's recollections of the event, from the book Ferrari, were typically modest. 'I don't think I was too bad as a racing driver. I began in Parma-Berceto: the start of Ferrari was a fourth place in the three-liter category, collecting the remains of the applause given by a public that had clapped its hands raw for Ascari, outright winner.'
Another stop for photography provides the perfect opportunity to pause and reflect about the beautiful Berceto road. We also consider the contrast between how far Ferrari has come since those pioneering days, and the tragic end of the Parma-Poggio di Berceto. The race enjoyed a brief spell during the 1920s as part of the international motor sport calendar before being cancelled in 1924 due to lack of entrants.
During this period of faltering growth for the Parma-Berceto, Enzo's career bloomed. He was not a full-time racer but his performances were impressive – he won his first race on the Savio circuit near Ravenna in June 1923. There he met Countess Paolina, mother of Count Francesco Baracca, Italian air force ace and war hero. She asked him to use her son's 'prancing horse' good luck symbol on his cars: the Cavallino Rampante. The legend had begun.
One year later, Enzo joined the Alfa Romeo racing team, where he stayed until 1929 – it's at this point that Scuderia Ferrari was formed, and the Cavallino Rampante soon made an appearance on the flanks of a racing Alfa. The Ferrari juggernaut was now well and truly underway, beginning an adventure that has led to the global company that exists today.
That wasn't the case for the Parma-Berceto, though. Far from it. Despite offering such an amazing challenge for drivers and spectacular backdrops for spectators, the event failed to gain traction. After the hiatus, the race returned sporadically between 1933 and '39, and again between 1950 and '55. But in 1955, the end came – in only its 15th running – when 
Mario Della Favera crashed fatally, killing two policemen. The short history of the Parma-Poggio di Berceto was over. The race was suspended by the Parma authorities.
It's a sobering thought as we burble back into Berceto, but the village is brightened by our presence: grizzled old men sit and stare approvingly as they contemplate their afternoon beers, while the younger people are far less reserved, smiling, winking and calling 'Bella macchina!' Only in Italy.
Our trip to the birthplace of Scuderia Ferrari is coming to an end all too quickly. We have only 30 minutes to complete the 45-minute drive back to Maranello, but I give it my best shot, retracing our route down the mountain and heading back towards the A15 autostrada. It's amazing how a day in the 458 causes it to fit the driver so well. That gives me the confidence to push just a little harder in the twisties – and I'm really inspired by what a monumental achievement this car is for Ferrari.
Be in no doubt: there's an awful lot of technology going on to help keep the 458 on the road. It has active aerodynamics, an electronic differential and a fiendishly clever set of ESP modes that allow it to slide just enough. But despite all that assistance, you feel wired-in and fully in control as you're telegraphed every single dynamic nuance of the car through the wheel and the seat of your pants. Never has technology been so transparent or so benign for 
the keen driver.
We hit the autostrada and, despite it being mid-afternoon, traffic is light. We're still in the foothills, and that means fast curves and plenty of tunnels. As is proper and right, at every tunnel we enter, I drop the windows and two gears, then floor it. The soundtrack, merely spine-tingling in free air, becomes even more thrilling in the confines of the tunnel; 6000rpm and full throttle now generate an other-worldly noise that is so good, I'm surprised the EU hasn't taxed it. Onto the straights, and once again I bravely hold onto the throttle longer than we really should. And once again we're blown away by the sheer speed available. This is seriously, mind-bendingly quick.
Maranello hoves into view, the traffic builds, and time is still against us. But that's not to say that, as 
the evening's commuter traffic swarms around us, 
I can't appreciate just how deeply satisfying the 
458 is. It's the perfect junior Ferrari – usable and biddable – and it continues the tradition that was started with the earliest Dinos and maintained through the 308, 355 and F430.
Enzo would undoubtedly be proud of the car 
that wears his badge today. It may as well have 
been built especially for the venue of his 
competitive debut, so good does it feel on the Passo della Cisa, the heart of the Parma-Poggio di Berceto hillclimb. Despite the fact that the 458 benefits from nearly a century of development over the 2.3-liter CMN Enzo drove there in 1919, deep down they share the same heart, soul and passion. And on 
this hallowed hillclimb, I'm honored to have experienced it first-hand. Thank you, Enzo.

2011 Ferrari 458 Italia
Engine 4499cc V8, DOHC per bank, 32-valve, direct fuel injection
Power 562bhp @ 9000rpm torque 398lb ft @ 6000rpm
Transmission Seven-speed dual-clutch semi-automatic, rear-wheel drive 
Steering Power-assisted rack-and-pinion 
Suspension Front: double wishbones, coil springs, telescopic dampers, anti-roll bar. Rear: multi-link, coil springs, telescopic dampers, anti-roll bar 
Brakes Carbon-ceramic discs 
Weight 1485kg 
Top speed 202mph 
0-62mph 3.4sec
Published Dec 7th, 2015
More Classic Car News & Article Categories:
Related Articles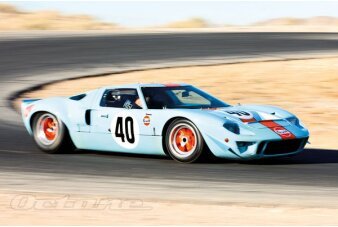 While every factory Ford GT40 is special, some are more special than others.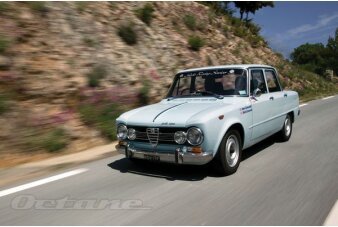 For the Linwoods historic rallying seems to come naturally.
×
Driving The Ferrari 458 In Italy