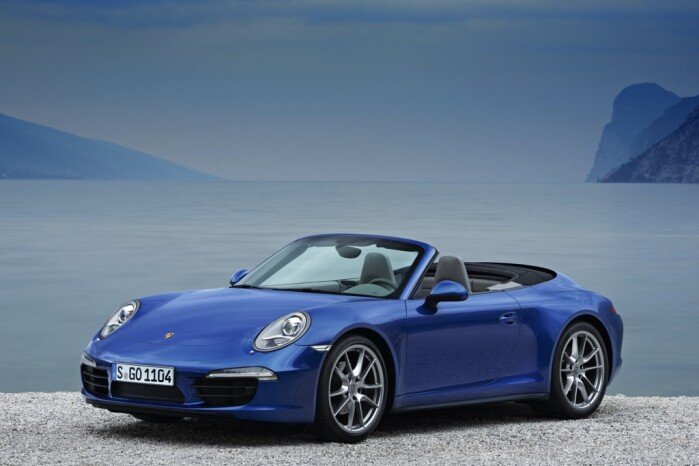 The 2013 Porsche 911 is Porsche's signature sports car. Known to some as the 911 and to others as the Carrera (Porsche uses both names), this model is between body styles for 2013. The new 991 model chassis made its debut as the base 911, 911 S and their respective convertible models for 2012, while all-wheel drive versions (Carrera 4/Carrera 4S) in both coupe and cabriolet form have been added for 2013. The 911 Turbo models, however, remain on the outgoing 997 chassis, so if you're looking for the fastest and most expensive trims of the 911 you'll end up with the older underpinnings. Gone altogether for 2013 are the Carrera GTS and Carrera Targa model, both of which are expected to return in future years.

Prices for the 2013 911 start at $82,100 for the Coupe and $93,700 for Cabriolet models. The Carrera S Coupe is $96,400 and the Carrera S Cabriolet is $108,000, while the Carrera 4 Coupe is $91,030, the Carrera 4 Cabriolet is $102,930, the Carrera 4S Coupe is $105,630 and the Carrera 4S Cabriolet is $117,530. On the other hand the Turbo Coupe and Turbo Cabriolet are $137,500 and $149,000, respectively. Finally, the range-topping Turbo S and Turbo S Cabriolet are $160,700 and $172,100, respectively.

While Porsche tends to lean more toward evolution than revolution as it redesigns its products, the new 991-series 911 Carreras appear to have only minor exterior updates despite major interior and mechanical changes. A completely refinished and decidedly upgraded interior, along with a new 7-speed manual transmission are just a couple of the changes seen on the new 991 chassis.
First introduced in 1963, the 911 has carried its rear-engine, independent suspension setup all the way to the 21st century. With time, the car has grown in size, weight, power and price. What once was a (relatively) affordable club racer is now a legitimate premium car with a price tag to prove it. The entry model now has 350 horsepower and a starting price of just over $82,000, but the top-of-the-line 911 Turbo S can exceed $200,000 with options. That said, the competitors for the 911 come in many forms, from luxury cruisers like the BMW 6 series to all-out performance machines like the Lamborghini Gallardo.
There's no question that today's Porsche 911 is the most luxurious 911 ever built, but it hasn't come without a few technological gremlins. In reviewing a 911 S in 2012, we experienced six phantom check-engine lights, all of which went out once we turned the car off and restarted it. The dealership technicians were unable to identify any issue, which leaves us wondering how they'd repair these electronic glitches.

Comfort & Utility
With the launch of the Panamera, Porsche designers proved they understand that there's more to travel than simply the business of driving. Its interior rivaled high-end brands like Maserati, but maintained the same "race me" feeling evoked by Porsches of yore. In turn, the newest 911 evokes the premium feel of the Panamera.

The standard seats are snug and well-suited for spirited drives, while comfortable enough for long commutes and road trips. For shoppers looking for a more tailored fit, Porsche also offers three additional seating options, ranging all the way to adaptive sports seats for an additional $3,825. The real improvement to the 911 is in the center console, though. In the past it felt empty, with little more than a shifter to occupy your hand. Now, the console is mounted high to give the interior a cockpit-like feel, and Porsche has created a full command center out of the space around the transmission tunnel. You can deploy the spoiler, switch between sporting modes or even tune the exhaust -- all with the push of a button or a flick of the wrist.

The instrument panel also mirrors the Panamera's, with a 5-canister design for the gauges. A full-color digital display keeps the driver informed while allowing the passenger to tinker with the stereo controls. For trunk space, the 911 maintains its classic "frunk," meaning that whatever doesn't fit in your backseat must find a home in the front boot of the car. Don't be too concerned, though, because there's plenty of room for a big trip to the grocery store or a small trip to Home Depot. In our week with the car we fit in a $260 grocery run and still had room for more.


Technology

Bluetooth, navigation, rain-sensing wipers, HomeLink and iPod integration are all standard on the base 911, but that doesn't mean that there isn't room to grow. Each 911 can be configured to the driver's personal taste, so there can be any number of combinations of options. For simplicity's sake, we'll address the packages available here, but don't be afraid to order your Porsche with individual options. However, be advised: the extras can get very pricey.

For $2,420, the car's audio system can be upgraded to the midlevel Bose Audio Package, but real audiophiles may want to spring for the Burmester sound pack for $5,010. If you're looking for heated and cooled seats, the Premium Package Plus costs an additional $4,650, but also includes power folding mirrors and adaptive headlights.

Porsche's quick-shifting PDK dual-clutch transmission may be a necessity for shoppers looking for an automatic, and it might be preferred by those who want to race. Either way, it's an additional $4,080. And to add on ceramic brakes, the adaptive suspension, torque vectoring and the Sport Chrono package, you're looking at spending as much as an extra $17,000 in driver technologies.

No, the 911 isn't a cheap addition to your garage (especially when dressed well), but it can be made into a legitimate race car with the prowess to take on Italian exotics.


Performance & Fuel Economy

The entry-level 911 comes with a 3.4-liter horizontally opposed 6-cylinder engine that's good for 350 hp. The 911 S is equipped with a slightly larger 3.8-liter engine that produces 400 hp. An all-new 7-speed manual transmission comes standard in both cars, and the PDK dual-clutch automatic is optional.

We're not sure how often shoppers in this segment seriously consider fuel economy, but the 911 receives middling-to-decent figures. The base 911 Carrera and Carrera S with the PDK transmission are rated at 19-20 mpg city/27-28 mpg hwy; the foul-weather-friendly Carrera 4/4S models are rated between 18-19 mpg city/26-27 mpg hwy.

Turbo models send the fury of a 500-hp turbocharged, horizontally opposed 6-cylinder engine to all four wheels, with Turbo S models doing the same trick with an even more powerful, 550-hp version of the same engine. Fuel economy drops as low as 16 mpg city/24 hwy for the Turbo S Cabriolet, not that most people capable of affording one will likely mind paying for some extra fuel.


Safety

With its nearly useless backseat, the safety features in the 911 are focused on the driver and front seat passenger. Both passengers have full-size head, knee and side airbags, as well as side curtain airbags.

The 2013 Porsche 911 has not yet been crash tested by the Insurance Institute for Highway Safety (IIHS) or the federal government. 


Driving Impressions

Everything about driving the Porsche 911 makes you feel like a rock star. No matter how you equip it, the car is an absolute thrill to drive with its aggressive power delivery and ultra-tight handling. Steering is also among the most direct that we've ever experienced, despite Porsche's inclusion of an electrically assisted steering system. Inside, the cabin is comfortable and easy to navigate, and the car is intuitive to maneuver on enthusiastic drives. Whether you're looking for a comfortable cruiser, an exciting weekend warrior or a dedicated track toy, the 911 works as a one-size-fits-all solution. That's if you have the budget, of course.

The only downside that we can see to driving a new 911 is that the car feels larger and heavier than we expected. In our opinion, Porsche should be synonymous with small and light, but the 911 is neither.

Again, this all comes down to personal taste. If you're in the market for a scaled-down racer, it might be worthwhile to take a look at the Cayman S or the upcoming 2013 Boxster S. But, if owning "the" Porsche is on your bucket list, the 911 is an easy choice.


Pros: Raw sporting ability; luxurious interior; classic 911 profile; extensive dealer network

Cons: Expensive; costly options; impractical back seats; relatively common

What's New: All-wheel drive Carrera 4 models added in non-turbo variants


Other Cars to Consider

BMW 6 Series: While not as aggressive as the Porsche, the BMW 6 Series ($74,400) offers a roomier and more comfortable interior in a generally sporty touring car. If you're looking for something with the same punch as the 911 S, the BMW M6 is available in coupe and convertible forms (both with usable backseats) as an alternative to the ultra-fast 911 Turbo.

Audi R8: At $114,200, Audi's R8 costs about as much as a well-equipped 911 S, and is just as athletic, too. Plus, the R8 has the exclusive appeal of significantly more expensive exotic cars.

Jaguar XK: The $79,000 Jaguar XK now sits on a slightly dated platform, but it's probably the most comfortable sports car you can buy for less than $100K. It's built more for highway cruises than track days, but it feels lightweight and nimble around town and is worth a look if that's how you plan to use your Porsche.

We Recommend

While the new 991 version of the 911 is available in many configurations already, there are many more on the way, ranging from GTS and Targa models to turbocharged and special edition cars. As it stands now, we think the sweet spot is in the 911 S Cabriolet. With its 400 hp, legitimately premium interior and open air experience, it's sure to give you a rush when you gun the accelerator, as well as a generally pleasant ride for longer trips. The only consideration here is price, because with a starting price of $108,000 and options that can push it well over $130,000, there are several interesting alternatives available. But for the Porsche faithful, it's a slam-dunk.
Driven: 2012 Lamborghini Aventador LP700-4

The outrageous beast is at its brilliant best. Browse Lamborghinis for sale now!
Video - Morgan Craftsmanship

How It's Made: Dream Cars shows how Morgan craftsmanship is conceptualized and executed. Browse Morgans for sale now!

Video - Finishing The Morgan Aero Coupe

How It's Made: Dream Cars show how workers install the Morgan's V8 engine and finish the chassis. Browse Morgans for sale now!
Video - Ferrari 12 Cylinder Assembly Line

How It's Made: Dream Cars explorers Ferrari's incredible 12 cylinder engine assembly line. Browse Ferraris for sale now!
Video - The History of Porsche

How It's Made: Dream Cars explores this automaker's proud history. Browse Porsches for sale now!
Video - Putting A Ferrari Together

How It's Made: Dream Cars shows how a Ferrari is put together. Browse Ferraris for sale now!

Driven: 2013 Porsche 911

The 2013 Porsche 911 is a worthy successor to the family name. Browse Porsches for sale now!
Driven: 2014 Jaguar F-Type

Inside the 2014 Jaguar F-Type, the manufacturer's first two-seat sports car in over 50 years. Browse Jaguars for sale now!
Video - Porsche: The Marriage of Elements

How It's Made: Dream Cars shows how workers assemble the iconic Porsche 911. Browse Porsches for sale now!
2014 Bentley Continental GT Speed

Bentley turns up the wick on their already amazing super coupe. Browse Bentleys for sale now!
2013 Maserati Quattroporte

The 2013 Maserati Quattroporte proves that there is no need to sacrifice performance if you need more than two doors. Browse Maseratis for sale now!
Dream Cars

AutoTrader Classics celebrates our favorite dream cars! Browse exotic cars for sale now!
Published Dec 7th, 2015
More Classic Car News & Article Categories:
Related Articles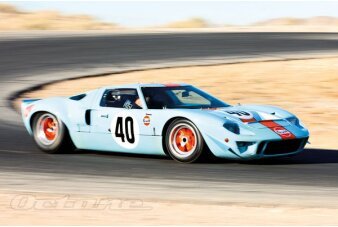 While every factory Ford GT40 is special, some are more special than others.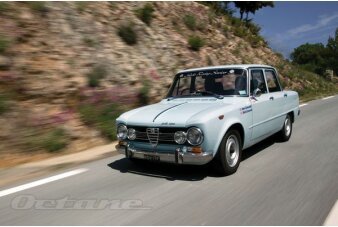 For the Linwoods historic rallying seems to come naturally.
×
Driven: 2013 Porsche 911