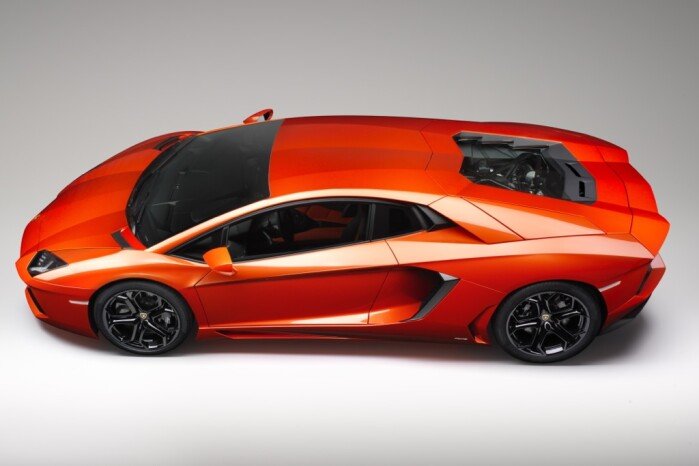 In its heyday, it seemed impossible to outshine the Lamborghini Murciélago. Sure, it was a little rough edged at its limit, but as an expression of automotive exuberance, its sloping lines and howling V12 represented the bleeding edge of extreme design.

But when its replacement was finally unveiled at the 2011 Geneva Motor Show, all bets were off. The Aventador LP700-4, boasting the outrageous 700 metric horsepower (691 hp U.S.) output cited in its name, was a new beast altogether. Hewn with a more modern eye than its predecessor, its faceted bodywork seemed part fighter jet, part avant-garde sculpture.

And it's even more radical beneath the skin, with a slew of technologically advanced engineering feats that make this supercar's bite as strong as its visual bark. This flagship is, as with virtually all Lambos, named after a deadly bull, and its production run is limited to an estimated 4,000 examples. Priced at a forbidding $393,695 before options are piled on, the Aventador is a rare specimen available for a few well-heeled buyers.

Spinoff variants are inevitable, but expectations of a convertible version making its debut at the 2012 Geneva Motor Show were quelled by an even more jaw-dropping Plan B: the Aventador J, a one-off concept that might hint at styling inspiration for future stablemates to the already stunning supercar.


Comfort & Utility

For all its visual bravado and performance superlatives, the Aventador is surprisingly functional thanks to creature comforts coming from Audi, Lamborghini's corporate parent. As is predictable with a car so focused, there's scant storage space for even a cell phone within the Aventador's two-seat cabin. But those impracticalities are offset by Audi's familiar MMI interface, which makes interacting with the nav and A/C settings a painless endeavor.

Although a rear camera aids parking maneuvers, rear visibility suffers on this wild ride because of the lazy C-pillars stretched across the edges of the hulking V12 powerplant, which resides beneath elegantly louvered glass panels. Also aiding practicality is a hydraulic system that lifts the vehicle's front axle to accommodate steep driveways.

You'll need to pack light for your road trip, since the Aventador's cargo capacity is about as limiting as a single overhead compartment in a Boeing 737; at least you're all but guaranteed to arrive at your destination in record time, assuming your on-road exploits don't land you in jail first.


Technology

The Aventador represents a quantum leap over its predecessor, starting with its first ever volume built, fully enclosed carbon fiber monocoque. Weighing only 325 pounds, the structure is mounted to aluminum front and rear frames for high levels of torsional rigidity. A new suspension system inspired from the world of Formula 1 racing uses inboard springs and dampers to reduce unsprung mass. Coupled with an aluminum double wishbone setup and carbon ceramic brakes, the Aventador takes a no-holds-barred stab at ultra-high-performance handling.

The advances don't stop there: a new Independent Shift Rod (ISR) seven-speed transmission is compact, lightweight and enables 50-millisecond gearchanges-roughly 140 percent faster than the already quick Gallardo. The new 6.5-liter V12 incorporates a high-revving configuration and a permanent all-wheel-drive layout that is both more fuel efficient and more powerful than its predecessor. The Drive Select system manages engine, transmission, differential and steering parameters. It uses three settings: Strada (road), Sport for more aggressive driving and Corsa for track-appropriate levels of responsiveness.

High-tech elements also seep into the cabin. The aircraft-inspired TFT instrumentation has a bright, clear, contrasty display dominated by a large virtual tachometer.


Performance & Fuel Economy

The Lamborghini Aventador is one of the highest-performing production vehicles money can buy, with mind-bending, stomach-churning capabilities: its V12, with 691 hp and 509 lb-ft of torque, is powerful enough to yank this hypercar to 62 mph in a scant 2.9 seconds, and its wedge-shaped body can reach a terminal velocity of 217 mph. This Lambo is also capable of stopping with ferocious g-force: thanks to massive 400-mm front discs, carbon ceramic composite surfaces and six-piston calipers, the Aventador's ABS claws the massive Pirelli P Zero tires into the tarmac to instigate a halt.

In spite of an 8 percent increase in power over its predecessor, the Aventador's consumption and CO2 emissions are down approximately 20 percent-but it's certainly no fuel sipper. The Lamborghini Aventador is EPA rated at 11 mpg city, 17 mpg highway.


Safety

NHTSA and the Insurance Institute for Highway Safety haven't published crash test data on the Aventador, but this Lamborghini's tough carbon fiber monocoque should offer superlative crash protection along with its front, head, thorax and knee airbags. Incidentally, certain Lamborghini dealers have taken special training in the use of ultrasonic and infrared equipment to detect whether the carbon fiber chassis has been damaged in an accident.

This nearly $400,000 car is also equipped with the standard array of brake differential, stability and traction control features to wrangle all those horses into a reasonable semblance of on-road behavior.


Driving Impressions

A sense of occasion presides over the experience of piloting a Lamborghini Aventador, and it all starts when you swing the scissors door skyward to gain access to the cabin.

Low pitched and functional in its essence, the Aventador's cockpit concentrates virtually all of its controls along a center stack, which leaves large expanses of leather clear and uncluttered along either side. Flip up a red missile-launcher-style engine start/stop guard, and the V12 is ready to fire up. After roaring briefly to what feels like an unnaturally high rpm, the engine settles into a throaty idle. It's ready to be provoked once you've clicked the right paddle shifter, which stays stationary with the steering column.

The flat-bottomed steering wheel has comfortable resting spots carved for both hands, and just ahead is a brightly lit digital simulacrum of a tachometer. In the mildest mode, Strada, the Aventador cruises around like a pussycat; it's mellow and aloof under light throttle, with a relatively low-key exhaust note. Lay into the gas a bit, and slow, early upshifts hide the beefy part of the engine's torque curve. But switch to Sport, and hints of the Aventador's potential peek from beneath the façade of calm. Acceleration takes a more aggressive tone, and the car feels nimbler as power gets driven through all four tires. Corsa takes it to an entirely different level by allowing the engine to scream all the way to its 8,250-rpm power peak.

Transmission and steering settings also respond accordingly, with quicker, more urgent gearchanges and heavier feedback at the wheel. Driven close to its limits on a track, the Aventador has a disarming way of making ludicrous speeds seem entirely reasonable-but when provoked, that's not to say there aren't snappy sides to this supercar's personality. For instance, during high-g-force cornering, the gearshifts are violently forceful, sending enough torque to all wheels that the stability control system is triggered. For that reason alone, it's a bad idea to disable the electronics entirely; in its sportiest setting, the Aventador allows enough slip angle and tire spin to keep the most imperturbable driver on edge.


Pros: Mind-blowing styling with performance to match; chassis and engine embedded with cutting-edge technology; palatial pricing ensures exclusivity

Cons: Easy drivability may disappoint those looking for a challenging ride; projects an unfriendly aura; preciousness impedes enjoyment


Other Cars to Consider

Lexus LFA-Contrasting the Lamborghini Aventador with the $375,000 Lexus LFA may seem like apples and oranges, but the Japanese exotic has more going for it than its relatively pedestrian sheetmetal might suggest. Housed under the LFA's vented hood is a Formula 1-inspired V10 that sounds like it was plucked directly from the paddock at Spa-Francorchamps. If the standard-issue LFA is too typical for you, an available Nürburgring package boosts the price to $445,000. Perhaps most compelling is the car's extremely low production number: with 500 vehicles built in total, the LFA will be eight times rarer than the Aventador.

Aston Martin DBS-More an image choice than a driver's car, the $275,461 DBS offers a discreet alternative to the Aventador's outlandish "look at me" pretensions. Powered by a smooth-spinning 510-hp V12, the DBS harbors a plush cabin that's sophisticated and finely detailed. Although it can accelerate from 0 to 62 mph in a scant 4.3 seconds, this Aston Martin is likely to attract an entirely different clientele than the demographic of the more exhibitionist Lamborghini.

Ferrari F12 Berlinetta-This long-awaited replacement for the 600-hp 599GTB boasts wind-cheating bodywork, a lightweight aluminum spaceframe, and a staggering 740 hp from its 6.3-liter V12. Pricing has yet to be released. This latest Ferrari promises to be a worthy competitor for the Aventador, not to mention the fastest, most powerful road car to hail from the Modena-based manufacturer.

We Recommend
For those who can afford it, and who have the desire for it, there's nothing like a Lamborghini.
You can win a trip for 4 to LA, Miami, or NYC to test drive 6 exotic cars ( Lamborghinis, Ferraris, Aston Martin, Bentleys and more!) from our friends at Gotham Dream Cars and InterContinental Hotels & Resorts. You'll also get $5,000 in spending cash and an exotic car rental to take you around the city in style! Click here to enter now!


Driven: 2012 Lamborghini Aventador LP700-4
The outrageous beast is at its brilliant best. Browse Lamborghinis for sale now!
Video - Morgan Craftsmanship
How It's Made: Dream Cars shows how Morgan craftsmanship is conceptualized and executed. Browse Morgans for sale now!

Video - Finishing The Morgan Aero Coupe

How It's Made: Dream Cars show how workers install the Morgan's V8 engine and finish the chassis. Browse Morgans for sale now!
Video - Ferrari 12 Cylinder Assembly Line

How It's Made: Dream Cars explorers Ferrari's incredible 12 cylinder engine assembly line. Browse Ferraris for sale now!
Video - The History of Porsche

How It's Made: Dream Cars explores this automaker's proud history. Browse Porsches for sale now!
Video - Putting A Ferrari Together

How It's Made: Dream Cars shows how a Ferrari is put together. Browse Ferraris for sale now!

Driven: 2013 Porsche 911

The 2013 Porsche 911 is a worthy successor to the family name. Browse Porsches for sale now!
Driven: 2014 Jaguar F-Type

Inside the 2014 Jaguar F-Type, the manufacturer's first two-seat sports car in over 50 years. Browse Jaguars for sale now!
Video - Porsche: The Marriage of Elements

How It's Made: Dream Cars shows how workers assemble the iconic Porsche 911. Browse Porsches for sale now!
2014 Bentley Continental GT Speed

Bentley turns up the wick on their already amazing super coupe. Browse Bentleys for sale now!
2013 Maserati Quattroporte

The 2013 Maserati Quattroporte proves that there is no need to sacrifice performance if you need more than two doors. Browse Maseratis for sale now!
Dream Cars

AutoTrader Classics celebrates our favorite dream cars! Browse exotic cars for sale now!
Published Dec 7th, 2015
More Classic Car News & Article Categories:
Related Articles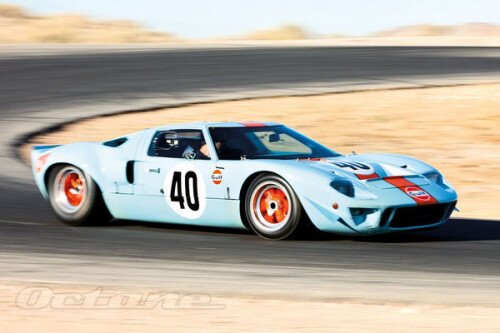 While every factory Ford GT40 is special, some are more special than others. The dazzling example featured here, chassis GT40P/1074, earns bonus points for at least three reasons..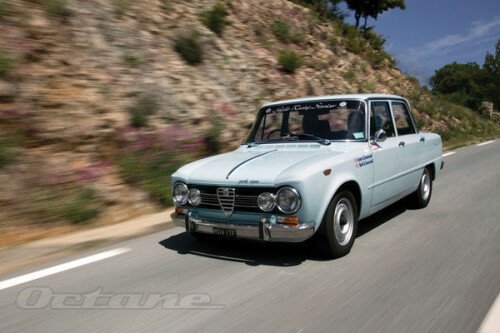 Not long after their first event together, Bob bought a standard road-going 1968 Alfa Romeo Giulia Super, and had it restored by Classicarco in Manchester. We spend a pleasant afternoon tossing it around the French countryside for Martyn's camera, Bob and I swapping the wheel like two duffers on the practice green trying out the same putter.
Advertisement
×
Driven: 2012 Lamborghini Aventador LP700-4