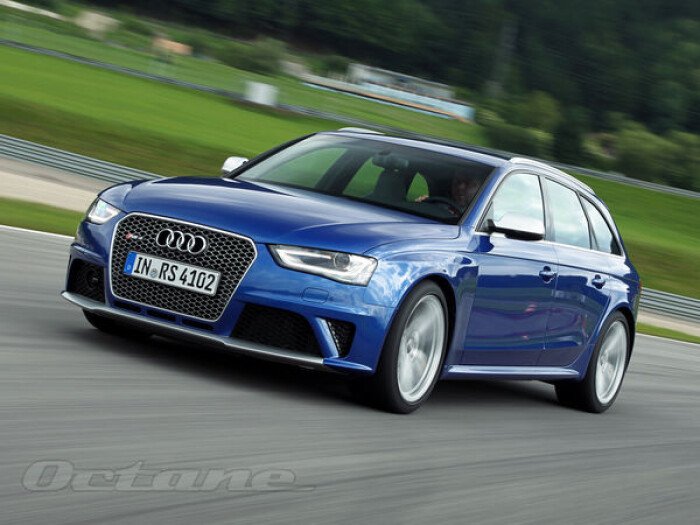 The 2012 Audi RS4 has rather a lot to live up to. It could be argued that Audi set the template for the sporting compact estate back in the mid-1990s. For those old enough to remember the RS2 – the breathed-on S2, packing 315bhp and capable of scorching from 0-30mph more quickly than a McLaren F1 – it's a legend that set the bar rather high. With Porsche's help, this has to be one of the most appealing Audis built since the UR-quattro. But with the 2012 RS4, Audi is confident that its latest challenger is more than capable of living up to the RS2's reputation for giant killing.
The RS4 is certainly an impressive car on paper. It's good to see that it retains a V8 engine, like its predecessor. And what an engine it is – a 4.2-liter direct injection, high-revving V8, with 444bhp, (developed at 8250rpm!) and 317lb ft between 4000-6000rpm. It's hooked up to a seven-speed dual-clutch S-tronic offering three modes, Drive, Sport and Manual. You can have launch control, too – just the thing for exiting tollbooths in a hurry. Claimed performance figures for our car (we had the plus model with a higher speed limiter) are 0-62mph in 4.7secs and a maximum speed of 174mph (as opposed to 155mph for the 'vanilla' RS4).
It also looks the part. Like all RS Audis, it's actually quite understated, but obvious to those in the know. The big tell-tale (20in wheels and more aggressive aerodynamic aids aside) that this is an RS4 and not a Sport-line 2.0TDI are the wheelarch blisters. We like these, because they evoke memories of the UR-quattro, and signal that this car (despite the lifetime that separates them) is made from the same stuff. At least we hope so.
Our chance to get to know the RS4 presented itself in the perfect way. We were invited to visit Audi's factory in Neckarsulm (home of the R8 and quattro GMBH), and then drive an RS4 home. And although the RS4 harks from Ingolstadt not Neckarsulm, there's a very strong link as the R8 is made there, and all of the RS models are developed at the factory. The route back to the UK was almost exclusively on the motorway (due to time constraints), which is no great shakes, as it's here that we expect the RS4 to be at its absolute best.
But to get to the autobahn, we'd have to take in a selection of twisting back-roads. And it's here that the magnificence of that V8 first presents itself in all its widescreen glory. With as little as 2000rpm on the tacho, it's pulling hard, but that notches up a gear to ballistic beyond 4000, but that becomes banshee-wild as the revs draw towards the 8500rpm cut-out. When cracking on, you want all the controls switched to sport, and change gear on the delightful DSG 'box yourself. Up-changes are near seemless, and utterly addictive, and down-changes equally enjoyable, thanks to a cheeky blip from the V8, echoed by a bark from the exhaust.
The brakes are tireless when slowing for corners, and once committed, the variable-rate EPAS is direct and well weighted, perfect for the fat-rimmed steering wheel. It's a dynamic steering set-up, which is capable of automatically adjusting its line, depending on whether it detects under- or oversteer - and it's fitting that 'Dynamic' mode is right for these conditions, being weighty and ultra-responsive. As for feel, forget it... Handling is also exemplary, with bags of lateral grip on offer and fantastic high-speed poise. Again, you don't feel like you're truly interacting with the RS4, even though you're in full control, and that's down to its lack of tactility – you know what it can do, and its envelope of ability is astonishing, but it would be nice to just have a modicum of feel, rather than weight, through the controls.
But that lack of sensitivity is by no means a criticism considering just how fit for purpose the RS4 is. On the motorway, it's absolutely invincible. Yes, sharp surface irregularities can knock the wind out of you (especially at low speeds, where it can blur your vision), but this is a pay-off for sensational high-speed stability (as well as its huge ability in sweeping bends). Once you're over 100mph, it's flat, poised and there's just enough suspension compliance to mean you're not caught out by lumpy autobahn curves. As trans-European expresses go, there's little that comes close to the RS4. Instant acceleration, long legs, great seats and a playful soundtrack – shame it might not work as well in 70mph-constrained Britain.
The 61-liter fuel tank is nowhere near large enough for a car with 20mpg-ish thirst – so plan for regular stops, especially if you extend it for any length of time. And in Germany, we drank through 98RON far too quickly, needing a refill after just over 200 miles. But on the autobahn, it's impossible not to enjoy the RS4 at its absolute best.
Crossing the border into France, and we're adopting a more relaxed approach. Our UK-registered car would be a magnet to the local law enforcement, so we dial in 130km/h into the cruise control, slip into 'Comfort' mode, and take stock of the RS4's interior. First thing, those supportive seats - with butterfly wings - work well, and the driving position isn't bad at all. As you'd expect, being based on a high quality business tool like the A4, the RS4's ergonomics are pretty much flawless, and covering miles is a pleasure, not a chore. But we want to cover miles quietly, but the barking exhaust note won't allow us – every time you flex your right foot to get around someone, and it barks its wonderful bark.
In the UK, it's much the same, only slower and bumpier. Again, the RS4 is brilliant on the three-lane stuff, and we just wish there are more opportunities to get onto the B-roads and have a play. It was brilliant and uncommunicative on Germany's smooth back-roads, and we wonder how it would handle the UK's inconsistent (and challenging) minor roads. But that will have to wait until later – for now, as we roll-up to our destination after 600 miles and just ten hours of driving, it's time to reflect on what we did learn about the Audi RS4.
Three words come to mind: fit for purpose. For trans-European dashes, with a bit of A-road give and take thrown in for good measure, it's nigh-on perfect. Keen drivers might bemoan its lack of feel, and less-than-perfect lower-speed ride compliance, but for covering big distances quickly, and cornering with conviction, it's nigh-on perfect. It's a reasonably soulful thing, too, thanks to that brilliant and tuneful drivetrain. The RS4 builds on the success of previous fast Audi estates, and we have no doubt that it's going to find a ready market with enthusiastic drivers – even if we walked away at the end of our long journey without once looking back.
Published Dec 7th, 2015
More Classic Car News & Article Categories:
Related Articles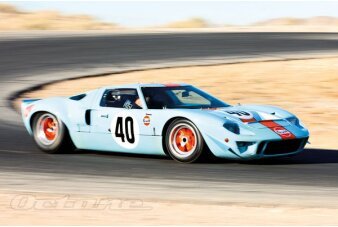 While every factory Ford GT40 is special, some are more special than others.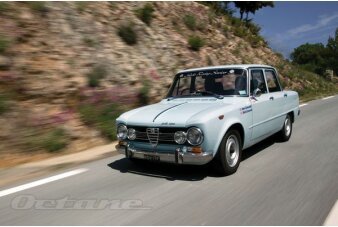 For the Linwoods historic rallying seems to come naturally.
×
Driven: 2012 Audi RS4