‹ Go back
Driven: 1961 Aston Martin DB4GT Zagato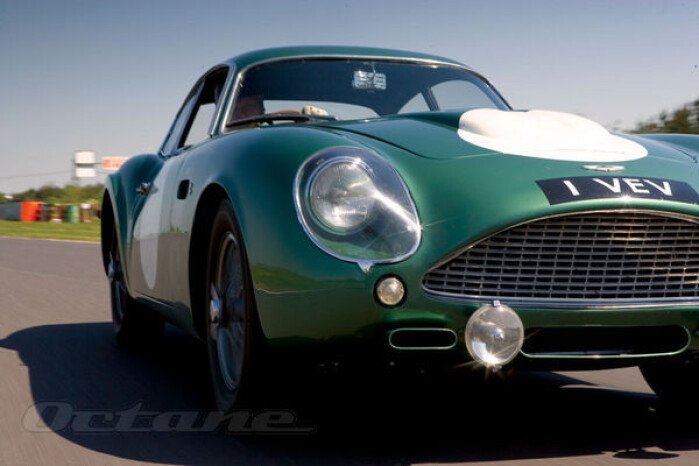 About 40 years ago somebody put a radio into 1 VEV. Today such vandalism seems mad, but perhaps it made sense then. During its recent restoration at RS Williams, they found the evidence. It had been covered up in later years but there, deep inside, were the holes that had been cut to take a 1960s car radio and its speaker.
Whoever was responsible didn't quite have the gall to desecrate the handmade Zagato body by drilling an antenna hole through it but, as Richard Williams told me: 'Concealed antennas were available then. Perhaps it had one of them.'
The pair of Aston Martin DB4GT Zagatos, registered 1 VEV and 2 VEV on May 19, 1961, and campaigned by John Ogier's Essex Racing Stable, have long been a legendary part of Aston Martin history. Heroically, they went into battle against the dominant Ferraris after the Works ceased racing officially. First they faced the 250GT SWB but then along came the fabulous 250GTO, which of course turned out to be one of the greatest GT racing cars ever made.
As the Astons were about 12% heavier than a 250GT SWB, they became instant underdogs. The DB4GT Zagatos were magnificent thoroughbreds but they just weren't quick enough. When the GTO appeared in 1962, it got worse: the Astons were then 18% heavier than the opposition. To be brutally honest, the position became steadily more hopeless for the Astons.
Nevertheless, Ogier gave it his best shot. He ran a superb team, he hired the best drivers and 1 VEV and 2 VEV came out fighting. Unfortunately the account opened very badly when the brand new pair retired early in the 1961 Le Mans 24 Hours. Both suffered head gasket failure because the heads had not been properly tightened down. But that simple cock-up made no real difference to the race result. One hour in, Ferrari held the first four places and the new Astons were fading away without ever being near the top ten.
A couple of outdated DBR1s were lying seventh and eighth early on, but not one Aston Martin finished the race – a sorry tale after the Works team's glorious outright one-two with the DBR1s in 1959.
Ogier's team got a great boost in their next race, the GT event supporting the British GP at Aintree. In damp conditions, Australian driver Lex Davison, in 2 VEV, gambled on the right tires and seized the lead from Jack Sears on the very last lap to win by just 1.2 seconds. Jack should have been driving a Ferrari 250GT but an unfortunate mechanic had smashed it up, driving to Aintree on the road. Different days indeed! Jack raced an E-type instead, a near-standard car with its soft-top raised, and very nearly won. The famous Lightweight E-types, which certainly were a match for the 250GTOs, were yet to come.
In fact, there was no Ferrari opposition in that 1961 Aintree race, the other 250GT also having been crashed before the start. One of our most respected magazines then made a blunder by reporting: 'Whitmore brought the other Essex Aston Martin Zagato home third.' John Whitmore did finish third, but he drove the Essex team's standard DB4GT, not a Zagato, and he was on dry tires. It had looked like the smart choice but he was out of luck.
As things turned out, 1 VEV was never beaten by its team mate, 2 VEV. Back then, the chief mechanic in the Essex Racing Stable was Ian Moss. Now 70, and still extremely active – he's a keen badminton player – Ian recalls the 1961 and 1962 seasons clearly:
'1 VEV was the car we used for most of the work. When testing, it was 1 VEV that we normally took. Those cars were perhaps half a hundredweight lighter than standard as they had no bumpers, lightweight racing seats and some interior panels had been left out in the build. The Ferraris were much lighter, had better traction and a much stiffer chassis. The way I saw it, Ferrari made a racing car and adapted it for the road while Aston took a road car and converted it for racing.'
Half a hundredweight equates to 25.4kg: in other words, not a lot. A DB4GT Zagato was lighter than a standard DB4 but, as we have seen, it was always an overweight racer. There was also plenty of bullshit over horsepower. Ian says:'Despite official claims, 1 VEV never had more than 270bhp in those days. Horsepower figures sell cars, but torque wins races!' Aston Martin tweaked its straight-six 3670cc engine up to a compression ration of 9.7:1 for the Zagato and claimed 314bhp but nobody today denies the true figure was well short of that. Ian says they did see 310bhp from one engine much later on but it was a 3.9-liter, which went into the second 2 VEV after the original was wrecked at Spa in 1962.
Perhaps 1 VEV's finest moment came in its second race, the 1961 RAC Tourist Trophy at Goodwood. Roy Salvadori gave chase to the Ferraris and after 108 laps he finished a mere three seconds behind Mike Parkes' 250GT. It was a glorious result, even though he was 'only' a close third because Stirling Moss, in another Ferrari 250GT, finished a lap ahead of the entire field. That sort of performance was rather expected of Stirling then.
Recalling it, Roy says: 'Compared to a GTO or an E-type, the Aston Zagatos were much heavier to drive. You had to really thrash them to get the times down, but it was a wonderful team to be part of. We worked hard at our pit stops but somehow we always seemed to be stationary a little longer than opposition, and that car was really hard on tires.' He wasn't kidding:
I looked it up and found that Roy had 14 new tires fitted during that Goodwood race, and no punctures! Behind him, and another lap down we should note, were Jim Clark in 2 VEV and Innes Ireland in a normal DB4GT.
But stop a moment, this is known history. What are we really talking about when we consider such famous, well-documented cars today? What is there new to say? Nearly 20 years ago, when I was on another magazine, we published the definitive history of 1 VEV and 2 VEV. It was a superb piece of work by Doug Nye. Writing about it now we can give a progress report on 1 VEV and, surprisingly enough, there's plenty of new information, not the least of it being our driving impressions after pushing it hard round Castle Combe circuit.
If this car looks great, it goes even better. Fresh from its absolutely perfect, wonderfully sympathetic rebuild, it's as good as new, if not better. We'll get to that but, first, let's take to the track. The car is waiting, in sunshine in the paddock, all ready to go, and the new owner, Adrian Beecroft, has invited us to take him round as fast as we like. Call him mad if you like, but we go back a few years and he trusts me for some reason.
There are no belts but the old bucket seats are comfortable, the engine starts instantly with a fabulous, deep, eager roar and we trickle away in first towards the circuit. Apart from the steering, which is heavy, it's as easy to potter around as a Morris Minor. Even the clutch is fairly effortless to manage and there's nothing harsh about 1 VEV. Out on the circuit, however, the performance is utterly stunning.
On our second lap we came up behind a gorgeous new Aston Martin; it was being driven well so I can't imagine what that bloke thought when we appeared alongside, coming out of the tight righthander at Quarry, and released 1 VEV with full throttle in second gear. It took off with a trace of opposite lock and wheelspin. There was just no contest. We had gone. On the longer straights, it fairly leaps ahead and the acceleration above 120mph is still very strong.
It's set up for the road at present, so the damping is a bit soft, calling for care in the fastest bends. It could get out of hand quite easily at speed but, aimed accurately, it is very stable, it likes a bit of sideways style and I was surprised at how well the Vredestein tires held on. The brakes were suffering from mild pad knock-off, needing an occasional bit of left-foot encouragement on the straights, but that's normal enough with new brakes and it's easily corrected. Even if the 250GTOs did beat this beautiful Aston on the circuits, I think 1 VEV would win hands down for road-driving pleasure. As Ian Moss said, this Aston Martin was basically a road car.
Back in 1962, Autocar magazine was allowed to road test a new DB4GT Zagato, an extraordinary privilege when you think that only 19 were made and the price new was £5470. Admittedly, an equivalent Ferrari cost even more then, but the price of a contemporary Jaguar E-type – just over two grand – puts it into perspective. Several final drive ratios were available, that test car being fitted with a middle-of-the-range 3.31:1 cwp giving a rev-limited top speed of 153mph at 6050rpm on Dunlop R5 tires – they gave 25.3mph per 1000rpm in top. The Autocar testers, renowned for their accuracy, recorded 0-60mph in 6.1 seconds and went on to a remarkable 0-140mph in 32.2 seconds.
Today 1 VEV is quicker than that. Its power is well above the 314bhp claimed in 1961 and the torque figure is now 348lb ft. With its Vredestein tires and 3.06:1 final drive it does 27.3mph/1000rpm and that equates to 165mph at the same 6050rpm. It would pull that easily. Richard says that with the right back axle it would do 180mph and I'm sure he's right. Matched against modern machinery, only the most outrageous supercars would see it off.
If this story serves to remind us of anything, it is this: owners of such fantastic cars usually tend to treat them appropriately. But in the late 1960s 1 VEV was nothing more than a used car with very little value. As a former race car, apparently of no great distinction then, it surely made an unusual road car with exceptional looks and performance, but no doubt it threatened to drop further in value while costing its owners a small fortune to run.
For those who could afford it, 1 VEV provided entertaining motoring for a series of owners, one family using it simply as a roadgoing hack for years. Perhaps that radio was fitted around that time. All of its owners appreciated what it represented, all the way down the line, but it wasn't taken as seriously as it is today.
Nobody guessed then that it might appreciate in value. When speaking to Roy Salvadori he told me that during the 1960s he had an Aston Martin DBR1 which he advertised in the right magazines for a year before anybody was prepared to buy it. He was relieved to get £1100 for it in the end. Today, 40 years on, if the whispers we hear are true, a DBR1 is worth about 9000 times that much – and 1 VEV is coming up fast.
Back in 1990, 1 VEV had just been restored and William Loughran paid £1.54m for it at auction. He soon sold it on for a small profit. A few months later, as the market collapsed all round the world, 2 VEV was auctioned in Monaco but was withdrawn when the bidding failed to reach £850,000. A year or two later, Loughran bought 1 VEV back and he owned it for 15 years before selling it to Adrian earlier this year.
'They are beautiful,' says Loughran. 'I've had five or six of them, and a few years ago I had one that had been rebuilt by RS Williams. When the weather was nice after work, I used to take 1 VEV home, just for the pleasure of driving it. It had seemed great until I drove the car restored by RS Williams and realised that by comparison 1 VEV drove like a bag of spanners. I joined the queue and in due course it went to RS Williams for the full works.'
Although 1 VEV had been restored previously, that was 17 years ago and time had taken its toll. Also, restoration standards were then not as high as they are today. A strong point in the car's favour was that it still had all its principal original parts, including the engine, gearbox and back axle.
Once Richard Williams had taken the car in and stripped it down, however, it was clearly in dire need of a full cosmetic and mechanical rebuild. The mechanical side of the job was quite straightforward, but the body was rather more tricky. Not only had it been poorly repaired in the past, meaning that there was a great amount of filler under the paint, but somewhere way back in time it had also lost the correct shape of its rear wings.
It took some time to get that right. Ian Moss was called in as a consultant and William Loughran also inspected the car at crucial stages of the body builder's work. With the aid of photographs, plus Zagato's own original drawings and dimensions, this aspect of the restoration was given the most painstaking attention. As all the DB4GT Zagatos were handbuilt, every one is a little different but finally 1 VEV's correct original shape was brought back into being to the satisfaction of all concerned.
The brief was to restore it as it was in 1961, not as a modern historic race car, even though some concessions were made to later engineering know-how. That's why it has the original low-backed racing bucket seats, no seat belts and no rollcage. Although Adrian races other cars, the fact is that 1 VEV carries an unusual responsibility because is such a stunningly original car. What it's really worth now is a private matter, but there's no doubt that it amounts to several millions. More to the point, Adrian is acutely aware that it has never suffered anything approaching a serious shunt. Mainly for that reason, he aims to use 1 VEV only for more gentle events, such as the regularity class in the French Tour Auto. It should be ideal. » Thanks to the St James's Place Wealth Management Group for inviting us to Castle Combe during their track day for existing and potential clients. Two senior partners of St James's Place were kind enough to allow us to test 1 VEV during the day.
Published Dec 7th, 2015
More Classic Car News & Article Categories:
Related Articles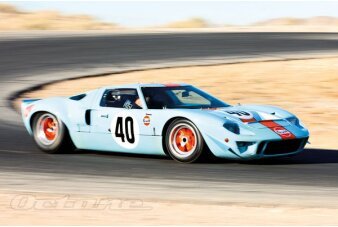 While every factory Ford GT40 is special, some are more special than others.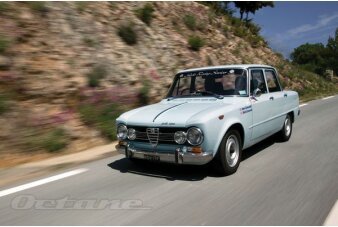 For the Linwoods historic rallying seems to come naturally.
×
Driven: 1961 Aston Martin DB4GT Zagato