Text and images by John Gunnell
Ford trumped everyone when they introduced the Mustang and founded the pony car market segment. After that, it had the market all to itself for a while. The Ford Mustang became the best-selling new car in history, and everyone else scrambled to catch up. By 1968-1969, Chevy, Pontiac, Plymouth, Mercury and even AMC were contenders, and Dodge Division's lack of a pony car stuck out like a canker sore. It wasn't that Dodge didn't know it needed a pony car. Work on the Challenger design project actually got underway in 1967, when executive stylist Bob Brownlie brought a clay model of a generic pony car into the Dodge design studio. Instead of model badges, this clay had the word "name" spelled out on it. "Dodge is entering the sporty car field," Brownlie told his young designers. He instructed them to use their imaginations to give the clay mock-up its final shape and, of course, a model name, but neither happened overnight. Sketches for the final car ranged from a Vega-looking coupe to a Torino-looking semi-fastback to a Buick Riviera-looking hardtop with a short, low, wide-bodied look.
As the Challenger was being designed, Brownlie championed what he called "road appearance," with a long nose, short deck and Italian design flavor. "Challenger not only looks sporty, but will perform as such," Brownlie told Motor Trend in September 1969. "In this car, we've combined advanced engineering and advanced styling and haven't had to compromise either philosophy."
Dodge general manager Robert McCurry was counting on Brownlie's crew to create a market-shaking new car that would make 1970 "Dodge's best year ever." McCurry was excited about having the Challenger – which he called "the daring, all-new style setter" – ready to go into Dodge dealer showrooms. "Challenger is a totally new line for Dodge," McCurry pointed out. "A new series that's certain to sweep the nation as the specialty compact most in demand."
When Dodge's pony car finally arrived, it got a lot of attention. "Other drivers pulled out of their lanes and sidled over for a closer look," said Car Life. "Emblem to emblem, the other car always flinched. Bolted to the Challenger's power-bulged hood," (the magazine was testing a purple 440-6 R/T it nicknamed Genghis Grape), "was Detroit's equivalent of the Black Belt: a 440 Six Pak." The Dodge Challenger, like its Plymouth Barracuda cousin, was wide. In fact, it was over two inches wider than Plymouth's pony. Of course, both had an engine bay big enough to swallow 383 and 440 Magnum V-8s or a 426 Hemi. However, if you read road tests of the day, enthusiast magazines didn't have a lot of praise for big-block versions of the E-body cars. In fact, they found one particular small-block V-8 – the 340 – to be a real Black Belt winner on the Mopar options list.
The raw power of the big-block Mopar engines was one thing, but there were criticisms of both of the cars' all-out performance numbers and the general feel, handling and braking of monster-milled pony cars. Flywheel power has to make rear-wheel power, and it didn't. "Dodge fans are going to be disappointed in the performance figures," said Car Life in its test of a Plum Crazy Metallic 440 Six Pak Challenger." The car proved hard to keep in tune. Its best quarter mile E.T was 14.64 sec. "We've seen faster 440 Coronets," commented the tester. "It simply didn't go as fast as we expected it to." Motor Trend concurred. In A.B. Shuman's May 1970 comparison test of Hemi-440-340 'Cudas, the act of gear-shifting the 440 car was difficult, and its best run of 14.4 seconds at 100 mph was just .1 second quicker than the 340 four-barrel. The magazine noted the Hemi 'Cuda "had to be babied 'til it was well on its way down the strip, as it could really spin the tires." Another factor was fuel economy, which was 11.5 mpg with a 340, 9 mpg with a 440-Six Pak and 10 mpg with a Hemi. "From the forgoing you may have detected a 'slight' preference for the 340 'Cuda," said Shuman. "This was intentional. It's the best of the lot."
One of the rarest and most outrageous factory-offered Challengers you could get was the 1970 Challenger T/A. It used a special tri-power version of the 340 and even came with its own "Black Belt," since the upper door belt line on this model had a wide matte-black stripe decorating it. The stripe continued forward along the upper front fender. Matte black finish was also used on the fiberglass hood, the large hood scoop, the front spoiler and the rear deck spoiler.
This Challenger T/A was Dodge's version of the AAR 'Cuda. The release of these cars was designed to help the two Mopar divisions produce the 2,500 units required by the Sports Car Club of America to make racing versions legal in Trans-Am competition. Pete Hutchinson, who was in charge of Trans-Am racing for Chrysler, managed the company's Challenger T/A and AAR 'Cuda programs. He had Ray Caldwell's Autodynamics build the T/A raced by Sam Posey.
Along with Del Trott and Don MacSorely, Harvard Business School grad and U.S. Air Force vet Caldwell had started Autodynamics in 1962. Their initial advertisement, which offered to build Volkswagen-powered Formula Vee cars drew in over 1,000 responses. By 1964, they had constructed the first of some 186 racing cars of that type they would ultimately sell. By 1967, the company started making a profit and introduced a new D-4A model, of which 148 were made. A D-4B was made in 1969 and 1970. It was Autodynamics' last Formula Vee car. Ray Caldwell took a break to help Hutchinson build the Challenger T/A racer. Then, after 1970, he built some additional open-wheel racing cars under his own name.
The goal of Chrysler's Challenger T/A program was to race it against the Boss 302 Mustang, Camaro Z/28, AMC Javelin and other sedan racers over the 1970 SCCA Trans-Am season. The racing car used a 340 that was de-stroked to 305 ci and pumped up to 440 hp. Street versions of the Challenger T/A looked outwardly identical to the racing cars, but had a 340 Six-Pack engine.
A sidebar to the May 1970 Motor Trend story featured an early test of the AAR 'Cuda with a 340 Six Pak engine that was essentially the same as the Challenger T/A's 340 Six Pak. It said this setup featured the same Holley two-barrel carbs used on the 440 Six Pak atop an Edlebrock aluminum intake manifold. Carb jetting was modified for the smaller displacement engine, and the hinged fiberglass hood carried a large scoop to provide ram air induction.
The Challenger T/A version of the scoop was actually adopted from a U.S. Air Force pursuit plane (possibly a throwback to Caldwell's military days). The hood itself was a single large fiberglass panel buttoned down with hold-down pins. Factory literature said this code N94 hood was an option, and that the Challenger's regular power bulge steel hood would be made available later. However, the fiberglass hood became standard, and all Challenger T/As had it.
Other standard features of the Challenger T/A included the ducktail-style rear spoiler, front and rear antisway bars, heavy-duty shock absorbers and a 3.55:1 Sure-Grip differential. Semi-metallic front disc and rear drum brakes were used. A front spoiler was among the car's available options, which also included a 3.90:1 rear axle and a choice of a four-speed manual transmission or TorqueFlight automatic. The car had a raked appearance because different sized tires were used at both ends. Goodyear E60 x 15s were fitted up front, and G60 x 15s were used at the rear. To give the clearance needed for the wider rear tires, as well as the side-exist exhausts, the camber of the rear springs was increased.
Cylinder head castings for the 340 Six Pak engine were new and had the push rod holes slightly relocated to allow for more meat around the port passages so that enthusiasts could open them up a bit if they wanted to. The heads also featured bigger valve spring seats that were able to accommodate Hemi springs, although the stock springs were ones unique to the 340 Six Pak motor. The block casting was also changed so that street and drag racers could change out the stock two-bolt mains for sturdier four-bolt ones if desired.
Like all Challengers, T/As used a new type of bucket seat introduced by Chrysler in 1970. These had integral head restraints. "Comfort is an understatement with these seats," said Motor Trend. "And they really give you a space capsule feel." The seats had a 5-1/2-inch range of fore and aft adjustments. The seat backs could also be adjusted through a six-degree angular range.
Due to the government's increased emphasis on safety improvements, Dodge designers also did little things like move the door buttons off the window sill where they could snag body parts in a crash. They were relocated into the armrests. There was also an all-new, energy-absorbing, collapsible steering column and a steering wheel and transmission lock assembly.
In its 305ci racing format, the T/A won few checkered flags in road racing events, although Sam Posey did manage to take fourth place in the Trans-Am standings. On the street, its higher-cube cousin also had handling problems in curves and corners, due to a tendency to understeer during quick turns. However, the heated-up 340 and meaty rear tires helped production-type Challenger T/As earn their Black Belt at the dragstrip, where 340 Six Pak cars ran speeds and elapsed times in the same range as big Wedge and Hemi V-8s.
The Challenger T/A could go from 0 to 60 in a flat six seconds, and it did 0 to 100 mph in 14 seconds. The quarter mile took 14.5 seconds, the same as Motor Trend recorded for the four-barrel 340 engine. Strangely enough, Dodge ran an eight-page advertisement in the October 1970 issue of Hot Rod magazine to promote the 1971 Challenger T/A. Although such a car was pictured, it never entered production, and only the 1970 model was ever left the factory The stunning 1970 Dodge Challenger T/A featured in this article was part of the inventory at Nickey Chicago when we visited there in the spring of 2008. Stefano Bimbi, who caretakes the legendary Nickey brand, had purchased the car at a Mecum Auction in Indianapolis that same month.
The 43,000 original miles Challenger was finished in code FJ6 Green Go paint. (Plymouth called this high-impact color Sassy Grass Green, and Mecum listed it that way.) The paint had been re-sprayed only once, about 15 years earlier. The car had bucket seats and an HRX9 black vinyl interior. Its equipment included S77 power steering ($94.85), B51 power disc brakes ($42.95), a C16 center console ($53.35), an R11 Music Master AM radio ($61.55), a factory tach and Rallye gauge cluster (which was probably standard) and W23 steel Road Wheels ($86.15 including chrome trim rings) with standard "dog dish" hubcaps.
The 340ci Six Pak engine was tucked under the hood with a Hurst floor-shifted four-speed manual transmission behind it. Low-restriction dual exhausts carried burnt gases to the stock Challenger mufflers tucked up under the trunk floor, but the pipes then reversed themselves and ran to chrome "trumpet" type tips that exited in front of the rear wheels. Despite the three two-barrel carbs and other underhood upgrades, the engine carried the same 290hp rating as the 340 with a single four-barrel. However, experts say that the T/A's true output was around 350 hp. A factory build sheet was obtained to verify this car's authenticity.
Challenger T/A Specs
Year: 1970 only
Make: Dodge
Model: JH23 two-door Hardtop
Factory Price: $4,480
Engine: 340ci OHV V-8
Induction: Six Pak (three two-barrel Holley carbs)
Compression Ratio: 10.5:1
Advertised HP: 290 @ 5000 rpm
Advertised Torque: 345 lb-ft @ 3400 rpm
Wheelbase: 110 inches
Weight: 3,650 pounds
0 to 60 mph: 5.9 seconds
Quarter mile: 14.5 seconds @ 99.6 mph
Production Total: 2,539
Published Sep 15th, 2017
More Classic Car News & Article Categories:
Related Articles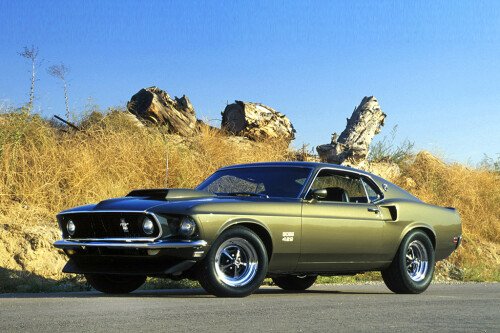 We've compiled a list of the greatest muscle cars of all time. Did your favorite make the list? Ask 20 muscle-car aficionados to identify the "best" muscle car of all time and you'll get 20 different answers.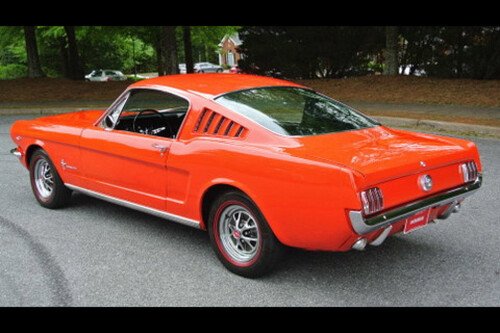 The Shelby GT350 wasn't the only high-performance Mustang available if you wanted a fast pony.
Advertisement
×
Dodge's Real "Black Belt" Car