Sponsored by American Dream Machines.

In the classic movie "Field of Dreams," the father of Kevin Costner's character, after looking over the corn swaying gently in the summertime breeze behind the baseball field, asks, "Is this heaven?"

Muscle car and hot rod enthusiasts undoubtedly ask the same question when they find themselves on the showroom floor at American Dream Machines. In both cases, it's the same two-word reply Costner uttered in the film: "It's Iowa."

Sprawling over 41,000 square feet in Des Moines, Iowa – in a building originally constructed as a Packard dealership – the business focuses mainly on American muscle cars, along with shoebox Chevys, resto-mods and increasingly popular classic trucks and 4x4s.

"We sell cars that people can drive right now," says American Dream Machines' founder Doug Klein, who opened the repurposed dealership about a decade ago. "If you want a well-detailed Chevelle, GTO, Charger or Mustang that you're more interested in driving than scoring 100 points on the show field, we've got the cars you're looking for."

Klein spends much of his time searching high and low for cars that fit the sweet spot of affordability for most enthusiasts – vehicles that will sell anywhere from $20,000 to $100,000.

"Sure, we've sold cars below and above that range, but we aim for the heart of the market, with vehicles that are very well presented and show-worthy, but aren't necessarily nut-and-bolt concours winners," says Klein. "There's absolutely a market for those cars, but we prefer the cars that people want to use and enjoy. If you go on our Web site, you'll see the types of cars we sell – and you'll see we're not afraid to exercise them to their full potential."

Before a car is sold by American Dream Machines, Klein's staff of technicians and restoration specialists goes over it with a fine-tooth torque wrench, making sure everything functions as it should – and, more importantly, ensuring the car is structurally sound. For some vehicles, it may involve a relatively straightforward tune up and inspection, while other vehicles will undergo a more serious restoration.

"If the gas gauge doesn't work, we fix it – or if it needs a paint job, we'll do that, too," says Klein. "It can be difficult and time-consuming, especially on cars that don't have a lot of aftermarket restoration support, but we don't want the cars leaving here with issues for the new owner to deal with. That's especially true with the frame and undercarriage. It has to have a solid foundation."

He believes one of the keys to American Dream Machines' success is also the cars' realistic portrayals on their Web site.

"We don't optimize the images to make the cars look better than they are," he says. "We show them realistically, which our customers appreciate, because most of them make a purchase sight unseen. We strive to make sure the car they lay eyes on for the first time matches what they saw in the online photos."

That realistic approach has a lot to do with the store's numerous repeat customers and even a few celebrities, including Billy Joel, Kid Rock and numerous other celebrities.

"You can go to an auction and see a car in person, but you don't always get the opportunity to learn everything about it," says Klein. "With us, you'll talk to someone who will go over every detail of the car and tell you everything that was done to it. With some auction cars, you'll never know if the mechanical and electrical details were taken care of. When you buy a car from us, it works."

There may not be ghostly ballplayers spending their afterlife playing baseball in a cornfield behind American Dream Machines, but the business fulfills the longings of enthusiasts from every walk of life – just as the ballpark did in the movie. Perhaps it's not a field of dreams, but definitely a dealership of dreams.
Published Dec 7th, 2015
More Classic Car News & Article Categories:
Related Articles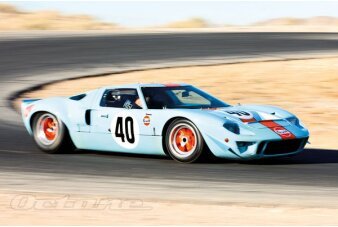 While every factory Ford GT40 is special, some are more special than others.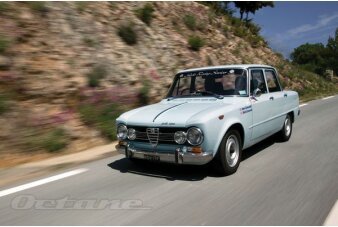 For the Linwoods historic rallying seems to come naturally.
×
Dealership Of Dreams