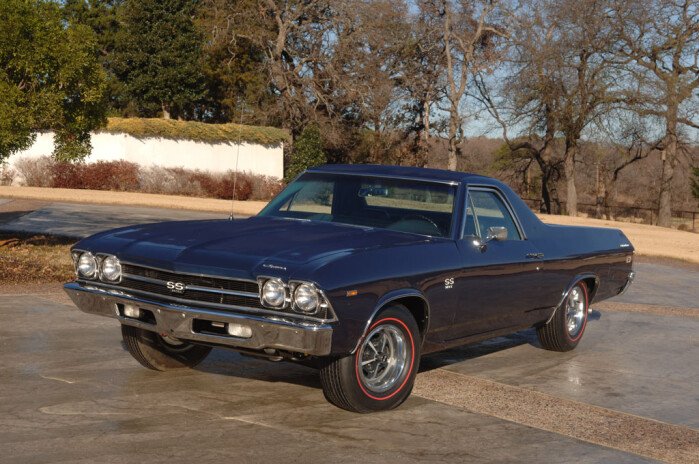 Photos by Jerry Heasley


A muscle car/truck is certainly a daring way to be different. The Chevrolet El Camino and Ford Ranchero occupy a unique place in the world of muscle cars. These hybrids share almost everything except a back seat with their hardtop and convertible siblings. One very important thing that they don't currently share is a high price tag.

It's surprising that El Caminos and Rancheros are priced so far below similar cars. Mechanically, the cars and trucks are virtually identical. The greater front-to-rear weight distribution puts El Caminos and Rancheros at a slight disadvantage on the dragstrip, but since few current muscle car owners actively race their cars, it shouldn't account for the price differential.

One big advantage for anyone wanting to make occasional dragstrip forays is that they can haul a set of mounted slicks, a floor jack, and a good-sized toolbox in the bed. There's no need for a separate support vehicle.

Style-wise the Sixties/early-Seventies El Caminos and Rancheros are probably some of the most handsome utility vehicles ever produced. Their solid flanks are far smoother than traditional cab and box pickups. The 1968-1969 El Camino is one of the sleekest of the genre. The pointed front fenders and similarly slanted rear roofline give the El Camino a sense of forward motion.

That motion can be quite swift when there's a 375 horsepower 396ci big-block under the hood, as is the case with Wayne Davis's Dusk Blue Metallic 1969 SS 396. There was a running change that increased bore size from 4.094-inches to 4.125-inches. Displacement was bumped up to 402 cubic inches, but the vehicles were still marketed as SS 396s. Wayne's El Camino has the Muncie 4-speed manual transmission, which enhances the muscle car feel and image. This is a bench seat model, which pretty much negates the utility value of the middle seating position.

El Caminos could be ordered as very Spartan utility vehicles or as fully loaded gentleman's pickups. The most collectible examples tend to fall near the two extremes – a no-frills race truck or a luxury car/pickup hybrid. Either way (or anything in between), El Caminos and Rancheros are a different way to enjoy muscle car ownership at bargain prices.




Dare to Be Different! - Introduction
The Wide, Wide World of Muscle Cars


Dare to Be Different! - 1961 Ford Starliner
An excellent muscle car for any Ford fan looking for something different.


Dare to Be Different - 1961 Pontiac Ventura
A little known and often overlooked precursor to the Pontiac performance timeline.


Dare to Be Different - 1964 Pontiac Grand Prix
Different enough to be unique, but so handsome as to be universally admired.


Dare to Be Different - 1966 Dodge Polara 500
A competitor to the Ford Galaxy 500 and the Chevy Impala that demands a second look.


Dare to Be Different - 1968 Chevy Impala SS 427
A viable alternative that's still daring and different.


Dare to Be Different - 1969 Chevrolet El Camino SS 396
A different way to enjoy muscle car ownership at bargain prices.


Dare to Be Different - 1969 Mercury Cougar Eliminator
An excellent way to enjoy some of the finest engines Ford Motor Company ever produced.


Dare to Be Different - 1970 Dodge Swinger
Power-to-weight ratio makes this A-body a great choice.


Dare to Be Different - 1971 AMC Hornet SC/360
This a one-year wonder was a daring exercise for AMC.


Dare to Be Different - 1972 Ford Gran Torino Sport
Thanks to Clint Eastwood this overlooked muscle car is back in the spotlight.


Dare to Be Different - 1972 Buick GS 455 Stage 1
Is this one of the most underrated muscle cars ever?
Published Dec 7th, 2015
More Classic Car News & Article Categories:
Related Articles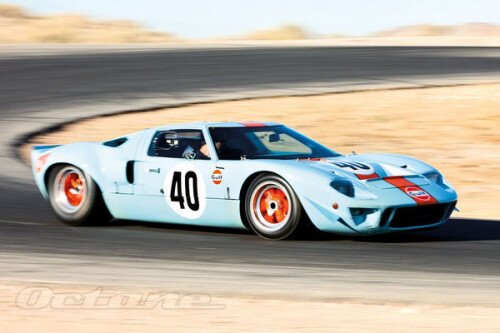 While every factory Ford GT40 is special, some are more special than others. The dazzling example featured here, chassis GT40P/1074, earns bonus points for at least three reasons..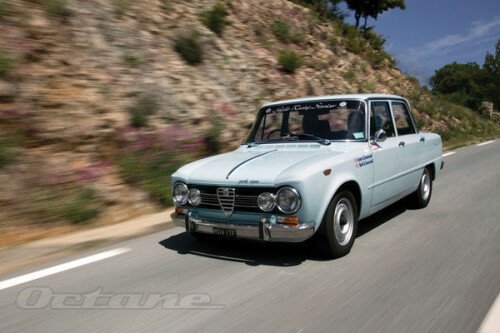 Not long after their first event together, Bob bought a standard road-going 1968 Alfa Romeo Giulia Super, and had it restored by Classicarco in Manchester. We spend a pleasant afternoon tossing it around the French countryside for Martyn's camera, Bob and I swapping the wheel like two duffers on the practice green trying out the same putter.
Advertisement
×
Dare To Be Different - 1969 Chevrolet El Camino SS 396