‹ Go back
Dare to Be Different - 1968 Chevy Impala SS 427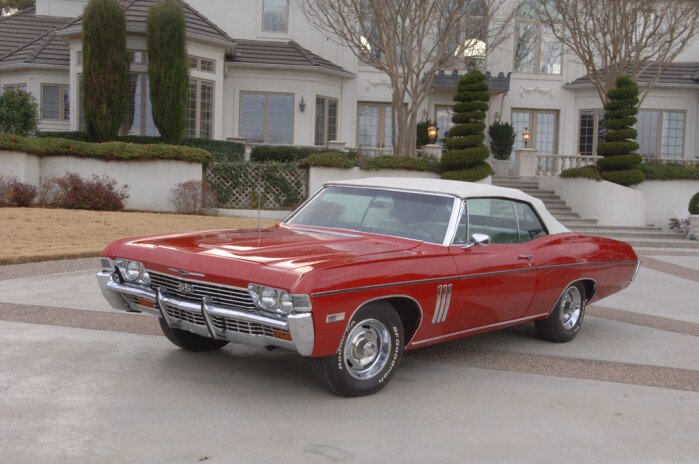 Photos by Jerry Heasley


The mid-Sixties represented a convergence zone for muscle car buyers. In the Chevrolet Super Sport camp, the fullsize Impalas were being replaced by Chevelles, Camaros, and Novas. Chevrolet was still producing Impala Super Sports, but sales were diminishing. The almost across-the-board usage of Chevy engines in most body styles meant than you could get a hot 350 or a high torque 396 in a wide variety of bodies.

One high prestige engine that could only be had in fullsize Chevrolets and Corvettes was the awesome 427 big-block. The engine was also available in rare COPO cars, but the average consumer had to go with the sporty Corvette or parade-size Impalas and Caprices. The relative rarity of the 427 made for some daringly different muscle cars, including the Impala SS 427s of 1967-1969. The SS 427 package was also available on fullsize Biscayne, Bel Air, and Caprice models, but the Impalas were the style and image leaders.

When the SS 427 debuted as a 1967 Impala model, the engine was rated at 385 horsepower. It was essentially the same engine as the 390hp version found in the 1967 Corvette. The primary difference was a Holley carburetor in the Corvette, while the Impala used a Quadrajet. The SS 427 engine had a 10.25:1 compression ratio. It produced 460 lb-ft of torque at 3400 rpm, which was more than ample to get these large cars under way quickly.

The 385hp 427 was continued in the 1968 Impala SS 427, as seen here in Wayne Davis's Matador Red convertible with a white soft top and white guts. The added rarity here is the 4-speed manual transmission. The 15-inch rally wheels and red stripe tires were standard SS 427 equipment.

Besides the base 385hp SS 427 engine, it was also possible to order a 425 horsepower L72 big-block. Torque was the same as the 385hp engine, but compression was 11.0:1. This is a rare engine. Only 568 units found their way into the engine bays of fullsize 1968 Chevys.

SS 427 Impalas are very distinctive and unique. Sales were modest, so finding an Impala SS 427 (especially a convertible) could be a little challenging. The mostly similar, but not quite as unique, Impala SS 396 was produced in far greater numbers, making it a viable alternative that's still daring and different.





Dare to Be Different! - Introduction
The Wide, Wide World of Muscle Cars


Dare to Be Different! - 1961 Ford Starliner
An excellent muscle car for any Ford fan looking for something different.


Dare to Be Different - 1961 Pontiac Ventura
A little known and often overlooked precursor to the Pontiac performance timeline.


Dare to Be Different - 1964 Pontiac Grand Prix
Different enough to be unique, but so handsome as to be universally admired.


Dare to Be Different - 1966 Dodge Polara 500
A competitor to the Ford Galaxy 500 and the Chevy Impala that demands a second look.


Dare to Be Different - 1968 Chevy Impala SS 427
A viable alternative that's still daring and different.


Dare to Be Different - 1969 Chevrolet El Camino SS 396
A different way to enjoy muscle car ownership at bargain prices.


Dare to Be Different - 1969 Mercury Cougar Eliminator
An excellent way to enjoy some of the finest engines Ford Motor Company ever produced.


Dare to Be Different - 1970 Dodge Swinger
Power-to-weight ratio makes this A-body a great choice.


Dare to Be Different - 1971 AMC Hornet SC/360
This a one-year wonder was a daring exercise for AMC.


Dare to Be Different - 1972 Ford Gran Torino Sport
Thanks to Clint Eastwood this overlooked muscle car is back in the spotlight.


Dare to Be Different - 1972 Buick GS 455 Stage 1
Is this one of the most underrated muscle cars ever?
Published Dec 7th, 2015
More Classic Car News & Article Categories:
Related Articles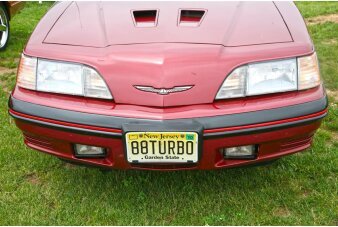 We've picked 11 classics, built between 1965 and 1998 that we feel offer a great blend of style, individuality, performance and some cases,...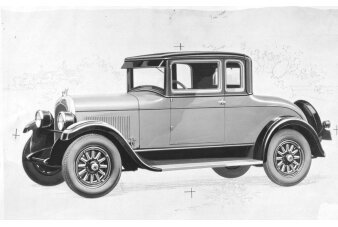 In just a few short years, Walter P. Chrysler took his company from an unknown automotive manufacturer to fourth in the industry, with...
Related American Classic Cars
×
Dare To Be Different - 1968 Chevy Impala SS 427