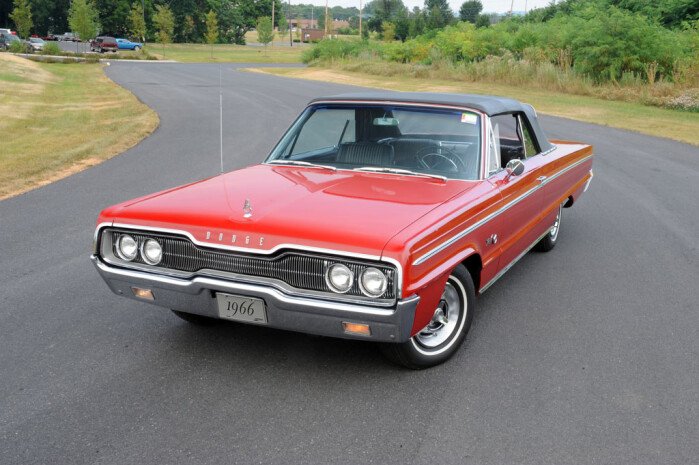 Photos by Jerry Heasley


Mopars of the Sixties spanned a wide design spectrum. Throughout the entire muscle car era, the Chrysler Corporation was known for outstanding engines. Their styling department was the leader of the "dare to be different" school of design. That resulted in some tremendous hits, some flops, and some ambivalent designs. Regardless of your stance on aesthetics, you can't say Chrysler stylists weren't bold, innovative risk-takers.

The early Sixties saw the most daringly different designs (besides the super wild winged wonders – the 1969 Dodge Daytona and the 1970 Plymouth Superbird). The mid-Sixties were transitional, and the later Sixties were World Series-quality grand slams.

The 1966 Dodge Polara 500 is one of those transitional cars. It was more boxy than the wildly sculpted early-Sixties Dodges, but not quite as rectangular as some of the 1966-1967 Dodge Coronets. The "C" body Polara was slotted above the "B" body Coronet. It was marketed as a luxury car with a sporty flair. The Dodge Polara 500 was positioned as a competitor to the Ford Galaxy 500 and the Chevy Impala, but it hasn't received near the collector attention. That's good for affordability, if perhaps bad for egos.

The Polara rode on a 121-inch wheelbase, while the Coronet used the shorter 117-inch wheelbase. The Polara 500 was very similar to the Dodge Monaco 500. Fullsize Mopars shared common engines and transmissions. That's one of the biggest pluses to these relatively uncommon cars. A stalwart 383-cubic-inch powers Robert Solt's handsome red 1966 Dodge Polara 500, seen here. Robert's Polara has the TorqueFlite automatic transmission.

The 383 was the foundation engine for the legendary Road Runner. It was essentially the base high performance engine for Mopars, the little brother of the mighty 440. The 383 didn't have the glamour or prestige of the 440 or the Hemi, but it was (and is) a great engine.

The spacious Polara 500 interiors came standard with bucket seats. Looking inside, a viewer will see many familiar trim items, such as the center console and various switch gear, that was also used on later Dodge products.

Outwardly, the Dodge Polara 500 gives off an air of luxury, but thanks to its nearly unbeatable Mopar performance drivetrain, it has the heart of a muscle car.




Dare to Be Different! - Introduction
The Wide, Wide World of Muscle Cars


Dare to Be Different! - 1961 Ford Starliner
An excellent muscle car for any Ford fan looking for something different.


Dare to Be Different - 1961 Pontiac Ventura
A little known and often overlooked precursor to the Pontiac performance timeline.


Dare to Be Different - 1964 Pontiac Grand Prix
Different enough to be unique, but so handsome as to be universally admired.


Dare to Be Different - 1966 Dodge Polara 500
A competitor to the Ford Galaxy 500 and the Chevy Impala that demands a second look.


Dare to Be Different - 1968 Chevy Impala SS 427
A viable alternative that's still daring and different.


Dare to Be Different - 1969 Chevrolet El Camino SS 396
A different way to enjoy muscle car ownership at bargain prices.


Dare to Be Different - 1969 Mercury Cougar Eliminator
An excellent way to enjoy some of the finest engines Ford Motor Company ever produced.


Dare to Be Different - 1970 Dodge Swinger
Power-to-weight ratio makes this A-body a great choice.


Dare to Be Different - 1971 AMC Hornet SC/360
This a one-year wonder was a daring exercise for AMC.


Dare to Be Different - 1972 Ford Gran Torino Sport
Thanks to Clint Eastwood this overlooked muscle car is back in the spotlight.


Dare to Be Different - 1972 Buick GS 455 Stage 1
Is this one of the most underrated muscle cars ever?
Published Dec 7th, 2015
More Classic Car News & Article Categories:
Related Articles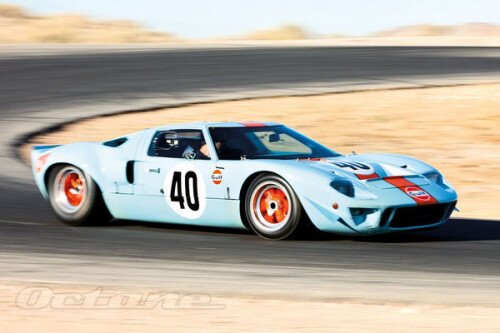 While every factory Ford GT40 is special, some are more special than others. The dazzling example featured here, chassis GT40P/1074, earns bonus points for at least three reasons..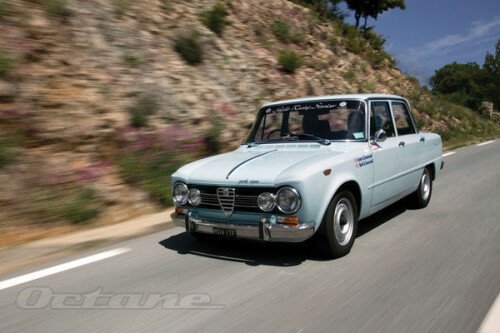 Not long after their first event together, Bob bought a standard road-going 1968 Alfa Romeo Giulia Super, and had it restored by Classicarco in Manchester. We spend a pleasant afternoon tossing it around the French countryside for Martyn's camera, Bob and I swapping the wheel like two duffers on the practice green trying out the same putter.
Advertisement
×
Dare To Be Different - 1966 Dodge Polara 500