‹ Go back
Dare to Be Different - 1961 Pontiac Ventura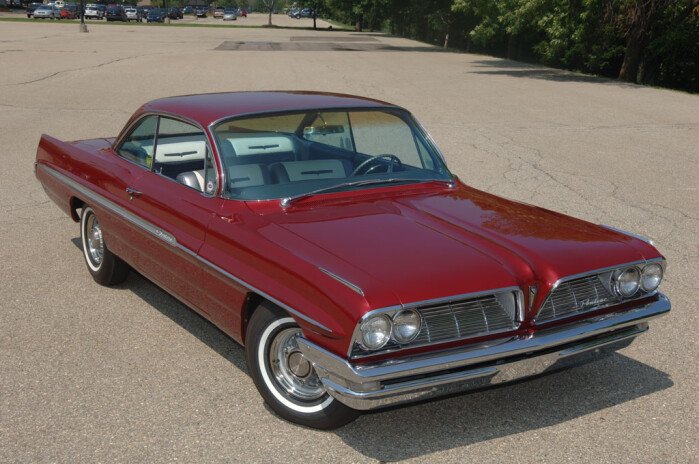 Photos by Jerry Heasley


Many enthusiasts incorrectly assume that Pontiac high performance began in 1964 with the GTO's introduction. That was indeed a watershed year for muscle cars in general, but Pontiac had been tearing up drag strips, oval tracks, and the nation's highways and byways for the better part of ten years.

Pontiac joined the V-8 revolution in 1955 along with Chevrolet, but it was virtually unnoticed in the huge shadow cast by the small-block Chevy. Pontiac got a Rochester fuel injection unit in 1957, along with Chevrolet. The limited edition Bonneville convertibles (630 produced) were fuel injected and now command six-figure prices. Pontiacs had their share of dual-quad and tri-power engines long before 1964. The 389 that gained so much positive attention in the new GTO first appeared in 1959 Pontiacs. David Fischer's 1961 Pontiac Ventura, seen here, was one of the lightest fullsize models, weighing 200 pounds less the 1960 models and riding on a three-inch shorter wheelbase. The Ventura two-door hardtop has a unique roofline that gives it a very open feeling. This style roof (also used on other GM products) was commonly referred to a "bubble top" or "bubble window."

Adding to the distinctive styling of the 1961 Ventura are the optional 8-lug aluminum wheels. These Pontiac-only wheels are unlike any others. The Kelsey-Hayes wheels first appeared on 1960 Pontiacs. These wheels weren't just for looks. They were cast integrally with the brake drum for improved braking. All manufacturers were big on acceleration, but Pontiac also provided superior braking.

The 1961 389 V-8 was available in several horsepower and induction system variants. The top-of-the-line setups were the 333hp single four-barrel engine and the tri-power version, which was rated at 348 horsepower. Both of those engines had compression ratios of 10.75:1 and put out 425 lb-ft and 430 lb-ft of torque, respectively.

If either of those engines wasn't powerful enough, an owner could get added boost with over-the-counter speed equipment from Pontiac. That's the case with the 1961 Ventura featured here. The famous Super Duty Pontiacs weren't officially offered by the factory yet, so savvy 1961 owners relied on their local Pontiac parts departments. David's engine sports an aluminum intake manifold with dual Carter four-barrel carbs and factory cast iron headers. The factory 4-speed manual transmission was upgraded with a Hurst shifter.

The 1961 Pontiac Ventura is a unique muscle car that predicted much of the Pontiac excitement that was to come in the next few years.




Dare to Be Different! - Introduction
The Wide, Wide World of Muscle Cars


Dare to Be Different! - 1961 Ford Starliner
An excellent muscle car for any Ford fan looking for something different.


Dare to Be Different - 1961 Pontiac Ventura
A little known and often overlooked precursor to the Pontiac performance timeline.


Dare to Be Different - 1964 Pontiac Grand Prix
Different enough to be unique, but so handsome as to be universally admired.


Dare to Be Different - 1966 Dodge Polara 500
A competitor to the Ford Galaxy 500 and the Chevy Impala that demands a second look.


Dare to Be Different - 1968 Chevy Impala SS 427
A viable alternative that's still daring and different.


Dare to Be Different - 1969 Chevrolet El Camino SS 396
A different way to enjoy muscle car ownership at bargain prices.


Dare to Be Different - 1969 Mercury Cougar Eliminator
An excellent way to enjoy some of the finest engines Ford Motor Company ever produced.


Dare to Be Different - 1970 Dodge Swinger
Power-to-weight ratio makes this A-body a great choice.


Dare to Be Different - 1971 AMC Hornet SC/360
This a one-year wonder was a daring exercise for AMC.


Dare to Be Different - 1972 Ford Gran Torino Sport
Thanks to Clint Eastwood this overlooked muscle car is back in the spotlight.


Dare to Be Different - 1972 Buick GS 455 Stage 1
Is this one of the most underrated muscle cars ever?
Published Dec 7th, 2015
More Classic Car News & Article Categories:
Related Articles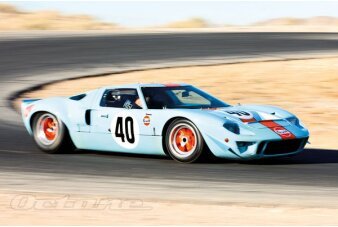 While every factory Ford GT40 is special, some are more special than others.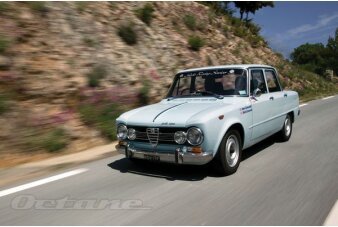 For the Linwoods historic rallying seems to come naturally.
×
Dare To Be Different - 1961 Pontiac Ventura