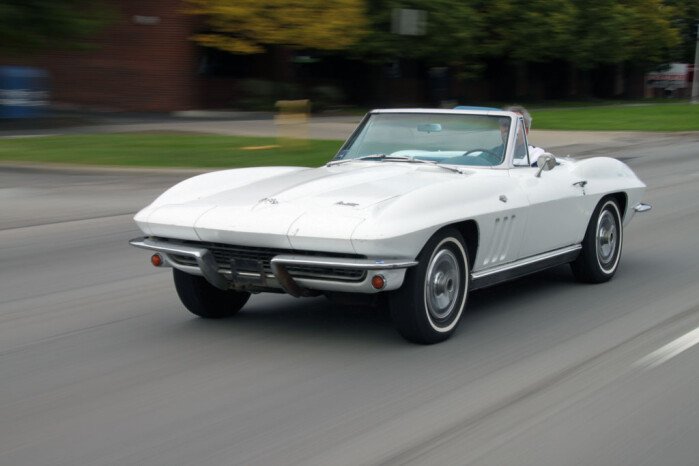 Photos by Joe Blanton
Owning a junky car gives a nice feeling of freedom. I should know, as I'm the proud owner of a very junky 1966 Corvette. Please understand that it's not junky in the sense of it being unreliable. On the contrary, it never fails to start and always gets me where I want to go, whenever I want to go. In fact, after sitting about six months in the cold this past winter in Michigan, it came to life after the third twist of the key and I have been using it all summer. Ah yes, the joy of it all.
I bought the pile of junk a few years ago after getting a call from my neighbor, a GM designer who's dad was moving from Virginia to Las Vegas. This gentleman needed to get rid of his Corvette that had been stashed in his garage for quite some time. During my phone conversation with his dad, I found out he bought it new, so I of course was intrigued to take a look at it. After begging my wife to let me go take a look (I already had seven vintage cars stashed in my three-car garage and in a warehouse in Detroit) I booked my flight. My loving wife knew it was a lost cause, and finally told me to buy it if I wanted to.
I showed up at the owner's house to see what he had to offer, and as the garage door opened, there sitting on four flat tires was a very dirty 1966 Corvette convertible. The car was tucked so tight into the side of the garage that I could only see the left side of the car. It hadn't run for quite some time, but I was assured it had run in the past and would run again. I could tell that the left side had all of the original pieces, and the engine VIN matched the title. The car had two tops and very importantly, the frame appeared to be solid. When the owner showed me the Protect-O-Plate and original dealership documents along with a pile of information on the car, I began to salivate.
It was clear in my mind that I wanted the car, and secretly in my head I was coming up with a number that would be my breaking point for not taking it. I was looking at a survivor 1966 Corvette convertible with a numbers-matching, 300-horsepower, 327 cubic-inch engine, four-speed transmission, power steering, posi-traction rear, and two tops. Being the prior owner of a collector car sales facility I knew the value of being a tough negotiator. I clearly understood the meaning of start low and work up from there. As I usually do, I started at, let's just say, a crazy low price. Immediately the owner said, "Okay, I'll take it." I wrote the check as fast as I could, got the hell out of there, and within an hour I was back at the airport with receipt in hand for the new toy I would soon be bringing home.
While I waited for the car to be shipped home, I spent time worked up the numbers to completely restore the car. I was currently doing a rotisserie restoration on a 1969 R-Code 428 Mach 1, so I knew how much work and money might be involved. I had visions of a beautiful Corvette pulling out of my garage after about a year or two of wrenching, and I couldn't wait to get started tearing it apart.
Finally, the car showed up at my house. The first order was to get it in running condition. After new plugs, an oil change, and a carb rebuild, the engine fired up immediately and sounded great. The only other things that were in need of repair were the brakes and a rebuild of the rear spring. With those taken care of, the car was now road worthy. Ugly, but road worthy.
The real reason I say it's junky is that it's never been restored in any way other than a very bad repaint about 20 years ago. Other than the paint job and a few hoses and clamps, just about every part is direct from the factory in 1966. Every body panel, front and rear bumpers, seat covers, and even the carpet are original. Ugly, but original. The car has numerous (take that as lots of) nicks and scratches, enough to make a Bloomington Gold winner have a heart attack. But so what? I drive the car everyplace. I drive it up famous Woodward Avenue whenever I feel like it, go grocery shopping in it, and on occasion, use it as a semi-pickup truck when I'm at Home Depot. Earlier this year I needed to pick up some brick pavers and I used the 'Vette to haul them home. It's not like I don't have a pickup truck, because I do. I have a 1999 Chevrolet Silverado, but the 'Vette happened to be the last car in the driveway so I figured why go through the trouble of moving around cars as it will only waste gas and my time. It's amazing how many pavers you can fit in the area behind the seats. Would you do that with your rotisserie-restored Corvette? I think not!
After washing and vacuuming it, I started to drive the car as-is. Within a week, I picked up some white touch-up paint in an attempt to improve its looks. After about 10 minutes I gave up, clearly recognizing that nothing was going to help this paint job. And the more I drove the car, the more I realized it would be a crime to restore it. I was having fun with my pile of junk!
In addition to the paint being horrible, the driver seat cover is ripped, but who cares? I figure it gives added ventilation. The horn cap is missing, and the original carpet is pretty dirty too. But so what? Actually, the entire horn button assembly is missing but the horn still works. For some reason the original owner put a big black button under the dash right under the windshield wiper switch and connected it to the horn. It beeps and that's all I need. The original radio still works but only on AM, and I only get two stations. It doesn't bother me as I prefer to listen to the engine instead. The original trim glue still shows, just the way Chevrolet did it way back when. It's been there for forty-three years, so why bother to take it off now?
No amount of chrome polish can make the pitted and rusty bumpers look good. The taillamp bezels offer the same attractively pitted appearance. Actually, all of the chrome is horrible, just like the rest of the car. The windshield has a big chip in it along with a deep scratch from a well-worn wiper, and the tires are pretty old too. How often do you see whitewalls on a Vette? But I like it that way.
The engine has never been torn down, and based on the amount of sludge on the outside of it, has never had a power wash. The way I figure it is that if I power wash the engine, it might start leaking oil. I think of the sludge as a sealer to keep the oil inside the engine. The car doesn't have the original spark plug wires and while they're not original, I'm glad they have been changed. I'm sure I'd be seeing a big fireworks show if I opened the hood at night had they not been changed. The radiator, distributor, and most of the other under-hood parts are original, with the exception of the alternator. The engine has ample power and doesn't smoke. The transmission shifts as good as the original shifter will let it. And as they say, "If it ain't broke, don't fix it."
Another good feature about this junker is that it's a good car to lend to your neighbors. A few weeks ago, my neighbor's work vehicle was going to be in the shop for about a week. He called me up to ask if he could use the Vette for work? I said sure and threw him the keys. Would you do that with your Top Flight Corvette? I don't think so! I don't care if he get a few nicks in it, puts a few hundred miles on it, or picks up bags of cement from Home Depot with it. Hell, that's what I do.
I am sure Corvette purists want to tie me to a tree and beat me with sticks. But on the other hand, how many of those guys can pile a bunch of brick pavers in their car? And how many of them would let their neighbors use it for daily transportation? I truly believe that everyone who owns a highly restored vintage car should also have a pile of junk vintage car. They're much more fun to drive, I still get thumbs-up from people (who might not be able to see well) and it's a hoot counting the scratches. I rest my case.
Published Dec 7th, 2015
More Classic Car News & Article Categories:
Related Articles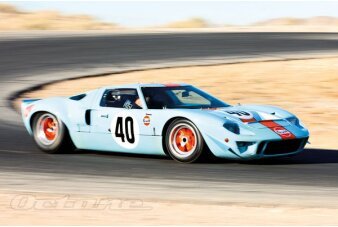 While every factory Ford GT40 is special, some are more special than others.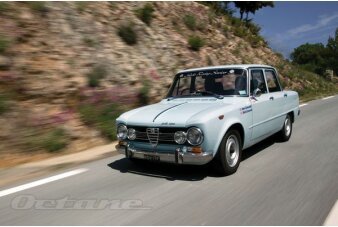 For the Linwoods historic rallying seems to come naturally.
×
Daily Driving A Junker 1966 Vette