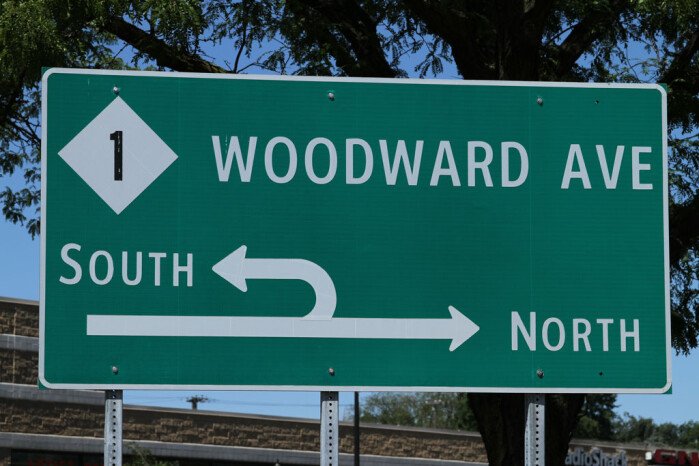 If it's August in Detroit, it's time for the Woodward Dream Cruise and Ford Motor Company has been an integral component of it for most of the event's 18-year history. The cruise officially takes place on the third Saturday each August, but the activities have expanded to include the days leading up to it. It's what the locals call "Woodward Week" – and it's nearly a holiday in the Motor City, with automotive-related company hosting parties, supporting car shows and more.

The cruise's southern anchor city, Ferndale – the cruise route stretches 16 miles and cuts through many municipalities – is Ford's traditional staging area for the event. The Blue Oval folks take several blocks off Woodward and partner with the Mustang Owners Club of Southeast Michigan to host "Mustang Alley." It's one of the largest Mustang gatherings in the Midwest and it's just a small slice of the entire Woodward Dream Cruise pie – that is, if you think perhaps 750 Mustangs is a "small" slice. Then again, the cruise attracts more than 1 million spectators and literally tens of thousands of classics, hot rods, muscle cars and late-model performance cars of all types.

Mustang Alley is a fascinating glimpse at the Mustang hobby, with side lots along the streets hosting specific groups, such as Canadian Mustang enthusiasts, Shelby owners and Mach I owners. Examples of every generation are well represented and Ford brings out its own pony cars – including a new Boss 302s and even a Cobra Jet Mustang factory drag car to drool on, along with examples of other new sheet metal, such as the Raptor, Focus and more. We were enthused to see the apparent interest in the all-electric Focus and the redesigned, 2013 Fusion. The new Fusion is one of the best-looking new cars from Ford and compared to the other staid examples in its competitive set, it should do great in the market on looks alone.

About six miles north of Ferndale – and about a 90-minute drive in "cruise traffic," – in the city of Birmingham, was another "new" Mustang: The WCSX "Stone Soup Boss 5.0" 1969 Mustang powered by a supercharged version of the Coyote 5.0-liter engine. With considerable input from Ford and Roush, this restified muscle car blends the classic look of the 1969 Mustang with the high-tech horsepower of today modular-engine masterpiece.

WCSX is a classic rock radio station in the Detroit area and they've built a number of Stone Soup cars over the years. The Stone Soup names comes from an old folk story whereby food is contributed by those with the means and, indeed, the WCSX cars are built from a variety of donated parts and services. The Boss 5.0 will be raffled off in September 2012 to benefit the Beaumont Children's Hospital. The tickets are only $10 a pop and you can order them at www.wcsx.com.

Of course, there were Fords and Mustangs beyond Ferndale and Birmingham. In fact, they were everywhere. We even spied not one, but two Australian Ford Falcons from the Seventies – the same models that the Mad Max Interceptor was built on for the iconic movies, along with a pro-street Anglia and what had to be at least 75 percent of all the Shelby cars ever built. Indeed, the Woodward Dream Cruise is a spectacle on a scale that must be experienced to fully comprehend. If you've never seen 16 miles' worth of cars and people, you owe it to yourself to make the journey to the Motor City to do it at least once.

Next August will be here before you know it. Plan now. And make the Ford display/Mustang Alley a must-do destination.



Want more Ford content? Check out our Ford Enthusiast Headquarters!
Published Dec 7th, 2015
More Classic Car News & Article Categories:
Related Articles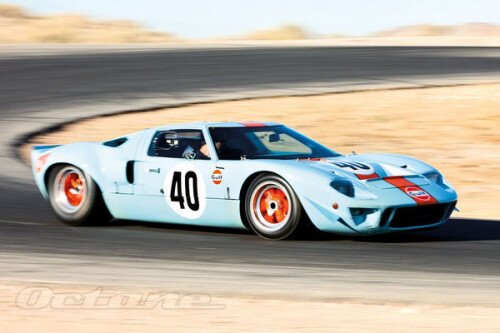 While every factory Ford GT40 is special, some are more special than others. The dazzling example featured here, chassis GT40P/1074, earns bonus points for at least three reasons..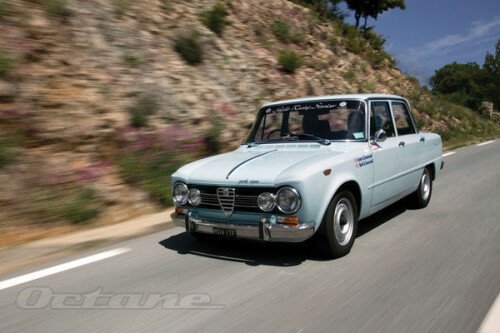 Not long after their first event together, Bob bought a standard road-going 1968 Alfa Romeo Giulia Super, and had it restored by Classicarco in Manchester. We spend a pleasant afternoon tossing it around the French countryside for Martyn's camera, Bob and I swapping the wheel like two duffers on the practice green trying out the same putter.
Advertisement
×
Cruisin' Woodward With The Blue Oval