Author: Brian Moody
If you really like movie cars and if you're looking for some ideas regarding your next classic car purchase or project, I have a suggestion. Get the book Stars and Cars -- Mythical Pairings.
Inside, there are short, digestible stories about famous cars and the stars who drove them to fame. The book isn't perfect, it goes from featuring known car-loving celebs like James Dean and Steve McQueen, to movie characters who drove cool cars like in the "James Bond and Aston Martin" section.
Either way, there are lots of cool quotes from both characters and the actors who played those parts. One of my favorites is in the "Drivers on TV" section regarding the British TV series "The Avengers": "Patrick Macnee hated these antique cars and struggled to drive them," the author notes. At times there is a bit of a Euro-centric feel but, for Americans, it might be just the thing to spices up the usual "Starsky and Hutch" and "Back to the Future" mentions.
The large centerfold pics of featured cars is especially worthwhile -- there are little facts about each car. One of the best is the supercharged Ford Falcon interceptor from "Mad Max." Same goes for the feature on "The Prisoner" and Number Six's Lotus Super Seven and the often overlooked Mini Mokes -- and Bond's various cars are covered. Bottom line here is that the photos are very good.
If you can stand the fact that the featured replica "Bullitt" Mustang has the wrong wheels, you'll likely get plenty of enjoyment (BTW – KABC automotive reporter Dave Kuntz has all the "real" Bullitt Mustang tips here). Still, this isn't a deep dive into the world of movie cars, but rather is a coffee table book that's hefty, well done, nicely packaged and inexpensive.
Even some of the more obscure movies and TV shows are mentioned. Well, maybe not obscure but titles you don't think of as primarily car-themed. Jim Jarmusch's excellent "Night on Earth" is mentioned as is "Taxi Driver", "La Dolce Vita", "Wild at Heart", the TV series "Columbo" and "Mad Men". There's also two full pages dedicated to "SUVS on TV" which could have been subtitled "Every American Cop Show That's Ever Been" or "Why 'CSI: Miami' Is the Absolute Dumbest TV Show In Television History."
The author is Jacques Braunstein, who is described as "a Journalist at GQ and former editor-in-chief at Technikart, is the author of two graphic novels as well as one novel." He seems to be a car guy at heart -- his bio indicates previous ownership of both an Audi Quattro and a 1970 Lancia coupe.
Stars and Cars – Mythical Pairings is available at QuartoKnows.com and on Amazon. The price is a reasonable $29.99 but the Amazon Prime price is $20.49
Published May 30th, 2017
More Related Vehicles
More Classic Car News & Article Categories:
Related Articles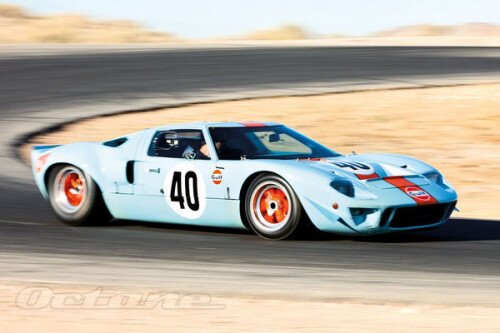 While every factory Ford GT40 is special, some are more special than others. The dazzling example featured here, chassis GT40P/1074, earns bonus points for at least three reasons..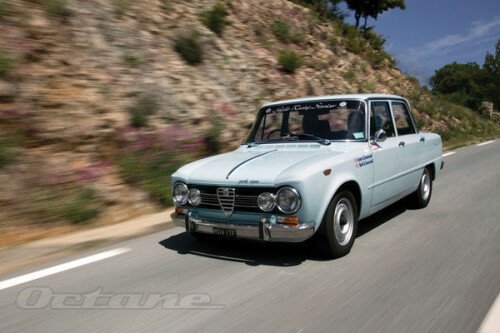 Not long after their first event together, Bob bought a standard road-going 1968 Alfa Romeo Giulia Super, and had it restored by Classicarco in Manchester. We spend a pleasant afternoon tossing it around the French countryside for Martyn's camera, Bob and I swapping the wheel like two duffers on the practice green trying out the same putter.
Related American Classic Cars
Advertisement
×
Cool Movie Cars In New "Stars And Cars" Book