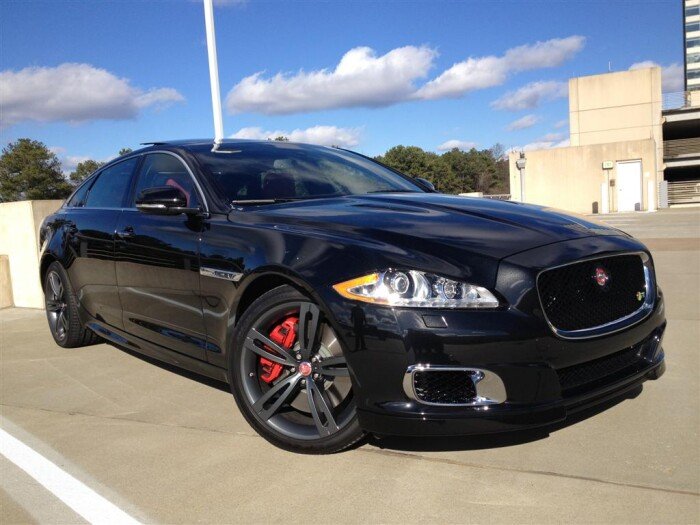 There is a level of expectation when it comes to driving a high-end luxury performance sedan: the outside world should become an optional experience for the driver. The only thing that the driver should interact with is the automobile and the road. That being said I knew what I should expect when I grabbed the keys to a 2014 Jaguar XJL-R. What I did not expect was how well Jaguar had executed on their mission.
Let's go ahead and get this out of the way: as tested this car has a MSRP of $122,000. That is a lot of money but when you look at the total package it really is a bargain. For that price you get a taught all-aluminum chassis, a supercharged 550 horsepower V8 packing 500 lb/ft. of torque, a rather good 8-speed automatic transmission, acres of leather, huge brakes, and a gaggle of electronic toys to keep you entertained. I could go on for days about the electronic toys and climate control system. It seems almost the entire car can be controlled via the dash mounted touch screen. But once again, in a car like this you expect something far beyond simple knobs and switches, and Jaguar delivers it quite well.

Even in Atlanta's relentless traffic the world seemed a little more relaxed while behind the wheel of the big Jag. The sound system is excellent (of course) and the heated seats kept me cozy warm even in single digit temps. The heated steering wheel kept things civil in the few minutes it took for the heater to reach proper temperature. Interior space is huge with tons of room for everyone. As a test I took my entire family out to dinner, which necessitated installing two front-facing child seats in the car. I can say rather confidently that those were the first (and likely last) child seats that particular car will ever carry. Unfortunately my only complaint came from trying to install said child seats, as the rear seats were so stiff that it was almost impossible to push the LATCH hooks into place. But I digress. With the entire family aboard everyone still had plenty of room. There wasn't even a need to move the front seats forward, as the extra inches of the "L" model made entry and exit a breeze. As a testament to how quiet the car is both children were sound asleep within minutes of our drive home, not something that happens in our family truckster. 

Now to get down to business. The power delivery is downright addictive. From a stop the car launches like a Saturn V rocket. The massive rear tires claw for grip as the traction control attempts to calm things down. The first few feet aren't a shock, but then the speed builds VERY rapidly. It is quite easy to be at highway speeds before clearing a large intersection, and that isn't even at full throttle! Dip your toe on the highway and you are easily propelled to passing speed in a split second.  This is by no means a savage car, but is it should be respected. While traveling down the highway my wife quipped from the passenger seat that the car felt like a race horse that was being held back. That was a spot on observation as at 65 mph the big cat felt bored with our pace. It wanted to sprint into the triple digits and stay there for hours while gobbling up hundreds of miles in comfort. Most cars I've driven at this power level are equipped with a manual transmission, but the 8-speed automatic unit used here does its job quite well. It is eager to downshift when desired while also knowing when to hold a gear. Very well done.

Overall the XJL-R is the perfect mix of high end luxury and performance. It isn't gaudy or obnoxious. In fact, on the road it is quite subtle. This isn't a car for people who only want to be seen driving a high end automobile; it is a car for someone who wants the best possible driving experience without having to choose between speed or comfort. 

2014 Jaguar XJL-R Specifications

Exterior Dimensions
Overall Length - 206.8 in.
Wheelbase - 124.3 in.
Front Track - 64.0 in.
Rear Track - 63.1 in.
Overall Width, mirrors folded - 74.8 in.
Overall Width, including mirrors - 83.1 in.
Overall Height - 57.4 in.
Turning Circle, rear-wheel drive - 40.4 ft.
Curb Weight LWB - 4,153 lb. (1,884 kg)
Gross Vehicle Weight Rating LWB - 5,313 lb. (2,410)

Interior Dimensions
Headroom, front - 39.5 in.
Headroom, rear - 37.2 in.
Legroom, front - 41.5 in.
Legroom, rear - 44.1 in.
Shoulder Room, front - 57.6 in.
Shoulder Room, rear - 56.6 in.
Trunk Volume - 15.2 cu.ft.
Performance (Estimate)
Acceleration 0-60 mph - 4.4 seconds
Top speed - 174 mph

Fuel Economy
EPA City Estimate - 15 mpg
EPA Highway Estimate - 23 mpg
EPA Combined Estimate - 8 mpg
Tank capacity (approx.) - 21.7 gallons

Drivetrain
Engine - 5.0 liter V8 Supercharged
Bore x Stroke - 3.64 x 3.66 in. (92.5 x 93.0 mm)
Valves per Cylinder - 4
SAE Horsepower @ RPM - 550 @ 6,500
Maximum Torque @ RPM (lb-ft) - 502 @ 2,500-5,500
Compression Ratio - 9.5:1
Transmission - 8-speed automatic
Published Dec 7th, 2015
More Classic Car News & Article Categories:
Related Articles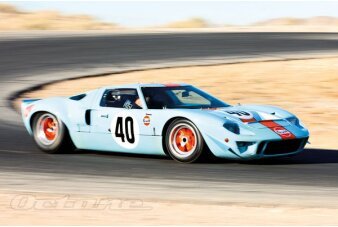 While every factory Ford GT40 is special, some are more special than others.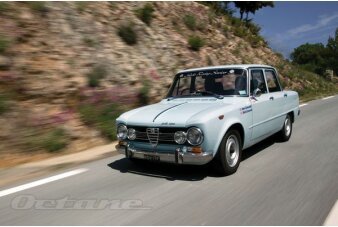 For the Linwoods historic rallying seems to come naturally.
×
Classic Reviews: 2014 Jaguar XJL-R