‹ Go back
Classic Reviews - 2011 Infiniti FX35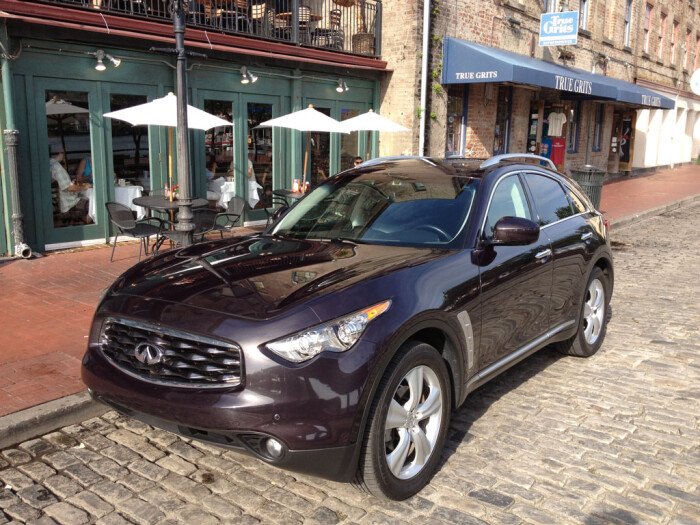 Driving through beautiful Bonaventure cemetery in Savannah, Georgia seems eerily appropriate at this moment. I am piloting a 2011 Infiniti FX35 from AutoTrader.com's long term test fleet and I am on a mission.

Now you may ask "why on earth is the Editor of AutoTrader Classics driving an almost new car?" From the moment I laid eyes on the FX35 I knew I had to write this review. Not only did I have to write this review, but I also had to honor the dead, which in this case is the long deceased AMC Eagle SX/4. 

I can hear your question already: "What on earth is an AMC Eagle SX/4?" Picking through the history of American automobile manufacturers is not unlike driving through Bonaventure cemetery. Grandiose monuments proclaim an entire family's existence, while simple headstones mark the life of a single member. The SX/4 is just such a headstone in the history of American Motors Corporation. Its short life though was a sign of what the future could hold.

Back in the late 1970s and early 1980s AMC was struggling to find its way. Most of its product line was based on an aging platform that went back well over a decade. With sales lagging and a takeover by Renault looming in the wings, AMC fired a Hail Mary into their product line with the SX/4. AMC was no stranger to non-standard designs, as they had already created the Pacer and Gremlin. In 1980 they married the Quadra-Trac 4WD driveline from Jeep to the Concord body, thus launching the Eagle product line. Going one step further AMC pulled the same trick in 1981 using the sporty Spirit 2-door body, bringing us the SX/4, their self proclaimed "sports car that doesn't always need a road." But what exactly did that mean? Was it a road hugging sports car or a trail conquering off road vehicle? How can it be both? 

And that is where we are now. Just what is the FX35? Is it a sports car? Is it a SUV? Is it a crossover? The answer is no to all over the above. It is far easier to describe what the FX35 is not rather than was it truly is. It sits far too high to be a sports sedan. It has too many doors to be a sports car. It handles too well to be a wallowing SUV. Crossover seems to be the closest comparison, but thanks to the underlying rear wheel drive 370Z platform it sheds the "family car on steroids" feel of most sedan based crossovers. No, the FX35 is in a world all its own, and it is a fun world to visit.

Stepping into the FX35 you get the feel of being in a sports car…only two feet off the ground rather than two inches. The seating position is more upright, but the cabin is placed further back giving you a "laid back" sports car feel. The long hood evokes a classic touring car feel. This is not a small vehicle, measuring in at almost 16 feet long, over six feet wide, and five and a half feet tall. But it doesn't feel like a lumbering SUV, not by a long shot. When driving the FX35 it is recommended to have all items secured before leaving the driveway. It really does turn far sharper and more precisely than it has business doing. Even routine navigation through neighborhoods is a touch more entertaining without ever breaking the speed limits. Flicking the steering wheel brings immediate direction changes without a hint of body roll. That kind of handling sent my backpack skittering around the rear cargo area like an air hockey puck.

The FX35 is obviously directed towards handling with a nod at off road ability (if equipped with AWD). The SX/4 was almost the polar opposite thanks to its Jeep derived driveline. Handling was never really mentioned in the same sentence as the SX/4, but it was campaigned with mixed success in the SCCA ProRally series. The FX35 is sprung much stiffer than any other similar vehicle. Driving the historic cobble stone ramps leading to Savannah's River Street rendered my morning coffee into a caffeinated milkshake. A later romp down a long, rain soaked and rut filled pea gravel driveway reaffirmed that off tarmac excursions were meant to be merely tolerated by the FX35 rather than enjoyed. Getting back to the paved world it was time to visit Hutchinson Island and its little known public race course. While technically a public road (Grand Prize of America Avenue) this short two mile course demonstrated just how much time Nissan's engineers had spent to make this a capable on-road machine.

You really cannot compare the SX/4 and the FX35 on a performance level, but from an overall design concept point of view things become a bit clearer. What AMC tried and now Infiniti has done is create a vehicle that allows the owner to experience more than one automotive world with a single vehicle. Usually these kinds of attempts fail miserably, which was the case for the SX/4. The FX35 has managed to not only accomplish, but to grow and evolve. There are now four version of the FX to choose from including a 400+ horsepower V8 model. Infiniti has succeeded in fulfilling a promise made to the automotive world over three decades ago, and for that I am grateful.
Published Dec 7th, 2015
More Classic Car News & Article Categories:
Related Articles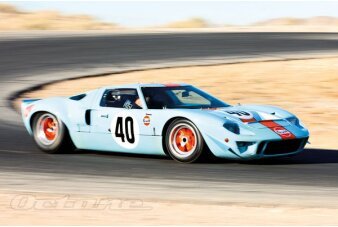 While every factory Ford GT40 is special, some are more special than others.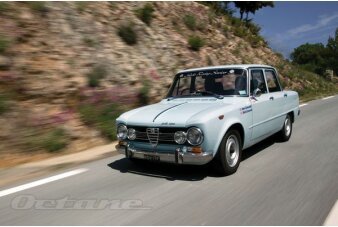 For the Linwoods historic rallying seems to come naturally.
×
Classic Reviews - 2011 Infiniti FX35