‹ Go back
Classic Ford Bronco: A First Generation Buying Guide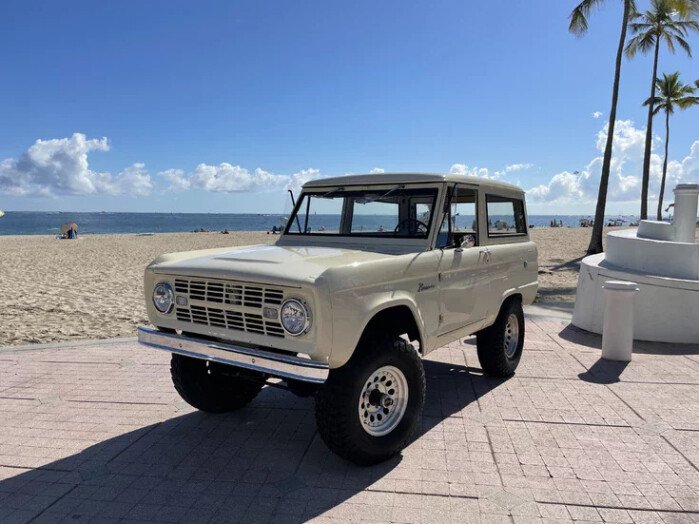 Table of Contents
History of the First Generation Bronco
1966 – 1977 Ford Bronco for Sale
1966 – 1968 Ford Bronco features, specs, and price
1969 – 1970 Ford Bronco features, specs, and price
1971 – 1972 Ford Bronco features, specs, and price
1973 – 1975 Ford Bronco features, specs, and price
1976 – 1977 Ford Bronco features, specs, and price
What Is the Best First Generation Ford Bronco?
Frequently Asked Questions About the First Generation Ford Bronco
History of the First Generation Bronco
The Ford Bronco is undoubtedly an American icon and one of our top 10 classic trucks of all time. With the vintage SUV and truck market heating up, it's no surprise that people are trying to secure their little piece of automotive history.
First produced in 1966, the Bronco would evolve through six generations over six decades (with a 25-year hiatus in between). Like many classic cars, collectors flock towards the first-generation models that set the foundation for future success. The Ford Bronco is no exception. Its original compact, boxy aesthetic would set it apart from subsequent generations. As such, many consider the first generation to embody the ideals of the Bronco name and carry the most significant "cool factor" of any generation.
As the 1960s began, Ford decided to enter the rapidly expanding recreational four-wheel driver market. The two leaders in the segment were the equally iconic Jeep CJ-5 and the International Harvester Scout. Fresh off the exceedingly popular Ford Mustang launch, the automaker was keen on continuing its hyped momentum.
This would be the first off-road 4x4 that Ford would build. Although the front and rear axles came from the company's F-Series trucks, the Bronco would use a frame, chassis, and body that were unique to it, allowing for greater flexibility and purpose during the development process. The Bronco would take inspiration from the CJ-5 and Scout and would dimensionally stand between the two. Its narrow body and short wheelbase made navigating rough terrains easy.
The first generation would last for twelve years, from 1966 to 1977, before being significantly redesigned. While the classic Bronco stayed essentially unchanged, each year did present its own quirks. So here are some things you can look out for with each model year.
1966 – 1977 Ford Bronco for Sale
1966 – 1968 Ford Bronco Features, Specs, and Price
As its first production year, the 1966 Ford Bronco is the most sought-after model year by collectors. Upon its release, the Bronco was only offered with a 2.8L (170 cu. in.) inline-six engine producing 105 horsepower. Later that same year, a 4.7L (289 cu. in.) V8 would also be made available with 200 hp. These engines would come with heavy-duty fuel pumps to ensure fuel delivery even in steep grades. A three-speed manual transmission would be the only transmission available until 1973.
The 1966 - 68 model years could be found in three body styles - a traditional wagon, a half cab, and a roadster. The roadster is perhaps the most collectible of the three styles as it was not too popular. As such, the roadster would only be made during the period from 1966 to 1968. The roadster was the most open of the three offerings, ditching both doors and the roof.
Additionally, look out for a wide range of dealer-installed accessories from the extensive Bronco catalog. These could be anything from compasses and tachometers to snowplows and two-way radios.
The '67 model would consolidate some of the previously offered options into a single Sport Package. The package included many cosmetic additions, such as added trim on the exterior lights and instrument panel.
You can tell a 1968 Bronco apart from its forefathers by looking at the bumper ends. Instead of a straight edge, the bumpers end in a curved line. Look slightly over, and you will notice reflectors on the outer corners of the Bronco.
The production run for the first three years would total 54,635 units.
How much is a 1966 – 1968 Ford Bronco?
When this buying guide was published, a 1966 – 1968 Ford Bronco was selling for between $50,000 and $100,000, with $75,000 being the sweet spot, and V8 and half cab versions pushing $100,000 to $135,000. We have purposely left out the outliers at the bottom and top end of the price range, like the handful of Broncos from these years with asking prices of $200,000 to $310,000, including some "new" classic Broncos made by specialty vintage restoration companies.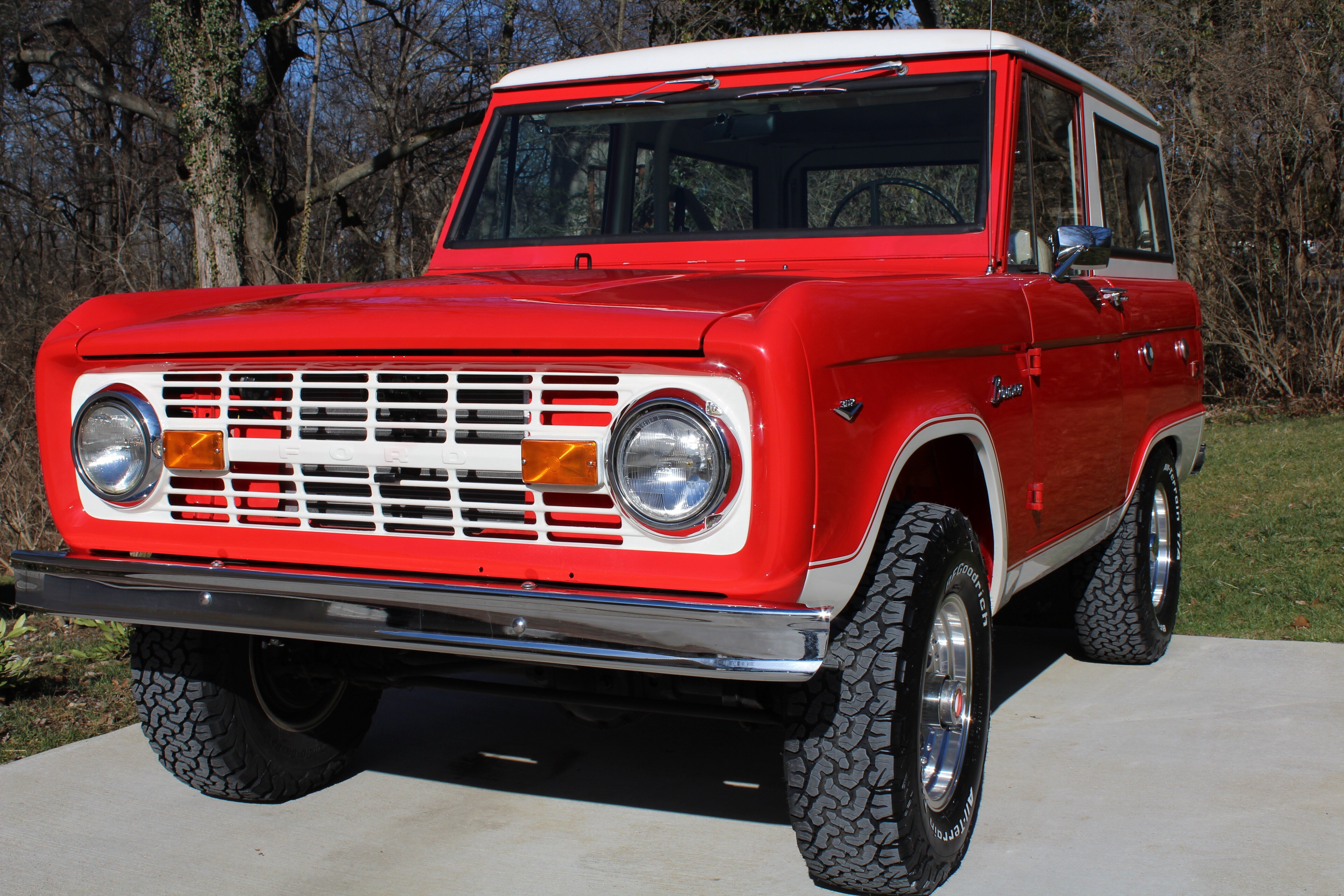 1969 – 1970 Ford Bronco Features, Specs, and Price
From this point forward, the Bronco would only be offered as a wagon or a pickup. Starting in 1969, the 4.7L V8 would grow to a 4.9L (302 cu. in.) V8. More quality-of-life additions were also added with the addition of a variable speed electric windshield wiper and a steering stabilizer.
The Sport Package would evolve into becoming its own model starting from 1970. A small visual cue that allows one to differentiate a 1970 model from the previous years is by looking at the reflectors placed higher up this year. Stricter emissions standards would facilitate the integration of an EVAP system that lowered the fuel capacities of both the main and auxiliary tanks.
These two years were particularly popular and totaled 39,406 produced units.
How much is a 1969 – 1970 Ford Bronco?
When this buying guide was published, a 1969 – 1970 Ford Bronco was selling for between $65,000 and $105,000, with $80,000 being the sweet spot, and premium restored versions selling for $105,000 to $145,000.
There are also specialty vintage restoration companies selling "new" classic Ford Broncos featuring modern-day features combined with vintage styling, priced in the $200,000 to $240,000 range. The 1970 Ford Bronco is probably the most searched among the first-generation Bronco years.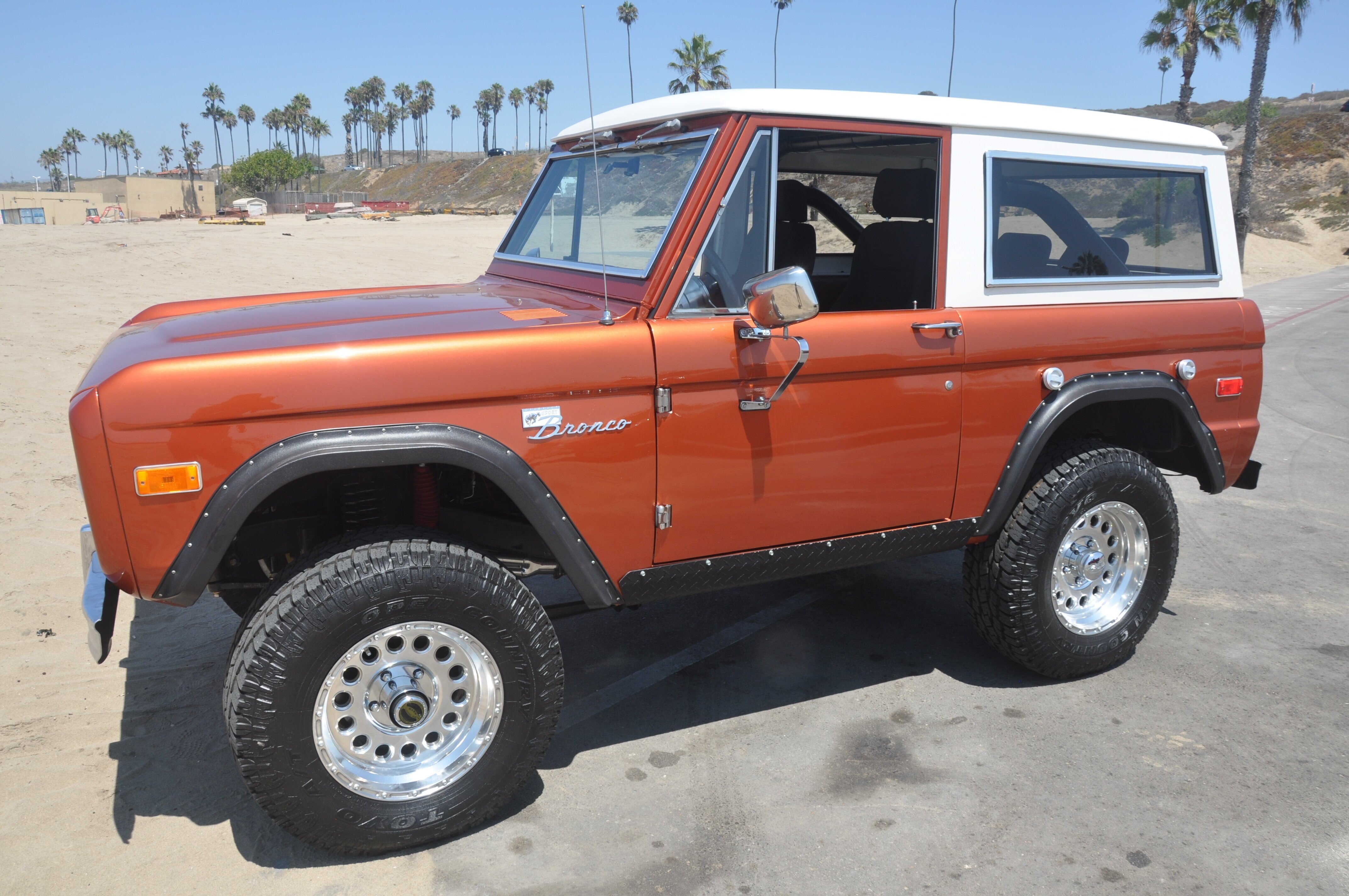 1971 – 1972 Ford Bronco Features, Specs, and Price
This model span would bring improvements to both the capabilities and comforts of the Ford Bronco. Starting from 1971, the Bronco would be equipped with a stronger Dana 44 front axle and an option for a more robust radiator.
This era would also spawn two of the rarest Ford Bronco variations. In 1971, Ford collaborated with racecar builder Bill Stroppe who had been using Broncos for Baja races. Known as the Baja Bronco, it would be a massively modified Bronco Wagon with upgraded wheels, steering, and suspension, among other things. These are extremely rare as Ford made only 650 between 1971 and 1975.
Another rarity from this era is the Ranger package, which appeared in 1972. This package focused more on cosmetics and comfort with additions such as exterior stripes, thicker interior carpet, and wooden trim panels; it is believed that a little more than 800 were produced with this package.
Sadly, 1972 would be the last year of production for the Bronco pickup.
Over these two years. 40,899 Broncos were produced.
How much is a 1971 – 1972 Ford Bronco?
When this buying guide was published, a 1971 – 1972 Ford Bronco was selling for between $80,000 and $130,000, with the majority of these being the wagon version. However, if you are willing to buy a half-cab pickup version, you might be able to purchase one for between $50,000 and $80,000. Those with a frame-off restoration were asking $150,000 or more, and those with soft tops were also commanding top dollar.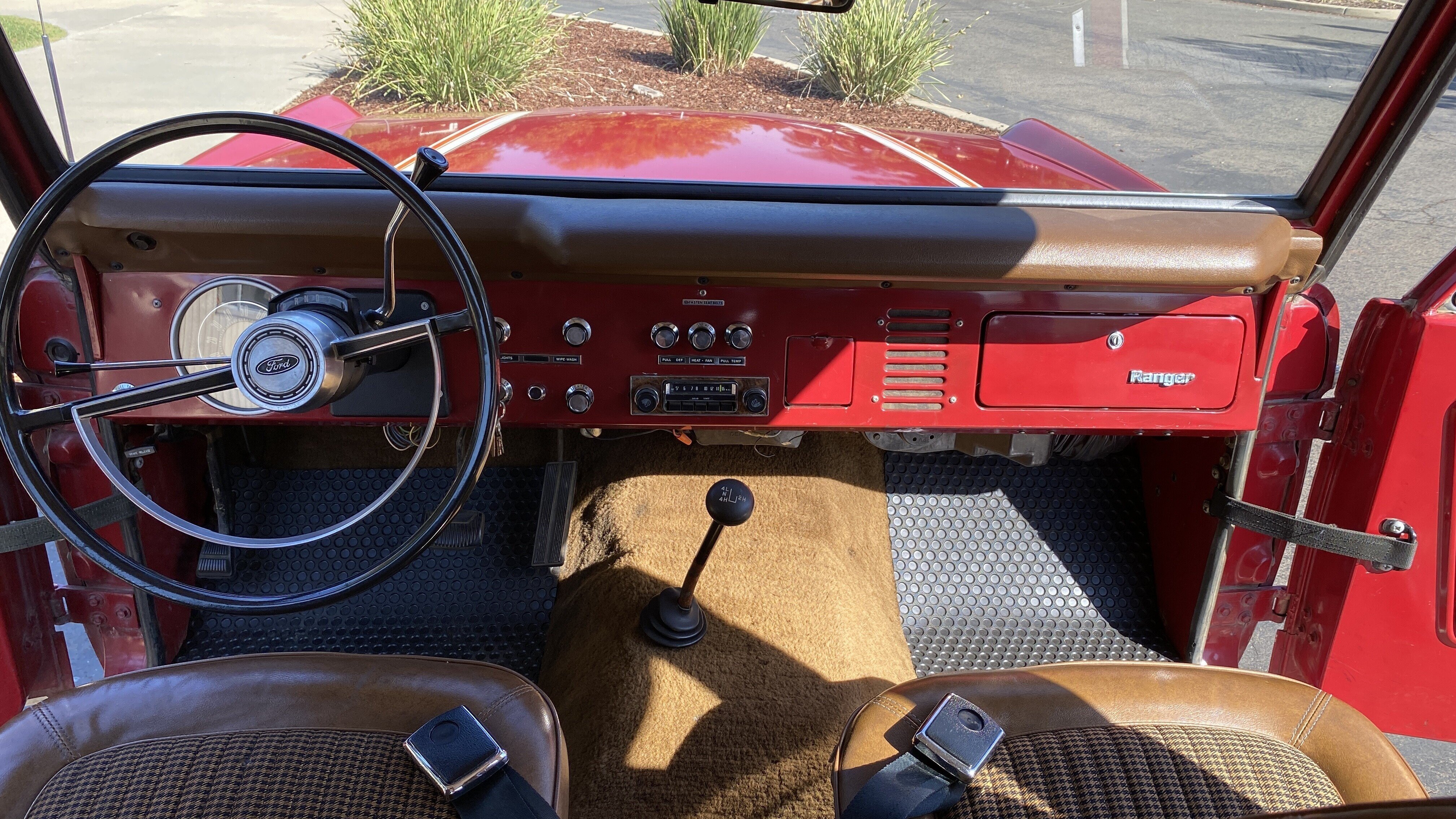 1973 – 1975 Ford Bronco Features, Specs, and Price
By 1973, many of Ford's competitors were starting to update their vehicles to feature more luxuries. To keep up, Ford would introduce a three-speed automatic transmission and optional power steering. The base 2.8L inline-six would also grow to 3.3L.
The following two years would hamper the Bronco with the need to meet emissions standards. A special version fit for California's emissions standards would be made in 1974. In 1975 the engines would be refit to accept unleaded fuel and integrate a catalytic converter.
Additionally, the 1974 model improved the shifter mechanism, which was previously complained about.
The 1974 and 1975 periods would be the two most successful years for the Bronco, but the '75 would be the least produced model from the first generation 60,843 were produced over the three-year period.
How much is a 1973 – 1975 Ford Bronco?
When this buying guide was published, a 1973 – 1975 Ford Bronco was selling between $65,000 to $135,000. The average asking price was around $90,000. A few outliers were priced in the $45,000 to $55,000 range.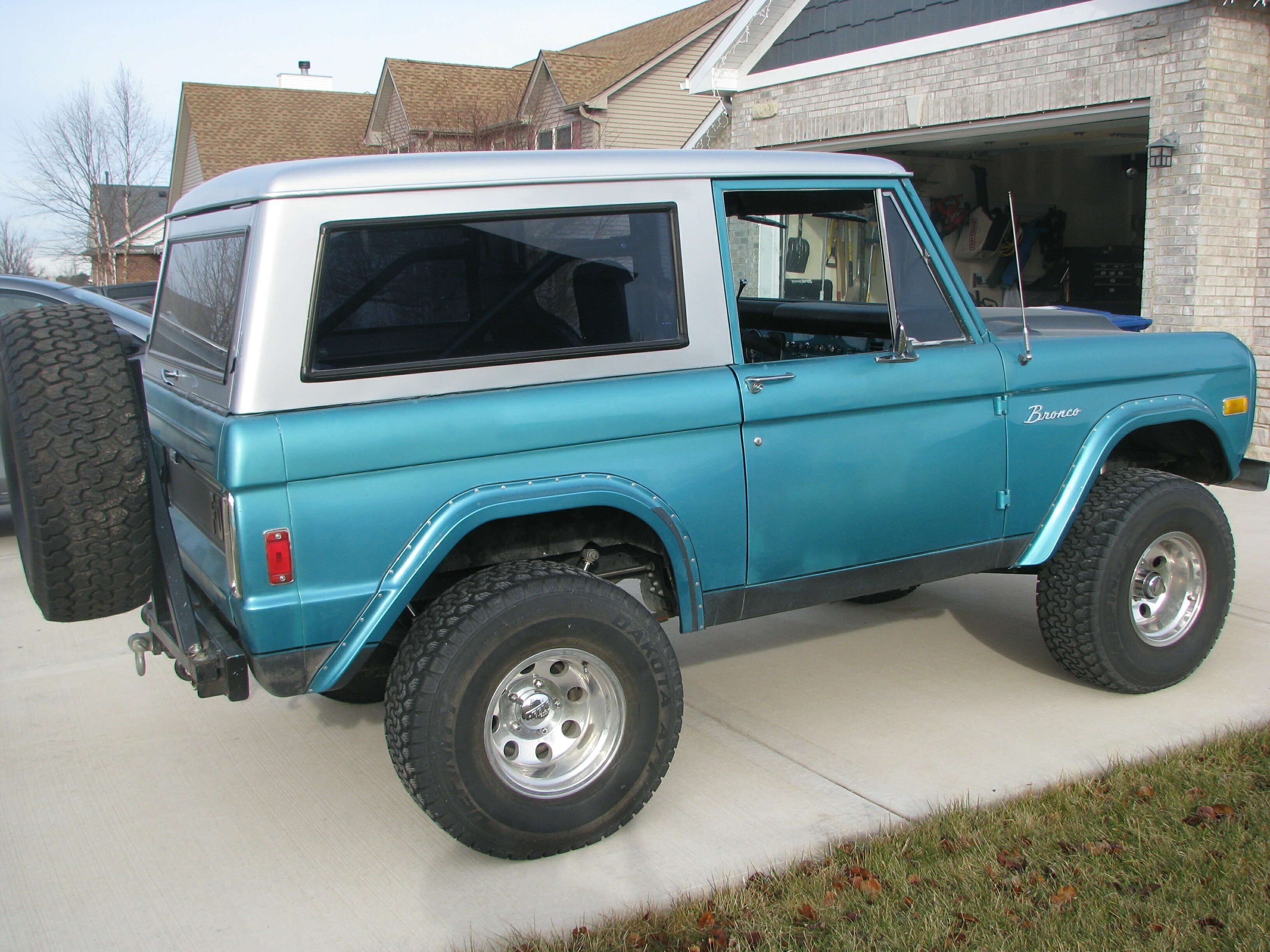 1976 – 1977 Ford Bronco Features, Specs, and Price
The twilight years of the first-generation Bronco brought with it some mechanical improvements. There was a significant improvement to both the front and rear brakes and a shorter steering box ratio, allowing for fewer rotations to perform a turn. However, the 1976 model also came with a Y steering linkage, which has not been well received by owners.
A special appearance package known as the Special Decor Group was available this year and can be easily identified by the matte black grille and side stripe.
For the first generation's last year, the Bronco would be equipped with a more durable 9-inch rear axle housing, improving off-road capability. The gas tank door is exclusive to this model, which replaced the externally mounted caps found in every other model year.
In its final two years, 29,802 Broncos would be produced.
How much is a 1976 – 1977 Ford Bronco?
When this buying guide was published, a 1976 – 1977 Ford Bronco was selling for between $65,000 to $100,000 with a few premium-priced versions asking for $110,000 to $180,000.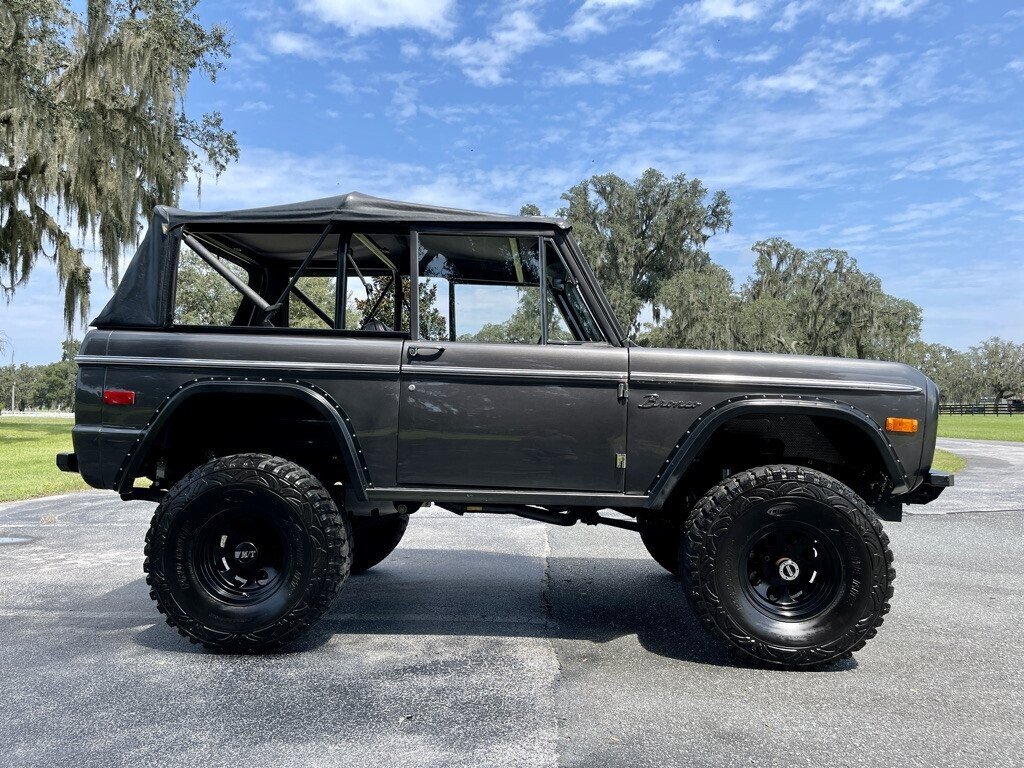 What Is the Best First Generation Ford Bronco?
The simple answer is -- any that you can get your hands on! Over its 12-year lifecycle, there were less than a quarter-million first generation Broncos sold. Considering that over half a million Mustangs were sold in just the first year, you can see how rare they truly are. Harsh weather, off-road accidents, and rust have already taken many classic Broncos off the road.
For those hoping to get some off-road use, it is recommended that you find an already modified example from any year. These will typically be cheaper than un-modified examples and enhance the Bronco's excellent capabilities. If you do not want a modified version, look for one made after 1971 to take advantage of the strong Dana 44 axle.
If rarity is your priority, be on the lookout for the roadster or half cab versions. Of course, finding a Baja Bronco would also be the holy grail for many collectors. Early models with the 170 six-cylinder or the '77 model with the enlarged rear axle case could also be contenders.
Published Apr 20th, 2022
Frequently Asked Questions About the First Generation Ford Bronco
More Classic Car News & Article Categories:
Related Articles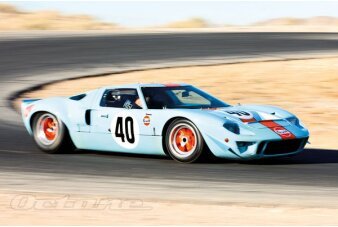 While every factory Ford GT40 is special, some are more special than others.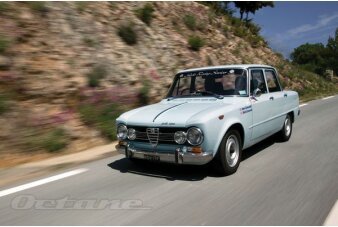 For the Linwoods historic rallying seems to come naturally.
×
Classic Ford Bronco: A First Generation Buying Guide