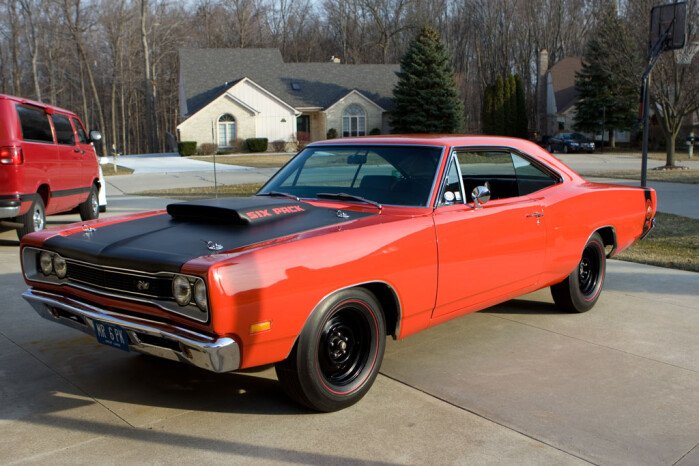 Photos by Tracy Stocker
Once in a while, a project comes together that results in a truly memorable car. In Chrysler's case it happened in 1969, with introduction of the Dodge Super Bee Six Pack and Plymouth Road Runner Six Barrel.
The concept of budget performance is nothing new. In automotive circles the concept really gained traction with the V-8-powered Fords of the 1930s-40s. A decade later the hot rod movement was in full swing: young guns sought to claim bragging rights on the street and dragstrip, driving home-built, stripped-down cars. The auto manufacturers soon got in on the action and by the mid-1960s were assembling their own factory blessed go-faster specials–muscle cars, which were created by stuffing big car engines in intermediate bodies. Perhaps nobody understood this concept better than the folks at Highland Park, and the company's B-body intermediates soon gained a reputation as serious street weapons, thanks to cars like the Plymouth GTX, Dodge Coronet, and Charger R/T. However, given that many of those who wanted a fast car at this time couldn't really afford machines like this, Chrysler felt that, in order to gain further market share, a budget performance offering would be just the ticket.
Thanks to some comments from an outspoken automotive editor, the concept started gaining traction, particularly with Plymouth Division. Taking the entry level, no-frills Belvedere two-door pillared coupe, stuffing in a monster engine with high-performance goodies, and adding a heavy-duty suspension and a distinctive name, the Road Runner was born. Chrysler paid Warner Brothers $50,000 to license the name of their infamous cartoon character for use on the car, as well as the signature beep-beep call for the horn. Priced at just $2,896, Plymouth had projected sales volumes of just 2500 units, but after a couple of months almost 10,000 cars had been delivered!
Dodge division, seeing an opportunity to get in on the action, launched the rival Super Bee, also a pillared, no-frills coupe based on the entry-level Coronet (confusingly called DeLuxe). Both cars featured 383 big-block V-8s with the windage tray, heads, exhaust manifolds, and intake manifold from the 440, along with heavy-duty valve springs and a special performance camshaft. Optional in both was the formidable 426 Hemi, but at $714, it kind of killed the concept of a budget muscle car and in the Super Bee's case, just 125 were ordered. Transmission choices were an A833 four-speed manual, or Chrysler's near-bulletproof 727 TorqueFlite three-speed automatic. Dual exhausts were standard, as was an 8 ¾ inch rear end with 3.23:1 final drive. Strangely enough, a Sure Grip limited slip differential was optional, not standard. The cars also came with standard four-wheel drum brakes and 14-inch steel rims with hubcaps, though buyers could order power front discs and gorgeous styled road wheels.
In an effort to broaden market appeal, the basic lineup of both the Super Bee and Road Runner was soon expanded, to include a hardtop body style as well as the two-door post coupe. By the end of the model year, Dodge had sold 7,842 Super Bees, but thanks in part to a successful marketing campaign, Plymouth had shifted some 45,000 Road Runners. Clearly this budge muscle car thing was more than a passing fad.
BUILDING A STREET RACER
For their second season on the market, Chrysler, in an attempt to expand the Road Runner's and Super Bee's appeal, made a few changes, adding more creature comforts and making plans to install the big 440 as an option in both cars. However, given that the muscle or "supercar" era as it was known back then, was spiraling ever higher, perhaps something a bit more snazzy was needed than just a regular four-barrel 440, wrapped up in a car that was nothing less than an all-out budget street/strip racer.
Not surprisingly, given that the SoCal area was the hotbed of automotive culture, a group of Chrysler engineers found themselves heading west for some meetings with Vic Edelbrock Sr. At the time, Edelbrock had built a substantial business, selling go-faster speed parts to hot rodders and already hawking a line of items designed for Mopars. The engineers asked him if he would be interested in supplying a new three-barrel, aluminum intake manifold, designed to fit on the company's big 440 cubic-inch V-8. He agreed and the seed was planted for a new purpose-built street/strip racer, built around this engine combination.
For fuel delivery, a trio of Holley 2300 carburetors were selected and in order to maximize streetability, the carbs were spaced equidistant from each other on the manifold. During normal driving, only the center carb operated, but punching the throttle opened the butterflies on the outer units, delivering a total airflow of approximately 1,200 cubic feet per minute.
Unlike the regular 440 Magnum/Super Commando found in other B-body cars, the new three-carb engines were hand-assembled and featured Magnafluxed internals. The heads were also worked and featured chrome plated valve stems, Hemi valve springs, and heavy-duty rocker arms. To ensure maximum durability, a special low-lobe camshaft was specified and sample engines were tested under laboratory conditions at various rpm for several hours, especially at mid and high-range. Compared to the standard 440's 375 horsepower and 490 lb-ft torque, output on this new version was advertised at 390 hp at 4700 rpm and 490 lb-ft at 3200.
The rest of this so-called A12 package centered around using the light Dodge Super Bee and Road Runner cars, in a choice of pillared coupe or hardtop configurations. Besides the engine, which was dubbed Six-Pack for use in the 'Bee and Six Barrel for the 'Runner, other goodies included heavy duty suspension–beefier front sway bars, torsion bars, heavy duty rear springs and shocks, and a choice of A833 four-speed manual or TorqueFlite 727 three-speed automatic transmissions. In true street racer idom, each car was fitted with a beefy 9 ¾-inch Dana 60 rear axle as standard, housing steep 4.10 gears and a Sure Grip limited slip differential. Four-wheel drum brakes were standard, as were dual exhausts. On the outside, both cars sported 15x6-inch pressed steel wheels on which were mounted red line performance bias-ply tires. As a further gesture towards the hardcore racer set, the wheels were painted black and didn't even come with hubcaps, just a set of chrome lug nuts. Four exterior color choices were available on the Dodge: Bright Yellow, Hemi Orange, Bright Green, and Red (though a few snuck out wearing additional colors, including one called Butterscotch). The Plymouth version was available in the entire range of Road Runner colors, including the likes of Tor Red, Vitamin C, and Go Mango, as well as sinister Black. But perhaps the most eye-catching thing of all was the hood. Unlike their regular Super Bee and Road Runner counterparts, the Six Pack/Six Barrel cars featured a fiberglass hood with four tiedown pins, painted matte black with a huge, molded center scoop. Inside, both cars were strictly business and to save weight (and partly cost), air conditioning was not available, though buyers could order a radio if desired.
MOTOR CITY SPEED
The list price was $4,300 for the Six Pack Super Bee and approximately $4,200 for the Six Barrel Road Runner. On the street, the cars were absolute weapons and faster off the showroom floor than just about anything out of Detroit in 1969. In fact, Drag Racing magazine got legendary racer Ronnie Sox (of Sox & Martin fame) to test-drive a new Six Barrel Road Runner and he clocked an astounding 12.98 at more than 111 miles per hour!
Bob Karakashian–today recognized as the authority on the A12 cars–remembers when he went to pick up his brand-new Six Pack Super Bee back in the spring of 1969. "At the time, I was a teenager getting ready for college. In the Detroit suburb where I lived, Chrysler Engineer Tom Hoover was a neighbor. We got to know each other and one day Tom mentioned that a new performance car was coming out. I was intrigued, so I asked my local dealer to place an order. Originally I wanted black, but the salesman told me that this new car only came in four colors. I eventually settled on red. In those days, it took about six weeks for a car to come in, but mine was more than 10. They knew I was getting anxious and asked me if I wanted to take delivery of the car at the Lynch Road plant where it was built. I said no, but in hindsight that would have been a very neat thing.
Finally my car came in. That first drive from the dealer lot back home was amazing. With my dad and my brother in the car, that thing just flew. It also turned heads. I just couldn't believe that hood scoop. It might look tame now, but back then it was monstrous and there was nothing like it. I had spec'd my car with an automatic because I knew I wanted to race, and with only 600 miles on the clock I took it to Detroit Dragway. I can tell you that in factory-stock, showroom trim, it was seriously quick and faster than a lot of other stuff at the time. Once you started messing around with a car and put on headers, tractions bars, and rejetted the carb, it was a different story. But that Six Pack, out of the box, was something else. It ran solid 13s without even trying and on the street, it could keep with a Hemi all the way to 70-80 mph, it was strong. Although the Hemi got (and still does get) all the glory, when it comes down to it, the Six Pack is my favorite, there's just nothing like it."
Yet despite the car's incredible performance on the street and strip, not to mention its good tractability, only 1,487 Six Pack Super Bees and 1,412 Six Barrel Road Runners were sold for 1969. "They could probably have made more of them," says Bob, "but there were supply issues with those intake manifolds. In retrospect I'm glad I was able to purchase one."
The Six Pack engine would return for 1970 and received a number of changes. Chief among them was a new cast-iron manifold, engineered in-house by Chrysler, along with a stronger bottom end. "In durability testing, it was discovered that, during sustained high-rpm operation, the engines would come apart after about 7-8 hours of constant use," relates Bob. "The problem stemmed from the bottom end–specifically the connecting rods. So for 1970, engineers installed much stronger, thicker rods. This also changed the load and weighting on the crank and bearings, so the crankshaft was balanced differently and the 1970 Six Pack was the first engine to use an external damper." Chrysler was also planning other changes too, including a revised hood.
"One of the biggest issues was lifting off that fiberglass hood on the 1969s," remembers Bob. "A single person could do it, but the question was where to put it, because the hood was bulky. Also, if you were stranded, it was a pain to try and remove the hood, like if you are out in the desert somewhere, so Chrysler started looking at other options. I remember seeing a prototype with a fiberglass hood that featured lift-up hinges, and the company was all set to do it, but ultimately it came down to cost and they decided to just go with a steel hood for 1970." Additionally, Chrysler also expanded the Six Pack engine's availability, dropping it in the new E-body pony cars, the Dodge Challenger and Plymouth 'Cuda. Plus in many respects, with their steel hoods and standard trim, the B-body Road Runner and Super Bee weren't anywhere as uniquely packaged or liveried as the 1969 A12 cars.
The Six Pack engine would last one more season, it's last gasp of glory coming under the hood of the fuselage-styled 1971 Road Runner and Charger, after which it was consigned to the history books, thanks to ever-encroaching Federal emissions standards and ultra high insurance premiums for hot cars.
Thanks to the fuel crisis, throughout the 1970s and into the 1980s muscle cars like the Six Pack and Six Barrel weren't exactly flavor of the month, often languishing on used car lots as many owners traded them in for something with better gas mileage. But every cloud has a silver lining, and during that time there were some great deals to be had. By the mid-1980s a new movement, dedicated to the restoration and re-discovery of muscle performance, had begun to take hold and magazines, clubs, and shoot-outs started popping up. Naturally, Mopars, particularly the Hemis and the Six Pack/Six Barrel cars were favorites. Unlike some who had to sell their cars back in the 1970s, Bob Karakashian had managed to hold onto his original 'Bee through the years. He was still racing it in the mid-1980s. "I remember this event called the Supercar Showdown. In 1986, I decided to take my car to it. This time out, it was held at Norwalk Raceway Park if I remember. There were 240 cars that showed up and the event was covered on national television. I managed to make it all the way through to the last round and beat my final competitor. The 'Bee was running as strong as ever and it was almost 20 years old by that point. The best the car has gone is a 12.09 at 115 mph." The car is original and apart from the engine being blueprinted, it is 100 percent factory stock. There aren't many cars nowadays that can match that kind of performance from out of the box, the ones that do cost a lot of money. Two decades later and Karakashian still owns his original Six Pack and was kind enough to drag it out for us on a cold day to photograph it. Along with Mark Weymouth's 1969 Six Barrel Road Runner (also an original survivor car), it was a true honor to see these cars; both of which still look and run just as good the day they rolled out the Lynch Road factory in Detroit.
Special thanks to Bob Karakashian and Mark Weymouth for their help with this article.
1969 DODGE SUPER BEE 440 SIX PACK SPECS
Body: Steel unitary, two-door hardtop coupe
Length: 206.6 inches 
Width: 76.6 inches
Wheelbase: 117.0 inches
Track (front): 63.7 inches
Track (rear): 63.6 inches
Weight: 3,990 pounds
Engine type: V-8
Construction: Cast-iron block and heads
Valvetrain: OHV, single camshaft, two valves per cylinder
Fuel system: Three Holley 2300 two-barrel carburetors
Bore & stroke: 4.32x3.75 inches
Compression ratio: 10.5:1
Displacement: 440 ci
Ignition system: Dual-point distributor
Max power: 390 hp at 4700 rpm
Max torque: 490 lb-ft at 3200 rpm
Transmission: TorqueFlite three-speed automatic
Suspension front: Independent with upper and lower control arms, heavy-duty tube shocks, heavy-duty torsion bars and sway bar
Suspension rear: Live rear axle, heavy-duty tube shocks, heavy-duty multi-leaf springs
Brakes: Front/rear drum
Wheels: 15x6-inch pressed steel
Tires: G60x15
0-60 mph/quarter mile: 6.1 seconds, 13.8 seconds at 104 mph
Price: $4,300 (approx.)
Published Dec 7th, 2015
More Classic Car News & Article Categories:
Related Articles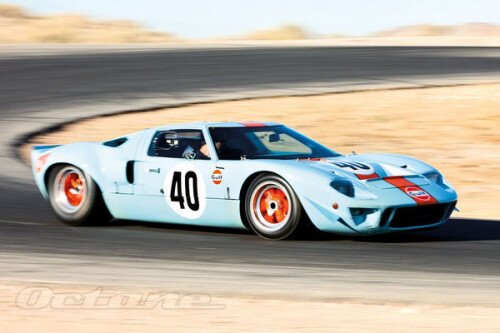 While every factory Ford GT40 is special, some are more special than others. The dazzling example featured here, chassis GT40P/1074, earns bonus points for at least three reasons..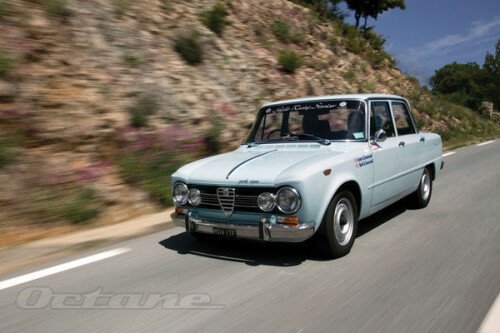 Not long after their first event together, Bob bought a standard road-going 1968 Alfa Romeo Giulia Super, and had it restored by Classicarco in Manchester. We spend a pleasant afternoon tossing it around the French countryside for Martyn's camera, Bob and I swapping the wheel like two duffers on the practice green trying out the same putter.
Advertisement
×
Chryser's Six Pack Four Decades Later