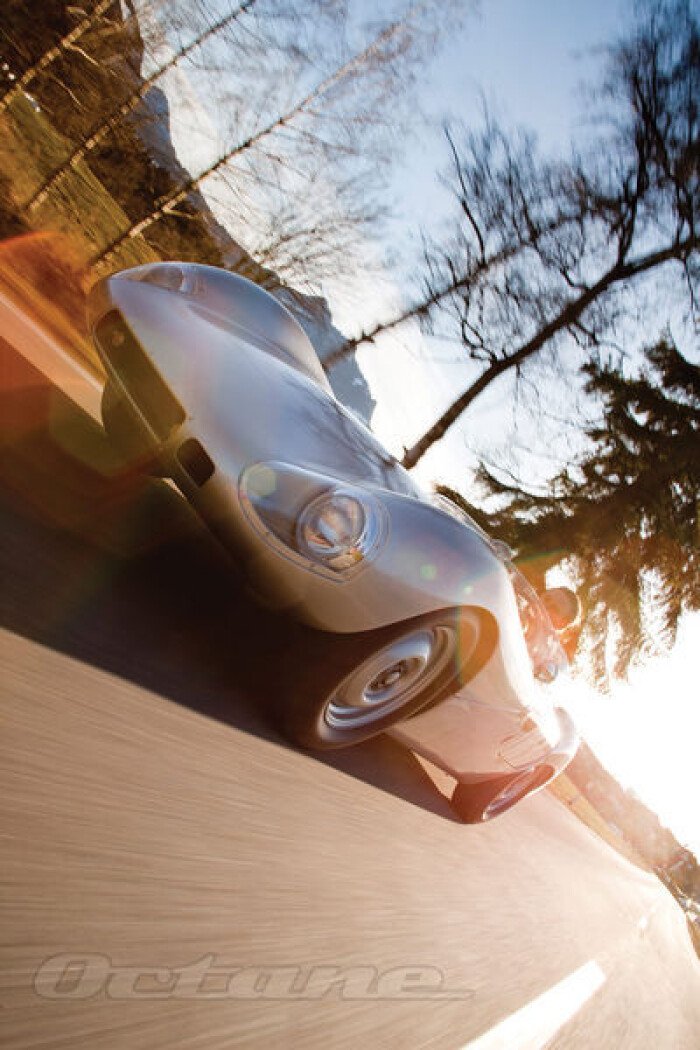 It casts long shadows in the golden light of an autumnal Bavarian afternoon. The Borgward RS that we've taken to the hills looks absolutely amazing in this setting – low, lean and delicately curvaceous. And far too pretty for the stark functionality of motor sport. If its ability to win were influenced by its looks, its maker would now be venerated alongside the greats. You know, Porsche, Ferrari, Borgward… Instead, you hear the name Borgward and your thoughts turn to worthily engineered saloons that only the few really appreciate.
But the Borgward RS is something quite different. It encapsulates the story of the missed opportunity and driven ambition that was part and parcel of the now-defunct company that produced it.
The company's history is all too brief. Carl FW Borgward bought into a small engineering company in Bremen, Germany, after returning wounded from World War One. Within a few years he'd taken control of the company and grown it into an important automotive parts supplier. He moved into motor manufacture in 1924, with the introduction of the three-wheeled 200cc Blitzkarren in 1924, then Goliath light commercials, which expanded the business significantly. Borgward made his first inroads into the car business in 1929 by buying shares in Hansa-Lloyd, which was suffering in the hostile economic climate. One year later he took a controlling interest.
Borgward moved quickly, overseeing the launch of the Goliath Pionier and Hansa 1100/1700 range of cars. During World War Two, Borgward built military vehicles and, along with a number of German car manufacturers, then found itself without a factory once hostilities ceased.
But that failed to dent Carl Borgward's ambition, and by 1949 he had set-up a new factory and managed to get the Hansa 1500 into production – the first all-new post-war German car. The streamlined styling reflected Borgward's appreciation of the benefits of aerodynamics, and would go on to influence the future models introduced under both the Hansa and Borgward marque names – and, as we can clearly see, the study of airflow greatly influenced the way the company's motor sport contenders would look.
The Borgward Group remained busy throughout the 1950s, producing a range of cars that spanned the 300cc Lloyd microcars, through the mid-range Hansas to the elegant and beautifully engineered Borgward Isabella. The cars that bore the surname of the company's single-minded, rather autocratic leader would supplant Hansa. And it was the delicious Isabella saloon and coupé that would become a 200,000-plus selling high-watermark… until the ill-fated technical-marvel grosse Borgward, the P100.
During this fertile period in the Borgward Group's history, the company embarked on a truly ambitious race campaign that was waged with limited resources in comparison with its German rivals. Under the leadership of the company's research director Wilhelm Büchner, Borgward entered European 1.5-litre sports car racing. According to Karl Ludwigsen's detailed history of Borgward's racing exploits, Büchner was quoted as saying: 'We're not like Daimler‑Benz, who periodically turn their whole technical strength toward racing for powerful commercial reasons. Nor do we resemble Porsche, who build cars and race them out of sheer enthusiasm. We're Borgward, where time and money to build racing cars must literally be stolen – when possible – from our prodigious car and truck development programs.'
Despite his rather testy attack on his rivals, Büchner had a point. The achievements Borgward delivered on the track came from a race program run on a budget – cooked up by engineers who spent time divided between microcars, family saloons and commercial vehicles.
Despite these limited resources, and working under the direct auspices of Carl Borgward (who retained tight control of his company and wasn't averse to shutting down projects without notice), Büchner pieced together an impressive little racing operation. Borgward's racing ambitions had been instigated in 1951, when one of the company's engineers, Martin Fleischer, began work on a sports car based on an elegant lozenge‑shaped tubular chassis. This was very much only a beginning, although national victories would start to come to Borgward from 1952.
That tube frame was quite weighty in its original form so, for the 1957 season, a new spaceframe was built, saving 18kg. It should have been an important step towards Borgward's competitiveness in 1.5-litre racing, after attempts to drill and brace the original item proved fruitless. But in pre-season testing, Borgward's mechanic/driver Fritz Jüttner crashed the development car at the Nürburgring, leaving the team to campaign the older-style chassis as there wasn't enough time to build another of the new spaceframes. Despite that, what emerged for 1957 was a beautifully engineered compromise; the product of considered evolution.
That depth of thought oozes from every rivet of the 1957 Borgward 
RS we've driven into the Bavarian mountains. It's the very car that was raced by Jo Bonnier at AVUS in 1958 and, as we shall see later, gave Porsche 
a severe fright at the Berlin racetrack. 
It was once owned (and also comprehensively documented) by Karl Ludvigsen, but is now being looked after by specialist race-car restorer Tom Fischer. Although it's been restored and recommissioned, its original qualities continue to shine through.
We're puzzled when we set eyes on the Borgward in Fischer's Bavarian workshop: it's almost impossible to believe it's more than 50 years old. It's not just the shapely curves and timeless silver paint that serve to confuse and seduce – when Tom lifts off the 
clamshell engine cover, even a cursory glance reveals its prescient technical features. It's striking to see direct fuel injection and double ignition for the twin-cam power unit. Was this really put together on a such a tight budget?
It's worth taking a closer look at that magnificent engine, as it truly is the star of the Borgward package. Karl Ludwig Brandt was in charge of engine development and, like most of the management within the company, his talents were spread across road and race cars, as well as commercial vehicles. But his passion lay with high-performance engines, and he soon got his teeth into getting more power out of Fleischer's twin-cam 
four-cylinder, first seen in 1952. His development path took that clever aluminum cylinder head and mated it with the Isabella's shorter-stroke 1.5-litre block and mechanical fuel injection.
Brandt wanted individual throttle bodies for each of the four cylinders, but that proved too complex. Even so, the 1954 power unit was able to deliver 116bhp when running on alcohol – an impressive output for a naturally aspirated 1.5-litre. Yet Brandt wanted more.
The following year he began work on an all-new power unit designed with production in mind. His design featured forged conrods that were polished to a chrome-like finish. Exotic materials were used too, such as finely detailed Silumin (high-silicon aluminum) for the block/crankcase casting. The heavily revised cylinder head, which now featured 16 valves, was married to a new aluminum block, meaning that the more powerful new engine would carry no weight penalty.
Through 1954 and '55, Brandt continued to develop the impressive 
new engine. Oil feed problems were encountered and solved, and particular attention was paid to the cooling system – so that, by the 1957 season, it was reckoned that the Borgward was going to be able to match Porsche in 1.5-litre racing.
Another innovation was Brandt's direct fuel injection, made easier by the four-valve cylinder head, which allowed the injector nozzles to be placed in the centre of each combustion chamber. Ludvigsen states in his notes about the 16-valve engine: 'Because the smaller valves weigh less than the parts for a two-valver would, Brandt could enjoy high revs without the expense and complication of desmodromics. A four‑valver can be complex, but this trap had been avoided by ruthless simplification.'
The four-valve head went against conventional thinking, which saw the almost universal use of a two-valve hemispherical chamber. It might have been the accepted norm that two valves were the optimum for racing, but as Brandt said of the Borgward: 'It didn't turn out too badly!'
Ludvigsen states that there's a strong possibility the Borgward RS had the first racing engine never to have run on carburetors. It was certainly conceived to have fuel injection – quite a step in 1954. For the 1957 car, the results speak for themselves. It might not have been the lightest 1.5-litre engine out there at 128kg, but with an output of 165bhp at 7500rpm, and the ability to be held at full throttle on the test bench for as long as ten minutes at 8000rpm, it was something very special.
Despite ambitious production plans for the rest of the Borgward Group, the RS's European racing career remained the focus of Brandt and Fleischer. But its competition history never really amounted to as much as it should have, despite some early successes. Hans Herrmann came second in 1957's European Mountain Championship, and the Borgward often found itself beaten into second and third places the following year by the Porsche of Wolfgang von Trips. It would become a recurring theme.
The RS's best chance of success was in 1958, when it had all the ingredients to become a race-winning car. The all-aluminum body had been honed to its slipperiest form, and the talented Jo Bonnier joined the team as its lead driver. The 1958 AVUS Grand Prix was arguably the car's crowning glory, when in two events there Bonnier took the fight to Behra and Gregory in their works Porsches, trading places with them in an exciting race to finish a mere 0.8sec adrift after 206 miles of racing. Impressive, considering the Borgward was 80kg heavier than the Porsche. It was the same story in the European Mountain Championship, where Bonnier also scored a second place – although he won the Freiburg hillclimb that same season.
But that really was it for the Borgward RS; the works team withdrew before the beginning of the 1959 season. But the power unit lived on. Borgward and Rob Walker, Stirling Moss Ltd and the British Racing Partnership struck an engine deal. Early in 1959 four engines were installed in Cooper Formula 2 chassis and soon proved their worth, as they produced 20bhp more than the rival Climax 1.5-litre.
Long intake pipes along the side of the body marked out the Borgward-equipped Coopers, and with continued development the 16-valve engine gave 172bhp. Chris Bristow and Moss both raced Borgward-Coopers in the 1959 Formula 2 season, and there were hopes of carrying the engine forward into Formula 1 when it went 1.5-litre in 1961 – but, due to the Borgward Group's collapse at the end of 1960, Brandt's masterpiece never achieved the glory it had a glimpse of.
Bonnier's RS was bought (along with a service truck) at Borgward's insolvency sale by Horst Frischkorn, who rented it out to several drivers, including Heinz Gilges, who crashed it in 1964 at the Nurburgring and spent a long time paying for it. The RS was subsequently bought from Frischkorn and rescued from obscurity in 1967 by Karl Ludvigsen, who spotted it for sale in Auto Motor und Sport. He wanted to take it racing, and passed it over to Don Lefferts at Vintage Auto Restorations. 'I had the benefit of the advice of the genial Fritz Juttner, former works mechanic and sometime driver,' says Ludvigsen. 'During a visit to his home, he handed me a small cardboard box containing some special tools for the RS engine and a supply of the unique ring-shaped shims for adjusting the engine's valve clearances. That's what you call friendship.'
He continues: 'Over several seasons at the end of the 1970s I enjoyed racing the Borgward in Vintage Sports Car Club of America events on the East Coast. We won the fast-car handicap race at Thompson Raceway in July 1978. I drove her at my favorite track, Bridgehampton, where I won my event, and also at Lime Rock and Watkins Glen. She was a delight to drive, with a compact gearbox pattern, balanced handling and just enough power from the engine to make me well aware that I was driving something that had to be treated with real respect.'
A career change saw Ludvigsen sell the RS in 1980 but it has remained in Germany ever since. It's a reflection of Tom Fischer's work that the car looks as good today as it must have done when it first caught Ludvigsen's eye back in 1959, when he wrote about it for Sports Car Illustrated. The 
RS remains a mainstay of European historic racing, most recently scoring a win in the 2011 ADAC Salzburgring Classic's Sound of Speed Trophy with Tom Fischer behind the wheel.
When it fires up the RS sounds crisp and purposeful and it's clear 
that it remains a very quick car – straightline pace is on the right side of rapid, while the engine, which sings stridently at high revs, is matched by a controlled, albeit loud, exhaust note. But it's the light and accurate steering and roll-free cornering that mark this out as a pure and well-developed racer. At no point on admittedly smooth roads does the RS look remotely close to getting out of shape in the bends. Clearly it could go well with more power.
Yet it's the beguiling looks of this elegant car that get our juices flowing – as well as attracting attention from inquisitive Bavarians. Many assume it's a Porsche, and few relate to the Borgward name if you have the chance to tell them, but they're all just happy to learn that it's German.
We come away from our all-too-brief time with this wonderful car lamenting what might have been, and wondering why it took so long for the rest of the industry to pick up and run with its technical innovations. Sometimes the car industry throws curveballs like the Borgward RS, a car that given more favorable circumstances should have become a race-winner – leaving the opposition very much in its shadow.
Thanks to Karl Ludvigsen, www.karlludvigsen.com; and Tom Fischer, www.tom-fischer.de.
Published Dec 7th, 2015
More Classic Car News & Article Categories:
Related Articles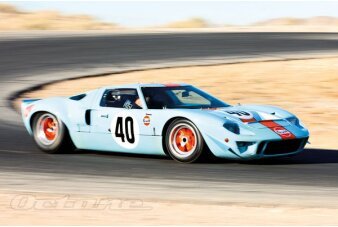 While every factory Ford GT40 is special, some are more special than others.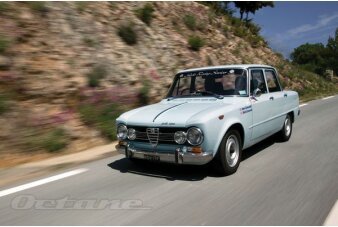 For the Linwoods historic rallying seems to come naturally.
×
Borgward RS