Snake vs. Mongoose
By Tom Madigan
ISBN-13: 978-0-7603-3486-7
Hardcover: 160 pages
Illustrations: 50 color, 200 black and white
Publisher: Motorbooks
Retail: $35 US
To order: (800) 826-6600, www.motorbooks.com
Editor's Note: Don "The Snake" Prudhomme and Tom "The Mongoose" McEwen were popular Top Fuel dragster drivers in California known for their racing rivalry during the '60s. As the cost of racing a Top Fuel dragster rose, it became clear that the sport needed an influx of cash in order to survive. Tom McEwen approached Mattel Toy Company with idea of creating a toy line with the Snake and Mongoose characters – the rest, as they say, is history. The deal with Mattel was the beginning of the Snake vs. Mongoose Hot Wheels program and turned drag racing into the multimillion-dollar business it is today. Madigan's book not only details drag racing in California during '60s – from match racing to corporate sponsorship – it also tells the story of two great drag racers. This is a sample chapter from the book.



The Mongoose
Tom McEwen considers himself a native son of California, but in reality he is a transplanted resident. He was born in Pensacola, Florida; his father was a test pilot for the U.S. Navy during World War II, stationed near the Panama Canal. Eighteen months after the baby Mongoose's arrival, his brother Richard was born, and within weeks from having his second son, the elder McEwen was killed in a testing crash. Tom's mother took the boys to Long Beach, California, and started over. McEwen claims he was young enough when he got to Long Beach that he can consider himself a true Californian.
During the dark days of World War II, Long Beach and its harbor were Mecca for aircraft plants and military installations, including a huge naval base and shipping point for war materiel. However, outside of central Long Beach, the area remained underdeveloped, and locals enjoyed a rural lifestyle. The McEwens had some property, and Tom and Richard delighted in the freedom of open space and the uninhibited zest of just being kids. Tom developed a great interest in horses and became an accomplished rider long before he reached his teens.
After the war, California became a place of dreams. Land was plentiful, jobs were available, and many ex-GIs who had come to California for training fell in love with the place and returned after the war to settle. The automobile grew in popularity as fast as the state. Born on the vast dry lakes of the Mojave Desert, the sport of building fast cars had been synonymous with California since the 1920s, and after the war the trend exploded. Many young men who had learned mechanical skills during the war now turned those talents to building speed equipment, and that, coupled with year-round good weather, turned racing cars into a phenomenon. The hot rod generation was introduced into everyday society.
By 1950, a new form of racing was established called drag racing. Since it was conducted on quarter-mile strips of asphalt, abandoned or sparsely used airports were considered ideal venues. The sport caught on like a wildfire, and soon drag strips were as numerous as traditional circle tracks. Anguished parents discovered their children enthralled by the exploits of hot rodders as exposed on the pages of a magazine called Hot Rod.
At age 15, Tom McEwen ventured outside the box he had been accustomed to and discovered the craze that would change his life. Unknown to his mother, young Tom engaged in a clandestine caper befitting the mindset of a car-crazed fifteen-year-old. He took his mother's Oldsmobile coupe to Santa Ana drag strip and made a few passes. He got the car safely back home, and when Tom's mom returned from her out-of-town business trip, she was unaware of her car's heroic racing effort. The clandestine drag racing exploit remained undisclosed until many years later. McEwen said, "My mom went ballistic when she found out about my little secret. In fact, she and I had many disagreements over cars when I was a kid."
Once he turned sixteen and procured a real driver's license, McEwen was on his way to building hot machines and racing, both at the drag strips and on the street. A natural leader, Tom soon had the local street racers united as a car club, named after the street on which he lived: the Marion Street Marauders.
Among the McEwen followers flirting with delinquency were future land speed record-holder, Top Fuel driver, and Wildman Gary Gabelich and Top Fuel driver and speed-equipment manufacturer Bob Brooks.
From the very beginning, McEwen stood out from the crowd. Like movie actor Steve McQueen, some guys are just cool, and in those days Tom McEwen happened to be one of those guys.
To prove the point, McEwen was the first hot rodder in Long Beach to take delivery of a 1955 Chevy two-door with the all-new V-8 engine. He installed a Paxton supercharger and took the car to Santa Ana, telling the track manager that it had come from the factory with the supercharger. When he beat the legendary Hayden Proffitt, McEwen says, "[Proffitt] wanted to beat the crap out of me for cheating. When I asked him how he knew, he said that he was cheating too, and I was faster."
McEwen began to learn the ropes, make his bones, and go from street squirrel to real racer. The '55 Chevy gave way to a '56 then a '57. In 1957, McEwen figured he had reached the point of being a "hot shoe" racer and decided to head east to Oklahoma City and the NHRA Nationals.
About the experience, Tom says, "Because I had won at Long Beach, I thought I was hot stuff. A couple of Marauders, Jim Yanders and Jim Duke, and I decided to go to the Nationals. When we got there, we found out that we weren't much. Jimmy Nix pulls in with this 1939 sedan with the engine set back and a four-speed transmission. Gene Adams was there as well as Glenn Ward and his blown Cadillac. It didn't take long before we got beat and sent home. On the way back to California, we flipped the race car with me sleeping in the back seat. When we finally got home I realized that racing stock machines was not the answer. I had to move up."
McEwen scrapped the '57 and he and Bob Rasner bought a Fiat-bodied modified car from chassis builder Joe Itow and installed a Chrysler Hemi acquired from Art Chrisman and Frank Cannon. The Fiat was a move up, but it came with a very steep learning curve.
Tom says, "Well, after blowing up the Chrisman and Cannon Hemi, I bought a blown small-cubic-inch-Chrysler from Stokey and Reath. We bolted on a GMC supercharger and headed for Long Beach. At the time we [Bud Rasner and I] were running a two-speed La Salle transmission. On this particular night, I blew second gear on the first pass and everyone thought we were done for the night. But I wanted to do something special, so we blew the tires up over 40 lbs. psi and soaked them in water. I went up and made a pass using high gear only. The ET wasn't very good, but the top speed was fast enough to break the track record for Altered class cars. I came back to the pits and told Rasner that I wanted to make another run. On that second run, my super trick all-aluminum flywheel exploded and lit the inside of the car like a bomb with parts and pieces flying all around me. The blast ripped up everything but my legs. It about blew the car in two pieces. I should have been dead meat. When we started to haul the wreck down the return road, [track] manager Mickey Thompson came up and told me, 'Kid, if you want to make money, kiss the girls, and run with the big boys, get a dragster.' That was the last time we ran the Fiat."
It would take a separate book to list all of the cars, partners, engine combinations, borrowed parts, and strange experiences that made up Tom McEwen's early dragster driving career. However, highlights included Art Chrisman and Frank Cannon giving him a ride in one of the Hustler cars, and a Cadillac-powered Crossley McEwen drove in a partnership with two guys named Bader and Ferrara. Then Tom teamed with a friend named Dick Olson, bought a used Scotty Fenn K-88 chassis, installed the aforementioned small Chrysler engine, and began racing local California strips. After buying out Olson, McEwen uploaded another Chrisman and Cannon Hemi and headed east to the AHRA Nationals. Proving he could run with the big boys, McEwen finished runner-up to Ed Garlits (Big Daddy Don's brother) in the Top Gas class.
In 1960, with the NHRA fuel ban still in effect, Top Gas dragsters were getting most of the publicity. Only a few drag strips, at least in California, allowed the use of nitromethane, and these were considered outlaw tracks. Mainstream NHRA-sanctioned strips ran gasoline only. With that said, of all the dragsters running in California, one in particular was the 900-pound gorilla that everyone feared. The Albertson Oldsmobile team had its act together. With a chassis built by Ronnie Scrima, a supercharged Oldsmobile engine built by Gene Adams, and a driver named Leonard Harris, the Albertson Olds mowed down the competition like so many bowling pins. Harris was a robot with lightning reflexes, an ex-gymnast in perfect condition with fantastic hand/eye coordination. At the 1960 NHRA Nationals held at Detroit Dragway, Harris won the A/Gas dragster title and set a new ET record in the process.
Everything came to an abrupt halt on October 22, 1960, when Leonard Harris was killed in a crash at Long Beach, testing a car for a fellow competitor. Gene Adams picked Tom McEwen to replace Harris and thus vaulted him into star status as a dragster driver.
Tom talked about his relationship with the Albertson Olds machine: "Shortly after Leonard's crash, Gene Adams offered me the driving job in the Albertson car. I guess you could say that it was my big break. So, I started driving both the Albertson car and my own dragster. Initially, I had a lot of trouble learning to drive the car, and Adams kept beating on me for not driving as smooth as Leonard. Harris was a superb athlete, and you can ask anybody, I'm no gymnast. You had to drive that Oldsmobile by slipping the clutch and using the brake to keep the tires from smoking because it had so much power. It took me a while, but, once I got the handle, we started winning."
Drag racing being a sort of constant change, the famed Albertson Olds found its limitations as new lightweight cars came onto the scene. So, Adams contracted Kent Fuller to build a new car, complete with full body panels—including a radical rear section that resembled a shark fin, thereby leading the creation to be nicknamed the Shark car. Adams introduced the Shark at the Second Annual NHRA Winternationals at Pomona, with McEwen taking the car to the finals in Top Eliminator only to be edged out by the Dragmaster Dart.
After the Winternationals in February, the next big meet was the U.S. Fuel and Gas Championship at Bakersfield, California, and McEwen wanted to run. Adams hated the idea of running his gas-powered Oldsmobile on fuel, but McEwen talked him into going. In the first round of eliminations, McEwen drew Big Daddy Don Garlits. McEwen said, "I drew Garlits in round one and figured it was over. But, I beat him and the fans went wild. From that point on, although I got beat [in the] second round, in my mind I was a Fuel dragster driver. I considered myself moving up the food chain, and I didn't want to go back to gas. We switched the Oldsmobile for a Chrysler Hemi the following year at Bakersfield, and we were runner-up to Art Malone in the final. A short time later, Gene and I decided to move on in different directions; he wanted to stay in the Top Gas ranks, and I wanted to go Fuel racing. I think my ego got the best of me, and there wasn't a hat size big enough for my head. That would change in a big hurry."
It was sometime during these early days that dragster drivers began taking on their alter egos. A crewmember for Don Prudhomme, named Joel Purcell, started calling him the Snake. Some say it was because of his quick reflexes, and others say it was because he was tall and thin. Ed Donovan jokingly proposed that since McEwen had just beaten the Snake, he should become the Mongoose—the one animal that could strike fear into the heart of any snake. Tom said, "Donovan comes up to me and says, 'Hey, man, you should pick up on becoming the Mongoose, it will make good press.' So, I asked an artist friend of mine to draw up the ugliest, meanest-looking mongoose he could think up. I wanted it ugly."
In addition to giving the Mongoose his name, Ed Donovan partnered with McEwen in a very lightweight Kent Fuller car powered by a Donovan-built Chrysler Hemi, but the team was short-lived. In the early 1960s, Lou Baney was general manager of a notable dealership in Downey, California, called Yeakel Chrysler/Plymouth. He and Vince Rossi convinced his boss, Bob Yeakel, to sponsor a Top Fuel dragster. Baney then hired Ed Pink to build the engines and employed the very talented John Garrison as crew chief. The Baney car was also one of the first to run the B&M Torkmaster automatic transmission. The Baney, Pink, McEwen combination proved to be very successful, and for the first time money became less of an obstacle for McEwen. During his relationship with Baney and Yeakel, McEwen ventured into a new class of drag racing called Factory Experimental (soon to become Funny Car) when he built a car sponsored by Yeakel called the Hemi 'Cuda. Somewhat ahead of its time, the handling was sensitive, and, at Long Beach, McEwen put the car on its roof—ending the experiment for the time being.
After the death of Bob Yeakel, Lou Baney transferred his efforts to another dealership called Brand Ford. Call it luck or fate, but at the same time, Ford Motor Company had introduced a super-sized single-overhead-camshaft (SOHC) performance engine, dubbed "the Cammer."
Ford decided to inject a few of these new engines into drag racing. A number of racers took delivery including Mickey Thompson, Jack Chrisman, Gas Ronda, Connie Kalitta, Don Nicholson, and Lou Baney. Again, Baney hired Ed Pink to do the engine building. Tom McEwen was officially listed as the driver. It was during this moment in history that the Snake vs. Mongoose rivalry got serious. Although it turned out that the new engine had some teething problems, originally the driver was suspected. Neither Ed Pink nor Lou Baney would ever admit to making the decision, but McEwen was fired and replaced by Don Prudhomme. Carroll Shelby somehow got involved, the car was renamed the Super Snake, and Prudhomme proceeded to win the NHRA Springnationals. Now, Snake vs. Mongoose was for real, and, according to McEwen, his whole effort became concentrated on beating his rival.
McEwen teamed up with Top Fuel car owner Don "the Beachcomber" Johnson. Then he drove for the team of Bivens  and Fisher, and the team of Dan Broussard, Joe Purcell, and "Stump" Davis. Finally, in the late 1960s, after a stint with Rapp and Rossi and a car vacated by Gary Gabelich, McEwen had chassis builder Woody Gilmore create a lightweight masterpiece and went tracking the Snake on his own terms. Tom says, "I would track him like a bounty hunter, trying to put him on the trailer. Some track owners caught on and started putting up a few bucks for match races between us."
Of the two rivals, McEwen had always been the promoter, the deal maker, and the public relations maven. He realized that costs were escalating, and it was no longer possible for a Top Fuel dragster to be competitive without using up large sums of money. In 1968, McEwen convinced a company manufacturing pharmaceutical products to sponsor a Fuel dragster. The company chose to promote an energy product called "Tirend Activity Booster." Here was a company outside of the automotive performance industry paying for exposure on a Top Fuel dragster.
Other forces were at work on drag racing too, as the decade of "drugs, sex, and rock 'n' roll" came to an end. Costs were way up, funny cars were coming on strong, and the Fuel dragster was losing its hold on the top rung of the drag racing ladder.
In 1969, Tom McEwen bought an ex–Candies & Hughes funny car and started to experiment in the new class. He also came up with a brilliant idea. Looking at the Snake vs. Mongoose rivalry—which had become somewhat of a phenomenon with the general public, especially the kids—McEwen approached the Mattel Toy Company about an idea he thought might work. Debate will forever rage as to its ultimate effect on drag racing in particular and motorsport in general.
Published Dec 7th, 2015
More Classic Car News & Article Categories:
Related Articles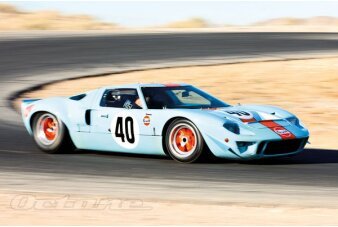 While every factory Ford GT40 is special, some are more special than others.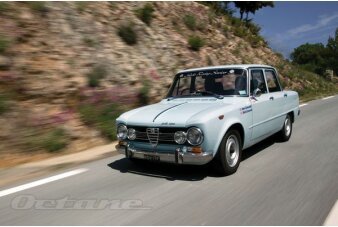 For the Linwoods historic rallying seems to come naturally.
×
Book Preview - Snake Vs. Mongoose