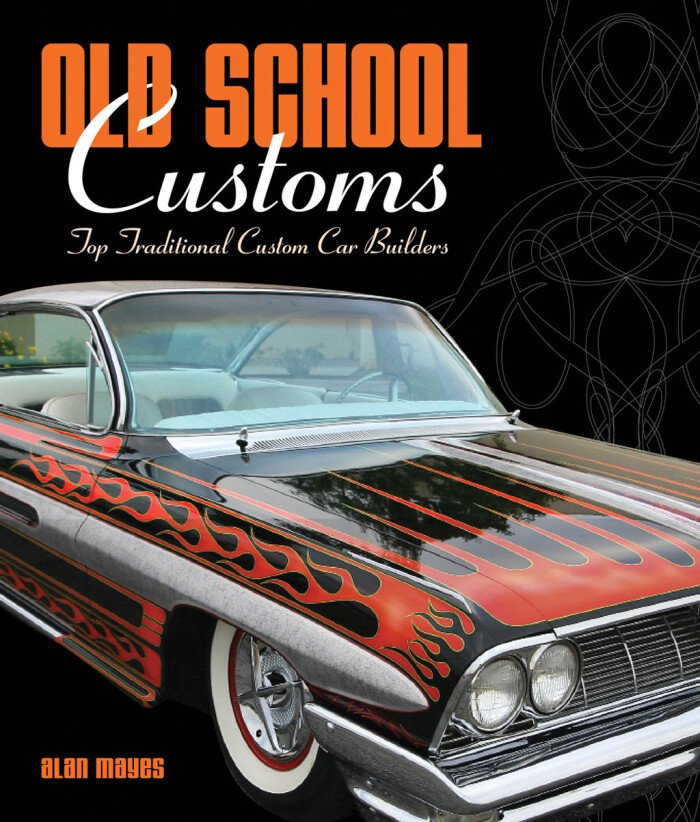 Old School Customs
by Alan Mayes
ISBN-13: 978-0-7603-3457-7
Hardcover: 160 pages
Publisher: Motorbooks; July 15, 2009
Retail: $35.00 US
It may have been the five years I spent living in the Los Angeles area, but I have a special place in my heart for those great big mid-century customs that came out of California. While many of the customizers featured in Old School Customs hail from locations other than California (a testament to the genre's growth and broad-reaching sources of inspiration, as author Alan Mayes points out), there's no mistaking that distinct feel of what was being done in the 1950s and 1960s, in both their old and new projects. They run the gamut from the near-stock in appearance to the futuristic-style and wildly modified, with big, colorful photos to drool over. If you're a fan of mid-century style customs, this book is a real treat.
Sorted by, essentially, age group, Old School Customs profiles 13 customizers broken into three groups: "The Pioneers," "The Lifers," and "The Pacesetters." While some of the Pioneers may be slowing down a bit, it's not as though they've stopped making cars, which makes this grouping a bit misleading. You're not comparing generations of cars, but of customizers, and their creations span decades. It is interesting, though, to note the similarities and differences among the various groups, and one might conjecture as to how much they've been influenced by what was being done when each artist got his start. The limit of covering 13 customizers, of course, means that there are a few names omitted that you might wonder about. Mayes has, understandably, chosen his favorites, but he does allow that there are plenty of deserving customizers out there who missed the cutoff due to space constraints.
This book is written in a very casual, conversational tone, by an author who clearly has a fondness for his subject matter. Chapters cover the history of each customizer, in addition to some of his thoughts on the hobby and where it's headed. Really, though, the cars are king here. The bodywork featured on these pages is absolutely phenomenal, and that's saying nothing of the mechanicals or the world-class paint jobs. Old School customs aren't exactly known for their subtlety, which guarantees some truly impressive photos. Some of the more extreme designs might cross the line as far as being cars you'd want to drive yourself, but the talent that went into their creation is unmistakable.
For our excerpt this month, we chose the chapter covering the legendary Bill Hines. This is only a partial excerpt, with more photos to be found in the full book. One of "The Pioneers," Hines' influence can be felt throughout the book. Like many of the artists profiled, it would be easy to dedicate an entire volume to his work. For an overview, though, Old School Customs definitely delivers, and is an absolute candy-colored feast for the eyes.
Chapter 3
Bill Hines
Long Beach, California
An iconic car and its iconic builder. The Buddha Buggy during restoration by Bill Hines.
Anna Marco
"Why build custom cars if I'm not gonna drive 'em?"
That was Bill Hines' response when someone asked him at the Detroit Autorama in 2005, just before his eighty-third birthday, why he drove to Detroit from California instead of flying. He was the Autorama's Featured Builder that year, so he made the trip in his beautiful, freshly restored 1959 Chevy El Camino, which he originally built in 1962. Bill Hines does everything old school style.
Affectionately known as "The Leadslinger" in customizing circles due to his absolute refusal to use anything but lead as filler, Bill Hines is every customizer's favorite character. Always seen with a smile and a cigar, Bill is a regular fixture at custom car events across the United States. When he's not traveling to events like the Detroit Autorama or the West Coast Kustoms show in Santa Maria, California, Bill still works in his shop seven days a week.
Early in his childhood, Bill was very sick and spent a couple of years in a hospital. He grew up during the Great Depression and lived with his grandmother in Tennessee while his widowed mother went to Detroit to find work. After Bill's mom got established, she sent for Bill and his twin brother and they joined her in Motor City.
He attended Wyandotte High School just south of Detroit, where he majored in art and shop. Sometimes he skipped other classes to concentrate on his favorites. He was preparing himself for a life of customizing at an early age.
His first car was a Model T Ford, soon followed by a 1933 Ford Phaeton. The '33 had a flathead V-8 in it and Bill promptly yanked the heads off and took them to shop class for a little milling operation. The hopped-up '33 was soon the terror of Wyandotte and Detroit streets as Bill raced anyone who would give him a second glance.
He dropped out of high school during his junior year and started his professional automotive career, renting a service station and a sleeping room. In 1941, he bought
a new Buick convertible, which he quickly set about customizing. One of his first operations was to chop the folding
convertible top.
"When I chopped that top in '41, the inspiration was from Harley Earl," Bill says. "He had the little '39 Buick [Y-Job] and that's where my inspiration came from. I had a brand-new one and I said, 'I'm just gonna chop the top down.' And eventually I just kept adding to it.
"I cut the doors down and then I got a Cadillac cowl and used the sheet metal off a Cadillac. I think I used a '42 Cadillac cowl. When I cut the doors down I cut one too much. Oh man, it didn't take me long to get that one off!"
His work impressed another well-known Detroit area customizer, Bob Clark of Clarkaiser. Bill says that Clark never could figure out how he made the doors like he did.
"He never asked me, though," Bill says. "He was kind of an eccentric person."
Bill's shop moved a few times over the next few years. He built several customs during this time, and did chops and minor work on many more. One of his best-known cars was a 1934 Ford Cabriolet, built for Marty Ribits. The transformation of the '34 into a "show rod" began in 1952 and progressed over several years. Originally painted
green and named Sweet Pea, it was eventually painted a rich metallic gold and renamed Golden Nugget. After several trips through Bill's shop, it was picked as the best Altered Street Roadster at the 1958 Detroit Autorama. In 2005, the car returned to the Autorama, having been impeccably restored by current owner Larry Jordon, and won the Preservation Award.
But back to 1953. After seeing George Barris' shop in small custom car magazines, Bill packed up and headed west with the hope of working for Barris. When he
approached George about a job, he was rebuffed, so he headed back to Michigan.
So Bill worked as one of the area's top customizers again and even taught a few tricks of the trade to the later equally famous Alexander Brothers. He had a yearning for the California sun, though, so he gave it another try in 1958.
On the second trip to Barris' shop, Hines was better received. George was off touring the eastern states with the Kopper Kart pickup and the Aztec 1955 Chevy. When Bill rolled up to the shop in his own Bat '51 Ford coupe, Barris' shop manager, Gene Simms, was so impressed that he hired Hines on the spot. Bill worked at the Barris shop for a few years and then opened his own, Bill Hines Kustom Auto Enterprises, on Long Beach Boulevard.
Over the past several decades, Bill Hines has been a steady force in the world of customizing and he does things his own way. He's also a mentor to a younger generation. Brad Masterson (see Chapter 12) has been an assistant and apprentice under Hines since 2003. He usually spends a couple of hours helping Hines before going over to his own shop for the majority of the day. Bill's own grandsons also work part-time in the shop and are learning the art of customizing from the master.
One of his trademarks is fins. His '51 Ford Bat has them and he's put them on several other cars with bat-derivative names, like the 1980 Buick Riviera Little Bat and the 1983 Riviera named 41 Bat in honor of the '41 Buick that he customized. That original '41 had a fin added to it that was not well received, and that time Bill gave in to the critics. Seems he put a single fin in the middle of the trunk lid on that car. It was so severely criticized that he pulled the trunk lid off and threw it in the scrap pile, replacing it with a new lid that was merely decked.
His daily driver 1980 Cadillac Seville does not have fins. It's been customized front and rear, but it still has the original slanted "bustle" rearend.
Another Bill Hines specialty is working chopped convertible tops. No one does them better. He did his first chopped one in 1941 on that famous Buick and he can't even remember how many he's done since. Well-known custom car patron John D'Agostino recently had a customized 1961 Oldsmobile Starfire convertible constructed
and he went to Bill Hines for the top chop on it.
Hines can also construct a working chopped convertible top where a convertible top didn't exist. He's been working on a near-clone of the Hirohata Mercury, but a convertible version. In Hines spec, that means a working electric convertible chopped top. The top mechanism is a work of art in itself. Bill proudly demonstrates it to anyone who wants to see it. It works as smoothly and quickly as a new convertible from Detroit or Germany.
If he had not taken the customizing path, he could have been an engineer. The scratch-built convertible tops are evidence. He draws no plans and has nothing written down beyond on-the-fly measurements he takes as he's building.
He gives due credit to the designers at American Sunroof (now ASC) in Detroit. He says they do a really good job of designing high-quality convertible mechanisms,
proof that he looks at other people's work like an engineer.
Bill was also an innovator and is believed to be the first person to use hydraulic suspensions on customs. Add frenched radio antennas and molded-in side pipes to that list of credits.
Bill Hines advocates the customization of newer cars and has difficulty understanding why no one seems to be doing it. He points out that many of the cars he and the other legendary builders customized in the early days were new, or nearly so. The 1959 Chevy Buddha Buggy was customized when it was three years old, as was his 1959 El Camino.
The problem might lie in education. "No one knows how," he said. "That's the reason. If someone would do one and put it in the magazines, then people would see how it can be done."
He recalls that when Custom Rodder magazine ran a photo of his 1980 Riviera Little Bat, in an article on the West Coast Kustoms' Paso Robles show, "the advertisers complained because there was nothing to sell."
"Like I tell everybody," he said, "I can take a Riviera, chop it, change the front end, put some side pipes on, change the back end, put a new battery in it and go. You spend that much money putting rockers in a [1949–1951] Mercury!"
Speaking of Mercurys, he's been one of the masters at chopping Mercurys and he's been given leeway from his customers to do it in his own style. His chops are beautiful. His trademark chop leaves the rear window opening intact, and instead of chopping through it and only lowering the top itself, he cuts down between the rear fenders and trunk lid and drops the whole rear area down the same amount as the top. The sectioned height in the back comes off the bottom of the trunk lid. His Mercury chops are like no one else's and really have a smooth, natural flow.
But he says he's done with Mercurys. He's come to the conclusion that they're not worth the trouble and expense.
"No more Mercurys," he says. "Cost too much. Winfield and Bailon and Dick Dean tried to cater to Mercurys. Pretty soon they had 8 or 10 cut up in different stages and all that money spent and no finished cars.
"Mercurys are too much work. I don't want any more. I'm gonna finish the ones I have here, but I won't do another one. I've been three or four years on the Hirohata [convertible] and I've worked on it some every week."
As Brad Masterson said, "You had the Hirohata front end on one of your other Mercurys when I came here and that was five years ago."
Time flies.
Hines has his opinions on the direction that some younger guys are going with their vehicles, too. It bothers him that the non-enthusiast public gets the wrong impression of rodders and customizers.
Of rat rods, he opines, "There's no money spent on them and there's no talent spent on them. They're too dangerous. It's not good for the public [perception], especially younger people."
Tuners and mini-trucks get his commentary, too.
"Young guys are on that mini-truck kick and high-tech stuff and they won't get off of it 'cause that's all they know. They make the payments and they add this [bolt-on part], add that, add this, add that."
He seems to be discouraged that there aren't more young guys picking up the mantle of customs and carrying it on. Factory-made bolt-on parts are not custom parts.
There are a few rays of hope, though. He obviously likes Brad, though he's stingy with the praise. Doesn't want him to get a big ego, apparently. "He's doing all right. Took me a long time to learn what I know. About 65 years."
An episode of Monster Garage a few years ago introduced Bill Hines to a vast audience who didn't already know him. He was on with Jesse James, Dick Dean, and Gene Winfield, among others.
"After the show, there were 3,500 inquiries about me [through the network]," Bill states. "One lady said, 'That little guy is adorable.'" Then with a twinkle in his eye, he adds, "I don't think anyone knew Winfield and Dick Dean were on there."
Bill says that after the show was recorded, he worked another week in the garage, leading door handles, emblem holes, and antennas.
"Everything that was leaded, I did."
Besides the previously mentioned convertible Hirohata Merc clone and two or three other Mercurys, Bill has a few other projects in the works. Like Darryl Starbird, he's working on a 1957 Cadillac Eldorado Brougham, but Bill is going to put his on a 1977 Cadillac Eldorado chassis, front-wheel drive and all. He says they have the same wheelbase.
This isn't his first attack on a Brougham, either. A few years ago, he put one on a '79 Fleetwood chassis. His cars are dependable, too. He drove that one back and forth to Detroit.
Though Bill Hines says he's in "semi-retirement," he's still at the shop every day, still working, still effortlessly cranking out perfectly executed customs. He cranks them a little slower these days, though. He says he has a day planned when he'll fully retire, though: the day he dies.
CAPTIONS
Hines' original Bat 1951 Ford, seen here, apparently did not survive after he sold it, so he built a clone of that car. It's in Starbird's museum.
Built in 1962, the '59 Chevy Buddha Buggy was returned to Bill Hines in 2007 for restoration. Jerry Weesner
Hines plans his strategy on the Buddha Buggy restoration. Bill works in his shop every day of the week and usually has one of his trademark cigars stuffed in his face, even if it's not lit. Anna Marco
The restored Buddha Buggy next door to Hines' current shop in Long Beach. Anna Marco/Luigi Ciorra
Unlike some customs, the style of Buddha Buggy was more conservative than the original stock '59 Chevy, although it does sport a Hines trademark: dual sunken antennas. Anna Marco/Luigi Ciorra
The Buggy's interior was remarkably well-preserved and required mostly cleaning and new carpet. Anna Marco/Luigi Ciorra
Buddha Buggy's Imperial grille is another theme that is repeated on other Hines cars. Anna Marco/Luigi Ciorra
Published Dec 7th, 2015
More Classic Car News & Article Categories:
Related Articles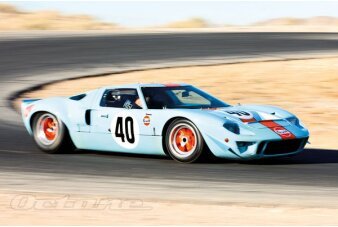 While every factory Ford GT40 is special, some are more special than others.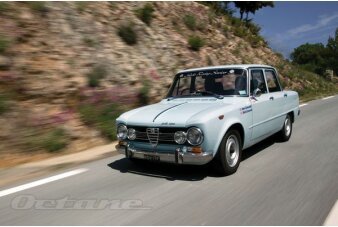 For the Linwoods historic rallying seems to come naturally.
×
Book Preview - Old School Customs