‹ Go back
Book Preview: Mustang 1964 1/2 -1973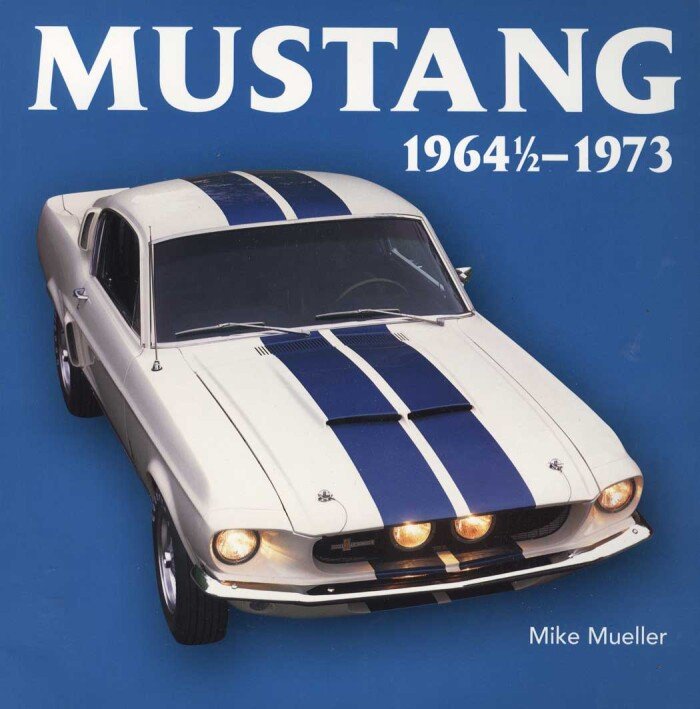 Editor's Note: This is a sample chapter from Mike Mueller's book, Mustang 1964½-1973. Mueller's book takes the reader on a journey beginning with the design and introduction of the Mustang up to 1973. The book details the people who created the Mustang and the marketing behind its success. Besides being extremely well written, Mustang 1964 ½-1973 has over 200 color images and 50 black and white photos which create a visual feast for Mustang lovers. Once you pick this book up, it will be hard to put it down.


9780760334522
Mustang 1964 1/2 -1973
By Mike Mueller
ISBN-13: 978-0-7603-3452-5
Paperback: 170 pages
Illustrations: 200 color, 50 black and white
Publisher: Motorbooks
Retail: $24.95 US
To order: (800) 826-6600, www.motorbooks.com


Introduction
Telling the Pony Tale
The more things change, the more they don't always stay the same. Take new car introductions for example. They're nowhere near as exciting as they once were, and probably never will be again. Remember those larger-than-life banners? The balloons and confetti? Those mysterious plain brown wrappers? The teasers and the mounting hype? Doesn't anyone care anymore? Frankly, no. These days there are just too many marques, too many models, too many sales pitches. And too little that is novel or unique. One car is as good as the next, and you can't tell a Buick from a Toyota.
To make the American people stand up and take notice, a new model would have to be revolutionary. It would have to capture hearts on the first glance. It would need to generate the sort of irrational appeal that causes hundreds of thousands of people to rush dealerships, checkbooks in hand, demanding the object of their obsession. To create an overnight sensation today, a manufacturer would have to offer drivers something they had never seen before—like a car with the spirit of a wild horse.
No one had seen anything like the four-wheeled sensation that hit the ground galloping on April 17, 1964. This wasn't merely a new model, it was an entirely new breed of automobile. It had a long hood and a short rear deck. It had buckets seats and a floor shifter. It was both sporty and practical, fun and affordable. It was loved by both young and old. It was Ford's Mustang—in Car and Driver's words, "easily the best thing to come out of Detroit since the 1932 V-8 Model B roadster."
No new car before, not even ol' Henry's first flathead, had ever caused such a ruckus. None since has rocked our world with such force. When Dearborn introduced America to the pony car it not only made news, it made history. Ford's publicity push was unprecedented in scope, as was the media's response. The car made headlines well beyond the automotive press. Lee Iacocca and his baby even scored concurrent covers on both Time and Newsweek.
Equally unprecedented was America's response. Not-so-tall tales of police protection at dealerships and people sleeping overnight in the Mustang they intended to buy abounded in the spring of 1964. Wide-eyed gawkers of all ages, not just potential buyers, also gathered wherever a Mustang set its hooves. Feeding frenzies on dealer lots and traffic snarls on Mainstreet USA were commonplace. By the time the dust had settled, Ford had broken Detroit's record for a brand-new model's first-year sales—a record it had established with the all-new Falcon just four years before.
Dearborn's sales estimate for the Mustang's first year—100,000—went by the wayside after only four months. Nearly 419,000 found buyers by April 1965. Ford sold its 1 millionth Mustang in March 1966, then the 2 millionth followed in 1968. More than 35 years after its much-ballyhooed birth, America's original pony car was still rolling strong as ever in the year 2000, with total sales of some 7 million cars.
That's not to say that there weren't weak moments during those three-and-a-half decades. Most notable in most Mustangers' minds were the Mustang II years of 1973 to 1978. While bad feelings have softened toward those weak-kneed, downsized models in recent times, the classic Mustang clubbers' case remains closed: Ford more or less stopped making "real" Mustangs after 1973. An even-tighter-clenched contingent feels the cutoff should be 1970. And there are still diehard purists—descendants of those who cried when the
T-bird grew two more seats, perhaps—who won't look at any Mustang built after 1966.
Varying opinions aside, the Mustang's first generation did run from 1964 to 1973. Although the body got bigger and overall weight grew, the basic platform carried on beneath the skin. And the image on the outside remained the same: lively, youth-oriented, fun yet functional.
The same certainly couldn't be said for the second-generation models that followed after 1973. A true compact, the Mustang II may have sold like hotcakes early on in the economy-conscious 1970s, but it never captured the imagination of the masses the way its predecessor did a decade before. It also lost its appeal not long after it took Motor Trend's Car of the Year honors in 1974. Once Americans got used to the fact that gasoline had turned to gold, they apparently no longer felt they had to compromise their standards any further. Fortunately Ford restarted the Mustang legacy in 1979 with a more comfortable, better performing machine, and the "modern" pony car hasn't looked back since.
Yet as successful as the Mustang still is today, nothing Ford's best minds can ever do will spur the car on to anywhere near the great heights gained during those heady days back in the 1960s. Nor does Ford expect such results—600,000 cars a year is an outrageous sales performance standard akin to Cy Young's record 511 career wins. That no pitcher will ever approach Young's lofty total is not so much a matter of depreciating talent as it is an indication of how much major league baseball has changed in 100 years. Much the same can be said for the new car game. Today's market is so much more fragmented than it was 30-something years ago; the pie was sliced into fewer pieces then, and it was easier to be a standout.
As much as Iacocca has always wanted the world to think of him as the greatest automotive marketing genius of all time, great timing was the real key to the Mustang's instant success. Iacocca was simply smart enough to recognize the opportunity when it presented itself. He could also count: 1946 plus 16 equals 1962. As Motor Trend's Jim Brokaw later wrote in 1971, "Iacocca knew what sold cars to young people in those days and he knew, as did anyone who bothered to note birth statistics from 1946 on, who was shortly going to engulf the market, a veritable army of young, aggressive customers." Experts in the late 1950s were predicting that the 15- to 29-year-old age group would grow by as much as 40 percent during the 1960s thanks to the influx of the baby boomer set.
Iacocca rose to the vice president's chair at Ford in November 1960, then almost immediately began working to take advantage of the wave of boomers then poised to become legal motor vehicle operators. Thus began the project that would eventually evolve into the Mustang. Iacocca of course didn't work alone on that project. Names commonly lost in Lee's giant shadow included, among others, product planning manager Donald Frey, who followed his superior up Dearborn's corporate ladder; Frey's special projects assistant Hal Sperlich; and Donald Peterson, who became Ford Motor Company president in 1980. Joe Oros, working under Gene Bordinat, was the prime mover as far as styling was concerned. Designer Gail Halderman also made major contributions.
Many people deserved portions of the credit that Iacocca was so willing to collect all by himself. When later asked why the top man got all the attention in 1964, Frey had one quick answer: "He was my boss." Peterson was graciously magnanimous in 1989 when asked where the credit really was due: "Don Frey said, 'We gotta have something sporty.' Lee Iacocca sponsored the effort all the way. Harold Sperlich put the program together. Joe Oros styled a beauty. Henry Ford II said, 'Now you're talking.' And from the very beginning, the Mustang has been a giant success."
Even if he claimed all of it, Iacocca deserved much of the credit. "He had a major role in marketing, creating the whole mystique and the advertising campaign," added Frey. "And he said to make [the Mustang] a four-seater, which was a key product decision. Up until that point, we had been thinking two-seaters. But he was right; there was a much bigger market for a four-seater." And if there was any one contribution that was key to the entire project, it was Iacocca's ability to pry loose the company purse strings to fund the thing. "He took something like five shots with the senior officers of the company to convince them to put money into the car," said Frey.
Ford took a gamble, bucking the trends of the day to introduce a radical new design. The other players in Detroit were convinced the revolution would be crushed in the marketplace, but it was they who were crushed by the Mustang stampede.
Which Came First, Horse or Fish?
No one can forget what the Mustang meant to the marketplace when it exploded onto the scene on April 17, 1964. With its sporty appeal, youth-conscious affordability, and lightweight, compact stance, Iacocca's baby instantly defined an entirely new breed of American automobile. It also set sales records, and changed the manner in which American automobiles were sold.
Few American automobiles stand as tall in the nostalgic limelight as the Mustang. It has come to be known as the first, and the definitive, pony car. But what most fans of the Mustang don't realize is that Chrysler Corporation actually beat Ford to the punch in this new market. More than two weeks before the Mustang was released to an eager marketplace, Plymouth's sporty, compact Barracuda debuted on April 1. It was all but lost in the Mustang frenzy.
Like the Mustang, the Barracuda was an affordable compact dressed up with sporty imagery. Included in the $2,365 base price (with a six-cylinder; the 273-ci, two-barrel V-8 upped the standard price to $2,496) were front bucket seats, a bucket-style rear seat that folded down, and simulated knock-off wheel covers. But unlike the Mustang, the Barracuda did not feature a totally fresh look. Its long-hood, short-deck "fastback" profile was the result of a little hocus-pocus supplied by stylist Dave Cummins. He used the largest expanse of glass ever installed on an American car to mask another plain fact: The Barracuda was simply a gussied-up Valiant—as plain a car as they came in the early 1960s—with an enormous, eye-catching rear window tacked on. As for the name, apparently no one at Plymouth knew that, in the slang of the early 1960s, a "barracuda" was a very loose woman, loose enough perhaps to turn pro.
Although totally overshadowed by its wildly popular rival, Plymouth's Barracuda was no flop. Humble sales reports showed 23,443 models hit the streets in 1964. Another 60,168 followed in 1965. Plymouth officials had to be happy with those numbers. Critics, on the other hand, weren't so gay. As the sports-minded editors of Car Life saw it early in 1964, the Barracuda "needs some development if it is to match with performance the promise of its racy good looks. As it is right now, it's just a novel little hardtop that won't swim away from anything."
Things began to change in 1965 when Chrysler engineer Scott Harvey, a rally driver during his free time, put together the Formula S performance package. Along with some truly sporty suspension upgrades, the Formula S option also included a muscled-up 273 V-8, a four-barrel-fed small block that now pumped out 235 warmly welcomed horses. According to Car and Driver, the 235-horse 273 transformed the second-edition Barracuda "from a flabby boulevardier into a rugged middleweight."
Heavyweight status arrived in 1967 as the Barracuda, like the Mustang, was fitted with its first big block—Chrysler's 383-ci V-8. This 280-horsepower powerplant had to be shoehorned into the 1967 Barracuda's engine bay, even after designer Milt Antonick had restyled and reshaped Plymouth's pony car platform with an eye toward making more room for more engine up front. Antonick's sweet body was also offered in two forms, a sexy fastback and a polite "notchback" coupe.
Chrysler's high-winding 340-ci V-8 appeared in 1968 to help create a better-balanced Barracuda. A wonderful combination of big-block muscle and small-block sprightliness, the 275-horespower 340 dropped in with room to spare—optional air conditioning could be added; it couldn't fit on an early 383 Barracuda, nor could power brakes. Pounds were spared as well, meaning the 340 Formula S Barracuda could run circles around its nose-heavy big-block big brother. Most (maybe even all) Mustangs in 1968 were also no match for this commonly overlooked muscle machine as far as all-around performance was concerned.
Plymouth's pony car performance image became impossible to overlook after Cliff Voss' Advanced Styling Studio totally redesigned the Barracuda for 1970. Chrysler's all-new E-body platform, which also supported Dodge's slightly larger Challenger, was designed not only to look like a million bucks, but also to house Chrysler's largest V-8s without sacrificing preferred accessories like air conditioning and power brakes and steering. The 'Cuda reached its performance zenith in 1970 and 1971 as both the 440 Six Barrel and 426 Hemi V-8s became options. Big-block options were then dropped after 1971 as the musclecar era wound down. Dwindling sales forced the cancellation of the Barracuda itself, as well as the Challenger, three years later.
Mustangs, meanwhile, continued rolling on, albeit through those dreaded Mustang II years. Two other long-running rivals, General Motors' F-bodies Chevrolet Camaro and Pontiac Firebird, are still around too, but apparently not for long. The Mustang may soon be the last of the breed left standing. As for the first of the family, Ford might not have technically earned that honor. Nonetheless, they don't call 'em "predatorfishcars." Be the name 'Cuda, Camaro, Firebird, or Javelin, they're still all known as "pony cars."
Published Dec 7th, 2015
More Classic Car News & Article Categories:
Related Articles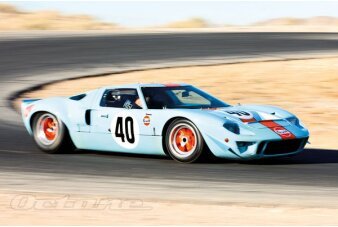 While every factory Ford GT40 is special, some are more special than others.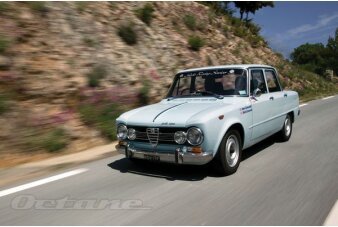 For the Linwoods historic rallying seems to come naturally.
×
Book Preview: Mustang 1964 1/2 -1973