‹ Go back
Bonneville to Los Angeles In A Skoda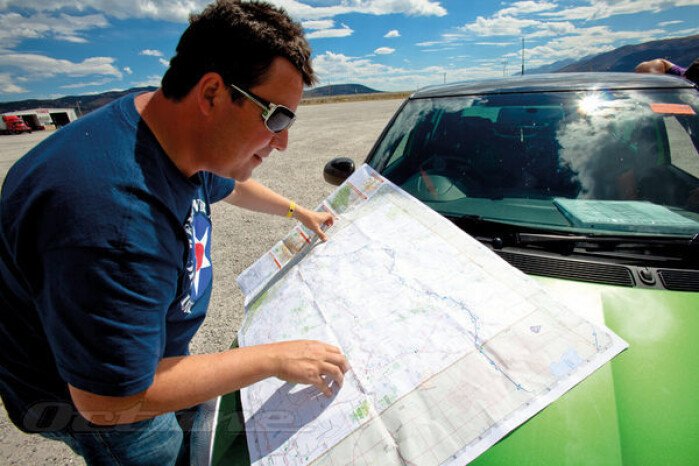 'Hey buddy, neat car! What is it?' 
If I had a dollar for every time someone stops to quiz us on our 
car I'd be one wealthy man. Admittedly, a 1.4-liter Czech-built hot hatchback is a quirky choice of chariot to take on a road trip from the God-fearing state of Utah to California's City of Angels, but this was never going to be a conventional visit 
to the United States.

Earlier in the week I'd driven a specially built Skoda Octavia vRS to a new production class record at Bonneville SpeedWeek. Now, to stave off post-Bonneville blues, I'm embarking 
on a drive from the splendid isolation of Utah's hallowed salt to the immense urban sprawl of Los Angeles, via the sickly neon of Las Vegas and furnace-like heat of Death Valley in the UK-registered Skoda Fabia vRS we've been using to drive to and from the salt during SpeedWeek.

More than 800 miles of endless vistas, winding canyons and blistering temperatures is a big challenge for any car, let alone a small hot hatchback that's 6000 miles away from its natural habitat. A tough test, then, not only of the car but also the curiosity of American car enthusiasts. Will the Fabia wilt in the heat and struggle on the Interstate? And will American car enthusiasts warm to a car equipped with an engine of smaller capacity than the average pick-up's cupholder?

If the response we get from the competitors and spectators at SpeedWeek is anything to go by, the little Fabia is a great way to make friends. I'm sure the colour helps – it looks like someone liquidized Kermit and threw some sparkly glitter into the mix – as does the unfamiliar winged arrow badge, but the Fabia's businesslike stance sends out a kind of visual pheromone that draws people in. And it has a trick under the bonnet too.

There are few more car-savvy sample groups than members of the Southern California Timing Association, whose members like nothing better than baking themselves in 100º heat at this original festival of speed. Yet, when you're sharing salt with 400mph streamliners, precarious-looking 1930s roadsters and all manner of weird and wonderful machinery, it says a lot for the Fabia that anyone notices it at all.

Those who wander over to take a look are soon poking around under the bonnet. Talk inevitably turns to output, which is my favorite part of the 'Hey buddy…' conversation. Peaks of 180bhp and 184lb ft are hardly going to drop jaws out here, but eyebrows never fail to rise when I explain the engine is a 1.4-liter in-line four-cylinder fitted with a turbocharger and supercharger. When told it also features a seven-speed, double-clutch paddleshift transmission, hits 60mph in just over 7sec dead, tops out at 140mph and does the best part of 50mpg, even the hairiest and most heavily tattooed hot rodders are bowled over by our diminutive Czech mate.

I'm sad to leave the Salt Flats: if you've even a drop of petrol in your blood they are holy ground. Unfortunately the same can't be said of the nearest town to the salt, Wendover. Straddling the Utah-Nevada border, it's a tawdry, bipolar outpost of the Midwest: modest and a bit scruffy on the Utah side of town, brash and crass on the casino-peppered Nevada side. Wendover's other claim to fame is the old airbase where all the USAF's heavy bomber crews were trained during World War Two, and also where the B-29 Stratofortress Enola Gay was loaded with the world's first nuclear bomb before leaving for her grisly world-changing atomic raid on Hiroshima.

We head due south on Highway 93A, destination Las Vegas. As Wendover recedes in our rear-view mirror, it's a shock to find we're almost immediately in the wilds of Nevada. Dwarfed by the Toana mountain range, we skirt by the evocatively named Wildcat Peak. It's a beautiful, barren wilderness of such vast scale you barely seem to make progress, even at 90mph. That sounds fast, but we have to maintain it to avoid being steamrollered by the 18-wheelers 
that thunder by like runaway trains.

I love driving big distances through wide-open America, for it always feels like an adventure. Mesmerising and memorable, tedious, humbling and quirky all in the space of a few hours, it also underlines the unique sense of freedom a car and a full tank of gas bestow upon you. No wonder America's bond with the automobile is so strong.

Smalltown America remains a heartland for homegrown metal, but there's no doubt the steady influx of cars built by European and Far Eastern brands (often in new US-based plants) means America's roads are far more cosmopolitan than ever before. No other Skodas though, thanks to a VW Group brand strategy that denies the Czech brand a presence in the USA. In a nation boasting 250,000,000 registered passenger vehicles, knowing you're driving the only car of its kind in the country feels very strange.

Just over 120 miles south of Wendover is the town of Ely. I've always wanted to come here, 
not because of any great cultural significance, but because the road out of town is closed once a 
year for the Silver State Classic. An open-road 
race (actually it's more of a time trial) in which competitors tackle a 90-mile course as fast as 
they dare, the Silver State has a route largely comprised of endless straights cutting through the rattlesnake-infested scrub. Some are as 
much as 14 miles long, with hidden compressions to launch the unwary into Low Earth Orbit. There's also a fabulous canyon section that 
sweeps and swoops through a rocky gorge. By 
the time we reach it, the crags and cliffs are 
bathed in intense orange light as the sun snuffs itself out over the Sierra Nevada.

The temptation to emulate the Silver State Classic's flat-to-the-boards style is hard to resist, but an earlier run-in with a local Sheriff has at least partially sated our appetite for speed. 
No matter, for the vRS is just as happy to cruise 
for hours at a time as it is to zip through the welcome twists and turns of the canyons, where its grip, agility and infectiously enthusiastic character are given a rare and welcome opportunity to shine.

It's gone 10pm by the time we approach Las Vegas. We crest a rise on Interstate 15 and the sinful city's shimmering lights spill across the inky black desert like a sea of sparks. As we draw a little closer the infamous 'strip' dominates the scene, with its surreal collision of cultures; the Eiffel Tower, Statue of Liberty, a Venetian palace and huge black pyramid all jostling for attention. The Fabia's livid green paintwork comes to life beneath the neon and we find unexpected sport in cutting and thrusting between the stretched limos and pimped supercars, the Fabia's plentiful low-rev torque and instant gearshifts combining to great effect. Eventually we dart into the sanctuary of our hotel, where the Skoda causes something of a stir amongst the valet parking team. 'Good evening sir, may I welcome you to the Mandarin Oriental. Er, neat car. What is it…?'

Vegas is best viewed at night, for the harsh light of day peels back the glossy neon veneer to reveal an ugly, sun-baked husk filled with hungover visitors struggling to make it through the morning after the night before. We make our escape, heading into the unspoilt desert, skirting the mysterious Area 51 en route to Death Valley and journey's end in the iconic Hollywood Hills.

Another long day's drive, and all the local guidebooks warn of the dangers that await visitors to Death Valley. Take plenty of water; always stop for fuel if you're close to half a tank; don't drive with your air-conditioning on constantly as it can overheat the engine. Seems the place got its name for a reason.

The aptly named Furnace Creek is an extraordinary and rather intimidating place. The Fabia's running fine, its air-con delivering chilled air without protest, but the exterior temperature gauge is registering incredible temperatures: 40ºC soon rises to 45ºC, then peaks at 47.5ºC. So we park the car and get out for a stroll. There's a strong, desiccating wind blowing through the valley – the result of potent convection currents – and the sensation is alarmingly similar to the moment you throw open the door of your fan-assisted oven to cook the Sunday roast. We retreat to the chilled cockpit of the vRS and wonder how hard it must have been to pass through here in the gold rush of the late 1800s.

The sun is beginning to set as we work our way out of the 3,000,000-acre National Park. There's little traffic, save for a team of Audi engineers putting a prototype A3 hatchback through its paces in the world's best natural hot weather test facility. The roads are awesome: fast, clear and with a mix of surface quality from freshly laid and smooth to gnarly and sun-baked. It's impossible not to have a bit of a hoon, even though there might be a police patrol lurking in the heat shimmer. I reckon if Sheriff Buford T Justice has sat in wait this far into the wilderness, then he probably deserves to catch us.

We make it to Burbank in the suburbs of LA without incident and get a good night's sleep before rising early the next morning to catch a 'cars and coffee' meeting at a large parking area 
in nearby Woodland Hills. Held every Sunday from around 7am, these impromptu gatherings can see literally thousands of cars converge on 
the area. Today is quiet by comparison, perhaps because the Pebble Beach Concours is taking place just up the Pacific coast, but still there are lots of cars present, from muscle cars and RS Porsches to original Minis and Italian exotica. 
Just as at Bonneville, the UK-registered Fabia – now joined by the salt-encrusted Octavia 
record-breaker – arouses curiosity and attracts many compliments.

There's one place left to go before the Fabia heads for the Port of Long Beach and its long trip home to the UK, and that's Hollywood. The whole Hollywood sign photo opportunity is a terrible cliché, but you'd somehow feel cheated if you didn't take a look. The best view of the sign is on a tight residential street, but we squeeze through the conga of cars, park and get the shot.

As I find somewhere to do a U-turn, I inadvertently drive into a layby occupied by a police cruiser. The occupant lowers his sunglasses and looks the Fabia up and down. Fearing I've just performed some kind of traffic violation 
I give him a weak smile, but I needn't have worried. 'Morning sir. That's a neat car you got there. What is it…?'  



Breaking records in the world's fastest Skoda

The reason we were in Bonneville? To smash the 200mph barrier in a family hatchback – by quite a margin.

Bonneville Speed Week is an event I'd always wanted to experience, so to be offered the chance to compete was a life's ambition fulfilled. I never thought the chance would come from Skoda, but that shows how far the marque has progressed recently.

The Octavia I drove was built and run by a team from Skoda UK to celebrate ten years of the vRS performance brand. We were to compete in the G-PS class for production cars with forced induction engines up to 2.0 liters. Externally it was stock bar skinny Goodyear rubber, Moon discs – and 
a parachute brake…

Inside, the car was stripped, its fixtures and fittings replaced by a strong and comprehensive rollcage, fire extinguisher system, full harness and bare metal 'containment' seat to keep me safe if the worst happened.

The 2.0-liter TSI engine was largely stock: standard block, pistons, crankshaft, gaskets, ECU and ignition, but a much bigger Garrett turbo and beefed-up cooling system, resulting 
in close to 600bhp at the front wheels – yet there were many more standard components than competition items. To lengthen the Octavia's stride, 
a six-speed transmission from the eco-friendly Greenline diesel model was used.

Driving fast on salt is, perhaps not surprisingly, like nothing else. It's very slippery and inconsistent, so traction is limited and high-speed stability totally at the mercy of crosswinds.

Our original objective was to hit 200mph, but such was the Octavia's pace we'd done 202mph (in fifth gear!) with four days of SpeedWeek remaining, so we decided to try for the class record of 216mph. I'm pleased and incredibly proud to say we smashed it on the final day, setting 
a new record of 227.080mph.
Published Dec 7th, 2015
More Classic Car News & Article Categories:
Related Articles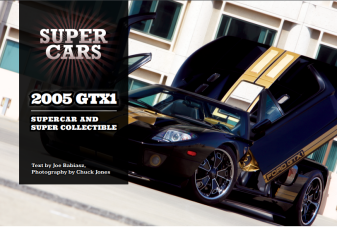 Through the SEMA Technology Initiative, Ford was able to collaborate with several of those companies to produce a low-volume niche vehicle. Ewing had the design, SEMA had the suppliers and soon, the GTX1 was born.
Related Exotics
×
Bonneville To Los Angeles In A Skoda