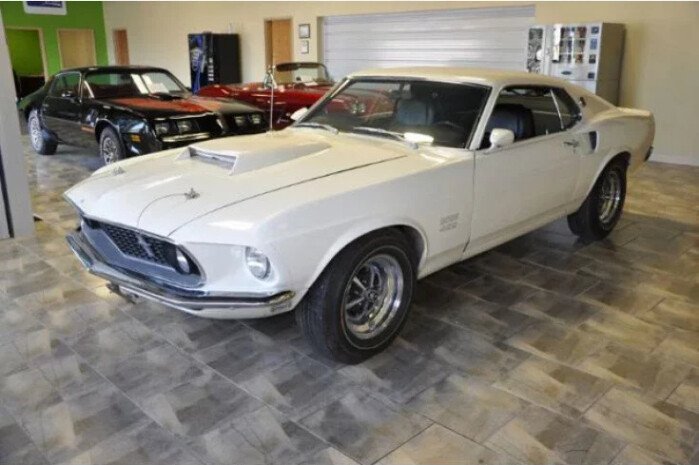 Photo credit: Classic Car Deals in Cadillac, Michigan.
Table of Contents
What's the Best Classic Ford Mustang?
Can you name a vehicle more iconic than the Ford Mustang? Playing a huge part in the pony and muscle car movement, the Mustang helped shape car culture throughout the '60s and '70s. Throughout its history, it's had no shortage of amazing models. It's no wonder then that the Ford Mustang made our list of best classic cars ever made. However, even with modern-day improvements, the classics still outshine the rest. Below we've compiled a list of some of the best classic Ford Mustangs ever made.
While we've analyzed Mustang listings on our site to find out how much each of the following classic Mustangs will cost you to buy, as a rule of thumb, the Fastback, depending on the installed options, should be the most expensive followed by convertible version and then the coupe. In terms of generations, the 1964 ½ through 1973 Mustangs command the most interest from buyers.
1964 ½ Mustang - History and Features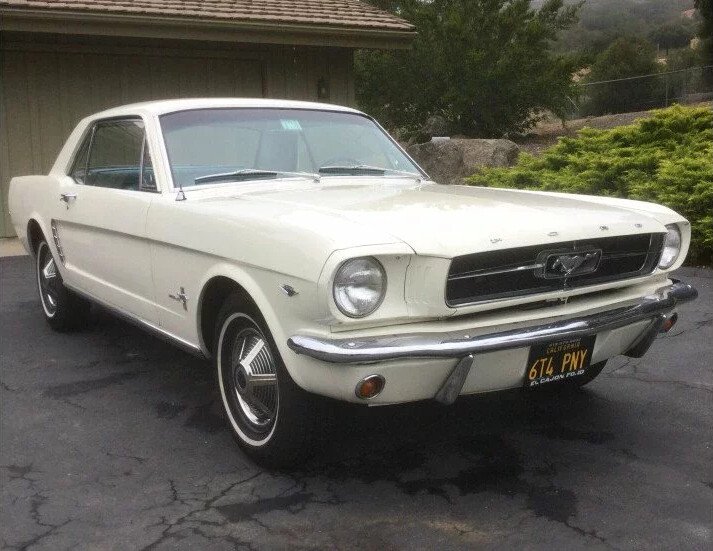 It's always hard to beat the original. With production beginning in late 1964, the first batch of Mustangs were referred to as 1964.5 model years. Despite the added confusion, these vehicles were given VINs indicating that they were 1965 models.
To great acclaim, the Mustang debuted during the 1964 World's Fair in New York. More than 22,000 orders were placed within the first 24 hours alone. This version of the Mustang was launched in both a coupe and convertible body style, with the iconic fastback not introduced until halfway through 1965.
With a starting price of around $2,300, the original Mustang sold like hotcakes, combining incredible power with a stylish design both inside and out. The base model featured a 2.8L straight-6 cylinder engine generating 101 hp with a three-speed manual transmission. Along with the six-cylinder engine, a 4.3 L V8 and 4.7L V8 were offered, making 164 hp and 210 hp, respectively.
A popular package for this model year was the GT Equipment Package. This included a V8 engine with mounted fog lamps, panel stripes, and upgraded disc brakes. The interior would also receive an upgraded instrument panel with more gauges. This GT package would serve as the precursor to the honored Shelby Mustang, just a year away.
How much is a 1964 ½ Mustang?
We looked at 1964 and 1965 model years when analyzing the prices of actual listings on our site. The bulk of these Mustangs are in the $35,000 to $80,000 range with premium versions asking $85,000 to upwards of $115,000.
If you're in the market for a Fastback GT, most of them are priced between $50,000 and $120,000 but some examples have recently sold for between $140,000 to $220,000. The most expensive 1964-1965 Mustang we found listed on our site was asking $390,000 and 1964 ½ "shorty" prototype sold at auction in 2015 for $512,000!
If it were our money, we'd focus on cars in the $40,000 to $75,000 range as we think this is where the widest selection matched with quality exists. If you're looking for a 1964 ½ Mustang project car, you should be able to buy one for $20,000 or less.
1965 Shelby Mustang GT 350 - History and Features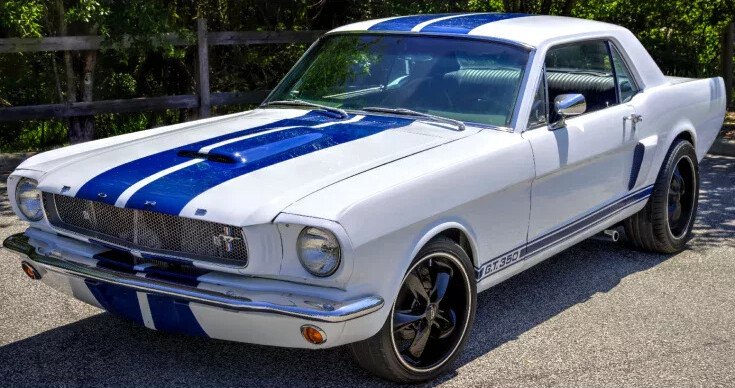 Following the overwhelmingly successful launch of the Mustang, Ford wanted to keep the momentum going with more exciting options. Leadership at the company would approach Carrol Shelby, who had already impressed the world with the Ford-powered Cobra racer.
Shelby agreed to collaborate and was rushed to work as Ford wanted to meet the Sports Car Club of America's (SCCA) standards to enter the 1965 model year. One hundred ten half-built Fastback Mustangs were sent to Shelby's facility in Los Angeles for modifications.
While it was meant to become a production car, the Shelby GT 350 was not built for comfort. A 4-point roll cage was installed, the rear seats were deleted, the side and rear windows were replaced with fiberglass, there was no air conditioning and no radio. The gauge cluster was also modified with a revised tachometer.
Specifications for SCAA stated that either the suspension or engine could be modified, not both. Shelby opted to upgrade the already robust Hi-Po 4.7L V8 engine generating 271 hp. With improved intervals, the engine could produce 306 hp, propelling the GT 350 to 138 mph with a 0-60 mph time of 6.6 seconds.
Shelby was able to produce the 100 units required before the SCAA deadline. Each one was recognizable by its Wimbledon White with Guardsman Blue stripes, hood scoops, enlarged fender flares, and Shelby badging. Today, it stands as a holy grail for car enthusiasts and collectors alike. In total, there were 562 GT350s produced for the 1965 model year.
How much is a 1965 Shelby Mustang GT 350?
In May 2021 the price range for a 1965 Ford Mustang GT 350 was around $400,000 to $590,000. However, within 12 months their prices have increased, and while you'll still see them priced between $450,000 to $650,000 the versions with more powerful engines are now commanding prices between $600,000 to $900,000.
At the absolute low end, a GT350 project car should cost around $300,000. Even replica and "tribute" GT350s have sold within the last few years for between $45,000 to $65,000 and the restomod versions are asking between $150,000 and $210,000.
1965 Shelby Mustang GT 350R - History and Features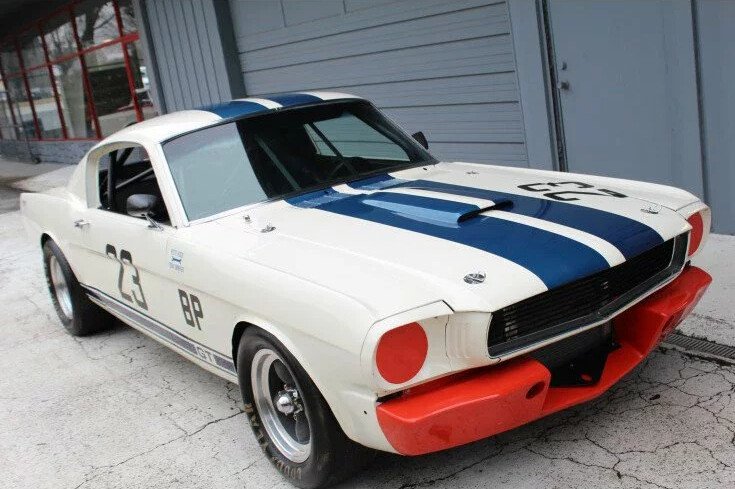 While the 1965 Shelby GT stood as a great production car, Ford still had slight modifications to make. The 1965 Shelby GT 350R was the actual race car variant used to enter SCAA sanctioned events. The interior was further stripped to save weight, a larger 34-gallon gas tank was installed, and the engine was further upgraded. The actual power specifications are unknown, but it's believed to have achieved around 350 horsepower.
The Shelby racing team saw great success with the GT 350R during the racing season, with the "Flying Mustang" winning multiple races. With only 34 examples ever built, the GT 350R is an extremely rare forefather of every other Shelby Mustang made to date.
How much is a 1965 Shelby Mustang GT 350R?
An original 1965 Ford Mustang Shelby GT350R can cost between $1 million to $3.5 million. A GT350R raced by legendary race car driver Ken Miles recently sold at a Mercum auction with a final price, including buyer's commission, for just over $4.07 million in January 2022. This same car was sold at auction in 2020 for $3.85 million.
In 2020, the company Original Venice Crew, which included some of the staff who worked with Shelby in 1965, produced 36 new 1965 Shelby GT350R Continuation cars with a $250,000 base price. Can't afford the real thing? The above replica GT350R was recently listed on our site by Fraser Dante Classic Cars of Roswell, GA for $130,000.
1966 Shelby Mustang GT350-H - History and Features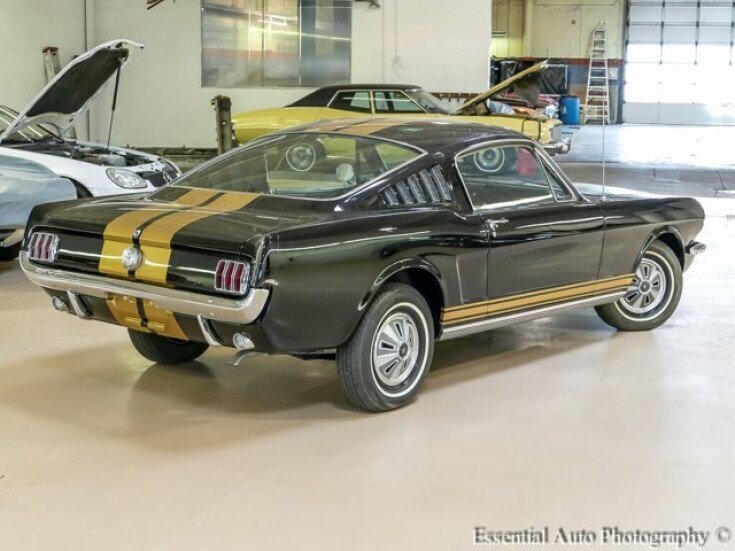 Mechanically, the GT350-H was identical to the regular 1966 GT350, with a powerful 4.7L V8 generating 306 hp and 329 lb-ft of torque. However, the GT350-H itself is an interesting footnote in the history of the Mustang.
At the time, Ford was a majority shareholder in the Hertz car rental company. The automaker persuaded the company to purchase 1002 GT350s to add to their rental fleet. Hertz agreed and offered these Mustangs as part of their Rent-A-Racer program. They were rented for $17 (~$150 in 2022) per day and 17-cents per mile.
The GT350-H is most recognized by its iconic black with gold stripe exterior. However, a limited number of these models were also produced in blue, red, green, and white.
The rental program allowed enthusiasts to pay a relatively low price to experience the high-performance of the GT350 and this, in turn, drove sales. However, the program did not last long as the cars would get damaged or even totaled by enthusiastic renters.
At the conclusion of the program, Hertz sold these cars back to dealerships who turned them around at a discounted rate. Today, these Hertz models are unsurprisingly sought out by collectors due to their unusual provenance.
How much is a 1966 Shelby Mustang GT350-H?
A 1966 Ford Mustang Shelby GT350H can range in price from the low $100,000s to upwards of $325,000. In April 2021, one sold at auction for $123,000.
1967 Shelby Mustang GT 500 - History and Features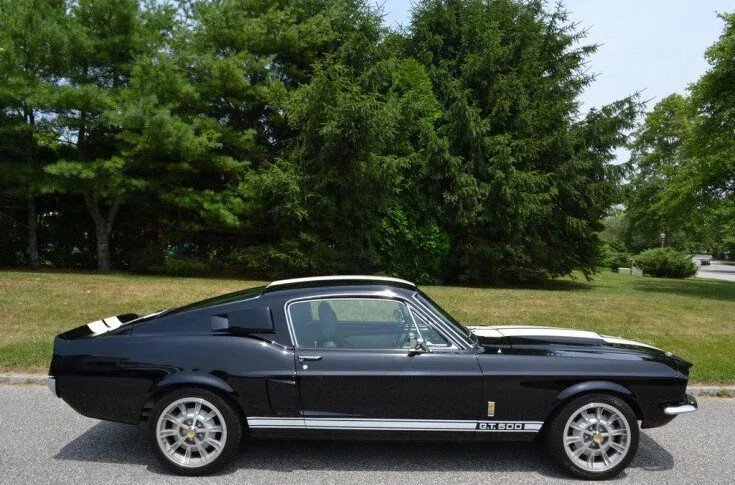 Not long after introducing the GT 350, Carrol Shelby and company worked hard to create an even more monstrous Mustang. Taking inspiration from the Le Mans winning GT40s, the GT 500 would be equipped with a 428 V8 engine.
The seven-liter engine was typically reserved for Ford's larger full-size vehicles. However, with a few tweaks, Shelby was able to squeeze the massive powerplant into the engine bay. While this was the standard engine, there were a few GT 500s produced with the same 427 V8 found in the GT40, but they are extremely rare. Running stock, the GT 500 was rated at 355 hp and 420 lb-ft of torque, with many believing the actual output to be far greater. Paired with the V8 was either a 4-speed manual or a 3-speed automatic. Stiffer front springs and shock absorbers were installed with an upgraded anti-roll bar and front disc brakes to deal with the higher weight.
The stated 0-60 mph time of the GT 500 was 6.5 seconds.
Thanks to the long fiberglass hood and large grille with two-centrally mounted fog lights, the model is easy to spot. Dual hood scoops help direct airflow into the engine with signature rocker panel striping found on the side. The rear features a sculpted decklid and Shelby's signature sequential taillights.
How much is a 1967 Shelby Mustang GT 500?
Most 1967 Ford Mustang Shelby GT500s can range in price from $150,000 to $300,000. Anything less than $125,000 will be a project car. There have been a few limited-edition Shelby GT 500's, like the Super Snake version, which have sold for as high as $2.2 million in 2019.
1968 Mustang California Special - History and Features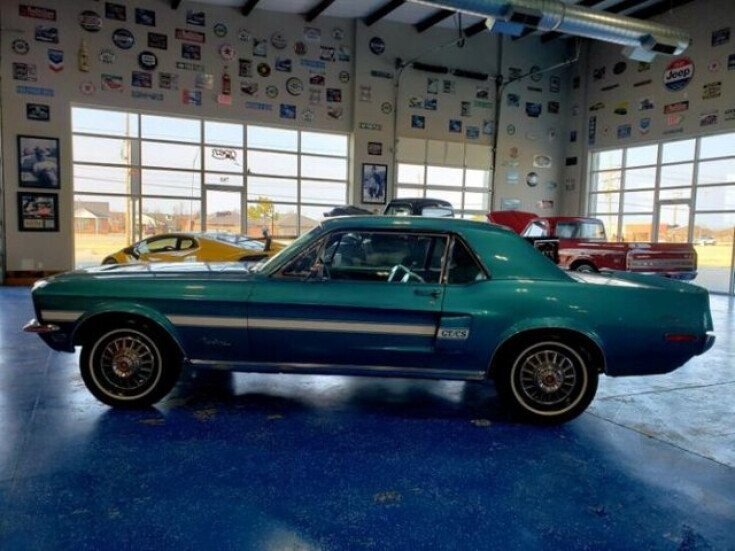 The 1968 California Special Mustang resulted from a serendipitous discovery by a California sales manager. While visiting the Shelby plant, he saw a coupe prototype known as "Little Red." This prototype did not materialize into a production model, but it would partly live on in the California Special (CS).
The dealers of Southern California were responsible for about 20% of all Mustang sales, so they had some sway with corporate leadership. The dealers convinced Ford to produce a limited-run model based on the Little Red prototype.
The edition simply had cosmetic upgrades and was available with every engine offered at the time. However, most were equipped with a 4.7L V8 producing 195 hp paired with a three-speed automatic transmission. Since almost all Shelby Mustangs were produced as fastbacks, this was a rare opportunity to get the look of a Shelby in a coupe body style.
Visual changes included a blacked-out grille, square fog lights, and hood locks. The sides had a rocker stripe that led to a side scoop with GT/CS written on it. The rear had a duckbill spoiler on the decklid and 1965 Thunderbird taillights.
About 4,118 GT/CS were made for the California market, with 251 sent westwards and rebranded as the High Country Special.
How much is a 1968 California Special Mustang?
Compared to the other Mustangs on this list, a 1968 Ford Mustang California Special is quite obtainable and dare we say, even reasonable. The bulk of the prices for the California Special generally are in the $20,000 - $60,000 price range with the low end being a car requiring a major restoration.
Over the course of 2021-2022, a few rare GT examples have sold at auction for between $70,000 and $90,000 so we think the pricing on these Mustangs could increase over the next few years.
1969 Mustang Boss 429 - History and Features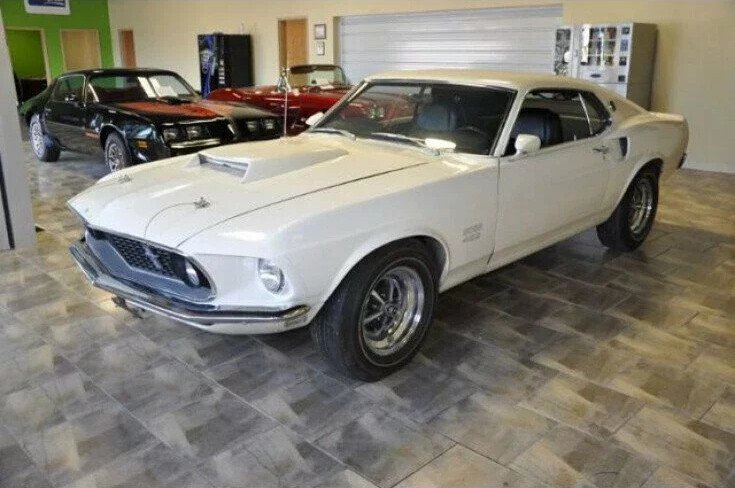 The Boss 429, which made our list of the best muscle cars ever made, was a byproduct of Ford's desire to develop a better engine for their NASCAR series. The rules stated that the engine used in the race cars needed to be built in at least 500 vehicles sold to the public. The result was one of the most legendary muscle cars ever produced, the Boss 429.
The Boss 429 carries a 7.0L V8 engine based on Ford's 385 engine family with a 4-speed manual transmission. The engine bay was too small and had to be modified to fit the larger motor. The increased front heft also required relocating the battery to the rear and adding a rear sway bar. Stiffer springs and heavy-duty disc brakes also became standard. All in all, the engine produced at least 375 horsepower and 450 lb-ft of torque.
From the outside, it's easy to spot the Boss 429 thanks to its highly pronounced hood scoop and matte black chin spoiler. Also, unlike many other high-powered Mustang variants, the 429 did not have any rocker panel strips.
How much is a 1969 Mustang Boss 429?
A 1969 Ford Mustang Boss 429 will cost you between $150,000 to $400,000. We've even seen some examples priced as high as $550,000. In 2018, Classic Restorations sold new Continuation Boss 429s starting at $209,000.
1971 Mustang Mach 1 - History and Features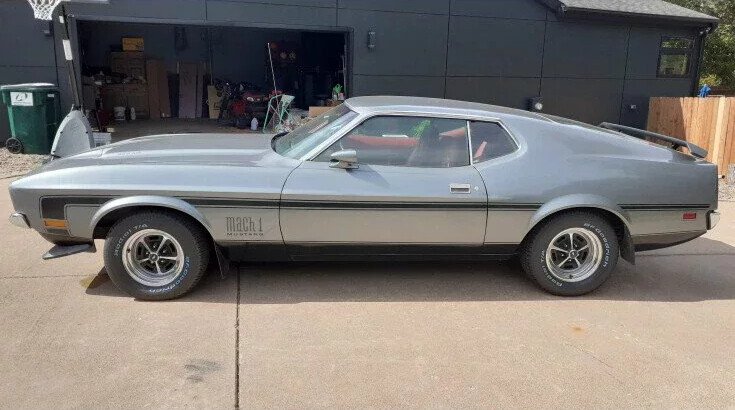 The 1971 Mustang Mach 1 was a bright spot after the mixed reception of the Mustang's 1971 facelift. The Mustang had grown in size, and the Mach 1 variant used that to its advantage, creating an imposing presence.
It was exclusively available in the SportsRoof (fastback) body style. The Mach 1 edition came equipped with various visual changes, such as a color-keyed front spoiler, a hood trim, and a black honeycomb grille. Two-tone paint and various other accent logos were found throughout the exterior. The vehicle also featured aerodynamic-focused racing side mirrors and an upgraded competition suspension.
Three V8 engines were available, a 4.9L, a 5.8L, and the 7.0L Ram Air engine. A choice of 3-speed automatic as well as 3- or 4-speed manuals were available.
How much is a 1971 Mustang Mach 1?
A 1971 Ford Mustang Mach 1 will cost you between $25,000 and of $110,000 with the most priced between $40,000 and $80,000. The example above was offered for sale from a private seller for just over $69,000.
1978 Mustang II King Cobra - History and Features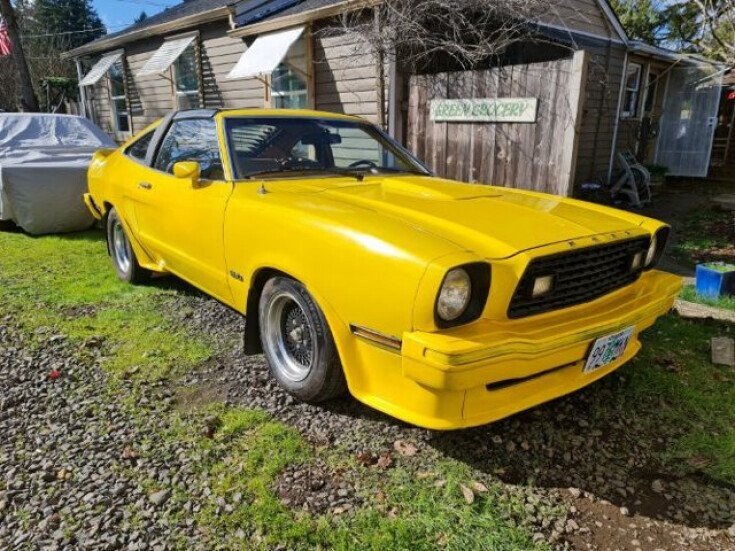 The second-generation Mustang suffered greatly from the mid-70s oil crisis and held downsized power. However, the Mustang II was far from an unwanted car, and as the second generation ended in 1978, Ford decided to send it off with the King Cobra.
Compared to the 60s version, the King Cobra engine was far from a powerhouse, but it was competitive within the era. Powering the King Cobra was a 5.0L V8 producing 139 hp and 250 lb-ft of torque with a 4-speed manual transmission.
On the exterior, the King Cobra had plenty of extras. Most noticeable, of course, is the large cobra decal on the hood. The King Cobra also included an air dam, fender flares, hood scoop, pinstriping, and a rear spoiler. The interior held no extras aside from the full-length rear seat now being divided by a hump. There were around 4,971 total King Cobra units made in 1978.
How much is a 1978 Mustang II King Cobra?
A 1978 Ford Mustang King Cobra can be purchased for between $15,000 to $40,000 with $25,000 being the price we'd focus on if we were buying one.
1984 Mustang SVO - History and Features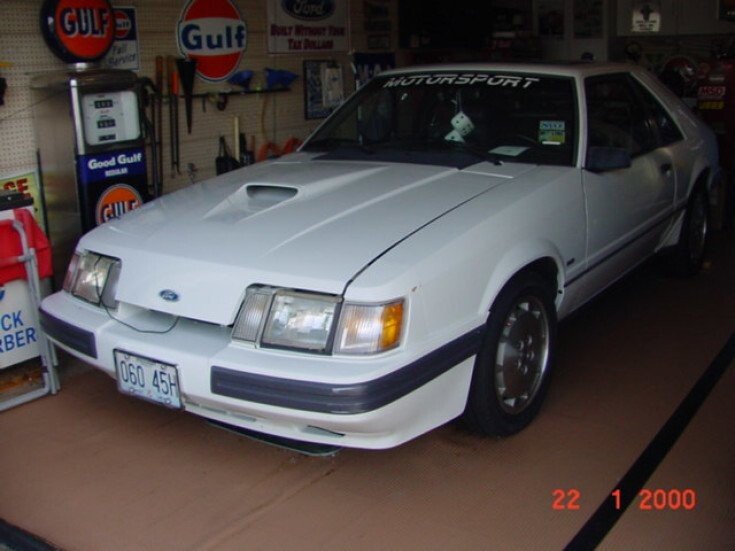 With the Oil Crisis effectively ending the muscle car era, Ford established the Special Vehicle Operations (SVO) Department to develop racing technology and high-performance production cars. Their first task was to breathe life into the third-generation Mustang.
Starting with the engine, the SVO division chose the turbocharged 2.3L Lima four-cylinder engine. Utilizing an air-to-air intercooler and the world's first electronically adjustable boost-control system, this little engine could produce 175 hp and 210 lb-ft of torque. This matched the power output of the 5.0L V8 in the GT, one of the most powerful engines of the era. Along with the impressive power, the Mustang SVO had a revised suspension arrangement that included adjustable shocks and struts along with front and rear anti-roll bars. Along with other handling improvements, this is still considered one of the best handling Mustangs ever made. It was exclusively available with a 5-speed manual transmission.
The exterior featured a grille-less front that relied on a large function hood scoop. The rear featured the SVO's most distinctive feature, its biplane spoiler. While the Mustang SVO proved that the Mustang could be a nimble little sports car, future generations would trend back towards their muscle car roots.
How much is a 1984 Ford Mustang SVO?
Most of the 1984 Ford Mustang SVO models listed on our site recently have been priced between $15,000 and $40,000. There have been a few SVOs sold at auction over the last few years which have commanded an asking price in the $50,000 range but these are the exception, not the rule.
How to Buy Your First Classic Mustang
Although this video is from 2017, we think it gives a great comprehensive overview of what to look for and how to go about buying a classic Mustang. They cover body condition, mechanical, interior, exterior and options so if you're serious about finding the right Mustang for you, watch this video.
The Cost to Restore a 1967 Shelby GT 500 Mustang
This Shelby Mustang GT 500 was found in an Iowa barn and underwent a partial restoration. The buyer spared no expense and detailed all his costs, from how much he paid to buy the car, to the steps involved in cleaning and restoring this barn-find, to how much he spent on replacement accessories and parts. This is one of the most comprehensive and detailed Mustang restoration videos we've ever come across and is worth 25 minutes of your time.
We agree with the buyer's approach: "You really have two schools when it comes to this car; those who want an original one or those who think that it needs to be perfect. If you're going to drive it and enjoy it, I don't think you want it 'perfect' perfect. A lot of owners put their Shelby Mustang on a trailer, and I understand, their expensive but they're cars and need to be driven."
Published May 25th, 2022
More Classic Car News & Article Categories:
Related Articles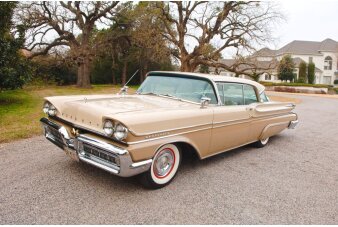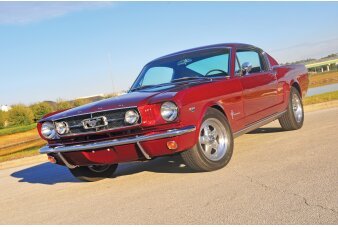 Mustang's third body style emerges.
Related American Classic Cars
×
The Best Ford Mustangs Ever Made