‹ Go back
The Best Classic Chevrolets Ever Made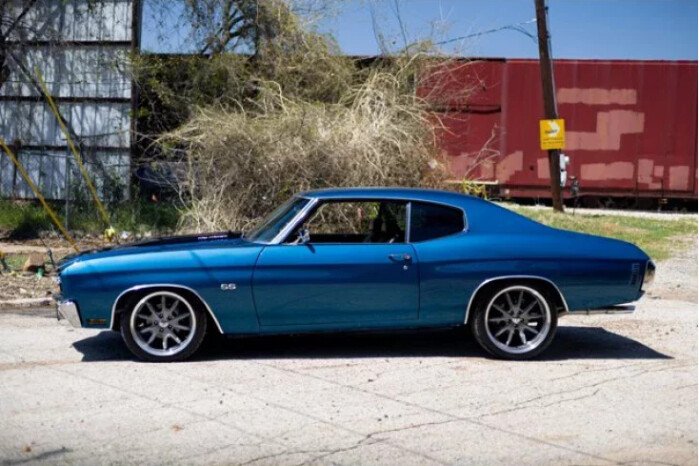 Photo credit: Earth Motorcars, Carrolton Texas.
Table of Contents
What's the Best Classic Chevrolet?
As one of the "Big Three" automobile manufacturers in the U.S., Chevrolet has been a constant contributor to automotive car culture in America. The leading brand has bred some of the most iconic cars and trucks throughout its decades of operation. Below we have compiled a top 10 list of the best classic Chevrolets ever made.
1967-1969 Chevrolet Camaro - History and Features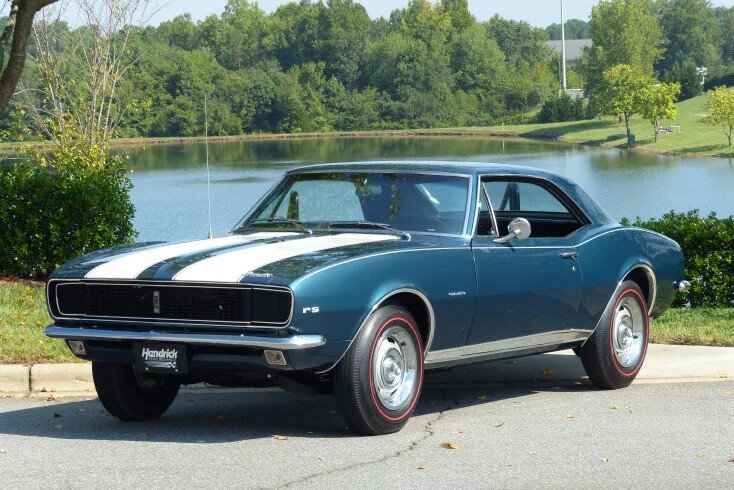 Spurred on by Ford's release of the Mustang in 1964, Chevrolet released the Camaro and ignited the still-ongoing muscle car rivalry. The Camaro arguably carried a much more aggressive look and helped define the shape of a "muscle car."
The first-generation Camaro was built on GM's F-platform, sharing it with the equally iconic Pontiac Firebird. The muscle car was available in both a coupe and convertible body style. Just like its rival, the Camaro was priced affordably for fun-loving owners.
This Camaro had no shortage of engine options, with twelve different engines available for the 1969 model year. The standard engines included a 3.8L straight-six making 140 hp and 220 lb-ft of torque or a 5.4L V8 making 210 hp and 320 lb-ft. A three-speed manual transmission was standard with an available two-speed semi-automatic and three-speed automatic transmissions.
An RS appearance package was available, as well as an SS performance package including upgrades to the chassis as well as a choice between a 5.7L and 6.5L V8 engine.
The most standout package, however, was the Z/28. The Camaro Z/28 was a virtually race-ready competitor to the Ford Boss 302. While its 4.9L V8 engine was advertised to output 290hp, the actual figure was closer to 360 hp. In addition, the muscle car came with a four-speed manual, upgraded suspension, and brakes, and added racing stripes.
1967-1969 Chevrolet Camaro Price
How much is a Chevrolet Camaro? Looking at only the first-generation years from 1967 to 1969, pricing can be as high as $800,000 for vehicles such as the Camaro ZL1, which made our list of the best muscle cars ever made. The bulk of the top-end priced vehicles will be those asking between $85,000 to $255,000 including modern resto-mods.
When we looked at the prices of actual listings on our site, most 1967 - 1969 Camaros were priced between $50,000 to $85,000 and we think there may be good buying opportunities here. On the low end, a running first-generation Camaro can be purchased for $35,000 or less.
1970 Chevrolet Chevelle SS - History and Features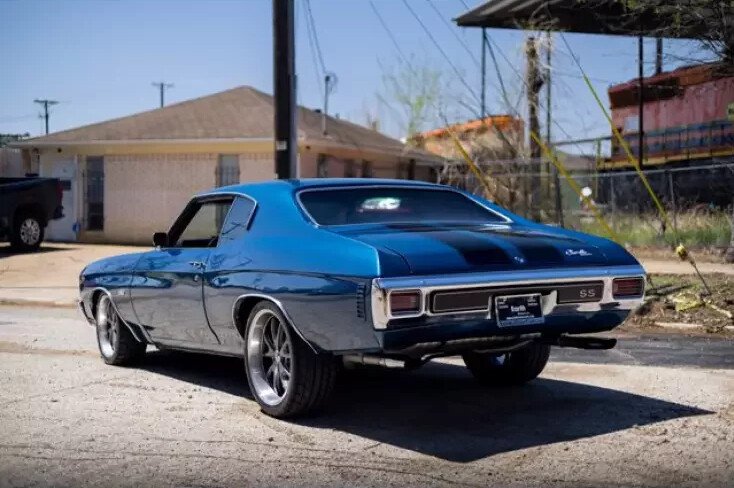 When someone discusses a classic Chevelle, chances are they are speaking about the 1970 Chevelle SS model. Like the Camaro, the Chevelle SS's simple yet purposeful design helped shape the ideals behind a muscle car. The new-aged car offered a long hood, low-slung roof, bulging fenders, fat tires, and a simple but comfortable interior. The front end was sculpted to cut through the air as it drove.
While Chevy produced SS models as far back as 1964, the automaker didn't make a splash until the 1970 model. Before this, Chevy held itself to not adding engines larger than 400 cubic inches (6.5L) in their midsized cars. They relaxed this rule for the 1970 Chevelle SS and included a massive 7.4L V8. This engine could produce an incredible 450 HP and 500 lb-ft, making it one of the most powerful cars available upon release.
Unsurprisingly, the Chevelle SS was a monster on the drag strip and was responsible for the cachet that the SS badge holds today.
1970 Chevrolet Chevelle SS Price
There have been Chevelle SS models which have sold at auction for as high as $1.2 million but the average cost of a SS, either a coupe or a convertible should be between $75,000 to $115,000. If you're looking for a show car, expect to pay between $150,000 to $450,000. A convertible SS model with a large 450hp engine or a resto-mod example will command the highest price.
1969-1972 Chevrolet Blazer – History and Features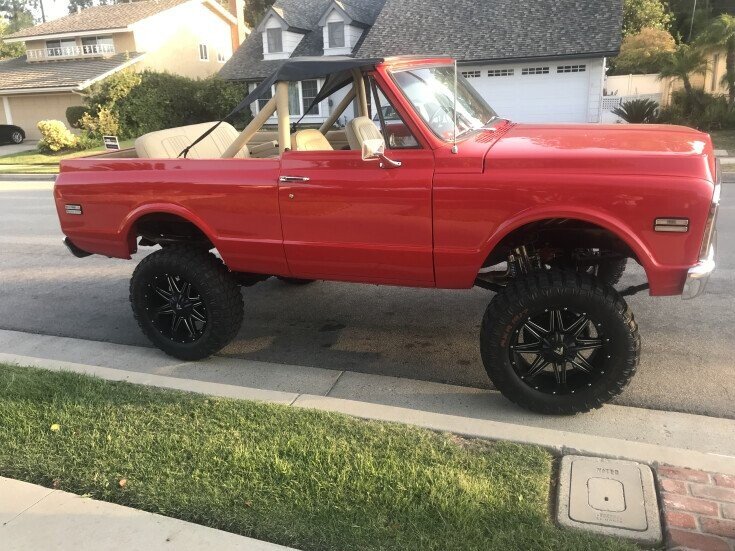 The K5 Blazer was Chevrolet's entry into the 4x4 adventure SUV market. Occupied by the likes of the Jeep CJ and Ford Bronco, the Blazer had much to prove. While the boxy shape, high ground clearance, and removable tops were familiar, the Blazer had a simple yet significant differentiator from its competition. It was larger.
To save money on production, the Blazer was built on the same platform as the full-size K10 pickups. This allowed the Blazer to offer far more interior space and better on-road handling. Across these four model years, there were nearly 78,000 units produced.
The Blazer was offered with two inline-six engines that were 4.1L (110 hp) and 4.8L (125 hp) in size. A 5.0L (135 hp) and 5.7L V8 (170 hp) were also offered. These engines were paired with either a three-speed manual, four-speed manual, or a three-speed automatic. The automatic was yet another differentiator as it was considered a "luxury" option in the realm of adventure SUVs. We loved the K5 Blazer so much, that it topped our list of the best classic trucks ever made.
1969-1972 Chevrolet Blazer Price
Looking at only the model years between 1969 and 1972, pricing can range from around $45,000 to upwards of $110,000 for the premium version. Generally, a model with 4x4 all-wheel drive will often command more than its rear-wheel-drive counterpart. We see opportunities to buy a very good first-generation Blazer for those shoppers who budget between $65,000 to $85,000.
1968-1972 Chevrolet El Camino – History and Features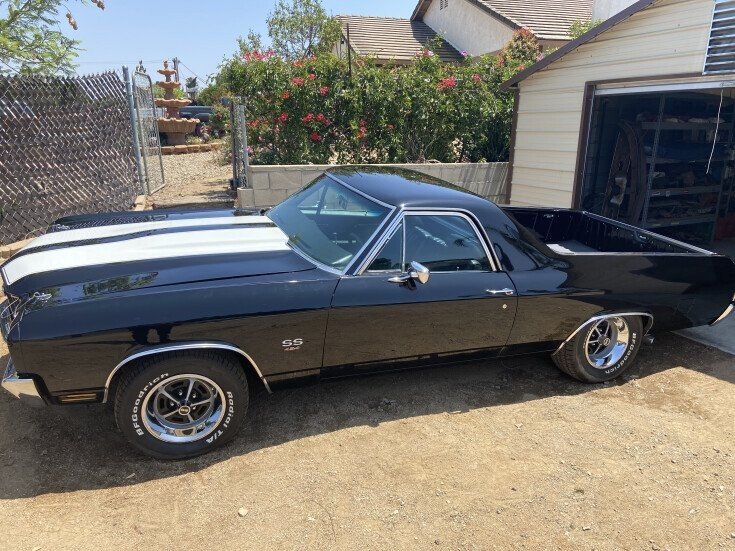 Among the five generations of El Caminos, the 1968 – 1972 third generation is the most widely known. In total, Chevrolet produced nearly 237,000 units across these five model years. While initially aimed as a utility vehicle for farmers, the El Camino took a life of its own as another Chevy muscle car icon.
Mirroring the design evolution of its stablemate, the Chevelle, the third generation El Camino was elongated and carried a wider imposing stance. The El Camino offered many engine options during this time, ranging from pedestrian to insane. There was a 3.8L and 4.1L inline-six as well as five V8 options. These ranged from a 5.0L all the way to a legendary 7.4L generating 450 hp and 500 lb-ft of torque. Transmissions included a 3- and 4- speed manual as well as a 2- and 3-speed automatic. The El Camino might not be as known for its drag strip prowess, but its coupe utility silhouette is easily one of the most recognizable.
1968-1972 Chevrolet El Camino Price
At the top end of the price scale, a premium El Camino will cost between $55,000 to $95,000. Within the higher priced examples, we found many available listings around $60,000. If you're on a budget, we think there may be opportunities in the $35,000 or less price range. If you're seeking a total project car, you can buy a fixer-upper for less than $20,000.
1961-1964 Chevrolet Impala – History and Features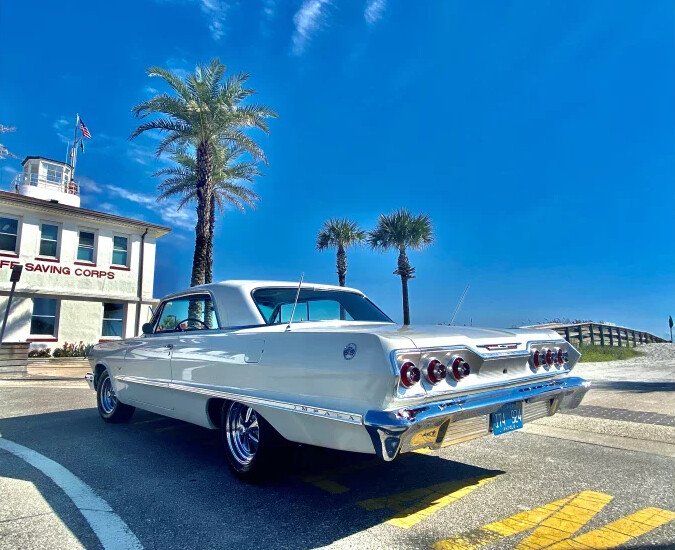 Throughout Chevrolet's history, the Impala lasted as one of the company's most popular models. However, the third-generation 1961 – 1964 models have been praised by many enthusiasts as an outlier.
With the third generation, Chevy redesigned the Impala with boxier aesthetics while still retaining the crisp body creases that the model was known for. The Impala was not only elegant on the outside but inside as well, featuring comfortable plush seats and carefully sculpted interior panels.
Part of the success of the Impala was the wide variety of body styles that Chevy offered. A 2-door convertible, 2-door hardtop, sedan, 4-door hardtop, and station wagon options allowed diversity throughout the lineup.
The engine options were equally as vast, with a 3.8L and 3.9L inline-six as well as a 4.6L, 5.4L, 5.7L, 6.7L, and 7.0L V8 all offered in this generation. Gears were handled by either a 3-speed automatic or 4-speed manual.
Making history, the third-generation Impala was the first Chevy to hold an SS (Super Sport) model. In 1961, Chevy offered the Impala SS with either the 5.7L V8 or the newly developed 6.7L V8 making 360 hp. It also included upgraded tires and suspension.
1961-1964 Chevrolet Impala Price
When we looked at the model years of 1961 - 1964 on our site, the higher priced Impala's were asking between $80,000 to $130,000. If that is too rich for your wallet, there were a lot more available models priced between the mid-range price of $40,000 to $70,000.
If we were spending our own money, that is where we'd focus our search. Anything less than $30,000 is most likely going to be a project car or an original (unrestored) car.
1968-1974 Chevrolet Nova – History and Features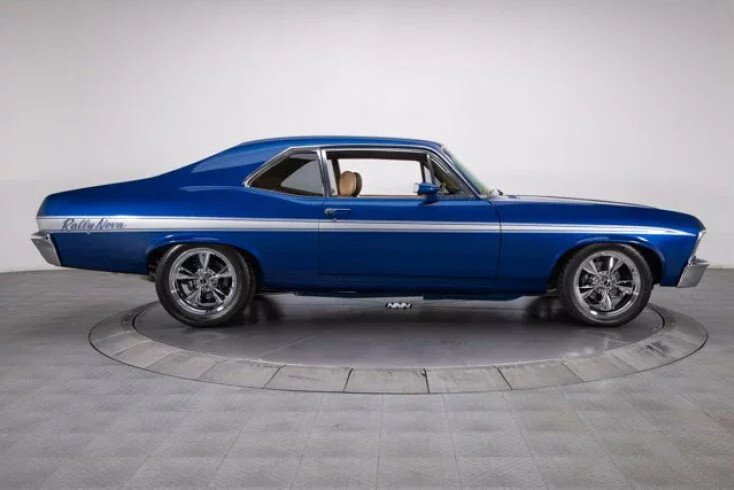 The name Nova was not initially used as a model designation but rather as the top-tier trim level of the 1962 Chevy II compact car. Built to take on the popular Ford Falcon, the Chevy II was a simple and affordable car for the masses. Over the seven model years, a total of almost 2.1 million Nova's were produced.
With the third generation Chevy II came a significant name change. Chevy dropped the Chevy II nomenclature in favor of Nova. This generation's significant redesign took inspiration from the popular Chevelle but in a smaller package. Only a two- and four-door sedan was offered, getting rid of the wagon, convertible, and hardtop coupe options.
The Nova was offered with a 2.5L inline-four or a 3.1L, 3.8L, and 4.1L inline-six. V8s included a 5.0L, 5.4L, 5.7L, 6.5L, and 6.6L. Transmissions had various options with 3- and 4-speed manuals, 2- and 3-speed automatics, and a 2-speed semi-automatic.
Previously just an appearance package, the third-gen Nova SS received actual performance upgrades with a more robust suspension. The standard engine was a 5.7L V8 making 295 hp. An optional 6.5L V8 generating up to 350 hp was also available. The Nova SS would go on to be one of the most compact muscle cars made.
1968-1974 Chevrolet Nova Price
When we analyzed the prices of 1968 – 1974 Nova listings on our site, most of them were priced between $40,000 and $65,000. Premium versions with larger engines, were asking between $75,000 and $155,000.
1971-1976 Chevrolet Caprice – History and Features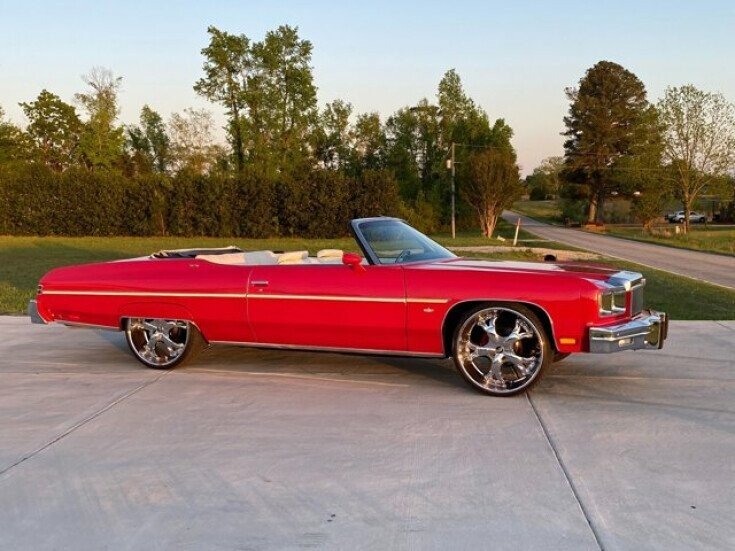 Starting life off as the top luxury trim level for the Chevrolet Impala, the Caprice became its own model in 1965, occupying the top rung of Chevy's full-size offerings. The second-generation model began in 1971 and featured a complete redesign, increasing the size of the vehicle. The bold stylings took inspiration from GM's Cadillac line but on a large body that was hard to ignore.
Providing a great middle-ground in luxury, the Caprice offered comfortable cushioned seats in vinyl or cloth, premium wood grain trim, and plush carpeting. Compared to the more expensive Cadillac sibling, it represented a tremendous value. As such, the Caprice went on to be one of the best-selling vehicles throughout the '70s.
As with the Impala, the Caprice was offered in 2- and 4-door variations that included a hardtop, coupe, sedan, convertible, and station wagon design. Power was handled by various V8 engines, including a 5.7L, 6.6L, and a 7.4L. Both 3- and 4-speed manual or automatic transmissions were offered.
1971-1976 Chevrolet Caprice Price
When we analyzed the prices of 1971 – 1976 Caprice listings on our site, most of them were priced around $29,000 to $39,000. These were "original" cars, restored or maintained in a very well manner.
The top end of the pricing scale included those Caprice's listed between $50,000 to $85,000 with upgraded paint, 28" rims, and redone interior. What you pay for a Caprice will depend on the style you're seeking; a classic, original or a modern, upgraded version.
1955-1957 Chevrolet Bel Air – History and Features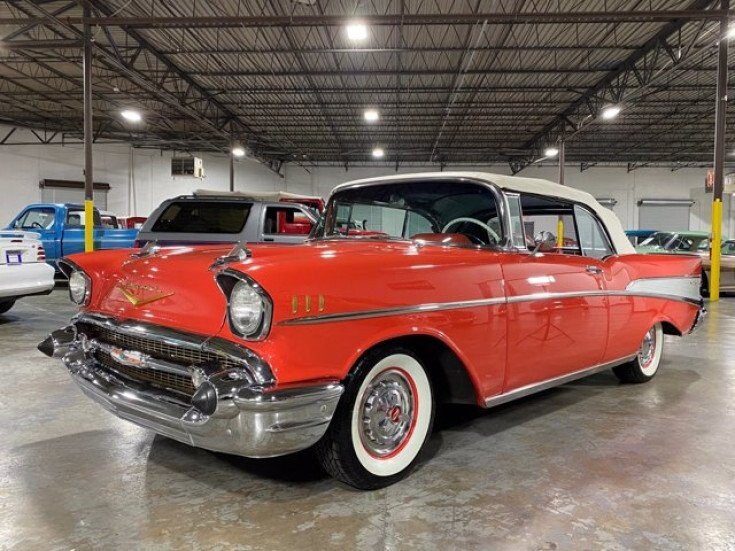 The second-generation Bel Air is considered an automotive icon. When people picture a high-class car from the 50s, the art deco aesthetic of the Bel Air is what comes to mind.
The Bel Air was offered in a variety of body styles that included a hardtop, convertible, and station wagon in both 2- and 4- door variations. Engines included a 3.5L and 3.9L inline-six. For the first time, the Bel Air could be equipped with a V8. Initially, it was offered with a 4.3L making 162 hp before being replaced with a 4.6L version in 1957. A 3-speed manual and a 2- or 3-speed automatic transmission were offered.
The second-gen Bel Air was released to great acclaim, praised for its design, handling, and comfort. With no shortage of chrome, the Bel Air is one of the most recognizable classic cars ever.
1955-1957 Chevrolet Bel Air Price
When we analyzed the prices of 1955 – 1957 Bel Air listings on our site we found the top tier examples were priced between $90,000 to $250,000 but this included several "resto mod" and complete frame off restoration cars.
The middle tier were those vehicles listed in the $35,000 to $75,000 price range and this is where we found the largest number of vehicles being sold. If you're seeking a project car, you'll find plenty of options for $19,000 or less. In terms of body styles, the 2-door coupe and convertibles seemed to have the highest prices with the station wagon versions costing less.
1973-1991 Chevrolet C/K Truck – History and Features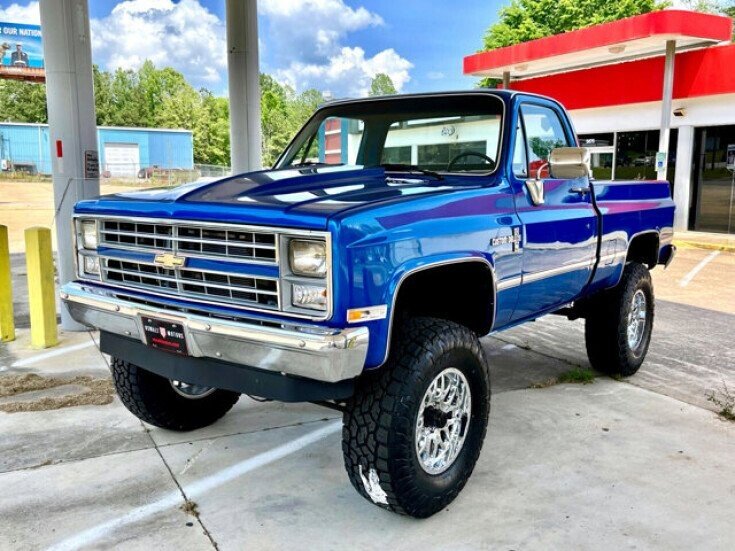 The third generation C/K Truck series was a crucial and successful vehicle for Chevrolet. Known colloquially as the "square body," it is one of the most easily recognizable classic trucks. Ironically, even with bold square lines, the third generation was known internally as the "rounded body" C/K. Despite its looks, this C/K truck design undertook wind tunnel testing to improve its aerodynamics.
This C/K was successful due in part to Chevrolet paying more attention to daily driving characteristics. Pickup trucks were no longer exclusively for farmers hauling around cargo as regular people were drawn to their size and utility. As such, Chevrolet worked to give it a more aerodynamic shape, better handling suspension, and more interior comforts. The interior was offered in wood-grain with chrome trims, while higher trim models even had sound deadening to decrease road noise.
Over its eighteen-year production, the C/K had no shortage of engine options. This included a 4.1L and 4.8L inline-six, a 4.3L V6, along with a 5.0L, 5.7L, 6.2L, 6.6L, and 7.4L V8. Additionally, there were several diesel options within the group. Transmissions included a 3- or 4-speed automatic or manual.
1973-1991 Chevrolet C/K Truck Price
When we analyzed the prices of 1973 – 1987, the last year before the C/K was renamed to the R/V, we found the premium priced C/K Trucks were asking between $70,000 and $95,000. Most of the active C/K Truck listings on our site were priced between $25,000 and $55,000 so if we were buying, we would probably focus on that price range.
A project C/K could probably be purchased for less than $15,000. Many of the C/K's we found had been modified, lowered or with after-market modifications (rims, flame paint job, after market grill, etc.) but some were more original (restored) so the pricing will reflect the style of C/K you're after.
1963-1967 Chevrolet Corvette C2 – History and Features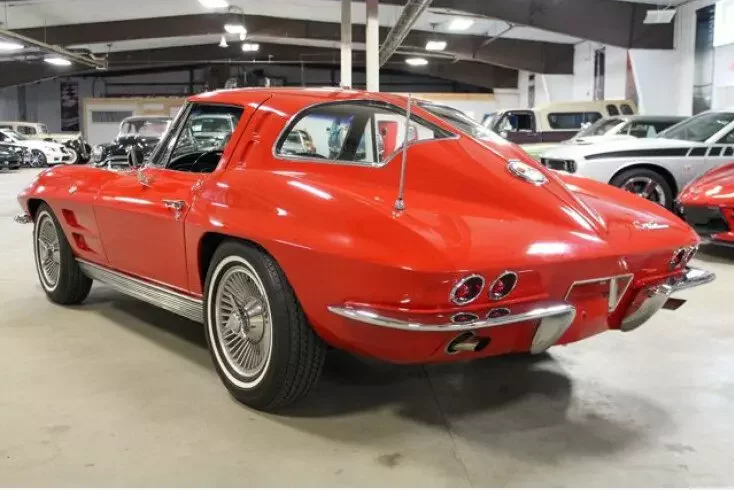 The debate of what the best classic Corvette is will never conclude. Each version of the Corvette was the culmination of work put in by the best at Chevrolet. However, the second-generation Corvette was truly a special car that wouldn't be out of place on either the track or as an art gallery centerpiece.
To this day, the Corvette C2 is considered one of the most beautiful cars ever made. It was the result of a handful of engineers and designers working partly in their own time as the C1 generation ended. Inspiration came from concepts such as the Q Corvette and open-wheel racers such as the CERV I.
The C2 was built with several handling upgrades, such as an independent rear suspension. Additionally, designers pushed both the engine and passengers closer to the middle of the car to achieve a lower center of gravity. Various V8 engines were available, ranging from 5.4L to the 7.0L creating an eye-watering 435 hp and 460 lb-ft of torque. A 3- or 4-speed manual was offered along with a 2-speed automatic.
The holy grail of this generation is undoubtedly the split rear-window model. While it contributed greatly to the design, it was a visibility concern. As such, it was only available with the 1963 model year before being discontinued.
1963-1967 Chevrolet Corvette C2 Price
Looking at only the 1963 – 1967 model years, you can find a C2 Corvette for $50,000 on the low-end but for $75,000 you should be able to buy a decent, original example. If you're seeking a premium tier car, expect to pay between $90,000 to upwards of $175,000.
A Corvette in this year range which has had a complete frame-off restoration could be priced as high as $200,000 to $450,000. In early 2022, a low-mileage 1963 Corvette Z06 split window coupe sold at auction for $1.24 million.
2021 20th Annual All Chevy Stillwater Car Show
The 20th annual all Chevy car show was held in 2021 in Stillwater, Minnesota.
Tips for Buying a Classic Chevy Truck
This video covers the basics about what things to look for before you buy a classic Chevy truck. Some of the insider tips include:
What is the condition of the tail gate and front panels?
Is there rust under the bed side panels?
Are the rocker panels original or have they been replaced?
Can you inspect under the seal plate where the floor meets the door?
Check the bottom condition of each door.
Ensure key body structures are straight.
Published Jun 29th, 2022
More Classic Car News & Article Categories:
Related Articles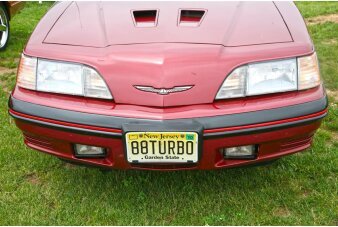 We've picked 11 classics, built between 1965 and 1998 that we feel offer a great blend of style, individuality, performance and some cases,...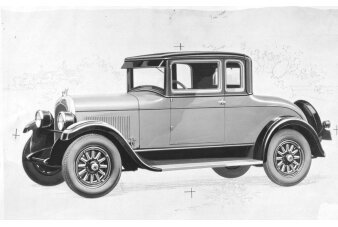 In just a few short years, Walter P. Chrysler took his company from an unknown automotive manufacturer to fourth in the industry, with...
Related American Classic Cars
×
The Best Classic Chevrolets Ever Made