‹ Go back
Barrett-Jackson 2013 Showcases Ford Power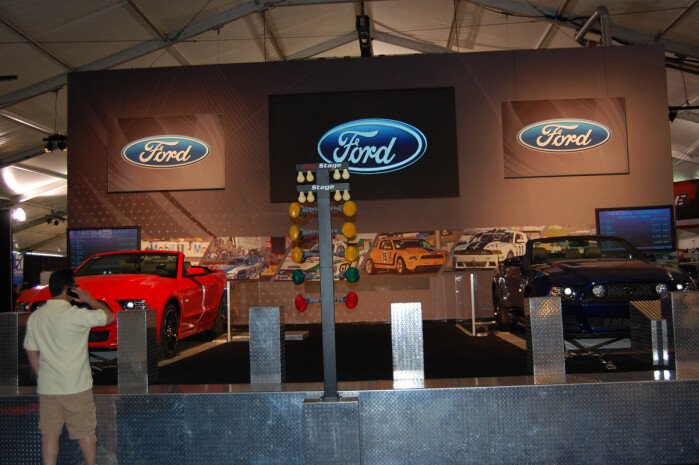 Ford Motor Company and Barrett-Jackson have had a marketing partnership for the last few years. I had the opportunity to meet with Steve Ling, Ford Performance Car Manager, Steve heads up the team who plan and execute the Barrett-Jackson sponsorship. Steve, in addition to being an astute marketing person is also a "car guy" who understands just what the partnership with Barrett-Jackson can bring to both companies.

Steve pointed out that the Barrett-Jackson provides a non stressful environment and an opportunity for Ford to interact with an audience that likes vehicles of all makes, not just Ford products.  

He also stated that Ford learns a lot from asking patrons what they like and dislike about each car, SUV and pickup in the exhibit. The ride and drive he explains gives people, as I found out, an opportunity to drive and experience the latest Ford products.  Barrett-Jackson reports that every year 45% of the audience is first timers at the auction, providing Ford with a source of new people to learn from. It also provides new names from people who want to learn more about Ford products.

When patrons enter the huge Barrett-Jackson Classic Car Auction building in Scottsdale, Arizona each January they are greeted by a large Ford Motor Company exhibit. Here one can examine up close and personal all the latest product offerings from Ford Motor Company. In the center of the large area a group of kiosks where lines of people fill out information and receive a free tee-shirt. On the center stage is a drag race simulator with two 2013 Mustang GTs. Here a person in each Mustang GT can test their reaction times against each other during the simulated drag race. The display also showcases the latest 2013 Shelby GT500 on a turntable. Walking outside the Ford presence is notable at the ride and driver course that is located behind the Shelby American and Ford Racing displays. Every display is staffed by knowledgeable Ford Brand Managers who really know their product.

The Ford ride and drive allows patrons to drive the latest Ford cars from the new 2013 Focus ST to the fire breathing 2013 GT500 and 2013 Boss 302. The course is long enough for drivers to experience just how well balanced these cars are and how they drive in everyday situations, not just on a race course. I had driven both the Boss 302 and GT500 previously and was eager to test drive the Focus ST. The Focus is front wheel drive, but the Ford engineers have eliminated the torque steer usually associated with high performance front wheel drive cars. The Focus ST is fast, handles well and stops on a dime.

Each year Ford Motor Company creates a special charity car for Barrett-Jackson whose sale proceeds go directly to charity. This year, a 2013 Ford Shelby GT500 Cobra, created by Ford, Ford Racing and Shelby American as tribute to automotive icon Carroll Shelby. This one-only GT500 was unveiled by Ford Board of Directors Member, Edsel B. Ford II, Ford Executive Vice President of Global Marketing, Sales and Service, Lincoln and Ford Motor Company Jim Farley and Shelby American President, John Luft at the Rolex Monterey Motorsports Reunion where the Shelby Cobra was the feature marque. The 850 horsepower GT500 sold for $200,000 dollars with the proceeds going to the Juvenile Diabetes Research Fund. 

Ford dealers have also found Barrett-Jackson a great venue to showcase their latest products. Galpin Ford, Van Nuys, California has been Ford's number 1 volume dealer for 23 straight years. Their Galpin Auto Sports Division exhibits each year and General Manager, Steve McCord feels that Barrett-Jackson provides numerous sales qualified people for their high performance cars and trucks. The company's theme is; "If you can dream it, we can build it." McCord has found Galpin Auto Sports has been able to fulfill the dreams of many Barrett-Jackson patrons.

Both Steve Ling and Steve McCord feel that Barrett-Jackson is extremely well organized and that their people are enjoyable to work with. While Barrett –Jackson provides an excellent venue for both Ford Motor Company and Galpin Auto Sports, these companies provide extra added attractions for the auction company.


Want more Ford content? Check out our Ford Enthusiast Headquarters!
Published Dec 7th, 2015
More Classic Car News & Article Categories:
Related Articles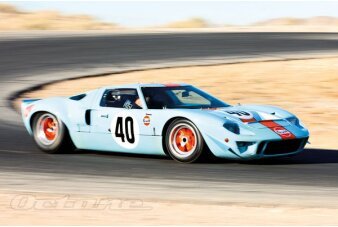 While every factory Ford GT40 is special, some are more special than others.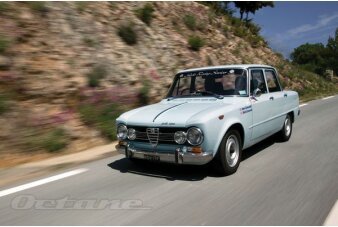 For the Linwoods historic rallying seems to come naturally.
×
Barrett-Jackson 2013 Showcases Ford Power