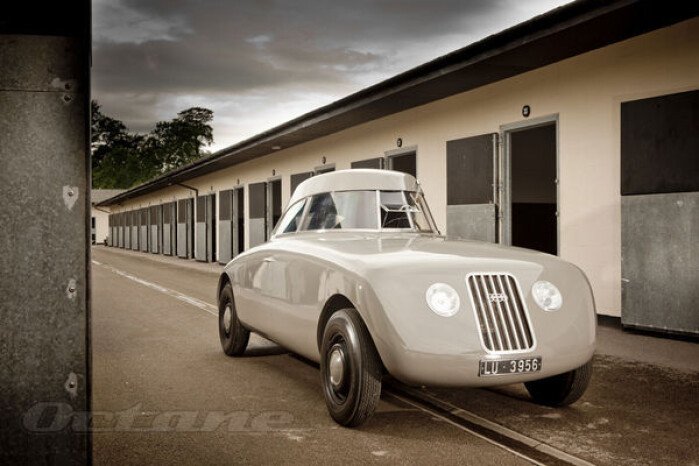 I've clambered through the undersized driver's door into Audi's 'Ugly Duckling', to sit in the instrument-free interior and grasp an oversized wheel. Peering at the road ahead through a slit-like windscreen makes you feel like you're in a World War Two pillbox. This is a modern recreation of a car long-since deceased – a one-off at that – and it's a TV star to boot. But like all TV props, it isn't quite what it seems.

You may be familiar with Audi's television commercial, The Swan. It's an elegantly simple, beautifully shot, 60-second vignette overlaid by Danny Kaye's song The Ugly Duckling, depicting how a pre-war Audi streamliner prototype transforms into today's A5 Coupe. It's a powerful message which Audi's famed ad agency Bartle Bogle Hegarty (BBH) created after researching its client's history – yet we can't help but admire the stark, simple little duckling. And just in case you haven't heard of BBH, it's the agency that revitalised Audi's 1972 tagline Vorsprung Durch Technik (it translates as 'progress through technology').

The origins of Audi's (not-so) ugly duckling 
are intertwined with the formative years of aerodynamic automotive design. Its designer, Pal Jaray (or Paul Jaray to anglophones), is actually best known for patenting the principles of automotive aerodynamics, and their application to coachbuilt bodies. The Hungarian engineer studied at Maschinenbauschule in Vienna, worked at the Prague Technical University, became chief engineer for the aircraft manufacturer Flugzeugbau, then moved on to Luftschiffbau Zeppelin (LZ), where he oversaw aerodynamic work on future airship designs, finally penning the LZ-120 Bodensee. An epochal design, it became the vehicle of choice for the world's first passenger airline, and the subsequent LZ-127 Graf Zeppelin, LZ-129 Hindenburg and LZ-130 were closely based on Jaray's original.

Yet Jaray's interest in aerodynamics was such that he wanted to experiment with them for cars too. Even before the 1920s he was thinking about applying streamlining principles to them. And in 1922 he filed a patent for a motor vehicle body that had been shaped in the wind tunnel. Early the following year, the first full-sized incarnation of his prescient thinking was unveiled, the Ley T6. Developed in the LZ wind tunnel, the T6 looked bizarrely tall and narrow, but it proved that cars were capable of being both aerodynamic and functional.

Jaray moved to Brunnen in Switzerland to work full-time on car design. Following the T6, he designed car bodies for Chrysler, Mercedes-Benz, Maybach, Apollo, Dixi, Audi, Adler, Jawa, Ford and Steyer. By 1927 the business was really taking off, and Jaray founded his own design consultancy Stromlinien Karosserie Gesellschaft.

Yet despite a flurry of publicity, and interest from a number of manufacturers, large-scale production wasn't forthcoming. Manufacturing costs and customer resistance to what were seen as highly unconventional cars were the main factors – the world just wasn't ready to 
understand the benefits that aerodynamicism could bring to motoring during the 1920s.

Although Audi passed on its opportunity to build Jaray's vision for the future, Czech manufacturer Tatra grabbed the opportunity to do something different. The company's design department, headed by Hans Ledwinka, worked with Jaray on the ill-fated V570 prototype (which clearly influenced the KdF-wagen of Ferdinand Porsche and Adolf Hitler) before moving on to the larger and much more luxurious T77. This car's rear-engined layout and lavish dimensions lent themselves beautifully to Jaray's long-tailed, cigar-shaped vision of the future.

The Tatra T77, described by contemporary advertising literature as la voiture elegante and probably the ultimate expression of Jaray's motoring art, actually made it into production. And it's the closest relative of what Audi now calls its 'ugly duckling'.

Despite an advertising campaign that suggests the Jaray-bodied 1933-35 Audi prototype looked, well, challenging, when the modern recreation backs slowly out of Audi's transporter, it's actually Tatra's promotional tagline that springs to mind rather than Danny Kaye's annoying ditty.

It was built especially for the commercial in double-quick time. 'We had to recreate the car, as the original doesn't exist anymore,' says BBH's creative director Ian Heartfield. 'Martin Pac, who made it for us in just six weeks, is brilliant, and actually constructed it in the way the original was made, as a full-form 3D model.'

Martin himself adds: 'It was very nice to see the old pictures, because when we saw it first, it was very small and high. I thought, it's not a car, but some kind of joke. You feel it's something like a statue, and now it's a working car.'

To recreate the Jaray car in six weeks is some achievement – more so when you consider that Pac's team had just three photos and a couple of blueprints to work from. Back in 1935, Audi's newly formed parent company Auto Union (which also comprised DKW, Horch and Wanderer) may have rejected the prototype as being unsuitable for production, but today, with the benefit of more than 75 years hindsight, it's difficult to avoid coming to the conclusion that the forward-thinking manufacturer missed a trick.

Audi's attention was elsewhere, though. While Auto Union was deliberating over the Jaray prototype, the 1933 Audi Front UW 220 was launched as Europe's first six-cylinder front-wheel-drive car, and carved a niche with Germany's middle classes. In the same year, Auto Union began developing its world-beating Silver Arrows racing cars, initially with Ferdinand Porsche. As well as joining Mercedes-Benz to dominate Grand Prix racing, the Auto Union Types C and D also took state-of-the-art streamlining to extremes, the former posting speeds of well over 200mph on the track.

And you can certainly see the family relationship between the pudding-shaped Jaray recreation and the Silver Arrows racers – both of which ooze Bauhaus starkness. But walk around Audi's recreation and, in many ways, it impresses even more deeply than its sporting cousins. Okay, so the flat front with inset headlamps and a simple rectangular grille has more than a whiff of koala about it – but from there back, this swoopy car (there's not a straight line anywhere) could easily be a product of the 1960s, not the '30s.

The gently curved flanks, lacking any fussy feature lines, converge to a tapering rear, which – if it had an opening – would contain a fair-sized luggage area. The high roofline also promises masses of headroom, even if it resembles a lumpy fez atop the slim, wraparound glasshouse. However, the Audi's most startling styling feature is reserved for the rear. It's a shark fin that splits the rear window in two, and which Jaray himself insisted improved directional stability.

Despite the fact that there's an unidentified – modern – drivetrain underneath the fiberglass body, I'm still fascinated to see how this Audi drives. Clambering in through the driver's door takes practice: the opening is narrow, and the driver's seat is mounted too far forward. You have to insert your right leg into the footwell, then hop your rear onto the seat, and shuffle into position. Dignified it isn't.

The initial impression is slightly claustrophobic. There's room for two and a tall driver could wear a hat and not trouble the rooflining, but the tiny split rear screen and slit-like windscreen and side windows make this cabin feel like a coalbunker with its door left open a crack. Given the airy interiors that most contemporary cars had, Jaray's creation must have been quite a shock.

Firing up the surprisingly vintage-sounding engine and hooking the crooked lever into gear is simple enough, and driving away is as easy as you'd expect of a film prop. But get up to speed on narrow lanes and the modernity of this car's streamlined body design becomes apparent – forget the drivetrain; it's the lack of wind noise that is most noticeable. Ventilation is afforded by propping open a small window directly ahead yet the aero refinement is quite startling, despite the rush of cold air hitting you between the eyes. The other hint of modernity is the view over the bonnet; without separate wings it looks distinctly post-war through the windscreen.

Whether the Jaray-Audi would have sold in any numbers is open to conjecture, but what we do know is that lessons learnt from it weren't completely forgotten. After World War Two, Auto Union's DKW produced a string of streamlined front-wheel-drive saloons, starting with 1949's Beetle-like F9 and culminating in the 3=6 Sonderklasse (see last issue), produced until 1959. All of these cars featured styling cues first seen in Jaray's cars and then perfected by both Tatra and Volkswagen through the 1930s and '40s.

However, as the 1960s progressed, DKWs became boxier and more grown-up and turned into Audis. And it wasn't until 1982 – via the visionary (if doomed) NSU Ro80 – that Audi went overtly aerodynamic again, with the C3-generation Audi 100. Of course, some earlier cars such as the pretty 100S Coupe had been tweaked in the wind tunnel, but their shapes were no longer dictated by it per se.

By the 1980s streamlining was an exact science, and no longer were the tapered rear end and wraparound screen of old needed for a sub-0.30 drag coefficient. Yet look at that Audi 100 and those unmistakable barrel-sides and cigar-shape are clearly evident. Design commentator and Octane columnist Stephen Bayley says of it: 'The 100, with its confident sheer surfaces and overt functional intelligence, established an Audi design language that lasted a quarter of a century.'

Today, 30 years on, the marketeers no longer feel the need to talk about vehicle aerodynamics – all cars just feature it by design; it's as integral as the engine and wheels. But after years of silence, Audi felt its streamlining heritage was important enough an issue to signal on TV, even if it was done in the name of aesthetics rather than technology. The current A5's drag coefficient is 0.29 – not much less than the '82 100's and, according to popular myth, some way behind the Tatra T77. But it's slippery enough.

Paul Jaray would be proud that his aerodynamic legacy has remained intact. His cars – considered gawky in their day – were prescient, and influential on the future of design. We just wish Audi hadn't chosen that tune to sell the message on TV. Ugly duckling? No way!
Published Dec 7th, 2015
More Classic Car News & Article Categories:
Related Articles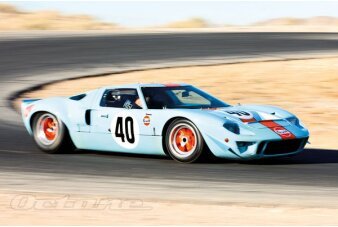 While every factory Ford GT40 is special, some are more special than others.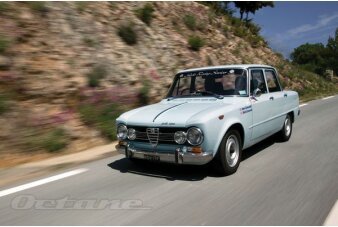 For the Linwoods historic rallying seems to come naturally.
×
Audi Streamliner Prototype