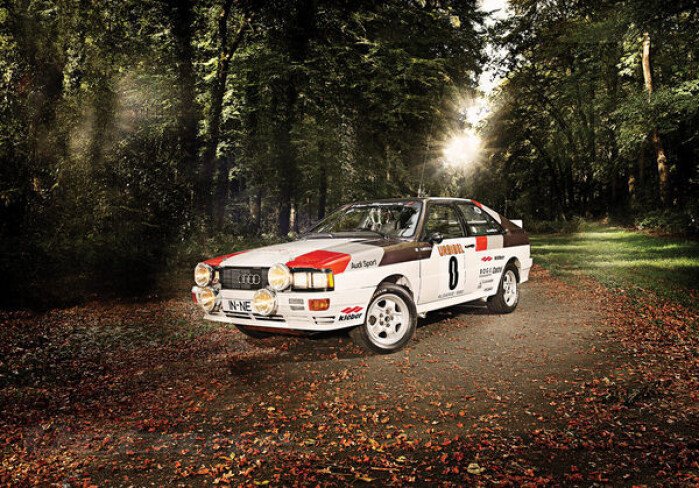 The first quattro rally car changed the face of competition. That was 31 years ago in Portugal, and… 'At that moment, we knew we had a winner,' says Hannu Mikkola. And he'd know: 31 years ago, he'd just completed back-to-back testing in his native Finland against a Group 4 Ford Escort Mk2 – the hottest ticket thus far and a car with which he was very familiar – driving the world's first turbocharged, all-wheel-drive rally car.

IN-NE 3 is the car that changed the sport. It might not look radical now, but it rocked the rally world when, unable to compete in the 1980 Algarve Rally before homologation, Audi ran it as course car for the Finn, to see what the revolutionary contender would do in a real rally environment. Had their times counted, Mikkola would have won the rally outright, by more than 30 minutes – an astonishing margin even in the Group 4 days, when cars were separated by seconds. He reeled it in a bit to let Porsches win some of the stages, but was still fastest on 24 of the 30 over five days and 1430km. The car wears its zero proudly today. As Mark Donaldson, who's brokering it for sale, puts it: 'The two-wheel-drive teams must have looked at this and gone "We're stuffed!"'

The quattro was homologated in January 1981 (certificate no 671, interestingly specifying the trunk lid as steel, but with lots of 'factory options' to come later) and its first win was on the Castrol Janner Rally in Austria, where Franz Wittman won by 20 minutes. The first big win that mattered was on the 1981 Swedish Rally in February, two minutes ahead of eventual Championship winner Ari Vatanen's (privateer) Escort RS1800, and Mikkola is on record as saying at the press conference afterwards: 'Someone asked whether I only won the rally because of the car I was driving. Unfortunately the answer is yes!'

That was its first World Rally Championship win. It had shown its pace before retirement on the Rallye Monte Carlo two weeks before, another round where there is guaranteed to be snow. IN-NE 3 was Michèle Mouton's practice car for the Monte, and you bet she wishes she'd used it instead, but in 1984, quattros were 1-2-3 in the Alpes-Maritimes.

Until the '80s, if you followed a normal rally car through a stage, you'd see just two tire marks on the road. The quattro left four, as it hurled stones from each tire: very peculiar. And that's all the other competitors saw of the flying Finn on the European-Championship Algarve rally. By that time, Mikkola and Hertz had completed about 1000km of testing in Portugal, and Audi's technical co-ordinator Freddy Kottulinksy had also put thousands of kilometers on quattros since 1980.

Right after that, Mikkola said (in an interview with Chris Drake in Rallysport): 'It is not a sideways car like the Escort – when the wheels slide, all four of them slide, sort of like understeer and oversteer at the same time. I am still developing the car and my driving too. The quattro feels like a front-wheel-drive car in most situations. I drive slower into corners and straighter but faster out of them. The car is very good in straight lines, so you must make the straights as long as possible.' All that would change, of course… though Mikkola admitted he was already using left-foot braking – and predicted that the Renault 5 turbo would be the main competition in 1981.

It wasn't that four-wheel drive wasn't allowed in rallies – it had been since a rule-change in 1979, just that nobody had thought of it before, and a Range Rover was never going to be competitive against the lightweight rear-drive Escorts, Chevettes, Asconas and, later, more specialized kit such as Lancia 037s. But when Audi achieved the masterstroke of stuffing four-wheel-drive Iltis off-roader running gear into an 80 saloon, just as an experiment to see how 
it could cope with icy Bavarian and Austrian winters, the knock-on effect was to change the rallying world forever.

Four-wheel drive could put the power down better on all but the most perfect surfaces – and there aren't many of those in rallying – from the ice of the Monte, to the gravel of Wales and 
the plains of Kenya. Soon every manufacturer had four-wheel-drive prototypes designed, built and pressed into service. The strange thing is that, though the quattro looked ever more prototypical though its six-year career, it was always related to the roadgoing saloon.

Wild paint job aside, IN-NE 3 doesn't look much different from that road car. OK, there's a little negative camber at the front, maybe a tad more ride height, but the bodywork is near-standard and it rides on the same Fuchs alloys as the first production quattros.

Climb underneath and things start to get more interesting. This car bears the fingerprints of a team feeling its way, making it up as it went along, advancing over new ground. The shell is mostly seam-welded and the chassis rails are extended rearwards to the back of the floorpan, growing crude outrigger jacking points; fairly standard stuff. But the rear subframe mounts are capped, both to strengthen them and provide a little more clearance – you can imagine the faithful minions with their gas-axes and torches adding metal until it looked right.

The exhaust is tunnelled, something the factory denied it ever did – until presented with a photograph showing the evidence taken as the car was being built. The chassis rails on this car are notched and relieved to provide more driveshaft clearance, a later modification. The subframes and wishbones are seam-welded, and the outer joints changed for massive rose joints that, as well as adding strength, allow for some adjustment. The rear wishbones are further located fore and aft by radius arms mounted to extra frame tubes, features the road cars never had.

At the front, there are two extra crossmembers, one running around the front of the motor and one under, tied back to the rollcage by more alloy tubes, clamping down on the strut towers by massive elephants' feet bearers. You could probably cut most of 
the shell off and the rest of the car would 
stay exactly where it was. The doors, hood 
and front wings are aluminium, later homologation additions along with that plastic boot, which on this car is a pre-production part stamped 1979, and the sump and diff shields are thick, ribbed composite.

Inside, apart from the accessory-store quick-release dash, it looks alarmingly standard. There's a 200km/h speedo and 10,000rpm tachometer (with the tell-tale at seven-five…), fuel, oil and boost pressure, oil and water temperature dials by VDO. There are none of the hydraulic rams to crush your feet as on the crude auto-clutches of later 
cars, just a better gear linkage and the steel footbraces that mark out the early ones. The tools sit in a bag clipped to the rear bulkhead, a carry-over from Escort practice that Mikkola insisted on. The fuel injection brains live under the dash, next to the ignition coil.

Ah yes, the fuel injection. Early rally cars ran Pierburg injection, which basically means the car either starts or it doesn't. 'We call it the voodoo pump,' says owner John Hanlon, one of the few people who has been able to run one of these cars outside captivity. It's a six-plunger pump with one port blanked off, and a variable mechanical linkage to set 
the volume. Think simultaneous equations performed as a duet on slide rule and the Enigma machine and you're getting near: 'Unless it's got 10bar of pressure on the gauge it's not going to start,' says Hanlon. 'You get attuned to listening for the specific pitch it makes when it's ready, sort of a wheeee-ooww, and you have to catch it quick.'

As it happens, this one does start repeatedly during the day, every time building up to its malevolent off-kilter howl (and yes, it pops on the over-run, and even ticks over, as it returns, jiggling on its high, stiff suspension), which is handy when you're running at the Goodwood Festival of Speed, where it has appeared twice, driven by its original hero Mikkola. In this 
spec, 0-60mph passes in around five seconds, 0-100mph in under 13 – about as quick as a Cobra. But not today, as the brakes aren't up to scratch… Take it from the owner: 'They can be a bitch on tarmac, but great fun on knobblies – it's sideways everywhere.'

Mechanically, it's nowhere near as wild as the ultimate 600bhp S1s (Hanlon has two of those, plus an E2) or the bewinged Pikes Peak record-breakers, having around 300bhp and a locked central diff. The iron-block 'five' has extra heat treatment of its forged steel crank, and dry-sump lubrication; there's a KKK turbocharger with enlarged air-to-air intercooler with 1.6bar wastegate-controlled maximum boost. Ignition is by Hitachi, later Bosch. The cam timing is unspecified, but inlet valve size went up from the production 38.2mm to 41.1mm, exhaust from 33.3mm to 35.2mm.

Everywhere you look, thoughtful touches abound. The motor, running a Polo-sized radiator, breathes from an inlet placed far back on the scuttle, where flood water from deep-fording can't get to it, and the Kevlar intake trunking has hooks and eyes to stop turbo pressure or blowbacks from parting the joints – all in the name of preventing the car 
from stopping on stages. The engine and transmission have their own mounts so the whole subframe and suspension can be dropped off without disturbing the driveline, and, equally, the exhaust is mounted via 
quick-release pins.

On this car, the power steering pump runs off the back of the camshaft. Unlike the later cars, which were crammed with a mass of radiators in the back, this one has three modest oil coolers under the spoiler on the top of the plastic trunk lid (very hand-done welding is still evident on the joints), and a square oil tank – a bad idea, and the factory soon learned to use round ones that helped prevent foaming. There's one of the first uses of a composite fuel tank, too, a Kleber rubber item with foam 
filling in this case.

Incredibly, this very important car was discovered languishing in Audi's UK storage facility in 2000. After a career as a test mule, and then a second life as a rallycross competitor in Ireland with wide wings (from where Audi UK had bought it), the car was looking sorry for itself, with the engine in the boot and various body plastics piled up on top of it. Arch quattro hunter Hanlon heard about it and wouldn't let up until it was his, but as one of the most important – perhaps the most important – rally cars of all time, there was no question about whether it would be restored meticulously back to its original form.

'Luckily the fingerprints were all over it,' says Hanlon, 'and it would pass any X-ray or forensic test.' Some of the welding is, frankly, a bit rough, but it's been left as it was. The story 
is that Hanlon's body man worked for 13 months on this car, really getting into the concept of preserving originality. When he was done, he retrained as a plumber. 'How can I go back to bolting wings onto Mondeos after that?' he said. Much of the outer panelling was replaced, and Hanlon was lucky enough to find a pair of aluminium front wings, doors and hood at the factory.

It seems incredible that Audi didn't know what it had – but then, after years of 
rallycrossing, everything was covered in thick layers of yellow paint. Hanlon was keeping quiet until he'd got it out of the building.

'I wanted it because it was the earliest quattro I'd seen – I like first, last and winners!' Then 'R6' was found on one of the front reinforcing struts… 'The body has a special prototype number 00005 – and when you find that, you go "oooh".'

Hanlon is clearly passionate about his 'first' quattro. So why is it for sale? 'I've done what I wanted with it – I can't use it and thrash it, and it'll always be preserved. It was the first thumbprint. It's safe with me but it wants to go somewhere it can be seen and adored, not stuck in a workshop. If they hadn't had that Algarve run in IN-NE 3, there wouldn't have been an '87 Pikes Peak quattro.'

Simple as that.
Thanks to Mark Donaldson, who is brokering the sale of the Audi, www.markdonaldson.com.

SPECIFICATIONS
1980 Audi quattro prototype
Engine 2144cc five-cylinder, SOHC, Pierburg DVG mechanical fuel injection, KKK turbocharger
Power 320bhp @ 6500rpm
Torque 3041b ft @ 3250rpm
Transmission Five-speed manual, four-wheel drive, 50:50 torque split, ZR rear limited-slip differential (75%), Fichtel and Sachs competition single-plate clutch
Steering Rack and pinion, hydraulically assisted
Suspension Front and rear: spring struts, lower wishbones, Boge dampers
Brakes Vented discs, alloy calipers, twin master cylinders, adjustable front/rear bias
Weight 1240kg
Performance Top speed 108-158mph. 0-62mph 4.9-5.2sec (depending on gearing)
Hannu Mikkola on this quattro – and that rally…

Mikkola showed off the quattro for the first time on the 1980 Algarve rally – with spectacular results.
'We were confident,' he says today, 'but you never know in a rally what happens. We did a lot of testing in Finland, but there were problems with the handling. I couldn't extract the maximum potential from the car on the narrow stages but on the open stages, it was incredible – so very fast! It turned out that the front struts were flexing 
and that made the quattro unpredictable in the corners, 
so we had to find a way to strengthen the front suspension to prevent the struts from moving under rally conditions, you know, to make it turn properly! It was modified for the Algarve rally and then we finally had something that handled.

'In Finland, I had to leave [development engineer] Freddy Kottulinsky to carry on testing for one more day and unfortunately he rolled our test car. My technique for driving was always to left-foot brake 
to make it work, but that was 
a system I had to develop by myself. On the first stage of the Algarve, I was over one minute faster on the same section than 
I had been on the previous year in an Escort. I remember it exactly: the first stage was approximately 15km long and it was all uphill including hairpins. The quattro was incredibly fast there. I knew then that we had a car that was going to win rallies.

'There was no strategy, we just agreed that the purpose 
was to show the full potential 
of four-wheel drive with turbo, Audi's new concept. We wanted to make a genuine evaluation. Audi was trying to persuade Walter Rohrl to drive for them and so they sent him all of the data and stage times – we kept nothing secret. But Walter didn't dare to join.'

Less widely known is the story behind the early testing of the quattro. Freddy Kottulinsky was instrumental in that, and so was a Group 4 Escort bought on the quiet…

'We secretly bought an Escort from David Sutton to take to Finland and other places to do back-to-back testing against the new quattro; that's when 
I knew how much faster I could be with this new system. It was amazing to see the times that we achieved on the stages with this first quattro, but that does not mean it was easy to drive. We had a hell of a lot of lag on the turbo engine and I wasn't so familiar with left-foot braking.'

The quattro still impresses today. 'Just last week I completed Rally San Marino 
in an A2 quattro with a factory mechanic who I was with in the Algarve in '80. He's retiring soon, so it's interesting that he did his first and last rally with me and the quattro. I was still surprised about how much lag you have on the car – but still 
it was very good, once more!

'We did the first night on serial tires, but the next day we changed to slicks and actually it went very fast. But it again was difficult – you always have to put first gear in for the hairpins and you can't pull more than 2-3 seconds, and then you have to put second gear in and it doesn't pull really well there!

'These cars are still incredibly fast, and it's amazing how they keep everyone's interest and people are interested in that period of time – there are still 
so many fans who want to have pictures. It's so long ago, yet they still are coming to see 
these cars.' 
Published Dec 7th, 2015
More Classic Car News & Article Categories:
Related Articles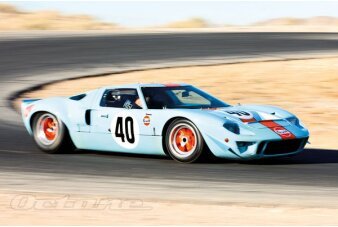 While every factory Ford GT40 is special, some are more special than others.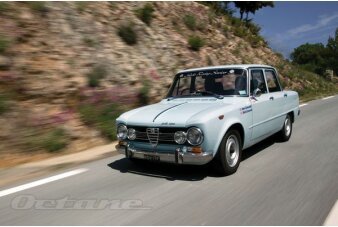 For the Linwoods historic rallying seems to come naturally.
×
Audi's All Wheel Drive Gamble