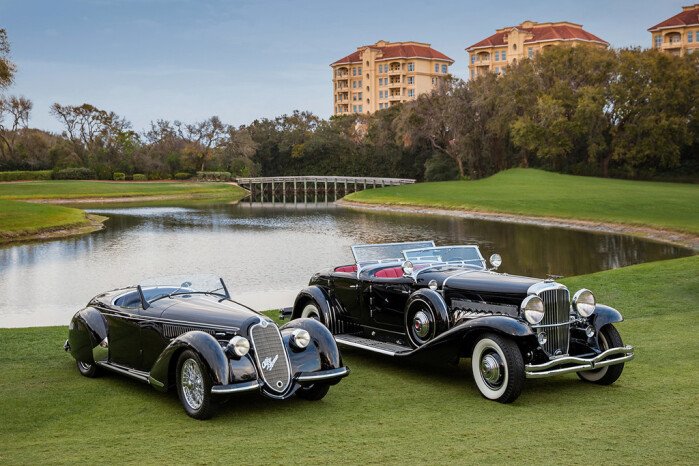 Author: Larry Printz
It was a different sort of year for the 2017 Amelia Island Concours d'Elegance, with forecasts calling for a 100 percent chance of rain on show day. So Concours founder and chairman Bill Warner moved the show from Sunday, its usual day, to Saturday.
And while the move was an usual one, when the judges' votes were tallied, the best-in-show choices proved to be anything but unusual. (Unlike most concours, where a single vehicle is awarded best in show, Amelia Island awards two "Best in Show" awards: one for road cars, the other for race cars.)
The 2017 Amelia Island Concours d'Elegance Best in Show was awarded to a 1935 Duesenberg Model SJ-582 owned by Terence Adderley of Bloomfield Hills, Mich. The dual-cowl phaeton sports coachwork designed by legendary designer Gordon Buehrig and built by the A. J. Walker Co.
Under its long hood resides the Duesenberg's celebrated supercharged 420 cubic-inch overhead cam engine, which generates 320 horsepower. The car's original owner, E.L. King of Winona, Wisconsin, was unhappy with its performance and sent the car back to Duesenberg, where the torpedo phaeton body was fitted, and its inline 8-cylinder engine was upgraded with a supercharger.
The other Best in Show, the Concours de Sport, was won by a 1939 Alfa Romeo 8C 2900B Lungo Spider from the Dano Davis Collection of Jacksonville, Fla. A mere 12 Touring Spiders were built, and this is one of seven constructed using the long chassis. The car's history is unknown until 1949, when it was raced in Sao Paulo, Brazil, disappearing a year later and not seen again for four decades, when it began its journey back to restoration.
Held on the grounds of the Ritz Carlton, the 2017 Amelia Island Concours started off with the roar of a Lola T332 racecar entering the field, driven by four-time Indianapolis 500 winner Al Unser, Sr., whose race cars were displayed on the show field. And as the show opened and spectators streamed onto the field, the change in date had little effect on the show, with everything proceeding as if nothing were amiss.
The Amelia Island Concours d'Elegance is the largest concours on the East Coast and is considered among the top in the country, alongside the Pebble Beach Concours d'Elegance.
The annual show, held the second weekend of March, attracts more than 300 of the finest cars from around the world. Proceeds from the show benefit Community Hospice of Northeast Florida, Spina Bifida of Jacksonville, The Navy-Marine Corps Relief Society, Shop with Cops, and Micah's Place, a certified domestic violence center.
Photo courtesy of DeremerStudios.com
Published Mar 17th, 2017
More Classic Car News & Article Categories:
Related Articles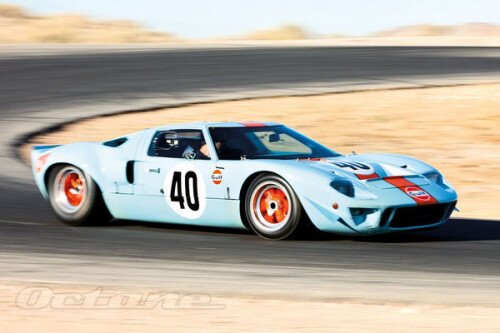 While every factory Ford GT40 is special, some are more special than others.
Advertisement
×
Amelia Island Concours D'Elegance Winners Prove To Be No Surprise