‹ Go back
Alfa Romeo Giulia Super Goes On Tour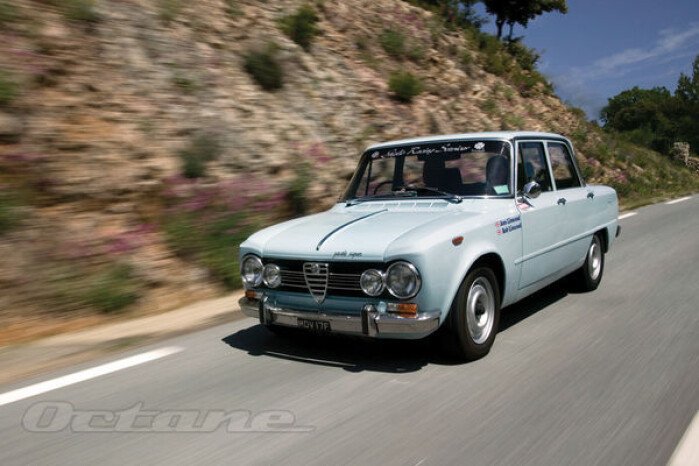 Something interesting is always happening when you visit the Linwood household in Provence. Bob scavenged an old wiper motor and made himself a quite handy rotisserie for the grill by the pool. Ann has a rescue project going, too – Ty the cat has been joined by New Ty, who wandered through the front gate barely clinging to that ninth life, but under Ann's tutelage is making a full and smug recovery. Still prefers to watch photographer Martyn and me disdainfully and from a distance, though. And, oh yes, Bob and Ann won regularity honours in the Tour de France. For the third year in a row.
I am, of course, referring to the automotive version, better known these days as the Tour Auto – but, from its origins in 1899 to its demise in 1986, usually called the Tour de France Automobile. Or, as sometimes applied to the famous model honouring Ferrari's victories therein, simply the TdF. In the glory days it was a 3000-mile, country-wide rally, with hillclimbs, track sessions and the odd drag race thrown in – and was as prominent on the sports car schedule as Le Mans or the Targa Florio. Revived in 1992 as a historic rally, and for reasons judicial now titled simply the Tour Auto, it still has those other bits and ranks on par with the Mille Miglia as a Highlight of the International Season.
Lots of people would be happy merely making the field (almost half of the applicants don't); winning three times on the trot is fairly impressive stuff. Especially when combined with two consecutive victories in the Spanish equivalent, the Tour de España, as well as a string of class podiums in other high-profile historic road rallies. In an era when the idea of sporting amateurism is almost extinct, when even a Sunday afternoon car club autotest seems to require a 50-foot support lorry and a full-time staff of six, it's also quite nice to see success go to a couple who approach rallying more as an enjoyable hobby.
'We first started regularity rallying in 1999,' Bob says, 'as something we could do together, and our original ambition was only to be accepted for the Tour Auto. We made it in 2001… and actually, on that try we finished seventh…'
The 'amateur' sobriquet, understand, isn't to imply the Linwoods don't take their motor sport seriously; they're both as single-minded as any competitors you'll ever see, anywhere. Bob Linwood is the proverbial racer's racer. He got into motor sport in the 1960s, mostly with the HSCC, the BARC and Porsche Club GB, and has more than a fair share of lap records and championships to his credit. He is four-times Alfa Club GB international champion driver, and was once an RAF pilot to boot.
Ann is a veterinarian; before she and Bob took early retirement in France she held national-level responsibilities at the Ministry of Agriculture, and she's a former competition horsewoman. They devote full energy to everything they do – they just don't indulge in a lot of pomp and circumstance on the periphery.
Ann's hi-tech navigational tools, for example, consist of a pair of hand-held stopwatches and a clipboard, no matter if a particular event does happen to allow laptops and GPS. She says 'I wouldn't know what to do with those things if I had them,' but I think she relishes the challenge. The very first time she navigated a rally they finished first in class, second overall. A couple of years ago they made a rare mistake and left the timing equipment in the hotel. Ann commandeered Bob's wristwatch and co-ordinated the stage off the sweep-second hand: they won it.
Furthermore, Bob does much of the car prep and maintenance himself at home. Again, I reckon, it's mainly because he likes the challenge of making things perfect. (When the Linwoods restored their Maserati Ghibli, they saved the most finicky, frustrating part to do themselves: the interior.) Bob's cars are always immaculate and, while they've also competed in the Maserati and their Porsches, most of the tinware, glassware, ribbons, plaques and other awards overflowing the house were accumulated with equally pristine but decidedly more understated machinery.
Not long after their first event together, Bob bought a standard road-going 1968 Alfa Romeo Giulia Super, and had it restored by Classicarco in Manchester and brought up to period rally specs.
In the company of the various Ferraris, Aston Martins and Porsche GTs that typically dominate the Tour Auto top ten, a tall, square, four-door saloon might seem a tiny bit incongruous, but not after you've driven it. A Giulia Super is one of the outstanding Q-ships of its age; reasonably quick, eager as an Alfa sports car but, more importantly for regularity rallies, totally stable and predictable.
We spend a pleasant afternoon tossing it around the French countryside for Martyn's camera, Bob and I swapping the wheel like two duffers on the practice green trying out the same putter. Except that it soon became obvious which of us was the duffer; Bob drove the car hard but smooth and always smart, and I don't believe there was ever a time when another road user was inconvenienced or endangered no matter what. And somewhere toward the end of the day I remembered another ground rule of the true amateur that the best ones don't even realise they're following: it isn't polite to let on it's awfully difficult.
Early in the evening, back at the house, bags packed, cats petted, and time to move on, we do discover there's been one casualty of the occasion: Martyn's sunglasses are broken. 'Hey,' Ann says to Bob, 'Why don't you get him a pair of those Serengetis?' 'Good idea,' says Bob, and above all Martyn's tut-tutting he insists, 'Come on, come on, we've got extras, they give out things like that when you win a special.' He leads us to the hallway cupboard and opens a big main drawer, which is neatly stacked with commemorative award bootie: posh fountain pens, cutting-edge sunglasses, designer accessories; side-to-side, front-to-back, and full to the top. 'Please, go ahead, and Dale, would you like a pair, too?'
Plus a change…
Although the Alfa has reached the status of old family friend, Bob is still proud of actually taking three Tour Auto regularity wins in three different cars: the Alfa, this year's 911 Carrera RS and, in 2007, the most different of the lot: a £900 Citroën SM bought off American eBay.
The entry was the brainchild of British SM guru Andrew Brodie, and basically came about because the purchase was unexpectedly too good to break for spares. Why not, he thought, just rally the damn thing? And who better to drive it for him than the Linwoods?
On a budget that wouldn't fund a decent racing kart, and with no rallying experience whatsoever, Andrew built the SM into an attractive, capable and completely unique rally car; the Tour organisers accepted it straightaway (it is, after all, French), and Bob and Ann took it from there. They spent four of the event's five days at the top of the leader board, and finished a healthy 18 seconds ahead of the second-placed Porsche. It didn't look difficult at all.
Published Dec 7th, 2015
More Classic Car News & Article Categories:
Related Articles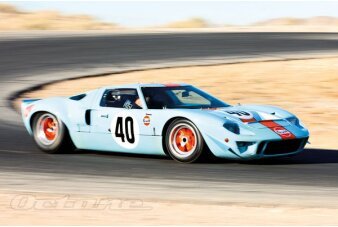 While every factory Ford GT40 is special, some are more special than others.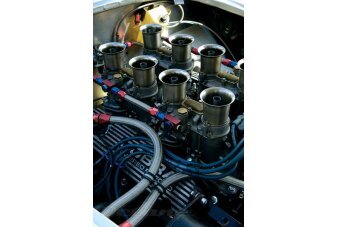 Taking the guessing game out of carb maintenance.
×
Alfa Romeo Giulia Super Goes On Tour