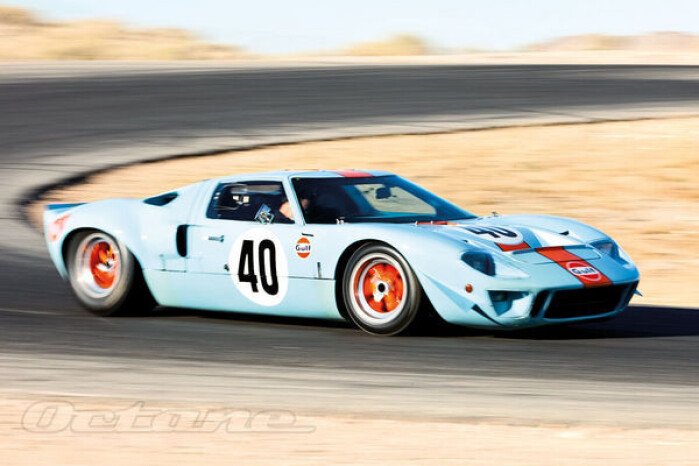 The dazzling example featured here, chassis GT40P/1074, earns bonus points for at least three reasons.

The first is that it was the first car to win a major race wearing the now iconic Gulf orange-and-blue racing livery. Another is that it
was a member of the trio of GT40s run by legendary team owner, race entrant and team manager John Wyer; those GT40s are chassis 1074, 1075 and 1076 – the last of these famous for becoming the first individual car to win Le Mans back to back. It won in 1968 with Lucien Bianchi and Pedro Rodriguez aboard, and in 1969 with Jacky Ickx and Jackie Oliver sharing the wheel; Ickx took the flag after a breathtaking last-lap duel with Hans Herrmann in a Porsche, vying for that marque's first overall Le Mans victory, which inevitably came a year later. 

And if all this isn't enough to make a car a star, add to that a stint under the stewardship of Steve McQueen. After an impressive racing career, 1074 was sold out of the John Wyer Associates' team stable and leased to McQueen's Solar Productions for use as a high-speed camera car for the filming of his magnum opus motor sport epic, Le Mans. More on that in a bit.

Although it is dubbed and specced a proper 1968-model GT40, 1074 was actually constructed during 1967, and first raced that year as well. Its bodywork and specification are pure evolutionary 'first generation' small-block V8-powered GT40. It wasn't constructed as, nor ever raced as, a big-block 427-powered car. It wears some of the mechanical and aerodynamic development bits of the big-block GT Mark 2B, but isn't to be properly considered one of them. The engine is a 289ci Ford 'Fairlane' small-block V8 wearing Dan Gurney Eagle heads, spinning out 440bhp at 6800rpm.

The mighty motor is topped by a phalanx of 48IDA 
Weber carbs, and the package is backed by a ZF 5DS-25/1 five-speed transaxle, similar to the 'box used in a De Tomaso Pantera or a Maserati Bora. The suspension is de rigueur GT40: unequal-length control arms up front, and trailing arms and unequal-length control arms out back, with Koni adjustable shocks and Girling disc brakes all round. It all rides aboard a 95-inch wheelbase. Rectangular Lucas driving lamps are aerodynamically encased in Perspex, while small dive planes just ahead of the front wheels help keep the front end pinned down on long, high-speed straights.

The cabin is standard-issue GT40, with the driver on the right side, and a long, flat instrument panel. The tach is visible dead ahead through the undrilled, aluminium steering wheel, with ancillary gauges and rocker switchgear stretching out to the left. The seats are black vinyl-trimmed buckets, the material peppered with small metal ventilating dots. The ZF shifter is placed just to the right of the driver's seat so shifting is accomplished with the right hand; more comfortable for the wide variety of drivers that piloted GT40s. Small 'eyeball' vents, assuredly sourced from some compact European Ford of the period, did little to cool the cabin during long, hot races, but provided a smidge of 
much-needed air. The wide sills and roll cage somewhat hamper ingress and egress, but the doors are cut well into the roof and open wide, to facilitate quicker driver swaps. 

1074's racing career wasn't world-beating, but it was significant; impressive, even, as Porsche's dominance in 
big-game sports-car racing was already asserting itself, and the GT40's days were numbered. 1074's debut victory came at Spa in 1967 at the hands of Dr Dick 'The Flying Dentist' Thompson and the magical Ickx. Besides Ickx and Thompson, 1074 always squired top pilots: David Hobbs, Mike Hailwood, Paul Hawkins and Brian Redman among them. As a member of the chassis 1074/1075/1076 troika, this car also lived a portion of its career as a Gulf Wyer Ford GT40 Mirage. This meant a cocktail of mechanical differences, 
and the use of revised and much lighter bodywork. The latter is constructed of 'super lightweight panels with carbon filament'; what we now loosely refer to as carbonfibre, which was just beginning to make its appearance in motor sport, and represented a substantive advance over the more conventional, and less structurally strong, fibreglass. 

Chassis 1074 DNF'd at Daytona in 1968, but ran 28th at that year's Sebring 12-hour. Hawkins and Hobbs drove it to an overall win at the Monza 1000km in April, and Hobbs and Redman finished sixth at the Nürburgring. Unfortunately, 
it DNF'd – while its sister car (1076) won – at Le Mans. It ran 
a few more races in Europe in 1969 with no particularly notable result. By this time, the fearsome Ford had pretty much run its course; it was becoming a bit dated and was 
no longer a frontline competitor, so many of the cars were retired. In 1970, one David Brown (not to be confused with the David Brown of Aston Martin ownership and fame) purchased 1074 and 1076. He then leased 1074 to Steve McQueen's Solar Productions Company for use as a high-speed camera car for the filming of Le Mans.

McQueen, ever insistent on absolute realism in his 
films, had already deemed that one of his goals for Le Mans was that the racing action sequences feature numerous authentic race cars – including many of the Porsche 917s, Ferrari 512s, Lolas and Matras that competed in the 1970 race – and that they be filmed at full speed or as near to it as possible. Naturally, an old French lorry truck or rental car, racked and filled with large movie cameras, stood no hope 
of keeping up with the fast film fleet. Thus McQueen's own 908 Spyder (in which he and Peter Revson finished second overall at Sebring that same year) was modified and pressed into camera-car duty.

The star and producers judged that another dedicated camera car was needed – something fast, of course – yet, since it would not appear in the film, it needn't be a current class-legal race car. A Ford GT40 would fit the bill, and somehow (it's thought through Wyer), Solar came in contact with Brown. Solar arranged to lease the car for production, and engaged Wyer to fettle it in France during that summer of 1970. It turned out to be one of at least three cars called into camera duty for the making of Le Mans, another being one of the Gulf-liveried Porsche 917s used on set. 

1074 required no performance modifications to keep up with the rest of the crowd, but needed major plastic surgery in order to accommodate the large, semi-robotic cameras. Most of the roof section was removed, which left a short, squat windscreen, and the rear deck area was modified to hold a rotating camera. Those who drove it, primarily racer Jonathan Williams, labelled it as aerodynamically unstable, but that didn't matter as long as the car was fast enough to keep up with a 917 or 512 for a short burst of film. The doors were also cut down, making the modified bodywork look quite roadster-like. The doors apparently didn't latch too solidly, as several archival movie stills from the Le Mans set show them taped shut. 

No matter – 1074 delivered the goods, and successfully helped capture the wheel-to-wheel racing action that features so prominently in Le Mans. The car also cruised up and down the pits prior to the start of the actual 1970 race, capturing the cars being readied for the race, and the pit action and crowd scenes. 

Post Le Mans, 1074 returned to Mr Brown's possession in Florida, USA. He kept it only a few years before selling it on to Harley E Cluxton III, himself a notably capable racer, and ultimately race-car builder, team owner and entrant. 
Cluxton's influence has touched many Ford GT40s along the way, and he continued to further the Mirage legacy. His GTC Grand Touring Cars Inc in Scottsdale, Arizona, buys, sells, restores, services and supports a wide variety of classic car and vintage-racing activities, most particularly these special Fords. Mr Cluxton also previously owned GT40 1076, sister car to this one, and the much hallowed back-to-back Le Mans winner. In fact, the two were often housed next to each other in the GTC shop and showrooms. In 1974 Mr Cluxton elected to move the car on, selling it to noted British collector Sir Anthony Bamford. 

In spite of 1074's unique appearance and iconic movie status, Sir Anthony rightly felt the car deserved to live in its original racing livery and it was consequently restored to regular GT40 body configuration, with replacement bodywork provided by Abbey Panels Ltd. Original GT40 doors were sourced and replaced the irreparably cut-down units used to facilitate filming. There were subsequent sales, although Harley Cluxton reacquired the car in 1983.

It was then purchased by its current owner, Bernie Carl, who had it fully restored again in 2002 and has consigned it to RM. The car has seen modest historic racing activity over the years, but still appears fresh and proper and with only the mildest of patina of use from its many display appearances and a few runs up the hill at the Goodwood Festival of Speed. Chassis 1074 has spent much of the last several decades in Cluxton's care at GTC in Arizona.

As photographed here and as it will be sold by RM Auctions at Monterey, California, on 17-18 August, the car wears its 'standard' GT40 bodywork, although the lightweight and historic Mirage panels are crated for transport and included in the sale of the car, as is a complete, period-correct spare engine, plus an assortment of extra wheels. Something for the weekend? We'll take two…
Thanks to RM Auctions, www.rmauctions.com, and Harley E Cluxton III of GTC Grand Touring Cars Inc, www.gtc-mirage.com.
Specifications


1968 Ford GT40 P/1074


Engine 4736cc (289ci) Ford V8, OHV, Gurney Eagle cylinder heads, quadruple Weber 48IDA downdraught carburettors
Power 440bhp @ 6800rpm
Transmission Five-speed manual transaxle, rear-wheel drive
Steering Rack and pinion
Suspension Front: coils, telescopic dampers, unequal-length control arms. Rear: coils, telescopic dampers, trailing arms and unequal-length control arms
Brakes Girling discs
Weight 998kg
Performance Top speed 200mph. 0-60mph 4.2sec
Published Dec 7th, 2015
More Classic Car News & Article Categories:
Related Articles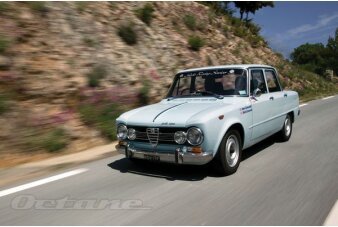 For the Linwoods historic rallying seems to come naturally.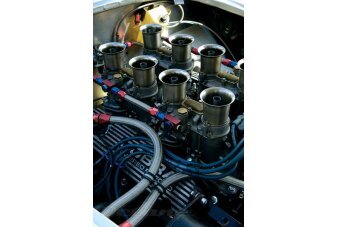 Taking the guessing game out of carb maintenance.
Related Vehicles
×
A Very Special Ford GT40