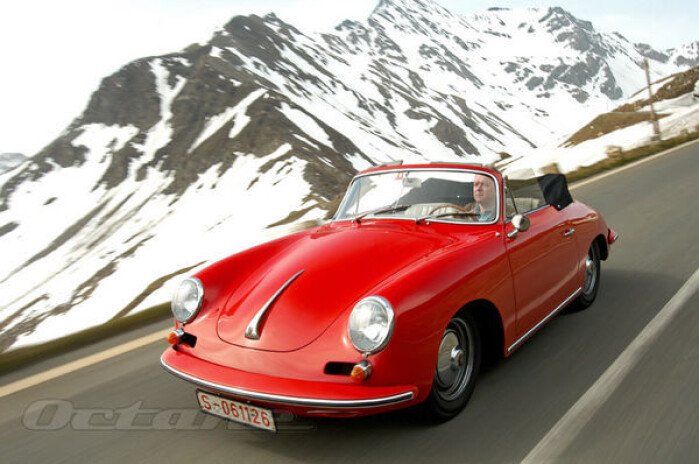 Every new driver should learn in an early Porsche 356 on ageing bias ply tires. Here's another mountain bend: feel the nose drift wide, back off, wa-hey! Round comes the tail, and up it goes too 
as the swing axle tucks itself under. This is one interactive car, a crash course in throttle-steerability. And I'm only going about 40mph.

Here's a car that calls for commitment or else the tail will be flailing all over. Maybe BF Goodrich's interpretation of the 1950s tire-making art (it's called the 'Silvertown') isn't the optimum footwear, but it certainly gives a 
window into the forces unleashed in a moving car. And now I must hunt for that second gear again. I couldn't find it last time, but I know it's under the dashboard somewhere.

The early 356, what aficionados call a 'pre-A' from 1954 (so it's the same age as me), was developed on roads like these. Mountain routes between Gmund, where the first Porsches were made, and Zell am See near the Porsche family seat at Schuttgut. As these roads are deep in Porsche ancestral territory they continued to be used even after the company returned to Stuttgart, where Dr Ferdinand Porsche the elder had his consultancy pre-war.

This particular route, the first part of our journey to Gmund to mark Porsche's 60th anniversary, takes us from the Gaisberg hillclimb, a broken connecting rod bolt's throw from the Salzburgring race circuit, to Zell am See. Our 356 is the oldest of a pack of precious Porsches parked at the bottom of the Gaisberg, where RS60s and 356 Abarths and flat-eight RS Spyders once rent the air with their aircooled aural edge. It's small and silver, but steel-bodied because only the first 52 cars, the Gmund production, wore aluminium panels. With its low arches concealing wheels buried deep within, it looks like a cartoon version of more-familiar later 356 models.

Is it, then, the shape of a Gmund car reproduced in steel? There's a rather legendary Porsche figure here who can answer that question: Herbert Linge, just turned 80, whose name I remember from many 1960s race reports. He seemed to get a lot out of cars whose engines were much smaller than those of Ferrari or Ford. The Targa Florio was a particular Linge favourite.

Linge was also the Porsche company's first new employee when it returned to Stuttgart in 1949. 'It was Dr Porsche and his secretary to begin with,' he says, 'and then they took me on.'

First, though, we need to go back a couple of years.

In Gmund the company had been doing small-scale engineering and manufacturing under contract while US forces occupied its old buildings in Zuffenhausen, near Stuttgart. But Ferdinand 'Ferry' Porsche, son of the man who founded the company and invented the Volkswagen and the rear-engined Auto Union Grand Prix cars, had a dream of making a sports car using parts from the more prosaic of his father's inventions – a creation for which the Porsche company would later be able to claim intellectual copyright and be paid a royalty.

Porsche set up its Gmund base during the war to escape from Allied bombing raids, but it took a while to get going again once the war was over, not least because Dr Porsche senior was detained in Baden-Baden by the French forces, who wanted 
to check out (unfounded) allegations of Nazi collaboration. And while there, he had the Renault 4CV to help refine. Anyway, in 1948 the company's first own-badged car took to the road, a roadster with an obvious 356 look derived from Dr Porsche's three streamlined, special-bodied Volkswagens (the Porsche Type 60K10) built for the September 1939 Berlin-to-Rome race that never happened, but mid-engined and mounted on a tubular chassis.

This car, styled by Erwin Komenda and dubbed 356/1 even though it was actually Porsche's 349th design project, came to nothing, although it still exists. (Dr Porsche had started his design and engineering consultancy back in 1931, and its first project was numbered seven to give the first client, Wanderer, the impression of an established company.) The next attempt reverted to the rear engine position of its Volkswagen donor, and most of the other mechanicals were similarly Beetle-sourced. It was a  coupe', and the definitive 356 profile was born.

So, Herr Linge, is this 356 before us effectively a Gmund re-make in steel? 'Oh no,' says Porsche's most senior employee, 'every panel is different. And all the aluminium cars were different from each other anyway.'

The scale of the Gmund/Stuttgart differences will become clear as our journey develops, but for now let's get to know the oldest Porsche I have yet encountered in person. It's so old it doesn't even have the Porsche crest on the nose, a crest whose central prancing-horse motif is the symbol of the city of Stuttgart.

The horse is the same as Ferrari's, by the way. According to Ferry Porsche's autobiography, an Italian airman shot down a German aeroplane in WW1, and the aeroplane bore the Stuttgart crest. The Italian kept it and later suggested his friend Enzo Ferrari might like it as an emblem for his 
new racing team. 'Ferrari accepted the suggestion gratefully,' wrote Ferry in his dry, pragmatic way, 'and so the coat of arms of the City of Stuttgart appears twice as an automobile trademark.'

This 356 has already evolved from the first Stuttgart cars, though. Its bumpers are moved slightly away from the body, but like all 356 bumpers they are still painted in body colour with bright metal trim strips. It has gained horn grilles below the headlights, and the windscreen is made in one piece with curved edges. Curiously, it still has a bend in the middle where earlier cars had a divider between the two panes.

With 55bhp from its 1488cc, a capacity achieved 
by endowing the Beetle-based engine with a longer-stroke crankshaft and larger, chromium-plated bores in new aluminium cylinder barrels, the 356 is not fast despite its twin carburettors. It's still quicker than the earlier 1086cc and 1286cc engines, though, if less rapid than the optional 72bhp version of the 1500, which uses a roller-bearing crankshaft and was intended for motor sport. There was also a 1290cc version of this engine.

The sound is as Beetlish as you would expect, although no 1954 Beetle would come near even this car's modest pace. There's a red sector on the tachometer (it's hooded, like the adjacent speedo) which starts at 5000rpm, but really it's all over by 4800. Other facia niceties include an oil temperature gauge – vital for an air-cooled engine – with Celsius and Fahrenheit scales and a double-ended needle, and a plethora of unlabelled knobs and switches seemingly made from soapstone. And there's a big fabric speaker grille in the middle, for one of those new-fangled radios.

Nothing else feels quite like a 356, especially an early one on crossplies and bereft of an anti-roll bar. The tires climb cambers and ridges as the nose gently wanders, and it's best to let them find their own way. Allied to this is steering which feels vague at first, calling for big movements to make things happen – and then they do, quickly, as the yaw moment rises.

You take fast corners like facets of a threepenny-bit until you learn to stop over-correcting; and the knowledge of what lurks in the darkness of uncertainty, should you back off, inspires little confidence. You'd 
never trust this 356, unfailingly predictable in its 
unpredictability, in a really quick corner unless you knew exactly where the corner went.

Meanwhile, the clunky gearchange is getting more obstructive as the temperature rises, the drum brakes are calling for an ever-harder push and now the handbrake has stopped working, joining the indicators and brake lights on strike. Is this the stuff of which a future legend would be made? Engaging as this 1954 car is, it's hard to imagine it so.

We've arrived at Zell am See, well south of Salzburg. From here it's mere minutes to Schuttgut, the Porsche family house and estate that Ferry Porsche bought in the late 1930s. Dr Wolfgang Porsche, the youngest of Ferry's four sons and today the chairman of Porsche's supervisory board, took it over in 2004 and he's here to meet us now in his traditional Austrian collarless jacket in green.

He likes green. There's a 911 Turbo cabriolet in dark green parked outside, plus a Cayenne Turbo in Bentley Brewster Green (Dr Porsche is on Volkswagen's board, too, given that Porsche now controls Volkswagen – and therefore Bentley – in a delicious historical irony.) 

A pearlescent white 959, pleasingly travel-stained, is also in the line-up, while a Porsche tractor and a Porsche Schwimmwagen are under the converted stable nearby.

Beyond the house, an abode stuffed with stags' heads, giant decorated cowbells and family memorabilia, stands a small chapel to mark the graves of the Porsche and Pίech families. It's a place full of poignancy. Ferry Porsche talks in his book of how the American 'occupying forces' came to the house as war ended, and how they discovered one of the Berlin-Rome cars at the nearby flying school. They were racing it on the airfield.

'It was such a beautiful hot summer,' wrote Ferry, 'that the soldiers eventually used metal cutters to remove the coupe''s roof, turning it into a "roadster". They had great fun with it, but they did not think of filling it up with oil and one day it ran dry, and the dream came to an end. The wreck ended up on a dungheap.'

And what's this? It's a 1949 Gmund-built 356, beautifully restored in a shiny red-orange oxide hue. It has a bench seat and an ultra-simple dashboard inside, a high floor, intriguing curved front quarterlights and a tiny single exhaust pipe. There are trafficators in the front wings and tiny rear lights, and two bright strips traverse the nose above the bumper. If the 1954 car is slow, then this 1086cc car must be very leisurely; despite its twin carburettors the otherwise-VW engine manages just 40bhp. That said, this primordial 356 is very light and aerodynamically slippery, and is reckoned to be able to reach 87mph eventually.

Herbert Linge is looking at this 356, too. 'We used to test on the Stuttgart to Leonberg autobahn,' he tells me. 'One side was still closed after it was built and we used it twice a week for six months, testing the 356 and the 550 Spyder for Le Mans. There was nowhere else at the time. We discovered the wheel spats helped a lot.

'Dr Fuhrmann [Ernst Fuhrmann, Porsche's engine designer] had designed a four-cam motor for racing, and we put it in an aluminium Gmund car. Professor [Helmut] Bott, the chief of the experimental department, thought it had too much power and there was an argument between him and Fuhrmann.

'Professor Bott and I thought we should try it with an anti-roll bar. So I tested it without one, then with it, all night. The first time I drove, I was spinning everywhere. It was definitely overpowered. With the anti-roll bar it was much better and I could go faster. We showed the results to Dr Fuhrmann the next day, and he had to change his mind.' Bott and Linge were right, and the whole 356 range later got an anti-roll bar.

Back in the hotel at Zell am See, Wolfgang Porsche is joining us for dinner. He tells us how important it is for Porsche to remain a family business, how it has gone from being almost broke to being one of the world's biggest carmakers, if you include the Volkswagen connection. But even Porsche itself now builds over 100,000 cars a year, compared with 11,353 in the 356's best year, 1963.

'Cars will become smaller and lighter again,' Dr Porsche is saying, 'and people will get used to that. Today people want gadgets, which need motors and add weight, but they will return to a more purist outlook. They might even open the trunk themselves!

'We had a big advantage at the start. We made our small, exclusive car in small numbers but we had the Volkswagen organisation behind us. Other manufacturers said it was a hazardous thing for us to do, but too many men had lost their youth and it was a dream to fulfil. Today people point to Porsche and say cars like ours spoil the environment, but they produce just 0.01% of all cars' carbon dioxide.'

Next morning  it's time to try out the ultimate roadgoing version of Fuhrmann's four-cam engine, installed in one of just 34 356B Cabriolets thus powered and dubbed Carrera 2, to denote the engine's stretch from 1498cc via 1587cc to 1966cc (that is, 2.0 liters).

A louvred valance under the rear bumper, home to a pair of fat tailpipes, gives the external clue along with 
the badging and, hiding behind wheels mercifully shod with radial rubber, Porsche's first roadgoing use of all-round disc brakes (by Ate, pronounced a-tay, not to be confused with ATE).

I drove an earlier incarnation of the Carrera engine a few years ago in an ultra-lightweight Mathe' Porsche special, and it was a mighty energetic beast. In this Carrera 2 it's handicapped by extra weight but counters with 130bhp at 6200rpm. Two twin-choke Solex 40 PII-4s meter the fuel and air.

This is a complex engine, with bevel gears and vertical shafts taking the drive from each lower, exhaust camshaft to each upper, inlet camshaft. Setting the backlash in the gears is the time-consuming part when building one. But it sounds great, the Beetlish flat-four beat'n'clatter overlaid with a crisp-edged blare, and it has the throttle response you'd expect from a choke per cylinder.

Today we'll drive to Gmund via the Grossglockner pass. It's a route often travelled by Ferry Porsche, sometimes with the young Wolfi, as the family called him, in the passenger seat. Straight away the Carrera 2 feels a generation removed from its ancestor of yesterday, and not just because its exhaust barks so inspirationally through the crisp morning air. It's quick, if not bombastic, and its steering has a precision and certainty absent in the pre-A 356.

Tires and a front anti-roll bar are why, helping accuracy and progression respectively. Much else has happened between 1954 and this car's 1962 year of birth. The bumpers and headlamps are higher, the hubcaps are flatter, the windscreen forms a continuous curve, and the dashboard, although still of painted steel, is entirely different. The tachometer takes almost centre stage ahead of a steering wheel now made with three knurled-aluminum spokes, presaging the 911's instrument layout.

And the gear lever is mounted further back, making it easier to find the ratios – although this remains one aspect of Porsche driving that's deprived of the precision you'd expect. A double-clutch helps.

It's reassuring to feel solid, responsive brakes under the middle pedal, and the stage is set for a spirited blast up the pass. Into a hairpin, power round, feel the traction as the rear torsion bars twist and the tail squats; it's still very throttle-steerable but you, rather than wayward camber changes, control the rate at which it happens.

There's snow now, and the air is getting thinner. I can tell because the power's edge has dropped away and the hills have become a struggle. But now we're at the top of the pass, and gravity will henceforth be on our side.

Which throws up an unexpected snag. The brakes are working hard. We stop at some road works and, expecting the lights to change at any second, no handbrake is applied. The next application of the brakes sees the pedal heading straight to the floor because the fluid has boiled. So much for disc-brake technology. Staying in a low gear, not touching the brakes for a few miles and trying not to think of precipices cools them off, and once down in the valley they're fine again.

At Gmund there's a fine Porsche museum. Here you'll find an original 356 wooden body buck, early 356s and a military Beetle, a 906 (Carrera 6) GT racer complete with blue-tinted rear window, a 911 Carrera RSR, a plethora of engines and much more. It's an essential pilgrimage point, but it's not the old factory. That's a couple of miles up the road, where all that remains of the former converted sawmill is the wooden office building, restored by the Austrian Porsche club, complete with engineering diagrams – one for the four-wheel-drive Cisitalia – on their drawing boards.

This is where Porsche started as an independent carmaker, a company we think of as German but with as much claim to being Austrian. From here back to Gaisberg we'll drive a 356B coupe', in red like the Carrera 2, via the faster Katschberg pass, the old road running next to the modern autobahn. It's a 1963 car with 75bhp from its 1582cc. That's the middle of three outputs, the others being 60bhp for the gentle Damen version (you'd never get away with that today) and 90bhp for the Super 90.

We're back on drum brakes here but this is one delightful car. It's brisk rather than quick, with a torque delivery more akin to the pre-A's, but the engine has that unstressed, unburstable feel that was always a Beetle's trademark. This 356 feels absolutely solid, with not a rattle to be heard nor a shake to be felt, and if you close your mind to tales of a swing-axle's wilder habits you can have a great time.

Here's a long, fast, downhill bend, the sort to make any of your cheeks clench. Slowish in, fast out and stay committed is the mantra here, but the 356B stays flat and responds to every input with copious, perfectly proportional real-time feedback entirely alien to the driver of a typical modern car. It feels more benign than I'd have ever guessed. Look at how people used to race these things. The handling can't be that savage unless you really upset it.

Now on the autobahn, the 356B is cruising at 90mph as if it had been built one year ago, not 45. This is why people held these Porsches in such high regard. They work properly, no excuses. They are practical, usable sports cars. Sixty years on, nothing has changed.



1954 Porsche 356 Pre-A 

Engine 1488cc air-cooled flat-four, pushrod ohv, two Solex 32 PBI carburettors, compression 7:1
Power 55bhp @ 4400rpm
Torque 78lb ft @ 2800rpm
Transmission Four-speed all-synchro transaxle in unit with rear engine
Suspension Front: torsion leaves, parallel paired trailing links, telescopic dampers. Rear: torsion bars, swing axles, telescopic dampers
Brakes Ate-Lockheed aluminium drums, finned at front
Weight 830kg
Performance 0-60mph 17.0sec, top speed 99mph, allegedly
---
1962 Porsche 356B Carrera 2 cabriolet 

Engine 1966cc air-cooled flat-four, 2ohc per bank, two Solex 40 PII-4 twin-choke carburettors, compression 9.5:1
Power 130bhp @ 6200rpm
Torque 119lb ft @ 4600rpm
Transmission Four-speed all-synchro transaxle in unit with rear engine
Suspension Similar to 1954 Pre-A but with addition of front anti-roll bar
Brakes Ate discs all round
Weight 1012kg
Performance 0-60mph under 10.0sec, top speed 124mph
---
1963 Porsche 356B

Engine 1582cc air-cooled flat-four, pushrod ohv, two Solex 32 NDIX carburettors, compression 8.5:1
Power 75bhp @ 5500rpm
Torque 86lb ft @ 3700rpm
Transmission Four-speed all-synchro transaxle in unit with rear engine
Suspension Similar to 1962 Carrera 2 cabriolet
Brakes Ate-Lockheed aluminium drums, finned at front
Weight 934kg
Performance 0-60mph 13.5sec, top speed 109mph
Published Dec 7th, 2015
More Classic Car News & Article Categories:
Related Articles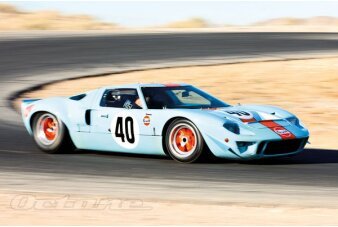 While every factory Ford GT40 is special, some are more special than others.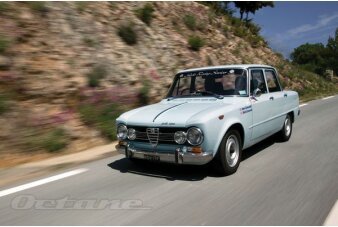 For the Linwoods historic rallying seems to come naturally.
×
A Porsche 356 Odyssey