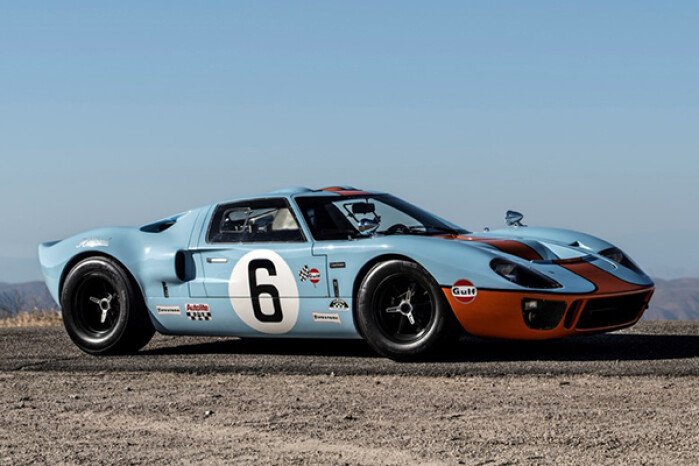 Author: Karl Brauer
The legend surrounding the Ford GT40 is arguably the biggest in racing history, and certainly the biggest in U.S. racing history. The tale of Henry Ford the Second trying to buy Ferrari, being turned down by Enzo Ferrari, and then beating Ferrari with Ford's own cars has been told so many times we won't repeat it here.
Instead let's focus on the car that delivered what Henry Ford the Second wanted -- to beat Ferrari at the world's premier racing event, the 24 Hours of Le Mans. Ford started the effort in 1964, but didn't win Le Mans until 1966, at which point the Detroit automaker finished 1-2-3. The car that delivered this Le Mans win, and three more from 1967-1969, was the Ford GT40. Powered by a midengine Ford V8, the GT40 was a raw and raucous race car never intended for street use.
Only around 100 GT40s were built in the 1960s, and less than half were sold as street-legal road cars. These "street" GT40s were nearly as unwieldy as the race cars, offering minimal storage space and few amenities. This frustrated many of Ford's fans, who watched GT40s win on the world stage without having the possibility of ever driving one.
Fifty years later, the GT40's legend has grown almost as much as its market value. Ford racing fans still enamored by the low, sleek GT40 can try to pick one up for historic racing events. Originally close to $20,000 (a pricey sum in the 1960s), the market value for a 1960s GT40 today starts around $2 million and goes up from there, depending on condition and race pedigree.
That price structure continues to keep the GT40 out of reach for most Ford fans, but a company called Superformance does offer a (relatively) affordable alternative. The Superformance GT40 is built using the same tooling as the original Ford GT40. Over 80 percent of the car's mechanical and body components will interchange with an original. Even the serial numbers on Superformance cars align with those of the GT40s from 50 years ago, picking up where they left off.
The 20 percent of the Superformance cars that varies from the original GT40 relates to safety and performance features, including superior brakes, a more effective cooling system, stronger suspension pieces and modern convenience features like air conditioning. These changes make the Superformance GT40 a more capable and comfortable street car without losing the visceral thrill experienced by famous racers hitting 200 mph on the Mulsanne Straight.
The starting price for a Superformance GT40 is under $200,000, though configuration options are many and can push that number higher depending on drivetrain, convenience features and interior material choices. The model seen here had a 700-horsepower 427 V8 while weighing less than 2,400 pounds. That kind of power-to-weight ratio, along with the improved mechanical systems, gives the Superformance GT40 even greater performance capability than the original race cars that won Le Mans.
Our experience with Superformance's GT40 confirmed the car's authentic look, feel, sound and smell. Painted in the same Gulf livery that won Le Mans in 1968 and 1969, and making the kind of noise only a big-block Ford V8 makes, the GT40 had the expected impact on passersby, with plenty of double-takes and thumbs-ups.
It's as close as most folks will ever get to reliving Ford's ultimate racing legend.
Published Jun 5th, 2018
More Classic Car News & Article Categories:
Related Articles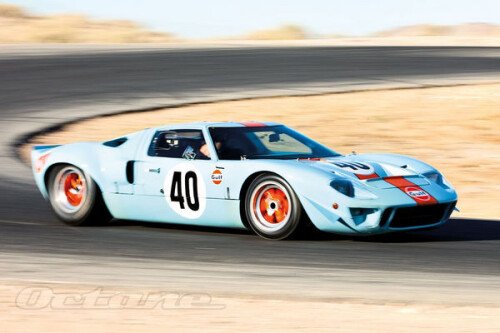 While every factory Ford GT40 is special, some are more special than others. The dazzling example featured here, chassis GT40P/1074, earns bonus points for at least three reasons..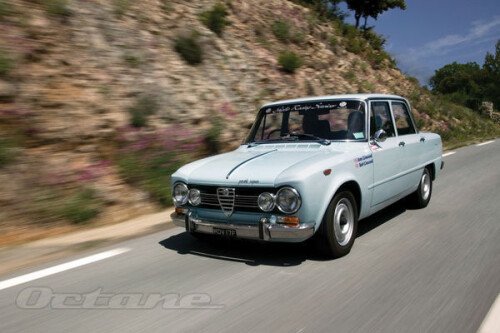 Not long after their first event together, Bob bought a standard road-going 1968 Alfa Romeo Giulia Super, and had it restored by Classicarco in Manchester. We spend a pleasant afternoon tossing it around the French countryside for Martyn
Advertisement
×
A Multimillion-Dollar Ford GT40 Experience, For 90% Off