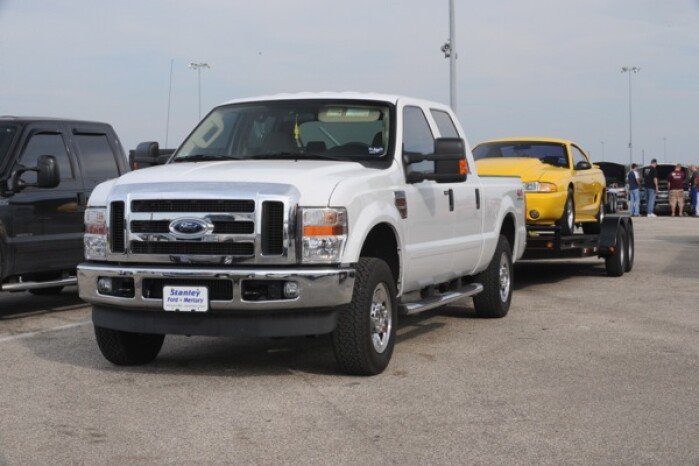 Photography by Jerry Heasley


There comes a time in the evolution of every high performance car when driving it on the street isn't the best idea or even feasible. When you run all out at the track things can break. Then how do you get home?

The start of a restoration or project car seldom involves road worthy vehicles. The very definition of a restoration/project car is something far less than perfect. When these situations arise, it is trailer time. A car trailer isn't something you use on a daily basis, but they're sure great to have when needed.

If you've never bought a car trailer or towed before, this article is designed to get you headed down that road as effortlessly and safely as possible.


Your Truck Or Time To Shop?

If you already own a pickup truck, it may be sufficient for towing a basic flatbed open car trailer. Consult your owner's manual for your truck's tow ratings. Half-ton pickups are fine for basic towing, but compact pickups aren't generally recommended. Three-quarter ton and 1-ton trucks are best.

Trucks with factory tow packages are ideal. You can add aftermarket parts, but the factory tow packages are optimized for specific trucks. A frame-mounted receiver style trailer hitch is a must. People use bumper style hitches, but the receiver hitches are superior.

If you're purposely seeking a truck to tow a car trailer, bigger is better. While you shouldn't buy a trailer before you buy the truck it's good to know what size trailer you're most likely to get. It helps to trailer shop and take notes. Then you'll be able to match the truck's capabilities to the trailer.

Buying a new Ford truck for towing is as easy as it gets. Shop at a dealership known for high volume truck sales. They'll have staff that's well versed in helping you order a perfect truck.

Used Ford pickups are excellent values. Since the F-Series trucks are the most popular trucks in the world, the supply of used ones is immense. When buying a used truck, you can save big on accessories and options. The price differential (dollars and percentage of the total cost) between a used base model F-series and a totally loaded XLT Lariat is less than the percentage difference of those two trucks when they were new. You can get a lot more truck for your money used compared to buying that truck new.


2WD or 4WD, 4 Wheels or 6?

Two-wheel drive trucks are fine for towing. The biggest advantage (towing wise) for four-wheel drive trucks is if you tow other types of trailers, such as boat and snowmobile. When launching a boat on a wet, slippery ramp or trudging through snowdrifts to get to a snowmobile park, the extra driving axle is a most welcome addition.

On the multiple rear wheels question we're strongly in favor of dual rear wheels. For the same reason that car trailers have tandem axles (and four tires) having four tires on the truck's driving axle is a great safety feature.

Everything about a 1-ton dually pickup is bigger and stronger than a 1/2-ton pickup. Towing (especially long distances at highway speeds) puts added stress on a truck. The bigger and stronger the truck is, the easier it can handle the demands of towing.

A blown tire on either the tow vehicle or trailer is potentially very dangerous. Having the extra set of tires will give valuable piece of mind even if you never have a blowout. Don't skimp on tires. Also, make sure that both truck and trailer brakes are in top shape.

Some great news about used F-350 dually pickups is that they're often priced at or below comparable (year, mileage, options) ¾-ton and 1/2-ton pickups. These big rigs are thirsty at the gas pump; so many people don't want them for daily transportation.

The best deals are gas-powered 460-cid big-block trucks. One-ton duallys with small-block engines aren't a good choice. They work too hard under load and they're tough to resell.


Engines And Transmissions

Serious truck owners favor diesel engines. If you do lots of long distance hauling (especially in mountainous areas), a Power Stroke diesel is a tireless workhorse. The greater torque of a diesel and superior fuel economy are prime reasons for choosing one. The downside is the significantly higher initial cost. If you only tow occasionally, a 460-cid-gas engine is fine.

We've towed trailers with everything from a 289 small-block-powered '60s Ranchero (never again) to big-blocks and diesels. You simply can't beat the peace of mind that comes from towing with a big-block or a diesel in a 1-ton dually.

As for transmissions, there are advocates for both manuals and automatics. For beginners, automatics are far superior. The smoothness of an automatic outweighs any power maximization afforded by a manual transmission. The automatic should be equipped with an auxiliary cooler. A transmission temp gauge is a wise addition, because excessive heat is the mortal enemy of automatic transmissions. Any accessories that help keep engine and transmission temps in their standard operating range are money well spent. Excessive heat is a tow rig killer.


Open Or Enclosed Trailers

Open bed trailers are great for beginners and experienced haulers. They get the job done nicely, they're very affordable, and there is a strong market for used ones.

Buying a car trailer is a lot like buying your first collector or hobby car. You're bound to learn a lot during the process that will better prepare you for the second purchase. An attractively priced basic car trailer will handle all your occasional and local trailering needs. If this is all the trailering you do, you might not need anything fancier. If you get serious about racing, or travel long distances you'll eventually want to upgrade.

Two key elements of a car trailer are the quality of construction and how well it tracks. Inspect several trailers from different manufacturers. The lowest priced trailers have to save money somewhere and that can be in materials and construction methods. Go to races and car shows and ask people about their trailers.

A well-designed car trailer is one that tracks effortlessly. A good trailer is almost unnoticeable, but a trailer that wants to control the truck (instead of the other way around) and fights you will quickly exhaust you physically and mentally.

The least expensive open trailers have wood decks. A steel deck is better and an aluminum deck is even better, although aluminum trailers are much more costly. Trailers with just two tire tracks and an open center are fine for cars, but not versatile for non-automotive use.

A tilt-bed trailer is a plus for loading low cars and not having to deal with ramps. A trailer with a rollback bed is even nicer, but much costlier. Better quality trailers have the last couple feet of bed on a slant. This design is known as a beavertail or dovetail bed. The slant makes loading and unloading easier. An enclosed trailer is the easiest loading of all since the fold-down rear doors double as ramps. Those doors are very heavy so power doors are a big bonus.

Ramps for open trailers vary in design and length. Longer ramps are better for low cars. Solid ramps are easier to roll a non-running car up. Battery-powered 12-volt winches are inexpensive and great loading aids. A winch with a remote control is best.

A good trailer has four-wheel brakes. Some cheap trailers only have brakes on one axle. Trailer-specific wheels and tires are better than car wheels and tires.

Getting in and out of the car while loading can be a problem, especially with low cars. A hinged or removable left fender will give added clearance. On enclosed trailers a left side door is a welcome feature.

Enclosed car trailers can be found used for about two-to-three times the cost of a basic flatbed. Prices rise as size and features increase, but there are excellent deals on basic enclosed trailers.

An enclosed trailer can weigh substantially more than an open trailer so keep that in mind relative to your truck. Protection from the elements and their added security make enclosed trailers a good choice for only a couple thousand dollars extra cost.

Any trailer should have a substantial means of securing the car. Recessed D-rings are a good feature. Tie-down straps or chains are hooked to the rings and four corners of the car. If chains are used, chain binders tighten the chains. Cars need to be pulled very tight so they don't bounce at all. Tools, jacks, slicks, gas cans, and anything else you're carrying need a secure home. You don't want to lose things or damage your car.


Hitches

Trailer hitches are classified by tongue weight ratings. The higher the number the more tongue weight it can handle. The tongue weight should be about 10 to 15 percent of the gross trailer weight (GTW). A class III or IV hitch is sufficient for most hobby type car trailers. If you don't have a hitch, consult a hitch specialist to get one suited for your trailer. Hitches aren't expensive, but they're the vital link between truck and trailer. Always use heavy-duty safety chains because hitch balls have been known to come loose.

There are also fifth wheel and gooseneck hitches that mount inside the pickup bed. Those hitches are for large enclosed car trailers and travel trailers. It's important that the trailer tongue be parallel to the road. There are adjustable hitches that are especially useful when towing with a 4x4 truck.

Safe, worry-free towing is a matter of carefully matching all the components to the load you want to tow.




The quicker your car gets, the more you're going to need a strong truck and sturdy trailer to transport it to and from the track. Fortunately, there are many outstanding F-Series trucks to making towing safe and worry-free.



A late-model F-350 crew cab dually with a Power Stroke diesel engine is an ideal tow truck. There is ample interior room for you and your friends, a full-size bed, and tons of torque to easily pull even large enclosed car trailers.



Prices for '80s and '90s 1-ton F-350 dually pickups are incredibly reasonable. Prices are best for 460-cid gas engine trucks. SuperCabs cost less than crew cabs, but they still have ample in-cab storage.



Excursions have a reputation as being rather thirsty, so prices for used ones can be surprisingly low. They make fine tow vehicles. With the third seat removed there is lots of room for cargo.



Car trailers come in all sizes. A massive semi trailer with cool Ford Racing graphics is nice if you have a professional racing team, but a solid deck tandem axle flatbed with a beavertail (also known as a dovetail) is a great starter trailer.



An enclosed trailer provides extra storage space and added security for your car and tools. An enclosed trailer also doubles as an extra garage stall at home.



It doesn't take a huge trailer to accommodate a Mustang. This trailer has ample space between the fenders so there's no risk of scratching the car. A solid deck is preferred due to its added versatility for carrying non-automotive cargo.



If you don't want to buy a trailer, you can resort to well-worn rental trailers. You never know how badly the last customer beat the trailer. We'd be reluctant to trust a valuable Mustang to one.



Here is a typical rental trailer problem.



This homemade trailer makes rental units look like concours winners. Homemade trailers can be very inexpensive, but they're rarely a good deal. Since this Mustang is being backed on to the trailer it suggests a problem with the tongue weight. Cars are almost always loaded nose first.



An advantage of an enclosed trailer is that the fold-down door serves as a full-width loading ramp. Note the extension flap that aids low cars.



Lowered cars or ones with low-hanging headers can be a challenge to load. A set of stair-stepped wood blocks was used along with the trailer ramps and the slanted beavertail to load this Mustang.



The shorter the ramps, the more difficult it is to load a car. Ladder style ramps are more difficult to roll across than solid ramps. Note that this trailer has a strong lip across the back of the trailer so the ramps can be positioned to fit any width vehicle.



Pullout ramps are an excellent feature. They're always handy and you don't have to worry about losing them or having them stolen.



A removable left side fender is an excellent trailer feature. It provides extra room for opening the car door.



A large lockable tool/equipment box and a wind/bug shield are very worthwhile additions to any open bed trailer. This trailer also has diamond plate steps that run the length of the bed.



Securing your car to the trailer is vitally important. Do not skimp here. Strong, ratcheting tie-down straps are hooked to fold-up D-rings in the trailer floor. Note that straps are installed diagonally for added pulling power.



This classic Mustang has permanently attached steel tie-down brackets. Some racers weld loops to the axle housing. There are also special axle straps.



Top quality, excellent condition tires are a major towing safety feature. Frequently check tires pressures (cold), especially the often hard-to-reach inside dually tires. There are valve extensions to make this task easier.



Be sure the load rating of the trailer tires meets or preferably exceeds the combined weight of the trailer, car, and any extras you may be hauling.



This photo shows an adjustable height extension for the receiver hitch. This allows the trailer tongue to be parallel to the pavement even though the truck's frame is higher. Also note the all-important safety chains and the hand-crank tongue jack.



Some trailer owners like to add weight distribution hitches (also known as sway bars or torsion bars). These adjustable torsion bars help distribute the trailer's weight to the rear and front axles of the tow vehicle. The bars also combat sway and relieve extra stress on the receiver and tongue.



An adjustable, electronic trailer brake controller is an excellent safety aid. It helps synchronize the vehicle and trailer braking thus preventing fishtailing and jackknifing.



Big mirrors are a must for safe towing. Many of the larger Ford trucks are equipped with these oversized, extendable mirrors. Power mirrors are an added bonus, because you can fine-tune them as you drive.



The electrical connection between the truck and trailer is handled by a multi-pin male/female hookup. Trucks with factory tow packages come with the female receiver. There are several plug designs, which can be a problem with a borrowed trailer.
Published Dec 7th, 2015
More Classic Car News & Article Categories:
Related Articles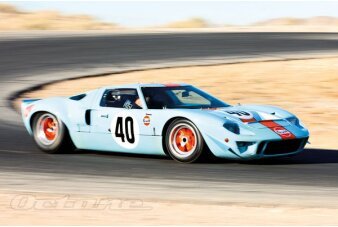 While every factory Ford GT40 is special, some are more special than others.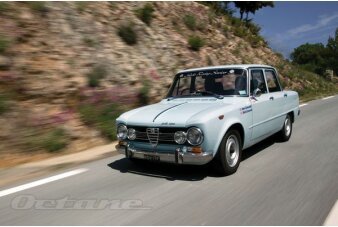 For the Linwoods historic rallying seems to come naturally.
×
A Beginner's Guide To Towing