‹ Go back
9 Daring Designs - 2000 Plymouth Prowler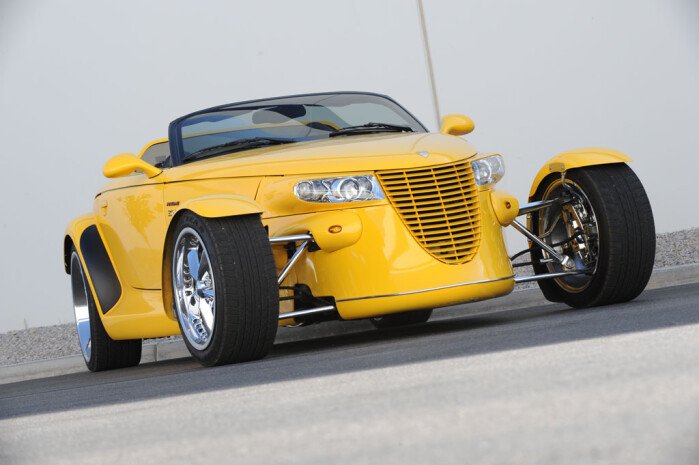 Photos by Jerry Heasley.


Plymouth built many outstanding factory hot rods during the muscle car era. The term "hot rod" was used rather loosely, but in 1997, Plymouth came out with one of the most radical designs ever mass-produced, the Prowler. The Prowler looked like a thirties-bodied high-tech hot rod, with its big-n-little wheels and tires, front cycle fenders, sharply pointed hood and grille, severely raked windshield, chopped canvas top, and bobbed rear end. Prowler height was a mere 51 inches.

The Prowler had a long gestation period as a working concept car. It attended many high profile car events, including cross-country trips. Important industry people including Bob Lutz, Tom Gale, and Chip Foose had roles in the Prowler's development.

A single color, Prowler Purple, was the sole 1997 color option, but other colors and special editions were soon added. The trunk was mostly occupied by the large automatic transaxle. The engine was the 3.5-liter V-6 that originally produced 214 hp, but was boosted to 253 hp in 1999. Performance was good, partly due to a great many aluminum and plastic components, but it wasn't as "hot" as the styling suggested.

Roy Reed, the owner of this yellow feature car, rectified the low power situation by doing what Chrysler should have done in the first place. Roy replaced the V-6 with a 5.7-liter Hemi V-8 that was originally intended for late-model Jeeps. The Hemi produces 373 horsepower. A new ECM was installed to make the later engine work with the existing electronics.

The original Prowler tires were 225/45VR17 in front and 295/40VR20 in back. Roy increased the rear tire size to 265/35R22. The factory mags were replaced with Foose wheels, which are very fitting since Chip Foose helped inspire the Prowler concept.

Prowlers started out as Plymouths, but ended their production (11,702 total) in 2002 as Chryslers, after the Plymouth nameplate was dropped in 2001. Regardless of whether they were sold as Plymouths or Chryslers, the Prowler was one of the most radical Mopar designs ever.


Owner: Roy Reed, Lakewood, Colorado


9 Daring Designs
The bold and beautiful cars produced by Mopar designers.
9 Daring Designs - 1948 Chrysler Town and Country Convertibles
An automotive mansion for the discerning owner.

9 Daring Designs - 1957 Desoto Adventurer Convertible
The mid-Fifties were good times for DeSoto.

9 Daring Designs - 1961 Chrysler 300G Hardtop
The wildest rear quarter panels ever assembled in Detroit.

9 Daring Designs - 1967 Dodge Hemi Charger
A full size car that rocked the fastback world.

9 Daring Designs - 1969 'Cuda 440
The fish that swallowed an elephant.

9 Daring Designs - 1969 Dodge Daytona
A space age rocket on wheels.

9 Daring Designs - 1970 and 2009 Dodge Challengers
Everything old is new again.
9 Daring Designs - 2000 Plymouth Prowler
One of the most radical designs ever
mass-produced.
9 Daring Designs - 2003 Dodge Viper SRT-10
Go big or go home.
Published Dec 7th, 2015
More Classic Car News & Article Categories:
Related Articles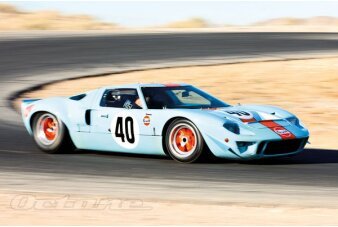 While every factory Ford GT40 is special, some are more special than others.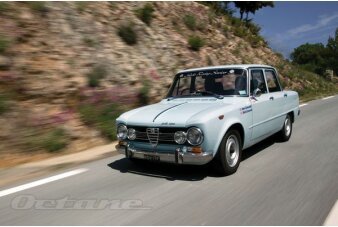 For the Linwoods historic rallying seems to come naturally.
×
9 Daring Designs - 2000 Plymouth Prowler