‹ Go back
9 Daring Designs - 1957 Desoto Adventurer Convertible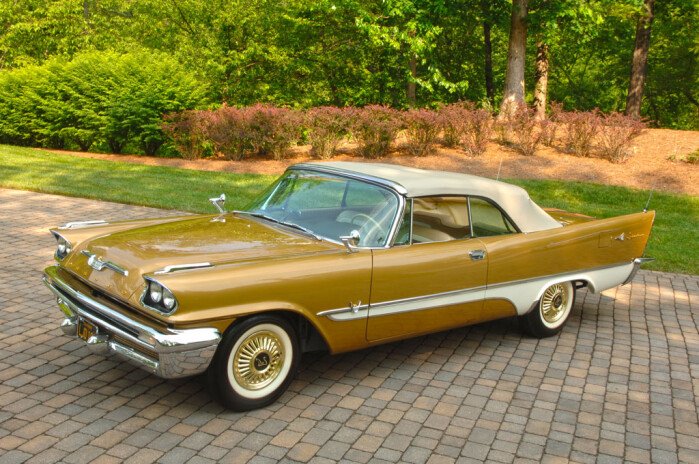 Photos by Jerry Heasley.


DeSoto was the mid-point brand in the Chrysler Corporation hierarchy (Plymouth, Dodge, DeSoto, Chrysler, Imperial). Production ran from 1928 to 1961. The mid-Fifties were good times for DeSoto, and those years produced some of the most daring, handsome Mopars ever.

Of particular interest were the DeSoto Adventurer models that debuted in 1956. The Adventurer was the brand's first supercar, designed as a more affordable version of the legendary Chrysler 300 letter series. The 1956 Adventurer was highlighted with gold paint (two-tone white and gold) with gold anodized trim items including the wheel covers.

The gold and white theme was continued on the totally restyled 1957 Adventurer, as seen here on Milton Robson's stunning gold convertible. The gold theme is used throughout the interior, including the steering wheel. The showpiece wheel covers with the "DeS" logo look like a monogram on an expensively tailored dress shirt.

Chrysler's year of big fins was in 1957. The DeSoto fins start at the back of the doors and soar, jet-like, to the stacked triple lens taillights. The chrome-encased taillights could stand alone as sculptures. Such was the influence of Virgil Exner, who was made Vice President of Styling in 1957. Quad headlights appeared on most Mopar products in 1957, beating GM and Ford by a year.

Besides being a long, swoopy car, the 1957 DeSoto was also a wide one. From the rear, the fins canted outward, and the massive bumper had exhaust ports at each end. The long, thin bumper/grille accentuated the width of the car's nose, as did the quad headlights.

Daring design continued under the hood, where a 345hp Hemi resided. The twin Carter four-barrel carburetors are topped by offset individual air cleaners.

All 1957-1959 DeSoto Adventurers (hardtops and convertibles) are very desirable, but the very limited convertible production (less than 500 over three years) makes them among the most sought-after Fifties Mopars.


Owner: Milton Robson, Oakwood, Georgia


9 Daring Designs
The bold and beautiful cars produced by Mopar designers.
9 Daring Designs - 1948 Chrysler Town and Country Convertibles
An automotive mansion for the discerning owner.

9 Daring Designs - 1957 Desoto Adventurer Convertible
The mid-Fifties were good times for DeSoto.

9 Daring Designs - 1961 Chrysler 300G Hardtop
The wildest rear quarter panels ever assembled in Detroit.

9 Daring Designs - 1967 Dodge Hemi Charger
A full size car that rocked the fastback world.

9 Daring Designs - 1969 'Cuda 440
The fish that swallowed an elephant.

9 Daring Designs - 1969 Dodge Daytona
A space age rocket on wheels.

9 Daring Designs - 1970 and 2009 Dodge Challengers
Everything old is new again.
9 Daring Designs - 2000 Plymouth Prowler
One of the most radical designs ever
mass-produced.
9 Daring Designs - 2003 Dodge Viper SRT-10
Go big or go home.
Published Dec 7th, 2015
More Classic Car News & Article Categories:
Related Articles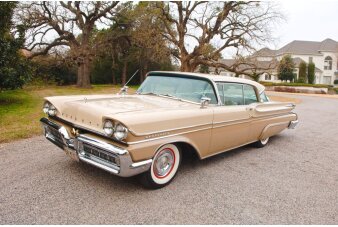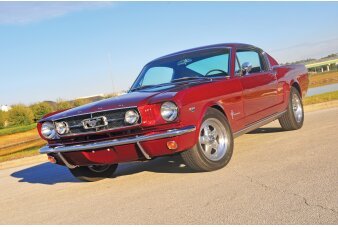 Mustang's third body style emerges.
Related Muscle & Pony Cars
×
9 Daring Designs - 1957 Desoto Adventurer Convertible