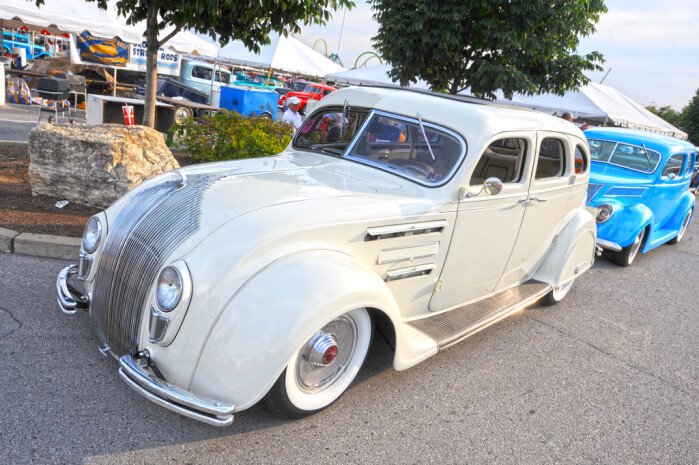 Photos by Jerry Heasley and Bruce Caldwell


Mopar designs are memorable. With the few exceptions of some bland eighties and nineties compacts and mini vans, Mopars always stand out in a crowd. Not everyone loves these designs, but few people forget them. Mopar designers are nothing if not fearless. They have always been leaders, not followers.

Chrysler Corporation products have strong reputations for engineering excellence as well as groundbreaking designs. One of the most famous Chrysler designs dates back to 1934. The Chrysler and DeSoto Airflow sedans were streamlined marvels in an age of boxy competitors. Wind tunnel testing inspired the design, but it was too far ahead of its time. Being first isn't always the same as being successful.

Chrome and fins were big in the Fifties, and Chrysler did these designs as well as anyone. Virgil Exner was the head stylist during the Fifties and Sixties, and, as such, he gets credit for the styling that was labeled the "Forward Look."

Chrysler products started with small fins in 1955, and by 1957 Mopars were first in fins. Most Mopar fins were very long, starting just behind the door or even mid-door, in the case of some 1960-1961 models. In a stopgap measure to compete with the 1957 Ford Ranchero and Chevy Cameo pickups, Dodge even added fins to a limited number of 1957-1959 Dodge D100 Sweptline pickups.

Some of the early Sixties Mopar designs bordered on the unusual, with oddly placed headlights and overly busy grilles, but no one could say they weren't different or daring. By the mid-Sixties, most Mopars favored a more conservative, boxy look. Although plainer than their predecessors, these were handsome designs that have held up well.

Bold fastback designs with huge rear windows started in 1964 with the new Barracuda and continued with the 1966 Dodge Charger. The revised 1968 Dodge Charger set new standards for sleek "Coke bottle" shaped cars. The rear sail panels gave a fastback look, but allowed for a conventional trunk. This sleek design reached its ultimate functional shape with the 1969 Daytona. The Daytona not only looked wild, it dominated high bank NASCAR tracks.

Chrysler was a little late to the long nose/short deck style pony car market, but the 1970 Challenger and 'Cuda are among the most handsome Mopars ever designed. The Challenger look was so timeless that it heavily influenced the retro 2009 Dodge Challenger. That's a great example of how well Mopar designs have held up.

A huge book could be written about all the great Mopar designs, but space limitations have relegated us to choosing just nine. The nine daring designs on these pages are representative of the many stunning vehicles that make Mopars so unique.



The Chrysler Airflow debuted in 1934. The first year was the wildest, with its "waterfall" grille. The styling was too radical for the time and was slightly un-streamlined until it was dropped after the 1937 Airflows.



Design elegance is seen in items as simple as this 1938 Plymouth hood ornament.



Daring designs were reflected in emblems and model names, such as this 1960 Plymouth Fury with Sonoramic Commando Power.



1957 was the year of fins, and no one did them better than Chrysler designers. This is a 1957 Dodge fin.



Dodge even added fins to the 1957-1959 Sweptside D100 pickup (this is a 1958) by mating 1957 Dodge Suburban two-door station wagon rear quarter panels to the pickup beds.



Chrysler Corporation designers made bold use of side trim to impart a feeling of motion, as seen on this stunning 1955 DeSoto station wagon. They also used color effectively, as with this great three-tone red, black, and white paint job. Fifties Mopars had a very strong presence.



Mopar designers outdid themselves in the fin/wing department with the 1969 Dodge Daytona and 1970 Plymouth Superbird.



Mopar designers did wild and subtle equally well, as evidenced by the graceful front end styling of 1946-1948 Plymouths.




9 Daring Designs
The bold and beautiful cars produced by Mopar designers.
9 Daring Designs - 1948 Chrysler Town and Country Convertibles
An automotive mansion for the discerning owner.

9 Daring Designs - 1957 Desoto Adventurer Convertible
The mid-Fifties were good times for DeSoto.

9 Daring Designs - 1961 Chrysler 300G Hardtop
The wildest rear quarter panels ever assembled in Detroit.

9 Daring Designs - 1967 Dodge Hemi Charger
A full size car that rocked the fastback world.

9 Daring Designs - 1969 'Cuda 440
The fish that swallowed an elephant.

9 Daring Designs - 1969 Dodge Daytona
A space age rocket on wheels.

9 Daring Designs - 1970 and 2009 Dodge Challengers
Everything old is new again.
9 Daring Designs - 2000 Plymouth Prowler
One of the most radical designs ever
mass-produced.
9 Daring Designs - 2003 Dodge Viper SRT-10
Go big or go home.
Published Dec 7th, 2015
More Classic Car News & Article Categories:
Related Articles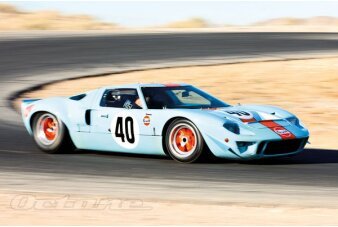 While every factory Ford GT40 is special, some are more special than others.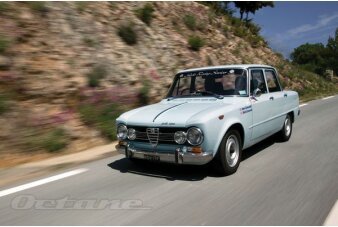 For the Linwoods historic rallying seems to come naturally.
×
9 Daring Designs