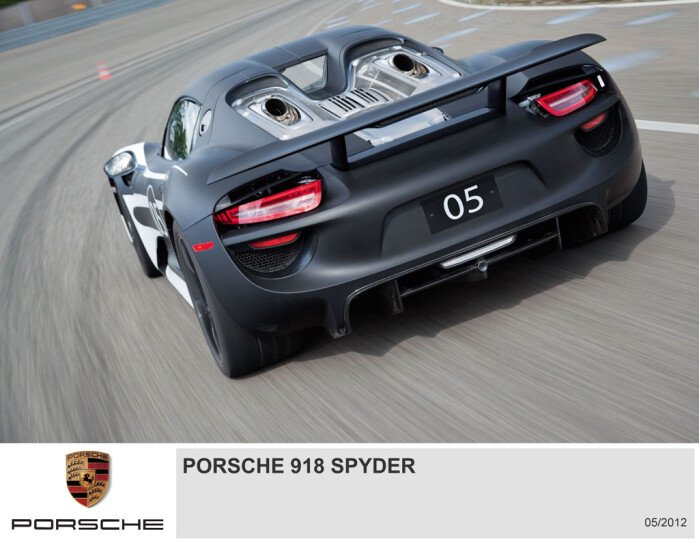 The Porsche 918 Spyder is on the road. Driving trials of the super sports car of the future has progressed a step further with completion of the initial prototypes. The 918 Spyder will go into production at the end of September 2013 as planned, with the first customers receiving their vehicles before the end of that year.
"What we are doing with the 918 Spyder is redefining driving fun, efficiency and performance," said Wolfgang Hatz, Member of the Executive Board Research and Development of Porsche AG.
With their camouflage harking back to historical Porsche 917 racing cars, the prototypes signal the final touches to the 918 Spyder. The focus is on the integration of the highly sophisticated individual drive components. The combination of a combustion engine and two independent electric motors – one on the front axle and one in the drive line, acting on the rear wheels – poses completely new demands on the development of the operating strategies. "They are therefore a critical component in this vehicle into which we have put all of our expertise and capacity for innovation," continued Hatz.
These operating strategies and the development of the software to go with them are one of the core competencies at Porsche. The two disciplines have a major influence on the extremely high level of driving enjoyment offered by the 918 Spyder and they deliver a unique combination of minimal fuel consumption and maximum performance. The initial results of the driving trials are in line with the high expectations placed on the 918 Spyder.
The super sports car is designed as a plug-in hybrid vehicle combining a high performance combustion engine with cutting-edge electric motors for extraordinary performance: on the one hand, the dynamics of a racing machine boasting more than 770 hp, on the other hand, fuel consumption in the region of three litres per 100 km.
As a technology showcase, the  918 Spyder breaks further new ground with spectacular solutions such as the full carbon fibre reinforced plastic (CFRP) monocoque with unit carrier, fully adaptive aerodynamics, adaptive rear axle steering and the upward-venting 'top pipes' exhaust system.
In the process, the 918 Spyder is offering a glimpse of what Porsche Intelligent Performance may be capable of in future.
Specifications of the Porsche 918 Spyder*
Body:
Two-seater Spyder; carbon fibre reinforced plastics (CFRP) monocoque interlocked with CFRP unit carrier; two-piece Targa roof; fixed roll-over protection system.
Drivetrain:
Parallel full hybrid; 4.6-litre V8 mid-engine with dry sump lubrication; hybrid module with electric motor and decoupler; electric motor with decoupler and gear unit on front axle; electrical system recuperation; four cooling circuits for motors, transmission and battery; thermal management.
Engine Power:
> 570 hp (V8 engine)
~ 90 kW (hybrid module on rear axle)
~ 80 kW (electric motor on front axle)
> 770 hp (combined)
Suspension:
Double-wishbone front axle; optional electro-pneumatic lift system on front axle; electro-mechanical power steering; multi-link rear axle with adaptive electromechanical system for individual rear wheel steering
Brake system:
High-performance hybrid brake system with adaptive recuperation; ceramic brake discs (PCCB).
Energy supply:   
Lithium-ion battery with 6.8 kWh capacity (BOL nominal), 202 kW maximum power and mains compatible plug-in charger.
Performance:
Top speed > 325 km/h (201mph)
purely electric > 150 km/h  (93mph) Acceleration: 0 – 100 km/h < 3.0 s
Consumption(NEDC):
Total ~ 3.0 l/100 km (94 mpg)
CO2 emissions:
Total ~ 70 g/km
Range:
Purely electric > 25 km (15 miles)
* Provisional specifications
Published Dec 7th, 2015
More Classic Car News & Article Categories:
Related Articles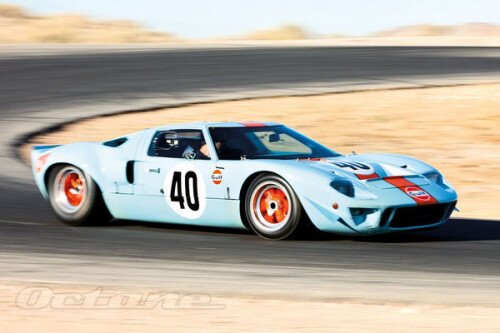 While every factory Ford GT40 is special, some are more special than others. The dazzling example featured here, chassis GT40P/1074, earns bonus points for at least three reasons..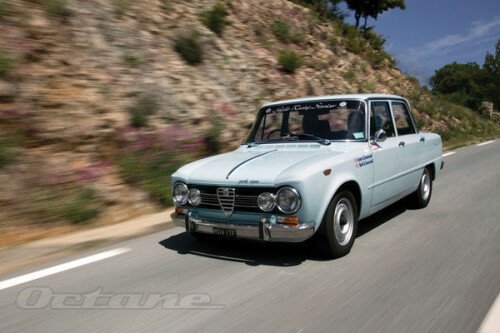 Not long after their first event together, Bob bought a standard road-going 1968 Alfa Romeo Giulia Super, and had it restored by Classicarco in Manchester. We spend a pleasant afternoon tossing it around the French countryside for Martyn's camera, Bob and I swapping the wheel like two duffers on the practice green trying out the same putter.
Advertisement
×
2013 Porsche 918 Spyder Closer To Production