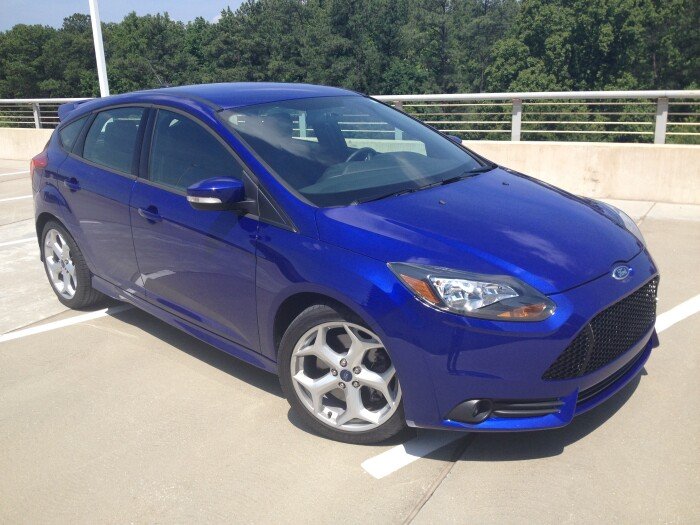 I'm staring at a 300-foot long World War II era submarine...in the middle of a field...in Oklahoma. You can't make something like this up. If I were in one of my classic cars I would have written this off as a hallucination brought on by an exhaust leak. But I'm not in one of my classics cars; I'm in a brand new 2013 Ford Focus ST and I'm heading to the Mid America Ford & Shelby Nationals in Tulsa, OK.

Last year the AutoTrader Classics crew went to the 2012 Mid America Ford & Shelby Nationals for the first time and instantly fell in love with the event. What's not to love about a long weekend filled with road racing, drag racing, cruising, and an epic car show? And even though we attended every event, we felt like there was something missing. This year we decided to fill that missing piece by actually participating in all the events! But how? I wanted to drive from our offices in Atlanta to the event in Tulsa, but alas I did not have a performance Ford product in my garage (well, at least one able to make the long trip). I could rent a car, but that would be no fun. No, we needed something with style! Something that could be driven half way across the country, flogged on a race track, launched down the drag strip, then shined up for the car show. That's where our friends at Ford came in and offered to lend me a brand new 2013 Focus ST for the trip. That's more like it! With our chariot acquired it was time to head out!



Mile zero. All gassed up and ready to leave Atlanta and head toward Birmingham, Alabama.



You can't drive through Alabama and not stop at the fastest track in NASCAR. It was eerie being there without the roar of engines around you.



Birmingham is lucky to have not one, but two awesome tracks. Barber Motorsports Park host a variety of great events throughout the year, plus they have an amazing motorsports museum! Too bad I didn't have time to take a tour.



Did you know there was a huge automobile museum in Tupelo? Neither did I until I saw the road signs. I popped in for a quick look and was not disappointed. This place is huge!



Yes that is a Tucker Torpedo. Wow.



And of course there is one of Elvis's cars. In this case a 1976 Lincoln Mark IV.



It was onward to Memphis and the over mighty Missisippi. Half way to Tulsa!



Arkansas passed pretty quickly and it was on to Oklahoma. You have to love the teepee picnic tables at the state welcome center.



Somewhere near Muskogee a leviathan was lurking in the woods...



And there it is, the USS Batfish in all its glory. They towed her up the Arkansas River in the early 1970s and parked her in this shallow field. She's clearly visible from the highway and quite an odd sight indeed. Enough maritime history, time to push on!



Tusla finally! The parking lot of the Southern Hills Marriott was already packed with Mustangs. Time for some rest, it will be a busy day tomorrow.



On Wednesday it was time to put the Focus ST through its paces at the Ford Performance Driving School hosted at Hallett Motor Racing Circuit.



There were over 30 students on hand (including myself and Ford's own Paul Brearey) plus a group of well season instructors.



Waiting on the starting grid for the morning session. All I did was the check the fluids, yank the floor mats, tighten the lug nuts and put on a helmet. This car was going out on the track in bone stock configuration.


/
During a break between sessions I was swarmed by students and instructors trying to figure out how the little hot hatch was doing so well on the track.



Ford brought out their newest hot hatch to the track, the Fiesta ST (left) so naturally I needed to compare it to the Focus ST (right).



After a day at the track it was on to the cruise-in at the Brady Arts District in downtown Tulsa.



Well well, what do we have here parked next to the Focus ST? Why it is the 5.0L Coyote V8 powered '69 Mustang built by Gateway Classic Mustang and featured on Hot Rod TV! Jason and Lonnie Childress were flogging this car at the track daily and then cruising the town with it at night. There's an in-car video track video here! 



On Saturday it was time to hit the drag strip. The Focus ST stuck out a little in the staging lanes.



Due to the author's lackluster drag racing skills the Focus ST ran a 15.3 at 93 mph. It was scrambling for traction and had no problem blowing the tires off if you hit the 1-2 shift too hard. Too bad rain put an early end to the day.



On Sunday it was the finale of the weekend, the All Ford Super Show! The Focus ST was all shined up and sitting pretty but was beaten by a very impressive V8 Miata. Oh well, maybe next year.



And finally it was time to head back to Atlanta and the AutoTrader Classics headquarters. Final score: 2,446 miles, 46 hours behind the wheel, 26.1 mpg average overall, one day at racing school, half a day at the drag strip (rained out), one cruise night, one car show, one car museum, and one WWII submarine. What an adventure! 




Classic Reviews: 2013 Ford Focus ST
Putting the new Focus ST through the gauntlet.



Report: 2013 Mid America Ford & Shelby Nationals
Bringing the Ford & Shelby family together again in Tulsa!

Want more Ford content? Check out our Ford Enthusiast Headquarters!
Published Dec 7th, 2015
More Classic Car News & Article Categories:
Related Articles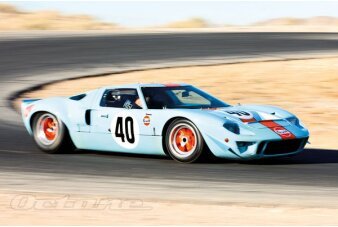 While every factory Ford GT40 is special, some are more special than others.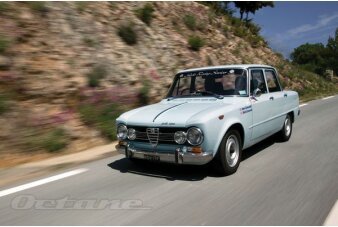 For the Linwoods historic rallying seems to come naturally.
×
2013 Focus ST Road Trip!