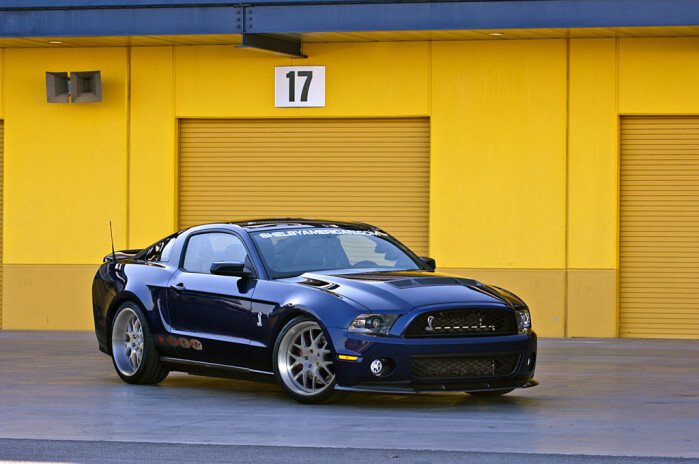 Photos by the author and Courtesy of Shelby American, Inc


Carroll Shelby was never a man to settle for simply having enough. Imagine a world where someone looked at the quaint 6-cylinder engine under the hood of an AC Ace and said "well, that is quite enough power" and walked away. No, Shelby shoved a good old American V8 in its place and started an automotive legacy that has stood the test of time. But now we reach a new era. Shelby's engineers worked tirelessly to bring his dreams to life, and one of those dreams was a 1,000 horsepower street car. That dream is a reality with the Shelby 1000.

It was only a few years ago that Shelby American, Inc. had produced an 800 horsepower car, an impressive achievement in its own right. Reportedly after taking the car for a spin Carroll Shelby climbed out and announced that he wanted to up the ante to one thousand horsepower. Undaunted, the mad scientists at Shelby American, Inc. took up the challenge and the Shelby 1000 began development soon after. Initially powered by a turbocharged engine, the skunk works project was delivering the requested power levels, but drivability and dependability were not at the quality level the Shelby team demanded. Sure it ran but it was a mess of wiring and electronics that would never meet with customer's expectations. So the turbo program was scrapped (although the car itself still exists) and the tried and true supercharging method was employed. No stranger to positive displacement blowers, Shelby engineers reached out to Kenne Bell to supply a gigantic 3.6L supercharger with a 10% overdrive pulley. The huffer is perched atop a thoroughly worked Ford 5.4L V8 that has been treated to a list of top notch upgrades. The combo is good for 950 horsepower in street trim (on pump gas no less), and 1,100 horsepower in race trim.

Having a Bugatti Veyron level of power is useless unless you can put that power to the ground. The Shelby 1000 has been tuned to turn just as well as it accelerates. Key suspension components have been upgraded, strengthened or simply replaced in order to help put the massive power to use. Thanks to the huge by wide wheels and tires this car grips the pavement with tenacity unlike any other Mustang.

But back to the acceleration part: punching the throttle in this car is akin to lighting the fuse on a Saturn V rocket. While not available for non-Shelby employees to drive at the time, with Shelby American, Inc.'s Gary Patterson behind the wheel it is easy to see what makes the Shelby 1000 such a top performer. Acceleration from zero to 60 MPH is fine and dandy, but from 60 MPH and above it is downright mind blowing. The blower whine grows to a glorious crescendo while the world passes by in a blur. Stopping power is no problem thanks to the upgraded brake package.

Sawing the wheel back and forth brings near telepathic lane changes with brutal immediacy. Shockingly the engine purrs along at 1,000 RPM without as much as a hiccup. Gone are the days of fidgety high power engines that require constant coddling to make them perform. Simply twisting the key makes the engine leap to life and settle into a humble idle without any drama and no gas pedal tap dancing. To give an idea of how docile this car can be, recently it was driven on a several mile long cruise through downtown Tulsa, Oklahoma in 90+ degree heat. There were zero problems, even in the stop-and-go traffic that forced more than one car to stop and cool down. The exhaust has a fantastic tone what lets those around you know something devious lurks under the hood but without being obnoxious.

Frankly the overall appearance of the car is subdued. The badges are subtle with the main factor being the "Shelby 1000" lettering across the lower door panel. The hood is a slightly taller piece than normal Shelbys in order to clear the massive blower. Nothing about this car screams "hey I have enough power to pull a freight train" but that is exactly what Shelby's customers requested. They want the power, they just don't want everyone else to know. Sneaky.

The projected price for the Shelby 1000 will be around $200,000. To put that in perspective, you can have five Shelby 1000s, or a single Bugatti Veyron. Did we also mention the street trim Shelby 1000 is 50-state emissions legal? Some would say this is the ultimate Shelby, but Carroll might have said it was just a good start.
Shelby 1000 Features:
Engine

Balanced Shelby rotating assembly, rods, pistons, rings and oil pump
ARP main and head studs
Stage 3 ported heads
Shelby Valve springs and titanium retainers
Shelby supercharger grind camshaft
High capacity 8 qt. oil pan
3.6L Kenne Bell supercharger with inlet pipe
Kenne Bell twin blade 75 MM throttle body
10% overdrive pulley
C&R heat exchanger with 55 GPM water pump
Oil/air separator
Dual Spal heat exchanger fans
Published Dec 7th, 2015
More Classic Car News & Article Categories:
Related Articles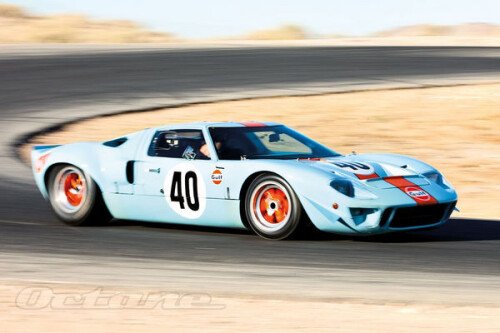 While every factory Ford GT40 is special, some are more special than others. The dazzling example featured here, chassis GT40P/1074, earns bonus points for at least three reasons..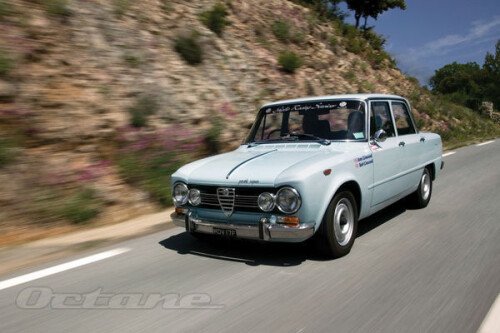 Not long after their first event together, Bob bought a standard road-going 1968 Alfa Romeo Giulia Super, and had it restored by Classicarco in Manchester. We spend a pleasant afternoon tossing it around the French countryside for Martyn
Advertisement
×
2012 Shelby 1000