‹ Go back
2012 Dodge Challenger: New Car Review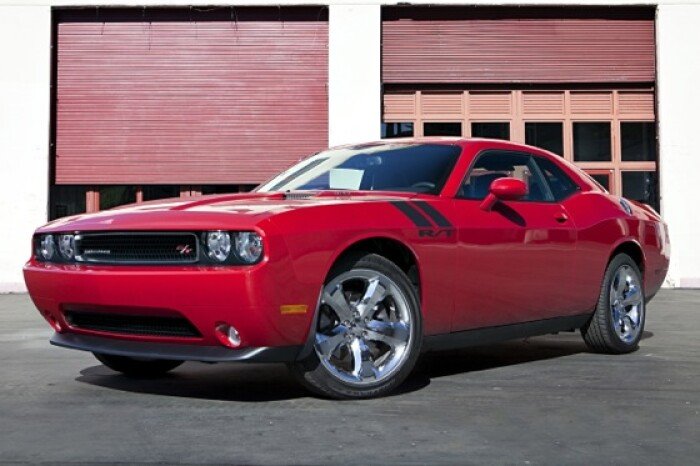 Pros: Glorious V8 engines, luxurious highway ride, sedan-like back seat, huge trunk, unique looks.
Cons: Too big to be much fun on a winding road, no convertible model, boring interior.
Introduction
As muscle cars go, the 2012 Dodge Challenger is full of surprises. Take one glance at the mean-looking Challenger and you might assume that it's rough, impractical and generally uncouth. But the truth could hardly be more different. Thanks in part to a suspension with ties to Mercedes-Benz engineering, the Challenger is one of the very best highway cruisers on the market, quietly devouring miles like a high-buck luxury sedan. The Challenger's back seat and trunk are also sedan-grade-the Dodge positively humiliates the Camaro and Mustang in these categories. And unless you find the epic rumble of a Hemi V8 uncouth, your lasting memory of the Challenger will likely involve its all-around civility.
In other words, we like the Challenger a lot. We should add a few notes of caution, however. Whereas the other reborn muscle cars have become quite adept at circling racetracks, the portly Challenger is best in a straight line, capable though it may seem when you look at the handling numbers. The Challenger also has a relatively unimaginative interior, and it's the only modern muscle car that's not offered as a convertible.
But none of that dampens our enthusiasm. Rather, it just makes us appreciate the Challenger's uniqueness. Dodge has essentially built a powerful luxury coupe in the form of a muscle car. That's our kind of surprise.
Comfort & Utility
The 2012 Dodge Challenger comes in three main versions defined by engine type: the SXT range is V6-powered, the R/T gets a 5.7-liter V8 and the SRT-8 rocks a 6.4-liter V8. The base SXT includes 18-inch alloy wheels, keyless entry/ignition, a tilt-telescopic steering column with a leather-wrapped wheel, power front seats, automatic climate control and a six-speaker audio system with an auxiliary audio jack (but not a USB port). The SXT Plus package adds niceties like leather upholstery, heated front seats, Boston Acoustics speakers with enhanced power and USB and Bluetooth connectivity. The R/T and R/T Plus trims add a sport-tuned suspension but otherwise essentially mirror the SXT range (though USB/Bluetooth are standard on all R/Ts), while the R/T Classic tacks on 20-inch wheels, xenon headlamps, a functional hood scoop and body stripes. Many of the fancier models' features can be specified on lesser models as options.
Standing alone at the top of the Challenger hierarchy is the SRT-8, which comes standard with most of the lower trims' luxuries plus exclusive 20-inch forged aluminum wheels, conventional power steering (the other Challengers have electric-assist steering), a three-mode electronically adjustable suspension, sport front seats (note that the passenger seat lacks power adjustments) and a 6.4-inch touchscreen interface with a 30-gigabyte hard drive.
The touchscreen can be added to any Challenger, by the way, and SXT Plus and higher trims with or without an optional navigation system. There's also a variety of factory and dealer upgrades for both appearance and performance, as well as an optional premium Harman/Kardon audio system with a fairly incredible 18 speakers.
Like many Dodge front seats, the Challenger's are squishy-think memory-foam mattress more than orthopedist's chair. That's fine, though, because we've never noticed any aches or pains after a long Challenger drive. The SRT-8's special sport seats add some welcome side-hugging bolsters, which are largely absent in lesser models. Alas, the Challenger's cockpit is otherwise as dull as the exterior is delightful. Yanked out of the previous generation Charger sedan, the Challenger's dashboard looks simplistic and outdated compared to the new Charger's stylized dash. Materials quality is pretty good, but here again the new Charger does it better. At least the Challenger's got a properly sporty three-spoke steering wheel these days; it used to roll with a four-spoke job that would barely pass muster at Hertz.
Happily, the Challenger's cabin redeems itself in back, where rear occupants will be treated to perhaps the most palatial back seat in any mass-market coupe. There's sedan-like room back there, plain and simple. Other sporty coupes just can't touch it. The trunk is enormous, too, at 16.2 cubic feet-another sedan-grade achievement.
Technology
We know a lot of Challenger buyers are nostalgic types, but still, it would be nice to see standard USB and Bluetooth connectivity in this day and age. The base SXT doesn't have it, though the other Challengers do. In any case, the centerpiece of the Challenger's technology suite is the available 6.4-inch touchscreen interface, which features a hard drive with ample digital-music storage-and an optional navigation system if you want to pay extra. This familiar system isn't completely obsolete, but it has aged rapidly in recent years, particularly with the release of Chrysler's new 8.4-inch interface, which appears in the Charger, among others. The Challenger's interface is both less attractive and less intuitive, though it's functional enough that we wouldn't discourage you from opting in.
Performance & Fuel Economy
The Challenger SXT is powered by a 3.6-liter V6 that generates 305 horsepower and 268 lb-ft of torque. A five-speed automatic is the only available transmission. Acceleration is reasonably strong with the V6, but the deliberate automatic is a bit of a killjoy. The fun really starts with the R/T, which sports a 5.7-liter V8 that makes 375 horsepower and 410 lb-ft of torque with the unique "Pistol Grip" six-speed manual shifter. It's a lovely combo, the V8 with its melodious exhaust note and the shifter with its precise movements through the gates. A five-speed automatic is optional, but it drops output to 372 horsepower and 400 lb-ft of torque, and it's not the most refined automatic on the market.
As for the SRT-8, its 6.4-liter V8 churns out 470 horsepower and 470 lb-ft of torque with either the six-speed manual or the five-speed automatic. We don't feel the need for more speed after driving the R/T, but if you do, the SRT-8's absolutely epic sound and fury should hit the spot.
Fuel economy starts at 18 mpg city/27 mpg highway for the SXT and drops to 16/25 mpg for the automatic R/T, 15/23 mpg for the manual R/T, and 14/23 for the SRT-8 regardless of transmission.
Safety
The 2012 Dodge Challenger comes with standard stability control, four-wheel antilock disc brakes and six airbags. The Challenger had not been crash-tested as of this writing.
Driving Impressions
The Challenger may look mean, but it's a pussycat from behind the wheel. The steering effort is light, the ride is luxury-car smooth and road noise is quite subdued by performance-car standards. However, there's no getting around the Challenger's considerable size, which imparts a commanding feel on the highway but becomes problematic on tight roads. Although sportier Challengers are quite capable by the numbers, they're just too big and heavy to be driven like sports cars. Hey, if you don't like that, go buy a Camaro or a Mustang. But Challenger buyers will be rewarded with easily the most refined driving experience among the muscle-car trio.
Other Cars to Consider
Chevrolet Camaro - The Camaro SS remains the drag-strip king of the affordable V8-powered muscle cars, and this Chevy's got serious style. Outward visibility is a different story, though.
Ford Mustang - Recently rejuvenated by two new engines, the nimble Mustang is the sportiest muscle car these days, and the GT's 5.0-liter V8 is one of the finest V8s you'll come across.
Chrysler 300 - Basically the same car as the Challenger underneath, the 300 adds two more doors and a healthy dollop of interior luxury. If your heart's not set on the Challenger's unique styling, check out the 300's (or the sportier Charger's) different take on this formula.
Published Dec 7th, 2015
More Classic Car News & Article Categories:
Related Articles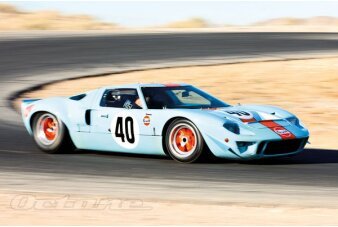 While every factory Ford GT40 is special, some are more special than others.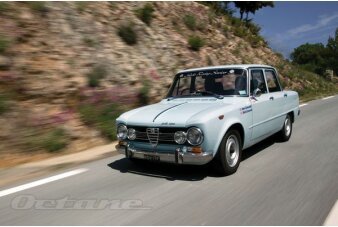 For the Linwoods historic rallying seems to come naturally.
×
2012 Dodge Challenger: New Car Review