‹ Go back
2012 Barrett-Jackson Las Vegas Auction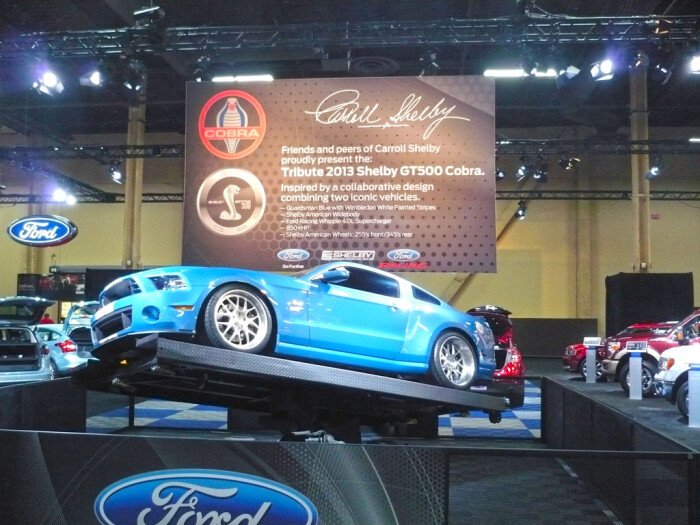 The Las Vegas Barrett-Jackson Collector Car Auction is over. It was an exciting, three-day event. It is an event, not just an auction. Think of a Barrett-Jackson Auction as more of a car and vendor show with an auction thrown in.
I was amazed when I arrived Friday morning to see lines of people buying general admission tickets; I'm not used to that at a collector car auction. Barrett-Jackson says they had over 68,000 attendees. Figure that most were paying customers, not bidders, sellers or VIPs. They didn't come to just browse the vendors or argue over their favorite car; a large number sat and watched the cars and Automobilia being bought and sold.
Although other auto makers had a presence, Ford and those that modify Ford products were predominant. Ford had a large display in the vendor area with their performance models front and center.
Shelby American, Inc. is 50 years old this year and they were a big part of the Barrett-Jackson Las Vegas Collector Car Auction. Not necessarily the auction side although there were more than a few Shelby's that went across the block, but also as part of the car show/event. Shelby has been traveling the nation with a nice representation of their vehicles past and present, and the merchandise they sell.
I spoke with John Luft, President of Shelby American, Inc. in an hour long, wide ranging discussion about Shelby's past, present and future. Today Shelby builds seven Shelby Mustangs: the Shelby 1000, Shelby GT500 Super Snake, GT500 Super Snake 50th Anniversary, GT350, GT350 50th Anniversary, GTS, and GTS 50th Anniversary, and six specialty cars: 50th Anniversary Shelby Cobra, 427 S/C Shelby Cobra, 289 FIA Shelby Cobra, 289 Shelby Street Cobra, Shelby GT40 and the Shelby Daytona Coupe.
One of the things I asked John was about Shelby's future. John started off by saying that Carroll Shelby set out a plan for the next fifty years before he left us. Shelby is definitely looking to stay with Ford in the future; John said that one of the things Carroll said to him was that it was good to be home with Ford. Without giving away any secrets John made it clear that they are already working on the next generation Mustang and a few other Ford models (he kept mentioning the EcoBoost engines, Focus and Fusion). John said that no matter what they build it will always, "look like a Shelby, drive like a Shelby, and sound like a Shelby." That's good news to all Shelby (and Ford) aficionados.  Mr. Luft said, and I agree, that Shelby cars are Ford's "halo" cars.
The car auction itself hit a record for Las Vegas of $23 million in sales and the Automobilia side increased its dollar amount by 45% from last year to $660,000. To keep things in the Ford vein the highest price paid was $330,000 for a 1967 Mustang Shelby Super Snake, a 1970 Shelby GT500 went for $220,000, and a '62 Lincoln Continental Convertible for an incredible $113,300.
Barrett-Jackson auctioned six cars for charity. It is indicative of the audience at this event that one of them, a bone stock 1955 Chevrolet 210 Hardtop with a six-cylinder sold for $50,000, about half what the seller/donor had hoped to get. In a spontaneous show of support the audience then started donating additional money, adding a thousand here, a couple more there, until they reached an additional $50,000. The proceeds, $100,000, were evenly split between the Festival of Hope of Scotts Bluff (Nebraska), a foundation that aids local cancer patients and the Russ and Brian Jackson Cancer Research Fund at T-Gen.
If you've never been to a Barrett-Jackson Collector Car Auction and you can get to one of the four locations (Palm Beach FL, Orange County CA, Las Vegas NV, and Scottsdale AZ) you owe it to yourself to go even if it's just to watch others spend money. Check http://www.barrett-jackson.com/ for more information.


Want more Ford content? Check out our Ford Enthusiast Headquarters!
Published Dec 7th, 2015
More Classic Car News & Article Categories:
Related Articles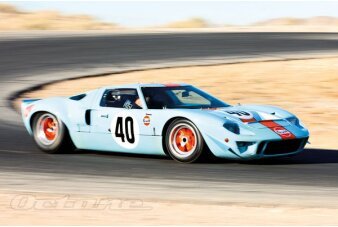 While every factory Ford GT40 is special, some are more special than others.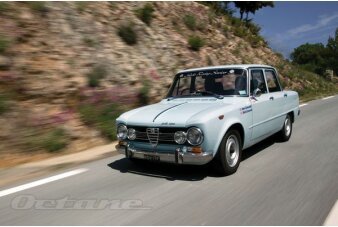 For the Linwoods historic rallying seems to come naturally.
×
2012 Barrett-Jackson Las Vegas Auction