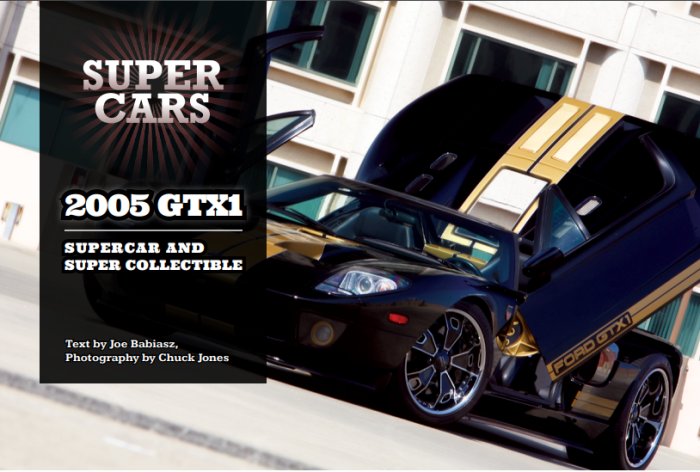 Text by Joe Babiasz, Photography by Chuck Jones
It's hard to imagine the Ford EVT engineering group sitting around looking at their newest supercar, the Ford GT and thinking "let's make it cooler. Most sane people would stare at them assuming they'd lost their minds. But that's exactly what happened. Thanks to the imagination of Kip Ewing, Ford's SVT engineering supervisor, Ewing conceived the idea of producing a GT roadster while working on the launch of the GT.
With the help of the Specialty Equipment Market Association (SEMA), his vision would later become a reality. Through the SEMA Technology Initiative, a program where Ford Motor Company shared technical drawings and electrical schematics with SEMA member companies, Ford was able to collaborate with several of those companies to produce a low-volume niche vehicle. Ewing had the design, SEMA had the suppliers and soon, the GTX1 was born.
The Genaddi Design Group, a well respected coachbuilder in Green Bay, Wisconsin, was chosen to head the project. Leading the team was Mark Gerisch, a seasoned designer and metal fabricator who Ewing had known for years. The team had the GT platform as the starting point, a proposed design and a well known builder to bring the GTX1 to life. Their goal was to have one ready for the November 2005 SEMA show.
All GTX1s began as a GT, Ford's new age supercar that was launched to critical acclaim in August 2004. This wild street version, with an all aluminum 5.4-liter V8 that produced 550 horsepower, was reminiscent of the race proven GT40 which in the '60s, won Le Mans four times in a row. And while the new GT was 18 inches longer and 4 inches taller than the earlier version, it held true to its styling heritage with its graceful body lines courtesy of Camilo Pardo, Chief Designer for the Ford GT. By the time the team was finished, Pardo and his team succeeded in developing a unique combination of outstanding performance, superb handling and excellent comfort. The result was a world class sports car.
Buyers who wanted a GTX1 had to purchase a new GT that was then shipped to the Genaddi Design Group for upgrades. The primary modification to the GT was the installation of a removable targa style roof panel. The new roof required revisions to the doors, B-pillars and rear deck. Rear deck changes included a new supercharger cover and twin fairings that look similar to rollover hoops. Inside, the GT seat covers were re-trimmed using French seams. Chassis changes included revised coil-over dampers that lowered the vehicle by one inch and larger wheels in both front and rear. A Borla exhaust system provided music to the ears of performance enthusiasts. In addition to simply ordering a GTX1, customers could choose additional options including engine modifications that increased horsepower up to 700, special paint, butterfly doors, etc. The price for the convertible conversion started at $38,000 but was later upped to $48,000 due to cost overruns. The price might appear steep but keep in mind that it required more than just slicing the top off
Published Oct 24th, 2017
More Classic Car News & Article Categories:
Related Articles
Related Exotics
×
2005 GTX1