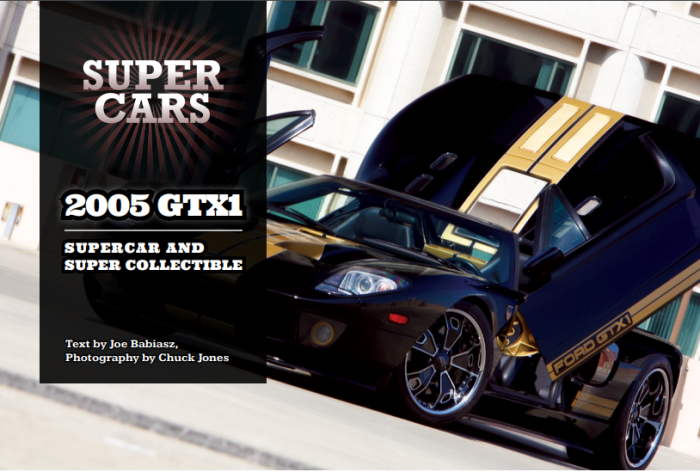 Text by Joe Babiasz, Photography by Chuck Jones
It's hard to imagine the Ford EVT engineering group sitting around looking at their newest supercar, the Ford GT and thinking "let's make it cooler. Most sane people would stare at them assuming they'd lost their minds. But that's exactly what happened. Thanks to the imagination of Kip Ewing, Ford's SVT engineering supervisor, Ewing conceived the idea of producing a GT roadster while working on the launch of the GT.
With the help of the Specialty Equipment Market Association (SEMA), his vision would later become a reality. Through the SEMA Technology Initiative, a program where Ford Motor Company shared technical drawings and electrical schematics with SEMA member companies, Ford was able to collaborate with several of those companies to produce a low-volume niche vehicle. Ewing had the design, SEMA had the suppliers and soon, the GTX1 was born.
The Genaddi Design Group, a well respected coachbuilder in Green Bay, Wisconsin, was chosen to head the project. Leading the team was Mark Gerisch, a seasoned designer and metal fabricator who Ewing had known for years. The team had the GT platform as the starting point, a proposed design and a well known builder to bring the GTX1 to life. Their goal was to have one ready for the November 2005 SEMA show.
All GTX1s began as a GT, Ford's new age supercar that was launched to critical acclaim in August 2004. This wild street version, with an all aluminum 5.4-liter V8 that produced 550 horsepower, was reminiscent of the race proven GT40 which in the '60s, won Le Mans four times in a row. And while the new GT was 18 inches longer and 4 inches taller than the earlier version, it held true to its styling heritage with its graceful body lines courtesy of Camilo Pardo, Chief Designer for the Ford GT. By the time the team was finished, Pardo and his team succeeded in developing a unique combination of outstanding performance, superb handling and excellent comfort. The result was a world class sports car.
Buyers who wanted a GTX1 had to purchase a new GT that was then shipped to the Genaddi Design Group for upgrades. The primary modification to the GT was the installation of a removable targa style roof panel. The new roof required revisions to the doors, B-pillars and rear deck. Rear deck changes included a new supercharger cover and twin fairings that look similar to rollover hoops. Inside, the GT seat covers were re-trimmed using French seams. Chassis changes included revised coil-over dampers that lowered the vehicle by one inch and larger wheels in both front and rear. A Borla exhaust system provided music to the ears of performance enthusiasts. In addition to simply ordering a GTX1, customers could choose additional options including engine modifications that increased horsepower up to 700, special paint, butterfly doors, etc. The price for the convertible conversion started at $38,000 but was later upped to $48,000 due to cost overruns. The price might appear steep but keep in mind that it required more than just slicing the top off – removing it would lessen the structural integrity. Space frame changes were required to solve the issue.
Due to a variety of concerns, only 38 units were produced before production ceased. The original goal of building 500 GTX1 convertibles plus 100 SEMA edition models never materialized. But you have to give credit to Kip Ewing and Mark Gerisch.
Fuel For Thought
Great return on investment.
It's a 190 mph open top sports car. The question is how can it get any better? Don't expect to go unnoticed when pulling into a parking spot.
Specifications
Number built:
38
Construction:
aluminum space-frame construction with aluminum body
Engine:
supercharged 330 cubic-inch dual overhead cam V8 Power/Torque: 550/500
Transmission:
six-speed manual
Suspension Front:
upper A-arms and lower L- arms, coil springs with anti-roll bar
Rear suspension:
upper A-arms and lower L-arms, coil springs with anti-roll bar
Steering:
rack & pinion, power assist
Brakes:
Brembo four-wheel disc, 14.0 inch front and 13.2 inch rear-drilled and vented
Length/width/height:
Wheelbase – 182.8/76.9/44.3 inches
Weight:
3,390 curb weight 0-60mph/quarter-mile: 3.8 seconds, 12.2 seconds at 121.6 mph (Ford Motor Company)
Top speed:
190 mph MPG: 14/21 EPA est.
Price:
MSRP $149,900
Today:
North of $500,000 for a 2005 GT with the Genaddi Design Group package (GTX1).
Engine
Ford's modular architecture powertrain was designed for performance. A forged steel crank, forged pistons and shot-peened H-beam connecting rods gave unequaled durability. The highflow heads, twin fuel injectors per cylinder and a screw-type supercharger provided exhilarating acceleration. The dry sump oil system gave consistent lubrication even on hard turns.
Handling
The double-wishbone suspension design with unequal-length aluminum control arms and coil over shocks provided incredible handling. Oversize Bembro brakes stopped the GTX1 from 60 mph in 117 feet. Lateral acceleration on a 200 foot skidpad was .99 G with moderate understeer.
Strong Points
Ultimate driving machine Outstanding performance and handling Race car styling
Weak Points
Expensive to own and insure Not practical for everyday use Aftermarket parts near impossible to purchase
Vehicle Category
Owners of the GTX1 enjoy driving them, a rarity considering the purchase price.
Websites
www.fordgtforum.com
Books
Ford GT: The Legend Comes to Life by Larry Edsall Ford GT: Then and Now by Adrian
Streather Ford GT by Tracy Nelson Maurer Ford GT and GT Ultimate Portfolio by R. M.
Clarke The Ford that Beat Ferarri by Gordon Jones
Review
Ultimately, sales of the GTX1 didn't reach the number originally hoped for, yet today it stands on its own as a unique version of the Ford GT. The few who purchased one have the privilege of owning a rare piece of history.
Published Oct 24th, 2017
More Related Vehicles
More Classic Car News & Article Categories:
Related Articles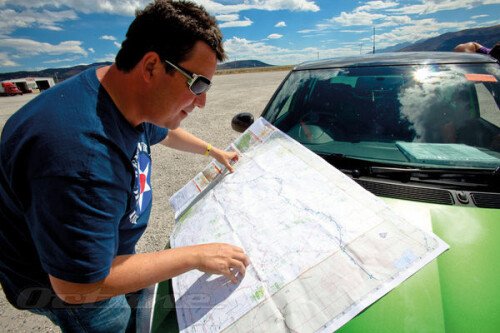 One European's experience at Bonneville's famous SpeedWeek. More than 800 miles of endless vistas, winding canyons and blistering temperatures is a big challenge for any car, let alone a small hot hatchback that's 6000 miles away from its natural habitat.
Related Exotics
Advertisement
×
2005 GTX1