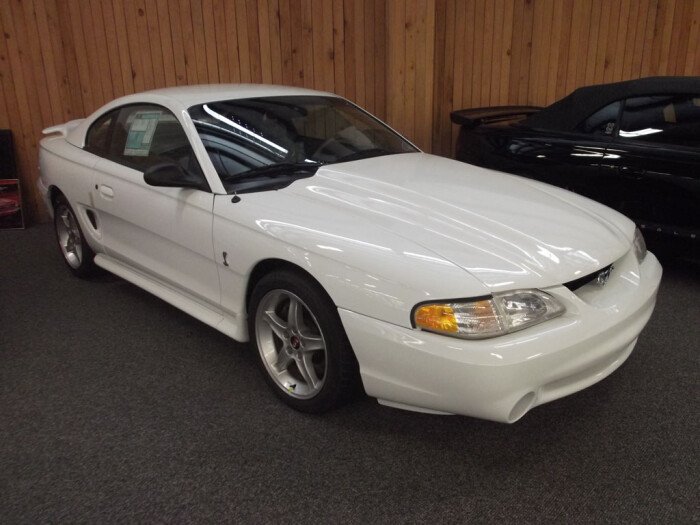 By Joe Babiasz, Barry Kluczyk  and Brian Medford

When you say "Cobra" and "Mustang" a few different cars may come to mind. Ford dabbled with the Cobra nameplate early in Fox body's career, with models offered between 1979 and 1981. They were largely tape-graphic packages, as the less that was said about their blow-through turbo-fours and anemic V-8s, the better. Cobra was also used on Canadian-sold GT models from the mid-1980s and later, allowing Ford to maintain rights to the name. In 1993 Ford brought real teeth to the Cobra name with the R package. So successful was this experiment that Ford decided to do it again in 1995.

The new SN-95 Mustang had debuted the previous year. This new Mustang was well received by enthusiasts thanks to the new sheetmetal and carryover V8 engine. Buyers had been begging for more though and Ford finally answered their demands with the Cobra R. The recipe was simple: a bigger engine, better suspension and less weight. Ford went through the Mustang slashing non-essentials to reduce weight. Missing from the Cobra R were things like the rear seat, radio, sound deadener, power mirrors, power windows, power locks, and air conditioner. Fog lights were replaced with air scoops to cool the front brakes. In a move Henry Ford would have approved the Cobra R was available in one color only: Crystal White. The sole interior choice was beige cloth.

Suspension tweaks consisted of heavier front and rear anti-rollbars, Koni adjustable shocks/struts, stiffer front and rear coil springs, and a front strut tower brace. All of this helped keep the gigantic 225/45-17" tires planted at all four corners. To stretch the range between pit stops a larger 20-gallon fuel cell was fitted. A unique fiberglass hood was fitted to reduce weight and to also clear the taller 5.8L V8 engine.

The previous 1993 Cobra R models had been quickly snapped up by collectors and almost immediately stored away. Ford wasn't too happy with this idea so there were a few rules for buying a 1995 Cobra R. In order to get these cars into the hands of people who would drive them, Ford made it a requirement that potential buyers had to be true race car drivers. This included being a member of a sanctioned racing body with a current racing license and a documented competition history. Still several pristine examples have survived in private collections. The car featured here belongs to the NPD Collection and is still in "as delivered" condition.

Amazingly the Cobra R was built on the same production line in Dearborn as countless other Mustangs. The formidable 5.8L V8 was assembled at the Windsor engine plant in Canada with a brief stop at Roush Technologies to have the unique exhaust system fitted. They were then brought together with the Cobra Rs as they rolled down the assembly line. Ford proved that they were able to put together a truly low production specialty vehicle on their own.


Specifications
Number built – 250
Construction – Unibody
Engine – 351 cubic-inch V8
Power/Torque – 300 horsepower/365 lb-ft torque
Transmission – five-speed manual
Suspension front – modified MacPherson struts with lower A-arms, coil springs and anti-rollbar
Suspension rear – live axle with angled upper and lower trailing arms, coil springs and anti-rollbar
Steering – rack & pinion
Brakes – four-wheel disc (13" diameter front/11.65" diameter rear)
Length/width/height – 181.5/71.8/52.7 inches
Wheelbase – 101.3 inches
Weight – 3,326 lbs.
0-60mph/quarter-mile – 5.2 seconds, 13.8 seconds (estimated)
Top speed – 152 mph (estimated)
MPG – 14-22 mpg EPA est.
Price – $ 35,499


Engine
The 351 Windsor engine added 60 horsepower more than the standard Cobra giving lightening fast performance. Compression was a reasonable 9.0:1. GT40 cylinder heads were mated to a GT40 lower intake and a special Cobra R only upper intake manifold.

Handling
A host of suspension upgrades made the Cobra R a real performer at the track, but still able to be driven on the street. Steering is quick with plenty of grip thanks to the huge by wide 255/45-17" tires at all four corners.
Published Dec 7th, 2015
More Classic Car News & Article Categories:
Related Articles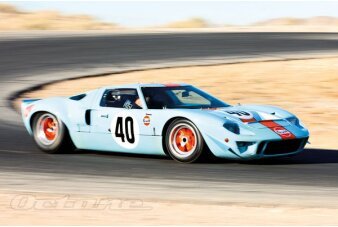 While every factory Ford GT40 is special, some are more special than others.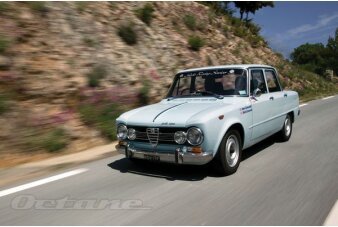 For the Linwoods historic rallying seems to come naturally.
×
1995 Mustang Cobra R