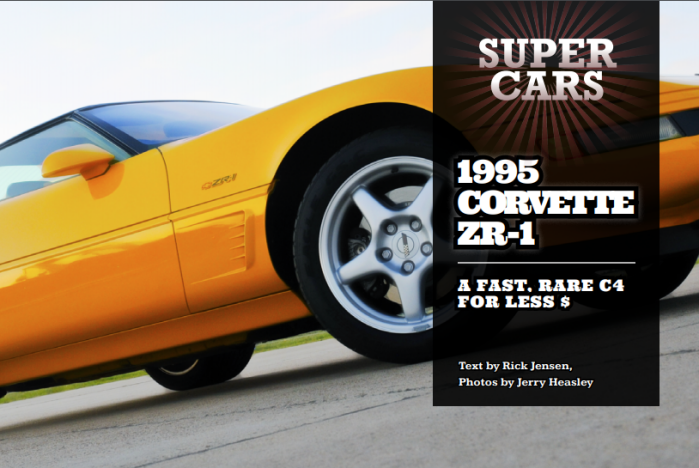 Text by Rick Jensen, Photos by Jerry Heasley
The ZR-1's production run from 1990-95 was one of the most exciting times for Corvette enthusiasts in recent memory. The buzz started years earlier when, in the mid-1980s, rumors of a "King of the Hill" Corvette began to leak out of Detroit and into America's speed shops and dealerships. And the rumors were true: GM wanted the fastest car in the world, and it approached Lotus in Great Britain to help attain that goal. It was in this manner that the heart of the ZR1 package–the race-bred LT5 engine–was born. While this GM/Lotus creation displaced the same 350 cubes as the base Vette's L98 TPI engine, the LT5 was a totally different animal: An aluminum block was the foundation for a wild set of four-cam heads with 32 valves, and a massive intake with a secondary-port throttle setup and 16 fuel injectors–the LT5 had 16 more valves, eight more injectors, and three more cams than the L98!
While its 375 horses at 6000 and 370 lb-ft of torque at 4800 rpm were impressive, even more amazing was how that power was made: the LT5 made peak ponies at a huge 6000 rpm, with an unbelievable 7200-rpm redline. A cutting-edge ECM controlled the LT5's injectors, and a valet feature had the ability to switch to a more mild computer program, turning eight injectors off and dropping power down to 250 horses. This engine was like nothing Corvette lovers had ever seen, and they were blown away. The rest of the ZR1 special performance package included a slight massaging of the base Vette to handle the big LT5: starting with a coupe body, RPO ZR1 added bigger rear body panels and 17×11-inch rims wearing 315/35/ZR17 Goodyears, with the ZR-1's rear a full three inches wider than the standard Vette's. An FX3 Selective Ride Control suspension with Bilstein shocks was standard, as was a six-speed manual. And 13-inch front/12-inch rear brakes pulled the ZR-1 down from speed.
And with the powerful LT5, the ZR-1 needed every inch of those big brake rotors: track tests of the first-year, 1990 models resulted in high-four-second 0-60 runs, and 12-second quarter-miles at 110 miles an hour. But quarter-mile times were only the beginning: when the revs climbed over six grand and speed increased past triple digits, test drivers reported a high-end pull like nothing they had ever experienced, with top speeds north of 175 miles an hour.
Thanks to the public's overwhelming response to the car, GM sold 3,049 ZR-1s in 1990. Its base price was around $60,000, but it was reported that some dealers asked for–and got–six figures for the red-hot Vette. From 1991 through 1994, the ZR-1 continued to evolve, receiving various changes like a traction control system, GS-C tires, and new exhaust tips (1992), and new five-spoke wheels and a passenger airbag (1994). One of the biggest changes happened in 1993, when the LT5 was massaged with more plenum and cylinder head flow, valve angle adjustments, revised cam timing and injectors, platinum spark plugs, better exhaust flow, and engine management changes. Additionally, the block was given four-bolt mains for additional strength. Power ratings climbed to 405 horses at a lower 5800 rpm, and 385 lb-ft at 4800.
The 1995 model was mostly a carry-over, with the few changes including new front fender side vents, a re-designed trans for easier operation of the reverse lockout function, an updated traction control/ABS system, and a revised exhaust system. It was still beautiful, easy to drive, and ridiculously fast, but since the sales peak in 1990, ZR-1 sales had dropped off to 2,044 in 1991, 502 in 1992, and only 448 in 1993-94. It was suggested that the car's cost (RPO ZR1 added around $30,000 to the base car), the base Vette's use of the ZR-1's styling changes, and a new, 300-horse LT1 engine for base models–which closed the horsepower gap–was to blame. In 1995, only 448 cars were sold.
While only 6,939 ZR-1s were built in the six-year production run, anyone lucky enough to spend time around one is mesmerized by its high-strung exhaust note, and the ease in which it accelerates to speeds un-reachable by mortal sports cars. The ZR-1's legend has been cemented, and thanks to very reasonable current values, the time to snap up one of these rockets is now!
Fuel For Thought
ZR-1 package available only on coupes
Three inches wider than a base Vette
LT5 engines built by Mercury Marine
Valet key cut horsepower on demand
Hole in windshield for "garage door openers"
Specifications
Number built:
448
Construction:
Cage frame construction, fiberglass body
Engine:
Four-cam, 350 cubic-inch V-8
Power/Torque:
405 horsepower, 385 lb-ft torque
Transmission:
Six-speed manual
Suspension front:
Single fiberglass composite mono-leaf transverse spring with unequal-length aluminum control arms and stabilizer bar
Suspension rear:
Fully independent five-link system with transverse fiberglass single-leaf springs, aluminum upper/lower trailing links and strut-rod tie-rod assembly
Brakes:
Four-wheel disc
Length/width/height:
178.5/73.1/46.3 inches
Wheelbase:
96.2 inches
Weight:
3,465 lbs. shipping weight 0-60mph/quarter mile: 4.7 seconds, 13.1 seconds at 111 mph (Car and Driver, May 1993) Top speed: 179 mph (Car and Driver, May 1993)
MPG:
16 – 25 mph est.
Price:
$72,209; Today – $16,250 – $22,275
Engine
One of the most technologically advanced engines of the time, the 32-valve, four-cam LT5 made 405 ponies with an ingenious intake and injection system and screaming rpm peaks. Continuous high-speed runs are this engine's forte, and it is a favorite in highspeed open road races for this very reason.
Handling
The ZR-1's FX3 suspension, 9.5-inch front/11-inch rear rims, and fat 275mm front/315mm rear Goodyear tires are more than enough to keep up with 1990s-era exotics in the curves.
Strong Points
Amazing LT5 engine
180-mph top speed
Very rare
Weak Points
Few visual differences with base Vette
LT5 repair is specialized
Aging C4 creaks more than newer C5/C6 models
Vehicle Category
ZR-1 Corvettes are a mix of race cars and collector items. While some are driven, many are either raced, or kept in storage and driven sparingly.
Websites
www.zr1registry.com
www.corvetteforum.com
www.teamzr1.com
Books
All Corvettes Are Red by John Cafaro
Mike Yager's Corvette Bible by Mike Yager
Corvette: Five Decades of Sports Car Speed by Tom Benford and Randy Leffingwell
The Complete Book of Corvette by Mike Mueller
Review
While the ZR-1 was expensive, and it was based on a standard C4 Corvette, the overall package was magical. The ZR-1 more than held its ground against the new wave of high-tech performers from overseas, and its high-rpm wail left those lesser performers in the dust.
Published Oct 24th, 2017
More Classic Car News & Article Categories:
Related Articles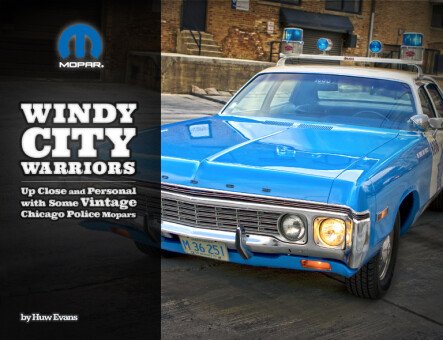 From around 1956 until the mid 1980s, Dodge, Plymouth and even Chrysler squads were the most ubiquitous police cars in North America. In fact, the biggest department, the NYPD, used Plymouth and Dodge squads almost exclusively until the rear-drive M body car was finally axed in 1989.
The no-frills Savoy two-door sedan was home to another engine of considerable repute, the infamous 413 Max Wedge, a Super Stock monster block Chrysler introduced in the spring of 1962.
Related American Classic Cars
Advertisement
×
1995 CORVETTE ZR-1