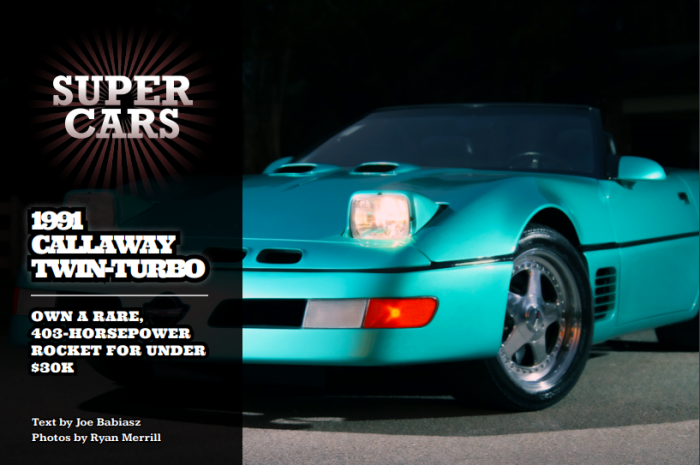 Text by Joe Babiasz, Photos by Ryan Merrill
The Callaway name is synonymous with unique, well-designed performance vehicles. Reeves Callaway began his quest to build the ultimate performance car in a small garage at his home in Old Lyme, Connecticut. After building a turbo BMW 3 Series, he continued to develop other products. But his big break came with building a twin-turbo GTV6 Alfa Romeo.
The success of the Twin Turbo Alfa led to a meeting with General Motors. GM was interested in improving the performance of their flagship sports car, the Corvette. Dave McLellan drove Callaway's Alfa and was impressed enough to authorize Callaway to develop a prototype Twin-Turbo Corvette. The prototype was shown to GM and the press in June 1986. With 10 psi of boost, the turbos increased horsepower from 240 to 345. The Callaway option, known as Regular Production Option (RPO) B2K, was the first time in General Motors history that an outside supplier was given an RPO number. The Callaway Corvette would be sold through select Chevrolet dealers in the U.S. and abroad.
The Callaway Corvette was launched at the start of the 1987 model year. Customers with the desire for speed needed deep pockets to check B2K off the option list, as it retailed for an additional $19,995 over the base price of a Corvette. Starting with a production Z52 Sport Handling Package Corvette, the vehicle was transported to Connecticut for Callaway upgrades prior to delivery. Exterior changes to the standard Corvette were limited to NACA-style hood scoops and special Callaway emblems. Each engine was hand assembled for reliability, durability, and outstanding performance. All Callaway vehicles met 49-state emissions and also included the factory warranty. By the end of the first year, Callaway production reached 167 units.
In 1988, a few key changes were made. The NACA hood scoops were gone and the intercoolers were fed from below the hood. The Dymag wheels, optional for 1987, were now standard equipment. Horsepower increased to 382. The price of ownership increased by nearly $6,000 dollars, to $25,895. Little was changed in 1990, with the exception of more horsepower and the elimination of an automatic transmission.
The year 1991 was the last for the B2K option, as GM was getting ready to launch its new ZR-1. The Callaway Twin-Turbo didn't go out like a lamb, and the 1991 version was arguably the best of all B2K Corvettes. Horsepower was increased again, this time to 403. The Garrett turbochargers provided 12.3 psi of boost. Twin functional scoops again graced the hood. The price of the B2K option now cost the buyer $33,000. Body styles included an Aerobody coupe, standard coupe, Aerobody convertible, and standard convertible.
The same year brought the new Callaway Twin Turbo Speedster. Designed by Paul Deutschman, the speedster was a throwback to the days of vintage speedsters but with contemporary styling. It was the ultimate topless automobile designed with wraparound glass and a low-profile windshield. The rear fascia included a molded-in spoiler, Callaway script, and special taillamps. Horizontal air inlets were placed behind the front and rear wheel openings. Twin molded headrest panels, reminiscent of the early-1960s Thunderbird Sports Roadster, added additional flair. The Speedster's handling was unparalleled with the use of a competition suspension and coil-overs, adjustable shocks, and Brembo brakes. Using Bridgestone run-flat tires eliminated the spare tire. Callaway-monogrammed seats and carpet created a unique look.
With a height of only 41 inches and an earthshaking, 450-horsepower engine, the Twin-Turbo Speedster became one of the fastest production vehicles ever produced. By the end of the model year, only 12 speedsters were produced. Ten were powered by the L98 engine, and two by a twin-turbo LT5. The contract for the Callaway Twin-Turbo Corvette ended at the end of the 1991 model year.
We'd like to thank www.tv4autos.com's Luis "TwinTurboLuigi" Suau for allowing us to shoot his car, as well as Mike Vendetto from Callaway for providing information for this feature.
Fuel For Thought
Incredible performance for a small-block Chevy
Last year for the B2K twin-turbo option
Two speedsters had twin-turbo LT5 engines
445 Twin-Turbos produced since 1987
Specifications
Number built:
63 Twin-Turbos
Construction:
Cage-frame construction
Engine:
350 cubic-inch, twin-turbo V-8
Power/Torque:
350 cubic-inch V-8, 403 horsepower, 575 lb-ft torque (Twin-Turbo), 350 cubic-inch V-8, 450 horsepower, 613 lb-ft torque (Twin-Turbo Speedster)
Transmission:
Six-speed manual
Suspension front
: Unequal-length control arms with transverse leaf spring
Suspension rear:
Upper and lower trailing arms with transverse leaf spring and anti-roll bar
Steering:
Rack and pinion
Brakes:
Four-wheel disc
Wheelbase:
96.2 inches
Length/width/height:
176.5/71.0/46.7 inches
Weight:
3,600 lbs. (convertible) 0-60mph/quarter mile: 4.4 seconds, 12.7 seconds at 113 mph (Callaway data)
Top speed:
191 mph (with Aerobody) (Callaway data)
MPG:
14
Published Oct 24th, 2017
More Classic Car News & Article Categories:
Related Articles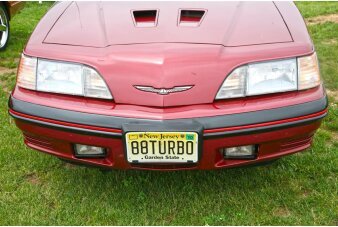 We've picked 11 classics, built between 1965 and 1998 that we feel offer a great blend of style, individuality, performance and some cases,...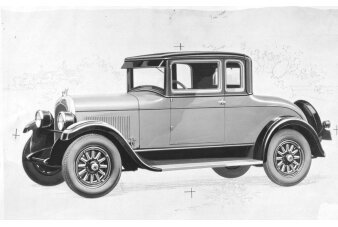 In just a few short years, Walter P. Chrysler took his company from an unknown automotive manufacturer to fourth in the industry, with...
Related American Classic Cars
×
1991 CALLAWAY TWIN-TURBO