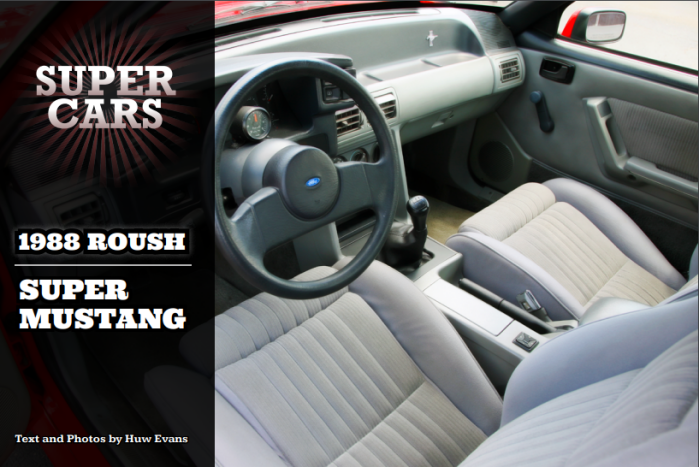 Text and Photos by Huw Evans
Among the Mustang's birthdays, the 25th often strikes somewhat of a sore note among enthusiasts and not without reason. By the mid '80s Ford's pony car was enjoying a performance renaissance and in V8 form had acceleration to match its legendary ancestors of the late '60s and early '70s. However, the parent company felt that perhaps the Fox-body design was already living on borrowed time. During the depths of the 1980-1981 recession, a seed had been planted to replace the Fox with an even smaller car that would utilize four-cylinder power and front-wheel drive. To save production costs it was also decided to partner the project with Mazda, of which Ford had then recently purchased a stake. Introduction of the new car was timed for 1988.
When word of this planned "Mazda" Mustang got out, loyal enthusiasts wrote to Ford brass in droves, saying that a Japanese-inspired front-wheel drive Mazda was unthinkable. No car was more of an American icon than the original Pony. Such was the level of protest that Ford wisely reconsidered, releasing the erstwhile "Mazda Mustang" as the 1989 Probe and at the same time, granting the venerable Fox a stay of execution. Probably just as well, since the 5-liter Mustang went on to become the harbinger of cheap performance during the late '80s and early '90s as well as a household name.
But 1989 also marked the Mustang's quarter century. So what of a commemorative special? As we all know, that "special" amounted to little more than a small plaque fitted to the passenger side of the dash on all regular production Mustangs, built between March 1989 and April 1990.
However, things could have gone differently, very differently. Around 1986, Roush Engineering began development work on a project entitled the "Performance Leader Mustang." At that time, the pony car wars were heating up. Ford had reached the "magic" 200 horsepower mark with the Mustang 5.0, while the Chevy Camaro Z28 and Pontiac Firebird Trans Am were pushing 190 to 215 hp with their tuned port injected V8s. GM was on the cusp of reintroducing the big 350 (5.7-liter) V8 as an option for the '87 model year, so if Ford was to counter, it needed something to deliver the goods.
Given its close involvement with Ford's performance and racing programs since the late '70s, including prepping the three '79 Pace Car Mustangs for race duty and spearheading the company's very successful SCCA Trans Am program during the '80s, Roush Engineering seemed a logical choice in helping create that counter in the shape of a "super Mustang" under a specified "Performance Leader" program. Central to it was utilizing one serious powerhouse of an engine. If the GM twins were getting 350s between their shock towers, then Ford's reasoning was to use a 351 Windsor V8; at that time still in production for Ford trucks.
For serious high performance duty, however, the Windsor needed a shot of extra oats to make it a more than worthy contender; those oats came in the form of turbocharging. In order to cope with the extra stresses placed on the engine's moving parts, it was decided to utilize a heavy-duty Marine version of the 351, built alongside the truck engine across the river from Detroit. Under the Performance Leader program, complete long-blocks with strengthened bottom end journals, a high pressure oiling system, heavy-duty water pumps; specific 8.3:1 forged alloy pistons and performance cast-iron heads, with hardened valves would be assembled under regular Ford production processes, before being shipped to Roush, ready for the turbocharging treatment. However, nothing succeeds like excess and so not just one, but two hairdryers were specified – IHI units borrowed from the Thunderbird Turbo Coupe program. In order to accommodate them in the Fox Mustang, a unique exhaust system with modified Windsor manifolds was required and heavy dutycooling hoses and radiator supplement the high-flow water pump, in the interests of durability. A special, dual-snorkel intake assembly, utilizing twin, modified Turbo Coupe throttle bodies was also designed, along with a more aggressive fuel system to cope with the extra air volume. Engineering and development testing was performed on this engine package in order to address reliability, as well as EPA emissions concerns. As a result, boost on the twin turbos was set at a relatively mild 8 psi, but under dyno testing, the results still yielded an "official" horsepower rating of 400 hp, as well as 400 lb-ft of stump twisting torque – a staggering amount by late '80s standards, especially for a vehicle projected to sell at a still largely affordable price.
Other mechanical hardware included a strengthened Borg Warner T-5 five-speed gearbox, special Dana aluminum driveshaft, and the Mustang 5.0's 8.8-inch rear, with Traction Lok differential and 3.27:1 ring and pinion, as specified on regular automatic equipped cars. Planned suspension upgrades included Koni adjustable front struts (with revised caster to improve turn in) and rear shocks (similar to those on the SVO), a rear Panhard link, (to reduce axle wind up and rear end "skipping" through fast corners), four-wheel disc brakes with a Teves ABS system (like those fitted to the Lincoln MK VII) and massive (for the time) 17-inch staggered fitment alloy wheels, along with specific P245/50VR17 Goodyear Eagle GT "Gatorback" tires.
Outwardly, to distinguish the car from the standard Mustang GT, Roush proposed a unique appearance package with a special lower front fascia, rocker panels and rear bumper cover, plus appropriate exterior emblems. Inside the PL proposal listed "unique interior trim accents," but besides mentioning a leather wrapped steering wheel, didn't go into more specifics. Likely different front seats, a special upholstery pattern, plus a boost gauge for the turbo and perhaps a serialized plaque for each car, would have been specified.
Gentleman's Agreement Like other limited run or small volume products based on a massed produced vehicle at the time, the Performance Leader Mustang, was to be built using regular Mustang GTs as a foundation. The GTs would be ordered with a specific set of options, to a specific District Sales Office code, before being shipped to Roush for the conversion to begin. The stock parts that came off the cars during the process; would then be returned back to Ford as a "credit," to help somewhat offset the cost of building the Performance Leader cars.
Considering that Ford had gained a reputation for improving quality and was actively promoting it's slogan "Quality is Job 1" at the time, considerable emphasis was placed on addressing "things gone wrong," and improving overall reliability and production methods, as an integral part of the Performance Leader program. As a result of this, each of the cars would be offered in a single, solid exterior paint color, (no metallics) in order to prevent problems with mismatched finish on the new front fascia, rear bumper cover and rocker panel extensions, The plan was to build a limited run of 5,000 cars, beginning in the spring of 1989, through the end of the model year, timed almost precisely with the Mustang's 25th anniversary.
Although there's no question that this "super" Mustang would have been a world-beater and an instant collectible, the timing of its planned introduction coincided with the eve of another recession. And although tantalizing from an enthusiast's standpoint, the Performance Leader program was a costly fringe proposition, especially in view of small-volume production certification and EPA hurdles, especially regarding its specialized twin-turbo engine. Perhaps not surprisingly as Ford began looking to save costs, in the wake of slumping vehicle demand and high inflation, the PL was one of the first things to be axed. So instead of a major 25th anniversary splash, the Mustang's birthday celebration was more of a "plop," Don't you just love recessions?
Besides attaching anniversary plaques to each Mustang built between March 1989 and April 1990, for the '90 model year Ford released a limited run of 4,301 convertibles, painted Emerald Green with a white leather interior. Aside from the color combination and Mustang GT wheels, these cars were regular LX ragtops and a far cry from what might have been had the Performance Leader project lived to see the light of day.
However, although the "super" Mustang project was canned, a single prototype was built (the car you see here). Not surprisingly buff book publications, on hearing about the existence of this car, fell all-over themselves and it wasn't long before "spy" pictures of the car were doing the rounds. However, as an experimental and stillborn program, Ford and Roush made a "gentleman's agreement" that the car never be tested by the press. However, at the time, General Motors had been granting media access to some of its experimental offerings, including a 454 engined Camaro and twin-turbo 5.7-liter Trans Am.
Towards the end of the 1990, as the PL project stated to fade into the background, Motor Trend magazine was finally given the opportunity to test the car, along with a couple of hot "experimental" Camaros, a further development of the twin-turbo Firebird and a short wheelbase T-bird Super Coupe "engineering mule," at Michigan International Speedway.
The result appeared in a January 1991 article entitled "American Power" and written by Daniel Charles Ross. In evaluating the Performance Leader Mustang – 22 – prototype, Ross had this to say. "The boost comes on between 3,500 and 4,000 rpm with the subtlety of shotgun blast," and the car felt "especially stable under hard cornering. It stayed flat and tranquil no matter how hard it was hammered. "He concluded that although the Roush car was "the roughest toy in the experimental box, it shows intriguing promise."
Those words proved quite prophetic, as in 1991, Ford formed a new Special Vehicle Engineering department, to begin work on a run of limited edition "performance oriented," vehicles. The resulting 1993 Mustang Cobra, although a milder package, embodied quite a few elements of the Performance Leader car and was limited to a production run of around 5,000 units (in the end 4,993 cars were built). It's since become the most collectible of the Fox Mustangs, with most examples trading hands for more money now than they cost new.
As for the Roush prototype, unlike quite a few engineering "skunk-works" cars it survived the crusher and currently resides at the Roush Museum in Livonia, Michigan. This past summer; the museum under the direction of Jack Roush's daughter Susan, very kindly offered to pull this one-of-a-kind car out for an exclusive photoshoot, which is where the images you see here were taken. Today 400 horsepower is an everyday occurrence in Mustang circles, but it's due to the trails blazed by Roush and others, almost a quarter of a century ago, that have made such developments possible. So while it may have been stillborn, there's no question that the Performance Leader twin-turbo Mustang has secured its place in Ford pony car history, as well as providing us a tantalizing glimpse into what might have been.
Editor's Note: Special thanks to Susan Roush-McClenaghan of the Roush Museum and Martin Snuverink of Roush Industries for their help with this article.
Published Oct 25th, 2017
More Related Vehicles
More Classic Car News & Article Categories:
Related Articles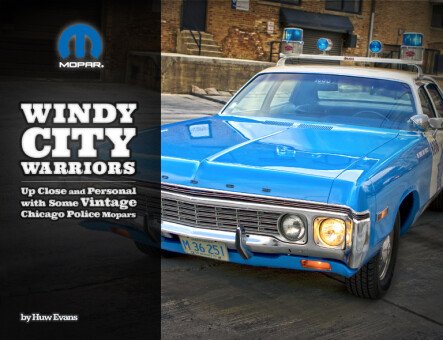 From around 1956 until the mid 1980s, Dodge, Plymouth and even Chrysler squads were the most ubiquitous police cars in North America. In fact, the biggest department, the NYPD, used Plymouth and Dodge squads almost exclusively until the rear-drive M body car was finally axed in 1989.
The no-frills Savoy two-door sedan was home to another engine of considerable repute, the infamous 413 Max Wedge, a Super Stock monster block Chrysler introduced in the spring of 1962.
Related Vehicles
Advertisement
×
1988 ROUSH