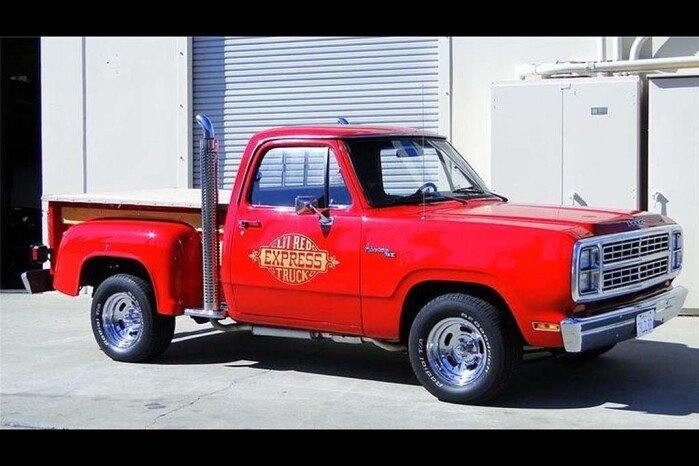 Author: Tommy Flanagan
The 1978-1979 Dodge Li'l Red Express was the first true high-performance truck ever created. It appeared on the scene when most manufacturers had given up on building muscle cars. Uncle Sam had set forth so many rules regarding emissions that cars became strangled by all the clean air devices now required. So what do you get when you learn to bend the rules a little? For starters, you get a truck that will make mincemeat of most every muscle car that's left.
All Dodge Li'l Red Express trucks came from the factory painted in Bright Canyon Red in 1978 and Medium Canyon Red in 1979. Every Li'l Red Express was a regular cab Adventurer with a stepside bed. Gold pinstriping with accent stripes runs along the edges of the front and rear fenders. Clear-coated oak wood trim panels adorn the bed and tailgate. The front and rear bumpers, 15-inch wheels and side steps were plated in bright chrome. Speaking of chrome, the most eye-catching feature on this truck is the dual chrome exhaust stacks located behind the cab. These run from underneath the side steps and rise slightly above the height of the cab.
Dodge gave buyers several choices when it came to the interior features of their Li'l Red Express. Drivers had the option of red- or black-trimmed seats, dashboard and door panels, along with a choice of bench or bucket seating. Options such as air conditioning with tinted glass could also be checked off on the options sheet. All Li'l Red Express trucks came with power steering equipped with a column shifter, and 1978 and early 1979 models came with the Tuff steering wheel. Other goodies such as the Convenience package, an AM/FM radio and an oil pressure gauge were also standard equipment on the truck.
The Dodge Li'l Red Express' 360 CID V8 engine was the brainchild of Mopar powertrain engineer Tom Hoover. Tom discovered a couple of gaps in the EPA's rules on emissions for 1978. First, light-duty trucks did not require a catalytic converter if their gross vehicle weight rating was above 6,000 pounds. He also found out that a small number of modifications could be done to an engine without redoing the EPA's 50,000-mile certification testing. With these rules in mind, Tom got busy creating the engine for the Li'l Red Express.
Tom started building the heart of the Li'l Red Express with a modified police-code E58 engine block. From there, he added components such as the camshaft from the 1968 340 cu-in. V8, the intake manifold from the 1978 police 360 V8, and a Carter 4-barrel carburetor. The engine was dressed up in light blue with chrome valve covers and an air-cleaner lid. Dual snorkel air intakes gather fresh air from underneath the truck. Power gets to the pavement via a A-727 Loadflight automatic transmission and 3:55 rear end.
With 225 horsepower and 290 ft-lb of torque, the Li'l Red Express had just enough power to smoke the tires at the stoplight. On the strip, it could pace the quarter mile in about 15 seconds. Not bad, considering this was 1978 and horsepower was basically a dirty word in this day and age. Respect came in spades from the Corvette and Trans Am crowd, since you had one of the few vehicles that could keep them in check.
A few changes for the Li'l Red Express came in 1979. The truck got a small refresh, with rectangular headlamps and a flatter hood. Federal regulations crept in and required a catalytic converter that robbed a little bit of horsepower. A milder cam was also used, and now the truck also required unleaded gasoline. An 85-mph speedometer replaced the 100-mph speedo from the previous year. The good news was that production was up from 1978. 5,118 Li'l Red Express trucks rolled out of the factory for 1979.
Unfortunately, 1979 would be the swan song for the Li'l Red Express. With gas prices soaring to $1.00 a gallon, many of the shiny red trucks sat on dealer lots for months. Without the Li'l Red Express, there might not have been a 454 SS or SVT Lightning. Heck, even the Dodge Ram SRT-10 owes a little gratitude to the Li'l Red Express -- they both share fastest production truck honors for their time.
Published Aug 15th, 2017
More Classic Car News & Article Categories:
Related Articles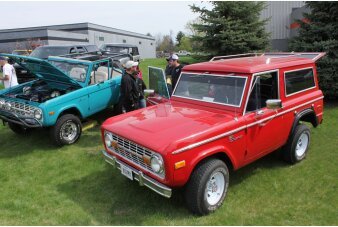 Ford's first-generation off-roader has gone from cult classic to mainstream collector.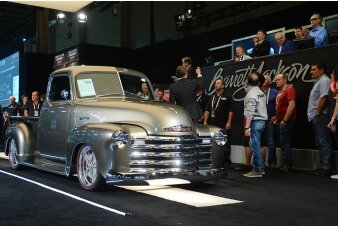 Classic vintage Chevrolet pickup trucks are receiving growing interest among car enthusiasts. The most collectible muscle cars are numbers-matching survivors; the most sought-after vintage trucks are full custom builds.
Related American Classic Cars
×
1978-1979 Dodge Li'l Red Express